Who's Playing Out: Brought To You By Hall Around Town Radio May 12th
Image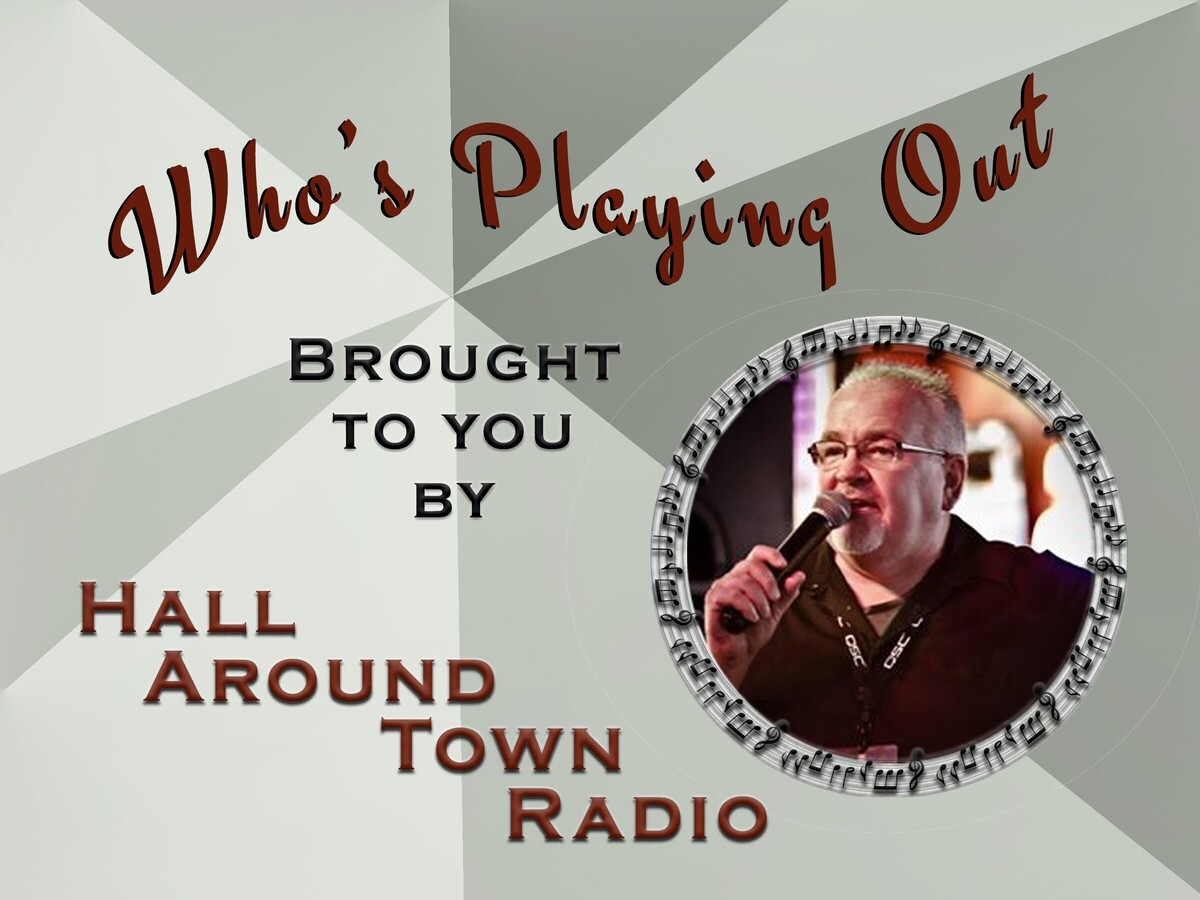 Brought to you by Scott Hall from "Hall Around Town Radio"
A little live music can turn an ordinary day into a memorable experience. The area's top musicians take center stage at some of the tri-states best restaurants and nightspots, bringing live music to our region nearly every night of the week. Make your first stop here weekly to find out "Who's Playing Out" at one of our live local music venues. Bands and solos brought to you by our friends at Froggy's in Monroe, Ohio and Hall Around Town Radio (follow them on Facebook).
---
Froggy's in Monroe – Sponsor of our Thursday LIVE show on Facebook
Thursday – Patio Party featuring Joe Jordan 5 to 9pm
Friday at 8pm – Shuffle
Saturday at 8pm – Sweet Sister Mercy
Tuesday 7pm Frog-ingo, 7:30 Queen of hearts
---
Heathers "On the Patio"
Thursday – Ashley Martin with Denny Cottle and Randy Gains 6:30
Friday – Kevin McCoy Band at 7pm
Saturday – White Knuckle Weekend at 7pm
Tuesdays – Bingo & Queen of Hearts Starts May 16 th
Wednesdays – The award winning - Name That Tune with Scott 7pm
---
Mr. Boro's Tavern Springboro
Thursday – Mike Pettigrew Solo Acoustic 7 to 10
Friday – Uncle Rico 8 to 11pm
Saturday – Missing November 8 to 11pm
Sunday – Happy Mothers Day
Tuesday – "Quiztastic" Q&A Trivia with Scott at 7pm
Wednesday – Queen of Hearts Drawing. 8pm 34K.
---
The Belle & The Bear (Montgomery) - Award Winning
Thursday "The Award Winning Jam" 7:30ish
Friday – In Real Life at 8:30 pm
Saturday - Top This Band at 8:30pm
Monday - Game Night - 6pm
Wednesday – Gina and Johnny Band - 7:30 pm
---
Crooked Handle Brewing Co. Springboro
Thursday – Good Song Guy – Live 7 to 9pm
Friday – Short of Stable Duo 7pm to 10
---
Crooked Handle Brewing Co. Piqua
Thursday – Step Latter from 6 to 9pm
Saturday – The Homegrown Band 6pm to 9pm
---
Soft Rock Café
Karaoke – Thursday- 7:30 pm - Friday 8:30pm - Saturday - 8:30 pm.
---
Pohlman Lanes & Scott's Bar & Grill (Hamilton Ohio)
Family Entertainment Complex 954 Pyramid Hill Blvd., Hamilton Ohio
Friday - Dad Bods at 7pm
Saturday – Tin Penny 7pm
Monday - After Hours Band 7pm
Tuesday Karaoke DJ KODIE 7pm
Wednesday - Standard Country Time Band 1pm
---
O'Connors Irish Pub Springfield
Thursday – Open Jam 7 to 10 in the music venue
Thursday - Karaoke 9pm in the dining room
Friday – The Fleeze at 9pm
Saturday – Premonition at 9pm
Monday – Trivia with Matt Allen 7pm
Tuesday – Acoustic with Matthew Allen 8pm
Wednesday – Karaoke 10pm
---
Sorg Opera House
Friday DoobieUS Brothers & Sisters at Fleetwood 2 the Max at 8pm
Monday at 6pm - Sounds At Sunset Benefit @ The Sorg- Night 1 featuring Tom
The Torpedoes and Dangerous Jim & The Slims show tickets available at Cincyticket.com visit SORG page for more info
---
Little River Bar and Grill (Oregonia)
Thursday –– DJ Songz Patioke Party at 7pm Party on the covered enclosed patio
Friday – Conner Budukra and the Loyalists at 7pm
Saturday – Brad Hatfield Band 6 at 7pm
Wednesday – Singer Songwriter Open Mic 6 to 9pm
---
The Blue Note Harrison
Saturday – The Prince Experience featuring Gabriel Sanchez! Tickets moving fast! Opening the show it's Dangerous Jim & The Slims! Show starts at 6pm.Tickets available at Cincyticket.com
---
Hidden Gem Music Club
Thursday – Niesa's Album Release Party 8pm
Friday – Random Flashbacks 8pm
Saturday – Wild Front Tears at 7pm
Sunday – Mothers Day Jazz Brunch with Pamela Mallory 11am
Sunday at 7:30 pm – The sounds of Touch
Tuesday – Open Mic Night 7:30PM
---
Lori's Roadhouse
Friday – Tyler Moore Band at 8pm
Saturday – Trae Myers at 4:30pm
Saturday – Blake Tyler 8pm
Tuesday – Line Dancing Lessons 7pm
Wednesday – Boozy Bingo and Karaoke at 6pm plus Queen of Hearts …
Tickets at LRHLIVE.com
---
Miami Valley Gaming
Friday - 4 th Day Echo 9pm Center Bar
Saturday – Jay Jesse Johnson 9pm Center Bar
Milanos (Miami Township)
Wednesday – Special Ticketed Event K99.1 FM Concert for a Cause to benefit Dayton Childrens Hospital Featuring Dylan Scott, Kylie Morgan and George Birge 6pm
---
Rex Patrick and the Country Legends Show in Germantown
Saturday – Southern Thunder – doors open at 5:30 Music 7 to 10
Reserve your table now 513-594-1282
---
Moe Harrigan's Tavern
Thursday – Bryan Scott7:30
Wednesday – Nick Mitchell 8pm
---
The Brick Tap and Tavern
Thursday – Scott Houchens LIVE at 8:30pm
Friday – Side Show Band at 8:00pm
Saturday – Donley Electric Solo from 8:30 to 11:30
Wednesday – Doug Hart Solo 7:30pm
---
Ricks Tavern
Friday – Doug Hart Band at 8pm
Saturday – Dv8 at 8pm
---
KnottyPine
Friday – Flatline from 9 to 1
Saturday – Flatline from 9 to 1
---
Scotty Long / DJ Songz
Thursdays - Little River Oregonia, OH. PatiOKE Party 7pm!
Scheduled Fridays: Township Tavern - Hamilton, OH 8pm Karaoke & Dance Party! Check out his Facebook pages at Scotty Long or DJ Songz for all Friday night shows!
---
Scott Hall
Tuesday at Mr Boros Taver for Quiztastic Tuesday Trivia at 7pm
Wednesday – Heathers Name That Tune - Weekly Residency 7pm sharp
Bands, Solos, Duos and Events
Smoke On The River Barbecue Festival, Covington, KY
Friday - Vinyl Countdown 5pm and Doghouse 8pm
Saturday - Sweet Lady at Noon - Dat Band 3:45pm - Michelle Robinson Band 7:45pm
Sunday - Britney's Lipstick Noon - Road Trip 3pm - What She Said 6pm
Todd The Fox Band
Saturday from 7pm-11pm at Big A's BBQ & Grill in Miamisburg
Guitars 4 Heroes Band
Friday at American Legion Post 598 in Kettering 7pm
Black Bone Cat
The Eagles Project
Saturday at JD Legends 7pm
Under the Sun
Saturday at Kreimers 7 to 11pm
Donna Kennedy Band
Friday at Miamisburg Moose from 8-11:30
The Weekend Effect
Friday at Wittenberg Graduation fest at Station 1 in Springfield. 8-12
Saturday at Wings Vandalia 9pm-1am
Missing November
Saturday at Mr Boros Tavern from 8-11pm.
White Knuckle Weekend
Saturday at Heathers on the Patio from 7-11.
Chris Lee Acoustic
Wednesdauy - Hosting Open Mic at The Lucky Turtle (3rd Wednesday Open Mic) Cincinnati/Finneytown OH from 6pm-8pm
Spungewurthy
Thursday at Bargos in Centerville, Oh 6 to 10
Friday at Wings in Vandalia 9 to 1
David Thornton
Thursday at Jayne's On Main (Miamisburg) from 7-10
Friday at The Common Beer Company (Mason) 7:30-10:30
Don't tell Steve
Saturday at Jim and Jacks from 8-12
Michelle Robinson
Friday at Kreimer's from 7-11
Saturday at the BBQ and Bacon Festival 7:45-11:00
The Fast Forward Band
Saturday at Riverside Marina in Dayton KY from 8-12
Ben & Pete
Thursday at The Pub at The Greene, from 6:30 to 9:30
Friday at Moeller Brew Barn Dayton from 7 to 10 PM
Tyler VanB Music w/ James Zornes
Wednesday at O'Leary's, Centerville OH from 7 to 10PM
Heath Bowling Music
Thursday at the Liberty Inn from 6-10 Liberty Twshp, OH
Saturday - Dayton Housing Tour 2-430 Dayton, OH
Sunday at Jaynes On Main from 5-8 Miamisburg, OH
Tuesday at CrackerJaks from 7-10p Germantown, OH
Mike and Tiff (Short Of Stable)
Friday at Crooked handle (boro) from 7-10
Sunday at Good Time Charlies hosting Open Mic 5 to 9pm
Steve Kracus
Saturday at Ricks Tavern with DV8. 8pm
Uncle Rico
Friday at Mr Boro's Tavern from 8-11.
Until Rust
Thursday at the Flying Pig Tavern Fairborn, Oh "Bike Night" from 6 - 10
Saturday - Jennifer Glass Celebration Of Life at the Hidden Gem Club Centerville, Oh from 2-4 Everyone welcome who remembers this beautiful lady and her husband Bob who love and have supported live local music & venues!
Saturday at Putter's in Mainville, Oh from 7-10
Benny Bodine
Friday at Brandeberry Winery from 5:30-8:30 in Enon, OH
Joe Cowels
Friday - The Joe Cowels Band at Knollwood Tavern Beavercreek Ohio 9p-1a
Saturday Joe Cowels solo at Mac's Pizza Pub in Blue Ash from 7:30p-10:30p
Wednesday - Joe Cowels solo at Little Miami Brewing in Milford from 6:30p-9:30p
Lee Dixon
Saturday at Clear Mountain Food Park Lee Dixon and Rob Simpson
Kevin Cooper
Thursday from 730-1130pm: B&B Jam
Friday 830pm-1230am: The Fun Size - Silverton Cafe (John Michael, Kevin Cooper, Brian Otten)
Saturdy from 7-11pm: Eyes Up Here at Gano Tavern
Sunday from 6-10pm: Eyes Up Here at Trillions
Wednesdsy from 6-9pm: Kevin Cooper solo at Annata Wine Bar (O'Bryonville)
Step Lätter - Acoustic Duo
Thursday at Crooked Handle Brewery in Piqua Ohio 6pm! Bike Night
RED HOT RIOT
Saturday -Fairfield Pub- 9:00PM. Luau Birthday Party!!
Whiskey Town
Friday at the Fairfield Pub 9pm
Saturday at Dixie Station 9pm
The Beez Kneez
Friday from 9-11 at Woolly's in Franklin
DRIVE
Friday at 8pm Middletown Moose 501
Crown Watts
Saturday at Latitudes 8:30pm
BillyRock Band
Saturday at Fretboard Brewing 8pm
Marsha Brady
Saturday - Club Trio, Westside of Cincy - 8pm - 12am.
OVERDRIVE
Saturday at the Beavercreek Moose Lodge #73 - 7:30pm
Lätter
Friday at Little York Tavern in Dayton patio edition! 8pm
Sweet Sister Mercy
Saturday at Froggy's in Monroe 8pm-12pm
Dv8
Saturday at Ricks Tavern Fairfield from 8pm til 11:30pm With special guest Aaron Thomas and Steve Kracus
Johnny Fink
Friday Johnny Fink and the Intrusion - Latitude's 830pm
Saturday at Youngbloods in Augusta Ky 8pm
Wednesday the GINA in Johnny Band The Belle & The Bear – Their last full band show there for the season. Starting in June thru September. The duo will play every 3rd wed . This months special guest is Greg Amburgy.
Rockstar
Saturday at Strasse Haus from 10 to 2
If you would like to have your musical act featured on our weekly podcast or in Warren County Post contact us @Hall Around Town Radio on Facebook! For additional Band information follow our daily Facebook "Live at Five" program @Hall Around Town Radio.
More News from Springboro