Who's Playing Out: Brought To You By Hall Around Town Radio July 19th
Image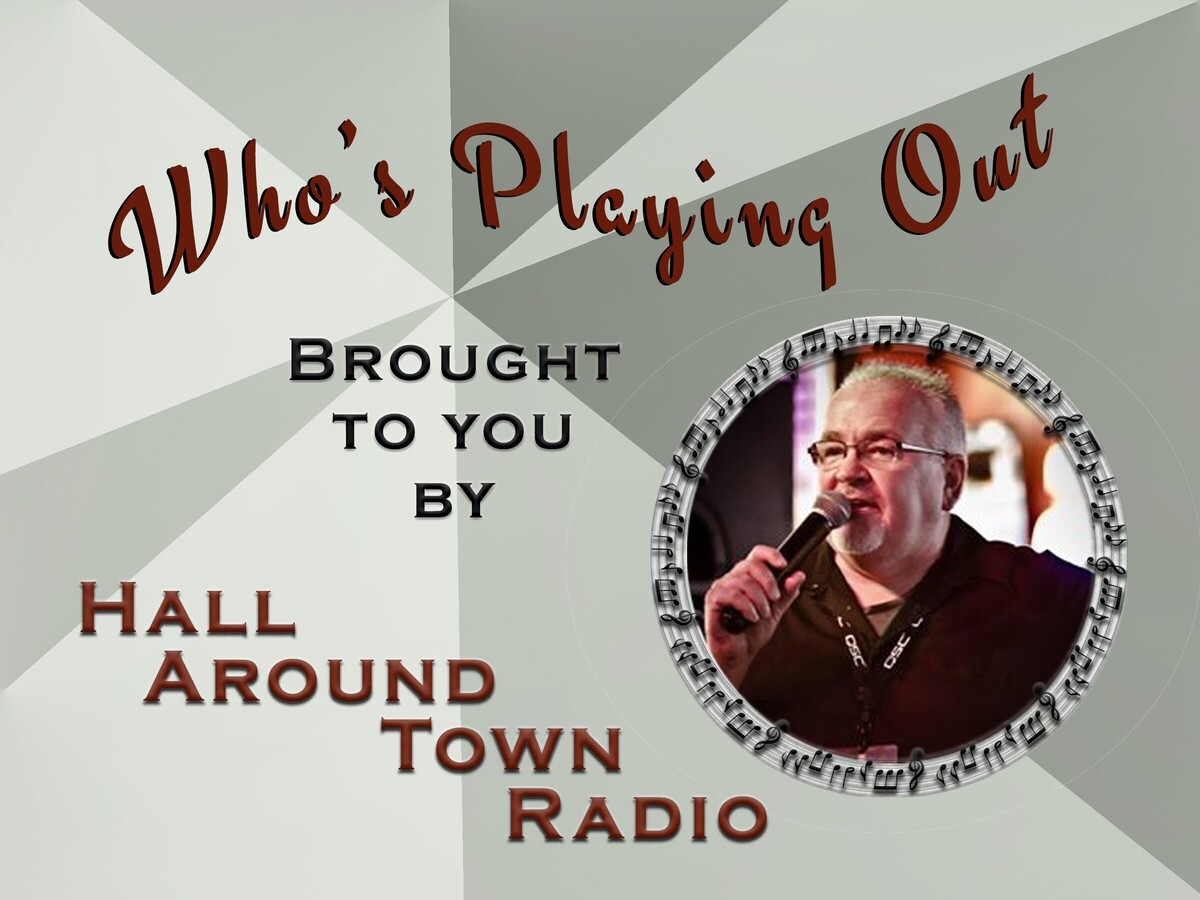 Brought to you by Scott Hall from "Hall Around Town Radio"
A little live music can turn an ordinary day into a memorable experience. The area's top musicians take center stage at some of the tri-states best restaurants and nightspots, bringing live music to our region nearly every night of the week. Make your first stop here weekly to find out "Who's Playing Out" at one of our live local music venues.
Bands and solos brought to you by our friends at Froggy's in Monroe, Ohio and Hall Around Town Radio (follow both on Facebook)
Froggy's in Monroe – Sponsor of our Thursday LIVE show on Facebook
Thursday – TAPS – Tursday Acoustic Patio Sessions – Brett and Danny 6 to 10 rain or shine
Friday at 8pm – Jimmys New Invention
Saturday at 8pm – Montage …. Bill Landers last show
Tuesday 7pm Frog-ingo, 7:30 Queen of hearts $5500+ 10 cards left
Wednesday – Jeep Night (Collect Frogs) from 6 to 10pm Patio with Until Rust
Heathers "On the Patio"
Thursday – Evan Mathewes Band from 6:30 to 9:30 ½ off Wine night … Bourbon Flights
Friday – Side Piece "Debut" at 7pm
Saturday – Social Chemists "Debut" at 7pm
Tuesdays – Heathers Bingo & Queen of Hearts
Wednesdays –Name That Tune Trivia with Scott 7pm - Resrvations Reccomended
Mr. Boro's Tavern Springboro
Thursday – Ben and Pete 7pm
Friday – Last Call & Velvet Crush Unplugged 8 to 11pm
Saturday – Deadwood Alley Debut at 8pm
Sunday Funday - The Wright Brothers Band from 2 to 5pm
Tuesday – "Quiztastic" Q&A Trivia with Scott at 7pm
Wednesday – Queen of Hearts Drawing. 8pm 37K.
The Belle & The Bear (Montgomery) - Award Winning
Thursday "The Award Winning Jam" 7:30ish 5 Year Anniversary Party with an amazing cast
Friday – 5th Anniversary Bash with Vixen and opening act The Belle Dwellers at 8:30 pm
Saturday - CFG and Family at 8:30 pm
Monday - Game Night - 6pm
Wednesday –- Gina and Johnny 7:30pm
Crooked Handle Brewing Co. Springboro
Thursday – Good Song Guy - 7pm to 10pm
Friday – TRUK 7 to 10pm
Crooked Handle Brewing Co. Piqua
Saturday – Wright Brothers Band 6 to 9pm
Soft Rock Café
Karaoke – Thursday- 7:30 pm - Friday 8:30pm - Saturday - 8:30 pm.
Hamilton's Urban Backyard
Friday – No Guarantees at 7pm
Saturday – Similar Nature Reunion Show at 7pm
Pohlman Lanes & Scott's Bar & Grill (Hamilton Ohio)
Family Entertainment Complex 954 Pyramid Hill Blvd., Hamilton Ohio
Friday - Did Not Submit
Saturday – Did Not Submit
Monday – Did Not Submit
Wednesday – Standard Country Time Band at 1pm
O'Connors Irish Pub Springfield
Thursday – Open Jam at 7pm
Thursday – Karaokre in the dining room at 9pm
Friday – The Great Serpent Mound of Ohio 9pm
Saturday – Saving Pluto at 9pm
Monday – Trivia with Matt Allen
Tuesday – Matt Allen Acoustic 8pm
Wednesday –Comedy Night at 8pm and Karaoke 10pm
Sorg Opera House
No Music Shows this Weekend
Future Show Tickets available at Cincyticket.com visit SORG page for more info
Stubbs Park in Centerville
Friday – Party in the Park with Stranger and Elise Wilkinson will open up the show.
Sunday – Boys In the Band from 7 to 9pm
Lofino Park in Beavercreek
Sunday – The Hathaways 7pm
The Heights Summer Music Series at Eichelberger
Saturday – Ebony Burks R&B
Springboro Summer Concert Series – North Park
Friday – The Motown Sounds of Touch at 7:30pm
Saturday – The Little Mermen Disney Tribute 6pm
Tuesday – Aftermath 60s band at 7pm
Little River Bar and Grill (Oregonia)
Thursday – DJ Songz Karaoke
Friday – Streetwise at 7pm
Saturday – Shawn Bell Band at 7pm
Tuesday – Little River Bike Night plus the Queen of Hearts Drawing
Miami Valley Gaming
Friday - Red Hot Riot 9pm Center Bar
Saturday – Varner Netherton Revival 9pm Center Bar
The Blue Note Harrison
Friday - Lynch Mob - Opening the show it's 1330 and Sweet Sister Mercy! Rocking in the pub it's The New Machine - Kick-N-Steel - Out of Torpor! – Doors at 6pm
Saturdy - Liliac, the family that rocks together. Opening the show it's H & R Rock and Xero Hour! Show Tickets available at Cincyticket.com
Hidden Gem Music Club
Thursday – Indie rock spectacular - Camp Culture is a four-piece Psychedelic Rock band from Indianapolis along with The Bread Heels, a hip-hop/rock fusion band from Dayton. Doors at 7pm,
Friday – Visitor Album Release Party 8pm
Saturday – Lab Partners with Kind Host 8pm
Sunday at 7pm –Dayton Jazz Orchestra
Tueday - Open Mic Night 7:30PM
Lori's Roadhouse
Thursday – Micro Wrestling All Stars 7pm …
Friday – Dave Campbell at 8pm
Saturday – 4 Low at 8pm
Tuesday – Line Dancing Lessons 7pm
Tickets at LRHLIVE.com
Milanos (Miami Township)
Wednesday – Live Music at 7pm
Rex Patrick and the Country Legends Show in Germantown
Saturday – Luau Night – Butch Jones and The Standard Country Time Band with a Hawiian Costume Contest …. doors open at 5:30 Music 7 to 10.  Reserve your table now 513-594-1282
Moe Harrigan's Tavern
Thursday – Shane Demoss at 7:30pm
Friday – Sean Lamb and Janet Miller 8pm
Saturday – The Eric Henry Blues Band 8pm
Wednesday – Nick Mitchell 8pm
The Brick Tap and Tavern
Thursday – Michael Comstock at 8pm
Friday – Reyna and Dana at 8pm
Saturday – Blue September from 8:30 to 11:30
Wednesday – Doug Hart Solo 7:30pm
Ricks Tavern
Friday – Miss Jacque at 8 – Dress Wacque like Miss Jacque to win prizes
Saturday – Second Wind featuring Rick Kern at 8pm
Tuesday – Acoustic Night with Mill Creek Duo 7:30pm
KnottyPine
Thursday – Kenny Cowden 8pm
Friday –Lunch Box at 9pm - Saturday – Paisley Cain from 9 to 1 …
Scotty Long / DJ Songz
Thursdays - Little River Oregonia, OH. Throwback Thursday Party 7pm!
Friday – Township Tavern in Fairfield – Karaoke Live – 8pm
Check out his Facebook pages at Scotty Long or DJ Songz for all shows!
Scott Hall
Tuesday at Mr Boros Tavern for Quiztastic Tuesday Trivia
Wednesday – Heathers Name That Tune - Weekly Residency 7pm sharp RESERVATIONS AVAIL
Bands, Solos, Duos and Events
29th Annual Cincy Blues Fest
Saturday at Fairfield Community Arts Center & Village Green Park from 2:30to 10:30pm
Live music – Food – Games for the kids
Visitor
Friday at the Hidden Gem – Album Release Party 7pm
Saturday – Little York Tavern 8 to 12pm
Side Piece
Friday at Heathers 7 to 11pm
Rockstar
Saturday at Peacox Erlanger 9:30pm
Ghost Train
Saturday at the Barrel in Springboro 8pm
The Growlers
Saturday at the Boardwalk Grill in Celina 1 to 5pm
Perry Waldron
Thursday with Eric Sears and Jeff Miller at the Lounge on Beechmont Ave 8pm
Standard Country Time Band
Saturday at Rex Patrick 7pm
Wednesday at Pohlman Lanes 1pm
Kevin McCoy Band
Friday, Music in Mason at 6pm.
Saturday, St. Thomas More July Fest. 7pm
Jay Clark Band
Saturday at Rip Rap Roadhouse 7-10pm
Until Rust
Thursday at Harrigans 8-11pm
Friday at The Barrel from 8pm-12am
Saturday – Private Show
Wednesday at Froggys (Monroe) from 6-10pm
Velvet Crush
Thursday at the West Carrollton Summer Concert Series from 7-9
Steve Kracus
Friday at the Belle & The Bear with the Belle Dweller's 7pm
Saturday with DV8 at the Immaculate Heart of Mary Festival in Burlington, KY 7pm
Truk
Friday, July 14 at Crooked Handle Springboro from 7-10pm
Benny Bodine
Thursday at The Liberty Inn from 7-11 in West Chester, OH
Shawn Bell
Saturday FullBand at Little River Bar and Grill Orgonea Ohio 7-11
6 String Hustle
Thursday from 6:30-9:30 at Gano Tavern West Chester, OH
Saturday frokm 7-11 at Jaspers Kitchen + Bar Xenia, OH
Wednesday from 8-11 at Olde Village Tavern West Chester, OH
Chad Applegate
Friday - Chad Applegate solo at Barnesburg Tavern in Colerain OH 7 to 10pm.
Every Wednsday at Hanks Pub in Mt Carmel OH 7 to 10pm.
Spungewurthy
Friday at Wings Vandalia 9pm showtime
Chris Lee Acoustic
Friday - with vocalist Amy McFarland and bassist Mark Campbell at MIO's in Anderson, 6pm-8pm.
Saturday - solo acoustic at Streetside Brewery, Cincinnati OH, 3pm-6pm
Sunday – DAY - solo acoustic at Treasure Aisles Flea Market, Monroe OH, 11:30am-2:30pm
Sunday – NIGHT - at Barleycorns in Lakeside Park KY, 6pm-9pm
Tuesday - Acoustic duo with Alexandra Rosie at Villaggio's in Lebanon OH, 5:30pm-8:30pm
Blind Faith Duo
Saturday at "Tap Room on Ludlow" from 8-10pm.
Ben & Pete:
Thursday 7/13 at Mr. Boro's 7 to 10pm
Friday 7/14 at Lucky Star Brewery 8 to 11pm
Donna Kennedy Band
Friday from 8-12 at Middletown Moose
Saturday at Avenue Sports & Spirits Lebanon 7-11
Short of Stable
Friday - full band at Good Time Charlie's 8:30-12
Joe Lipinski
Friday - jersey joe solo -- Moeller Brew Barn, TROY, OH from 7-10PM.
Matthew Allen
Sunday from 2-5pm at Dalton Union Winery Marysville
Tueesday from 8-11pm at O'Conner's Irish Pub Springfield
Michelle Robinson
Thursday - West Chester Clock Tower 6-8 weather permitting
Friday - Mason Summer Concert Series 8-10
Saturday - Julyfest at St Thomas More 9:30-11:30
David Thornton
Thursday at Jayne's On Main (Miamisburg) from 7-10
Friday at Grainworks Brewing Company (West Chester) 7-10
Saturday The Common Beer Company (Mason) 7:30-10:30
Joe Cowels
Saturday July 15th The Joe Cowels Band at Nicc&Norm's in Hamilton, 8p-midnight
Sunday July 16th Joe Cowels solo at Southern Ohio brewing 5p-8p
Wednesday July 19th Joe Cowels solo at Little Miami Brewing 4p-8p
Johnny Fink
Saturday Solo at Cincy Blues Fest 3pm in Fairfield oh
Sunday - Johnny Fink and the Intrusion @ Thomas More Fest 4pm / Gina and Johnny band at 6pm
Wednesday - Gina and Johnny duo (Gina's bday party) @ Belle and bear 730pm
Sweet Sister Mercy
Friday at the Blue Note Harrison, OH Warming up the crowd for LYNCH MOB Latter
Friday at Duckfoots in Celina 8pm! In the dome!
The Beez Kneez
Friday at Woolly's, Franklin 9-11
Brandy and The Beard
Saturday at Liberty(West Chester) Putters from 7-10pm
Kevin Cooper
Sunday from 6-10pm: Eyes Up Here at Trillions
RED HOT RIOT
Friday at Miami Valley Gaming- 9:00 PM
Saturday at Silverton Cafe -8:00 PM
Rick Kern
Friday with The Belle Dwellers warming up Vixen. The Belle & The Bear 5th Anniversary 6:00 pm
Saturday with Second Wind, 8:00 - 12:00 Ricks Tavern, Fairfield
Crown Watts w/Jamie Combs
Saturday from 7:30 - 10:30 at Big Ash Brewery
BillyRock Band
Friday at 5:30p Great American BallPark
Saturday at 8pm Bishop's Quarter
Suday at 4pm St. Thomas Moore Festival
Whiskey Town
Friday at The Knot
Saturday at Sis's in Newport
The Whammies
Friday, July 14th at St. Pius X Festival in Edgewood, KY from 8-12
Saturday, July 15th at Kreimer's Bier Haus in Miamitown, OH from 7-11
Marsha Brady
Saturday - Private Event - Smoke on the Water - Logan Landing, Indian Lake Ohio - 1pm - 5pm
Abe's Lincoln
Saturday at Jimmy B's, 9:30pm
Dreamboat Annie -A Tribute To Heart ❤️
Friday at the Festival in Sycamore Bechtold Park Followed by Southern Accents-A Tribute to Tom Petty - Music starts at 6 pm
Dv8
Saturday at the Immaculate heart of Mary festival 5876 Veterans Way Burlington ky 41005
Music starts at 7:30
Junior & Guitar Mike
Thursday - The Dublin Pub tonight 6:30-9:30
Saturday Junior is at Cold Beer & Cheeseburgers 5-7pm
Margo & Adam…
Saturday - Full Band "Timeless" at Blind Squirrel Florence - 9-12
Sunday - Acoustic at Pirates Cove Tropical Bar and Grill 4-8pm
Doug Hart
Thursday - Doug Hart solo acoustic at Lock 27 Brewing. Downtown Dayton, next to the Dragon's Stadium.
Friday - Doug Hart Band at St. Thomas Moore Julyfest. 7-9 before That Arena Rock Show..
Second Wind
Saturday at Rick's Tavern 8:00-Midnight. Special guest, Rick Kern
Renegades
Saturday at Club Trios 8pm
The Inturns
Friday at the Grub Pub in Hamilton 8pm
Saturday at World Of Golf
If you would like your band or musical act featured on our weekly podcast or shared in the Warren County Post contact us @Hall Around Town Radio on Facebook! For additional Band information follow our daily Facebook "Live at Five" program @Hall Around Town Radio
More News from Springboro