Who's Playing Out: Brought To You By Hall Around Town Radio July 27th through August 2nd
Image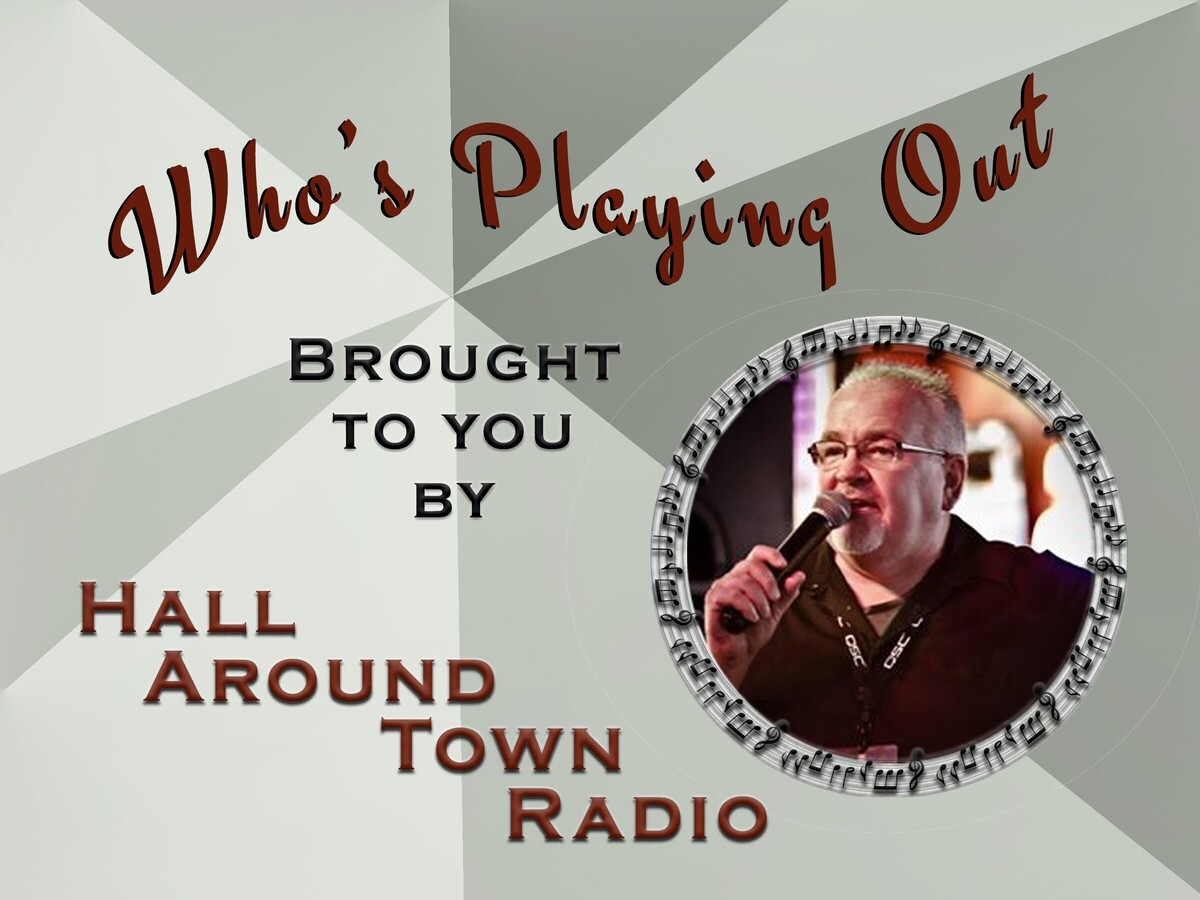 Brought to you by Scott Hall from "Hall Around Town Radio"
A little live music can turn an ordinary day into a memorable experience. The area's top musicians take center stage at some of the tri-states best restaurants and nightspots, bringing live music to our region nearly every night of the week. Make your first stop here weekly to find out "Who's Playing Out" at one of our live local music venues.
Bands and solos brought to you by our friends at Froggy's in Monroe, Ohio and Hall Around Town Radio (follow both on Facebook)
Froggy's in Monroe – Sponsor of our Thursday LIVE show on Facebook
Thursday – TAPS – Tursday Acoustic Patio Sessions – Mark Daniel Goodwin 6 to 10
Friday at 8pm – Miss Jacque
Saturday at 8pm – Alter Ego
Tuesday 7pm Frog-ingo, 7:30 Queen of hearts $6000+ 7 cards left
Wednesday – Jeep Night (Collect Frogs) from 6 to 10pm Patio with Alex Poteet
Live and Follow Froggys on Facebook
---

Heathers "On the Patio"
Thursday – Last Call from 6:30 to 9:30 ½ off Wine night … Bourbon Flights
Friday – Spungewurthy at 7pm
Saturday – Retrobution "Debut" 80s party at 7pm
Tuesdays – Heathers Bingo
Wednesdays –Name That Tune Trivia with Scott 7pm - Resrvations Reccomended
---
Mr. Boro's Tavern Springboro
Thursday – Tim Blankeny Acoustic 7pm
Friday – A & T Acoustics Debut 8 to 11pm
Saturday – 9Eight Centrral at 8pm
Sunday Funday - TBA from 2 to 5pm
Tuesday – "Quiztastic" Q&A Trivia with Scott at 7pm
Wednesday – Queen of Hearts Drawing. 8pm 40K.
---
The Belle & The Bear (Montgomery) - Award Winning
Thursday "The Award Winning Jam" 7:30ish with an amazing cast and the Faded Cow food truck
Friday – Britney's Lipstick 8:30 pm
Saturday - Billy Rock Band at 8:30 pm
Monday - Game Night - 6pm
Tuesday – "Singo" 7 to 9pm
Wednesday –- Special Event Night 7:30pm
---
Crooked Handle Brewing Co. Springboro
Thursday – Until Rust - 6pm to 9pm
Friday Christopher Arellano 6 to 9pm
---
Crooked Handle Brewing Piqua
---
Soft Rock Café
Karaoke – Thursday- 7:30 pm - Friday 8:30pm - Saturday - 8:30 pm.
---
Hamilton's Urban Backyard
Friday – Noah Smith at 7pm
Saturday – Dead Centric at 7pm
Tuesday – Turntable Tuesday with host Hollewood
Wednesday – Team Tune Trivia 7pm
---
Pohlman Lanes & Scott's Bar & Grill (Hamilton Ohio)
Family Entertainment Complex 954 Pyramid Hill Blvd., Hamilton Ohio
Friday - TBA
Saturday –
Monday –
Wednesday – Standard Country Time Band at 1pm
---
O'Connors Irish Pub Springfield
Thursday – Open Jam at 7pm
Thursday – Karaokre in the dining room at 9pm
Friday – Vinyl Ventures 8pm
Saturday – DJ Mike at 10pm
Monday – Trivia with Matt Allen
Tuesday – Ryan Fyfe 8pm
Wednesday – Karaoke 10pm
---
Sorg Opera House
No Music Shows this Weekend
Future Show Tickets available at Cincyticket.com visit SORG page for more info
---
Stubbs Park in Centerville
Sunday – The Fries Band from 7 to 9pm
---
Lofino Park in Beavercreek
---
The Heights Summer Music Series at Eichelberger
---
Springboro Summer Concert Series – North Park
Friday – Chicago Transit Tribute at 7:30pm
---
Little River Bar and Grill (Oregonia)
Thursday –– DJ Songz Karaoke
Friday – Wright Brothers Band at 7pm
Saturday – Brad Hatfield at 7pm
Tuesday – Little River Bike Night plus the Queen of Hearts Drawing
---
Miami Valley Gaming
Friday - DJ Big Daddy Walker 9pm Center Bar
Saturday – Buzz Bin 9pm Center Bar
---
The Blue Note Harrison
Saturday - Powerman 5000 - Julien K and Priest! Special pre party in the pub with The New Machine and Burdins Within! Tickets available at Cincyticket.com
---
Hidden Gem Music Club
Thursday – Generations Big Band 7pm,
Friday – The Marthas, The Mind Reels, and Round Midnight Duo 8pm
Saturday – The Hathaways 7pm
Sunday at 7pm – TBA
Tueday - Open Mic Night 7:30PM
---
Lori's Roadhouse
Thursday – Boozy Bingo 6pm …
Friday – Kyle Fields at 8pm
Saturday – Dylan Jasper at 8pm
Tuesday – Line Dancing Lessons 7pm
Tickets at LRHLIVE.com
---
Milanos (Miami Township)
Wednesday – Live Music - Last Call at 7pm
---
Rex Patrick and the Country Legends Show in Germantown
Saturday – Original Jam Band …. doors open at 5:30 Music 7 to 10
Reserve your table now 513-594-1282
---
Moe Harrigan's Tavern
Thursday – Jon Arnold 7:30
Friday – Acoustivc Junior and Guitar Mike 7pm
Saturday – Tim Gebard and the Hit Men
Sunday – Open Mic 7pm
Wednesday – Nick Mitchell 8pm
---
The Brick Tap and Tavern
Thursday – Scott Houchens at 8pm
Friday – Triple Edge Band at 8pm
Saturday – Diddley from 8:30 to 11:30
Wednesday – Doug Hart Solo 7:30pm
---
Ricks Tavern
Thursday – DJ Big Daddy Walker 6os and 70s night
Friday – Prom Night at 8 –
Saturday – DJ at 8pm
Tuesday –7:30pm
---
KnottyPine
Thursday – Kenny Cowden
Friday –Lt. Dans New Legs 9pm
Saturday – Final Order from 9 to 1 …
---
Scotty Long / DJ Songz
Thursdays - Little River Oregonia, OH. Throwback Thursday Party 7pm!
Check out his Facebook pages at Scotty Long or DJ Songz for all shows!
---
Scott Hall
Tuesday at Mr Boros Tavern for Quiztastic Tuesday Trivia
Wednesday – Heathers Name That Tune - Weekly Residency 7pm sharp RESERVATIONS AVAIL
Bands, Solos, Duos and Events
Pauly and The Fall From Grace
Saturday from 9 to 1 at Mutt's Main Bar - Middletown OH
Retroactive Band
Saturday at 16 Lots Brewing Mason from 7-10 PM.
Party Town
Friday at Cabana on the Whitewater 7pm
Ronnie Young
Friday - The Buzz reunion show. Opening for Ace Frehley at Jd legends. 7:00 pm
Until Rust
Thursday 7/27 at Crooked Handle in Springboro, Oh from 6-9pm
Tuesday 8/1 at ClearCreek Twp Police Dpt. - Patricia Allyn Park Springboro, Oh from 5-9
Benny Bodine
Friday 7/28 at Wing Bar from 7-10 in Urbana, OH
Saturday 7/29 at Southern Ohio Brewing from 6-9 Beavercreek, OH
Wednesday 8/2 at Jayne's On Main from 7-10 Miamisburg, OH
Steve Kracus
Thursday with DV8 at the Newport on the Levee 7-9pm
Saturday with DV8 7/29 at the Our Lady of Lourdes Festival 7-11pm
6 String Hustle
Saturday from 12-3pm at Glier's Goettafest Newport, KY
Saturday from 7-11 at Skippers River Café New Richmond, Ohio
Shawn Bell
Tuesday - Full Band at Little River Bar and Grill Bike night 6-10 Orgoneia Ohio
Sweet Sister Mercy
Thursday 7/27 Glier's Goettafest Newport Ky Main Stage 5pm-7:30pm
Joe Cowels
Friday July 28 the Joe Cowels Band at Gano Tavern 7p-11p
Saturday July 29 Joe Cowels solo at Tommie's 7p-10p
Sunday July 30 Joe Cowels solo at Streetside Brewery 3p-6p
Kevin Cooper
Thursday: taking the night off from B&B Jam this week; guest host TBA
Fridat 8pm-12am: The Hanky Panks at Trillions
Saturday 8pm-12am: The Hanky Panks at Riverside Marina (Dayton, KY)
Sunday 4-6pm: Eyes Up Here at Trillions (benefit show for Chumlee, Dallas Moore roadie. 2-10pm
Adam West and The Beez Kneez
Friday at Bock Family Brewing 7-9
Saturday at The Barrel from 8-11
Vinyl Countdown
Friday from 6-9 PM Amped Up Concert Series @ Schott Amphitheater (Sawyer Point)
Wednesday from 6-9 PM "Pierce Township National Night Out" Pierce Township Park
Rick Kern
Thursday - The Eagles Project from 7:00-9:00, Lawrenceburg, IN Civic Park
Friday - Black Bone Cat from 7:30-11:00, Kriemer's Bier Haus
Johnny Fink
Friday - Gina and Johnny duo at Grandview Tavern 7pm
Saturday - Johnny Fink and the Intrusion at Mansion Hill Tavern 35th anniversary 8pm
Marsha Brady
Saturday July 29th - Celina Ohio Moose, on their outdoor stage 7pm - 11pm
Sunday July 30th - Goettafest, Newport on the Levee, on the main stage - 5:30pm - 9pm
THE GAMUT
Friday 7-28 performing for a fund raising event for Alzheimer's at Jim & Jacks 8pm
Saturday 7-29 at Pirates Cove 7:30 pm
The BillyRock Band
Friday at 8pm Bishop's Quarter
Saturday at 9pm The Belle & the Bear
Whiskey Town
Friday at Verona Vineyards 6-9pm
Saturday at Goetta Fest 3:45 then GTO's (Good Times Only) 9-1
Michelle Robinson Band
Friday The Barn at Helm in Williamsburg, IN 6:30-9:30
Saturday Clermont County Fair 8-11
The Whammies
Friday at Sharonfest from 8:45-12. Audio Graffiti takes the stage before us at 6
Saturday at Fort Mitchell Summer Concert Series at General Ormsby Mitchell Park in KY from 7-11.
Sunday at St. John the Baptist Festival - Dry Ridge from 6-9.
That One Party Band
Friday at Oser-Roth Fest Aurora IN charity event in Indiana 10:30pm-midnight
Saturday at Jethro's Tiki Hut Aberdeen Ohio 8pm-12am 
Dv8
Thursday July 27th at Newport on the Levee One Levee Way Newport KY from 7pm til 9 pm
Saturday July 29th at Our Lady of Lourdes Fest Cinci OH from 7pm til 11 pm
OVERDRIVE
Friday at the Miamisburg Moose 8:00PM
Jet Pack Academy
Friday at the American Legion in Milford, 7p-11p
Cryin Out LOUD
Friday at The Phone Booth from 8-12
Spungewurthy
Friday at Heathers on the Patio 7pm
The Weekend Effect
Saturday at Duckfoots in Celina from 8-12
Donna Kennedy Band
Friday Buckeye Harley Davidson from 5-8pm
Kevin McCoy Band
Friday- Belterra Park 8-11pm
Saturday- Monkey Bar/Grill 8-11pm
Heath Bowling
Thursday at Elsa's in Springboro, OH from 7-10p
Friday at Knollwood Tavern Beavercreek, OH 9-12pm
Saturday at The Hangar in West Chester, OH 8-12pm
David Thornton
Thursday at Jayne's On Main from 7-10pm
Friday at Moeller Brew Barn - Monroe, Ohio from 7-10pm
Saturday at Jayne's On Main 7:30-10:30
Don't Tell Steve
Saturday St Bartholomew Festival from 7-11
Tyler VanB
Saturday - Tyler VanB Music w/ James Zornes from 6 to 9 at the Greene (Outdoor Stage)
Matthew Allen
Sunday from 2-5pm Dalton Union Winery/ Brewery's 8 Year Anniversary Weekend (Marysville)
Adam & Jalen
Saturday at Miamiville Trailyard 7-10
More than Zero
Friday at Wings Vandalia 9pm
Dejavu
Saturday at Silverton Cafe 8 till 12
If you would like your band or musical act featured on our weekly podcast or shared in the Warren County Post contact us @Hall Around Town Radio on Facebook! For additional Band information follow our daily Facebook "Live at Five" program @Hall Around Town Radio
More News from Springboro