Who's Playing Out Brought To You By Hall Around Town Radio May 28, 2022
Image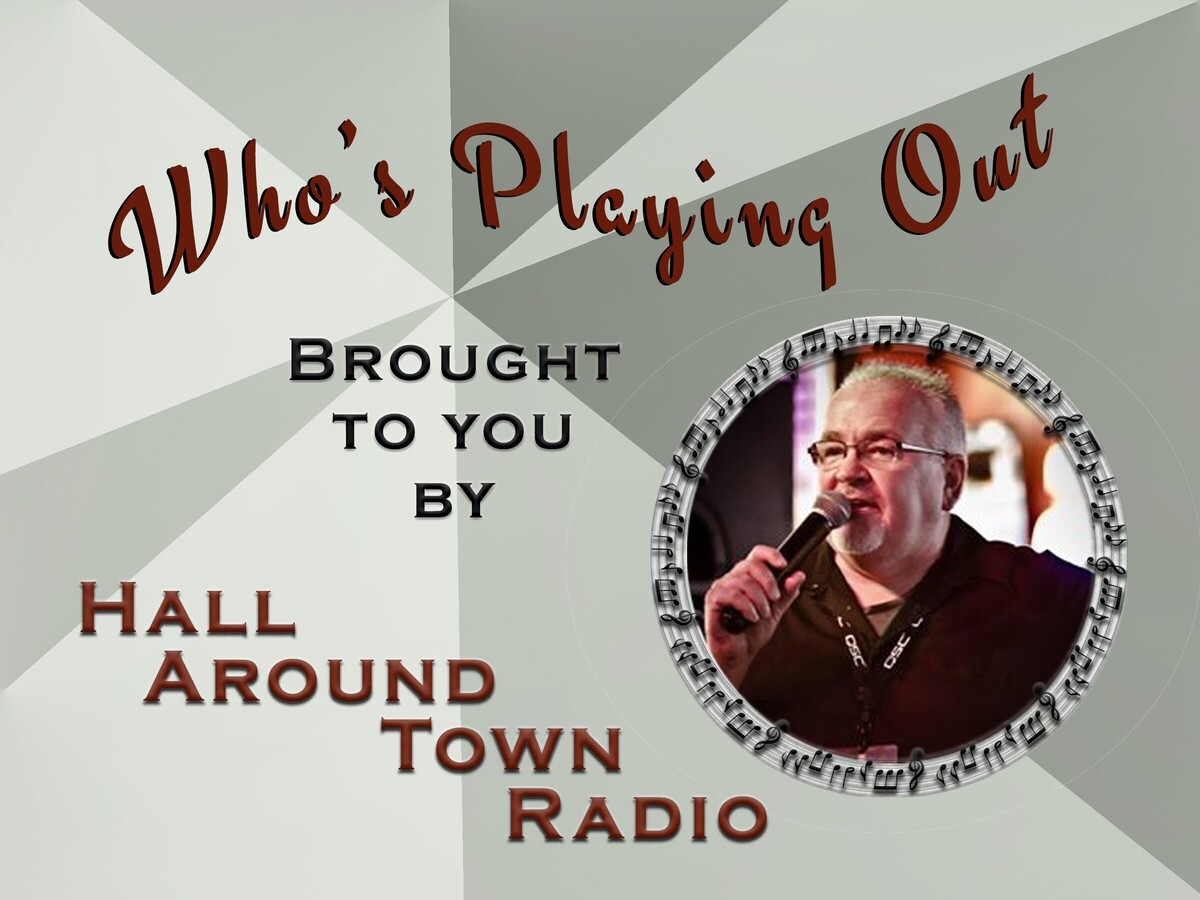 Brought to you by Scott Hall from "Hall Around Town Radio"
A little live music can turn an ordinary day into a memorable experience. The area's top musicians take center stage at some of the tri-states best restaurants and nightspots, bringing live music to our region nearly every night of the week. Make your first stop here weekly to find out "Who's Playing Out" at one of our live local music venues.
Bands and solos brought to you by our friends at Froggy's in Monroe, Ohio and Hall Around Town Radio (follow the on Facebook)
Froggy's in Monroe – Sponsor of our Thursday LIVE show on Facebook
Friday at 4pm till 7- Bret Brock & Danny Kaufman
Saturday - 9pm Retrobution , 80's Party
Wednesday 8pm Karaoke with (a fill in )
Online seating reservations / tickets at www.gotofroggys.com
---
Mr. Boro's Tavern Springboro 
Thursday – Heath Bowling and Benny Bodine 7 to 10 pm
Friday – Michelle Robinson Acoustic 8 to 11pm
Saturday – Six String Hustle - 8 to 11
Sunday –– Wright Brothers III - 2 to 5 pm
Tuesday – Trivia with Scott at 7pm
Wednesday – Queen of Hearts Drawing. 8pm
---
Heathers Café
Tuesday – Open Mic Night with Junior 7pm + the Queen of Hearts Drawing at 8
Wednesday – Name That Tune with Scott. 7pm Call for reservations
Thursday – Jeffrey Workman 6:30pm
Friday – Kevin McCoy Band 7pm
Saturday – Cabo Suns 7pm
---
The Belle & The Bear (Montgomery)
Thursday "The Jam" featuring a host of local music celebrities at 7:30 pm
Friday – IRL at 9pm
Saturday – The Hanky Panks 8:30 PM
Sunday – An evening with Daniel Nicole – Ticketed Event
Monday Game Night - 6pm
Tuesday – Jamie Combs 7pm
---
Soft Rock Café
Karaoke – Thursday 7pm - Friday 8pm - Saturday 8:30 pm.
---
Lebanon Grand Opry House
Saturday – Country Music Legends Dinner Show with Jessie Lynn and the TNT Opry Band…and special guest Marty Dunn Dinner at 6pm… show at 7pm. Reservations by calling 513-850-1770
---
Sorg Opera House
Friday – Cabaret and Cabernet – 7pm
Sunday – School of Rock Mason presents Guardians of the Galaxy and Soul - Show at 1pm
Sunday - School of Rock Mason presents The music of Rush and a tribute to Iron Maiden – Show at 7:30pm
Future Show Tickets available at Cincyticket.com
---
Crooked Handle Brewing Co.
Thursday – Brian Jump the Good Song Guy at 7pm
Friday – Ricky Veeneman at 6pm
Little River Bar and Grill (Oregonia)
Thursday – DJ Songz – Karaoke at 7pm
Friday – Side Piece at 7pm
Saturday – Courtney Jo 7pm
Tuesday – Bike Night with music
---
The Blue Note Harrison
No Listed Shows this Weekend Future Show Tickets available at …. CincyTicket.com
---
Pohlman Lanes & Scott's Bar & Grill (Hamilton Ohio)
Family Entertainment Complex 954 Pyramid Hill Blvd., Hamilton Ohio
Friday 7pm to 11pm - Rockstar
Saturday - TBA
Monday - Big Band Swing 7pm to 9pm Cancelled Due to Holiday
Wednesday – The Standard Country Time Band 1pm to 3pm
---
Hidden Gem Music Club
Thursday – Level Up Your Life – Women Wonderland Panel 6pm
Friday –The Distance 8pm
Saturday – Wild Front Tears – 7pm
Sunday – Tas Cru and the Doug Hart Band 7pm
Wednesday – Open Mic Night 7PM
---
Lori's Roadhouse
Thursday - Thursday Night Live Country Disco 4pm
Friday – County Wide at 6pm
Friday – Jason Owens at 9:30pm
Saturday – Jake Taylor Band 8pm
---
Miami Valley Gaming
Friday- Richard Lynch Band – 9pm Center Bar
Saturday – The Company – 9pm Center Bar
---
Setters Volleyball Club
Friday - Saint Hellion 8pm-Midnight
Saturday - Britches Down 8pm-Midnight
---
Brick Tap Tavern
Thursday – Open Mic Night with Scott Houchens 7:00pm
Friday – Authorized Personnel at 8:30
Saturday – Junk Drawer at 8:30pm
---
Scott Hall – Hall Around Town Radio
Tuesday Trivia at Mr. Boros Tavern 7pm
Wednesday – "Name That Tune" at Heathers Café on the patio 7pm "Call for Reservations"
Live Monday to Thursday On Hall Around Town Radio
---
Scotty Long / DJ Songz
Thursday - Little River Bar & Grill 7pm Karaoke Party.
Check out DJ Songz Page for where Karaoke is along with who's Hosting while they're out of town.
---
Bands, Solos, Duos and Events
Taste of Cincinnati (event)
Saturday – Sunday and Monday with a HUGE music line up on 4 stages
Go to tasteofcincinnati.com for all the info
---
Whammer Jammer (event)
Friday at Kreimer's Beer House featuring Dangerous Jim and the Slims with Special Guests Stormy and Stormy Jr. 7 till 10pm Kid Friendly
---
Tyler VanB
Friday – Bellbrock Park in Bellbrook 6 to 7:30pm
Friday – Tuck-n-reds Yellow Springs 8:30pm
---
The Courtney Jo Band-
Friday the 27th at Chillicothe AmVets 6:30-10:30pm
Saturday at Little River Bar & Grill 7-11pm
---
The Saturn's
Friday - Jon Armstrong Mike Seta at the Cabana on the River 8pm rock and roll from 1957- 1965
---
Eastside Roots
Thursday at Little Miami Brewing Co. 7 to 10pm
---
Margo & Adam Furnish
Sunday at Pirates Cove - Happy Hour's 3:30-7:30
---
Vinyl Countdown
Saturday- Lake Waynoka Music on the Green 8-11
Sunday- The Taste of Cincinnati 11:30am - 2:30pm
---
The Scott Luck Band
Saturday at the Rex Patrick Theatre in Germantown 7pm
Sunday – Treasure Island Flea Market 11:30am till 2:30pm
---
Six String Hustle
Thursday 6:30-9:30 at Gano Tavern West Chester, Ohio
Saturday - 7-10 Mr. Boros Tavern Springboro, Ohio
Sun - 1-4 Miamiville Trailyard Loveland, OH
Wed - 7-10 Hangar Bar West Chester, Ohio
---
Route 88
Friday - 9-1 Courtyard Lounge Englewood, OH
---
Benny Bodine
Thursday - Solo acoustic along with Heath Bowling Mr Boros Tavern Springboro, OH 7-10
---
Next To Nowhere (along with Manitoba Rock N Rolla)
Saturday at Blind Bob's Dayton, OH Show starts at 9:00
---
Chad Applegate
Friday - solo at The Green Kyak in New Richmond 8pm until 11.
---
Linus Tate Unplugged
Friday at Rip Rap Roadhouse Dayton, OH 7-10pm
Saturday at Strawberry Days at Blooms & Berries farm market Loveland, OH 12-3PM
---
Velvet Crush Unplugged
SATURDAY at Dublin pub Dayton, Oh 8-11
---
Mad Hatter
Saturday 9:00pm Phone Booth Lounge Kettering
---
Joe Cowels
Friday - Joe C solo show 5pm to 9pm, Kro-bar Beckett Ridge
---
Kevin Cooper
Thurs - 730-1130pm: B&B Jam
Fri - 8-11pm: Eyes Up Here duo at Gano Tavern
Sat - 830pm-1230am: The Hanky Panks at The Belle & The Bear
Sun - 4-8pm: The Hanky Panks debut at Kreimer's River Bar
Mon - Noon-3pm: Eyes Up Here at Five Seasons Cincinnati (pool opening weekend)
---
Crown Watts
Friday from 8-11pm Fretboard Brewing
---
Michelle Robinson Band
Friday at Mr Boros 8-11 duo
Saturday at Liberty Center 6-9 duo
Sunday at La-Z Acres in Nashport 8-11
Monday at Taste of Cincinnati 11am-2pm Beer Garden at First Financial Plaza stage
---
Johnny Fink and the Intrusion
Friday - Hamilton's urban backyard in Hamilton Ohio. 7 PM to 10 PM
---
Acoustic Blue …
Saturday Ann and Mike - opening for the Hanky Panks at Belle and the Bear 7:45
---
Whiskey State Line:
Saturday at the Madison inn 9pm
Sunday at the Starlite drive in 6-8 pm THEN Naked Karate Girls 8:30-10:30 Finish w Top Gun 2!
---
StrangeLove
Saturday at Union Township Summer Concert Series from 8-10:30pm
---
Tori Faith
Saturday with Whiskey Town at Weather Oar Knot Marina ~ 7-11pm
---
Marsha Brady
Saturday at Indian Lake Moose 3pm - 7pm
---
RED HOT RIOT
Saturday at Macadu's in Milford, 8:00 PM
---
David Thornton
Thursday, 5/26 Jayne's On Main (Miamisburg) 7:30-10:30
---
The Weekend Effect
Sunday at Duckfoots St. Mary's 8-12pm
---
David Stautberg
Friday Acoustic Blind Faith Duo at The Game in Anderson 8-11pm
---
The Fast Forward Band
Saturday at Tuckers Landing RV Park's Annual Summer kickoff party! on Kellogg Ave 7-11pm
and open to the public!
---
Chris Lee Acoustic
Saturday at Lucky Turtle, Finneytown/Cincinnati OH 8pm-10:30pm
Sunday at Strawberry Days Fest at Bloom and Berries Farm Market, Loveland OH 10am-12:15pm
Tuesday at Froggys, Monroe OH 6pm-9pm
---
Matthew Allen
Friday - Mela Urban Bistro (Springfield) 6-9 pm
---
Wesley Green
Saturday - With the Bourbon Road Band at The Barrel 8-12
---
Heath Bowling
Thursday at Mr Boro's w/Bennie 7-10p
Friday at Desperados 7-11p Huntsville, OH
Saturday 5/28 Audrey's Frogtown 8-11p Cleves, OH
Wednesday 6/1 Open Mic(AJ's) 8-11p Franklin, OH
---
DV8
Saturday at Club Trio 8pm
---
Until Rust
Saturday – Miamisburg Moose Lodge 8 to 11:30pm
---
Josh Ferreira
Friday at Enson Harbor 5pm
---
ZaaZoo
Friday at The Monkey Bar 7pm
Sons of Liberty
Saturday at Powderkeg Harley Davidson 11am
---
Adrienne Rose Music
Thursday at BAABS Middletown 7pm
---
Barely Able
Saturday at the Greene 6pm
---
The Marthas
Friday at Jaynes on Main 7:30pm
---
Spungewuthy
Thursday at Bargos Centerville 6pm
---
Curious Animals
Friday at the Phone Booth Lounge 8pm
If you would like to have your musical act featured on our weekly podcast or in Warren County Post the contact us @Hall Around Town Radio on Facebook! For additional Band information follow our daily Facebook "Live at Five" program @Hall Around Town Radio