Who's Playing Out Brought To You By Hall Around Town Radio — August 25th 2022
Image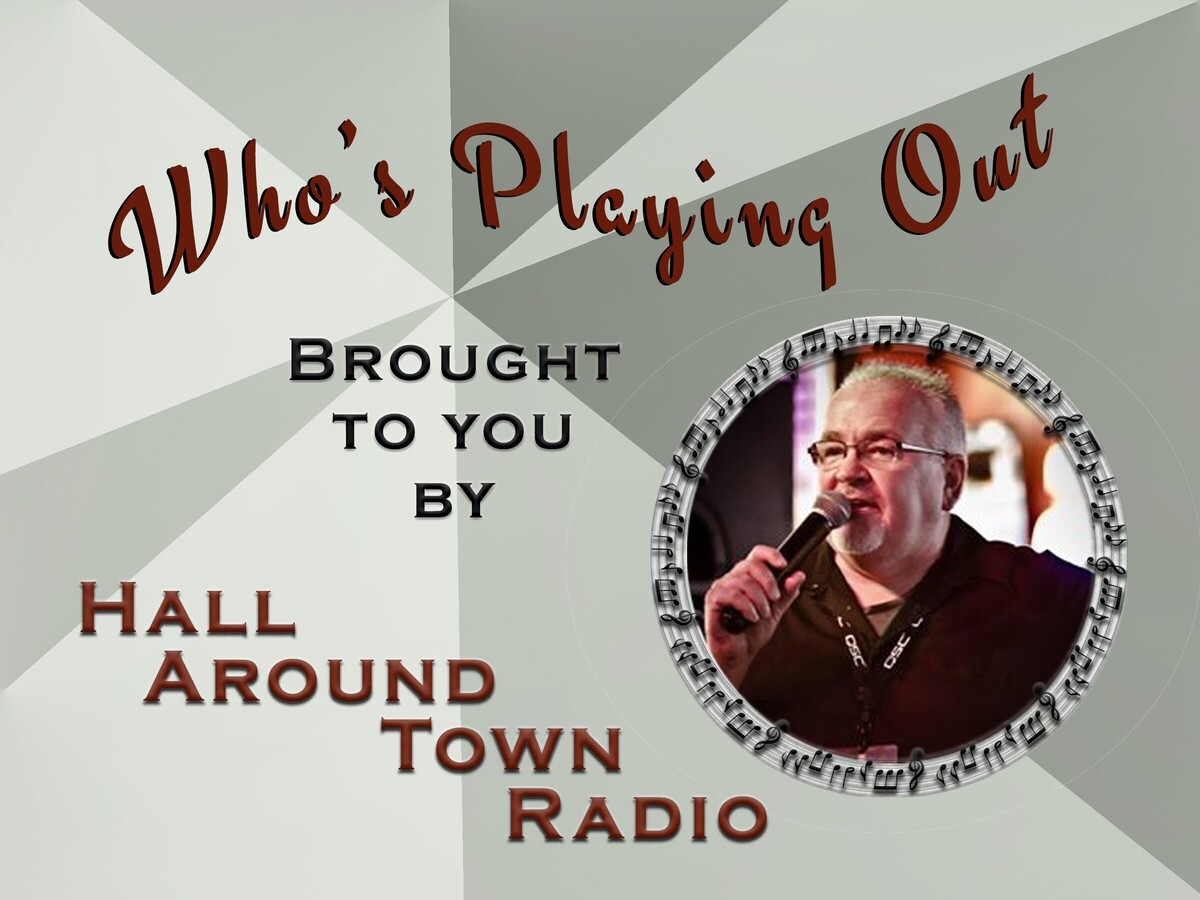 Brought to you by Scott Hall from "Hall Around Town Radio"
A little live music can turn an ordinary day into a memorable experience. The area's top musicians take center stage at some of the tri-states best restaurants and nightspots, bringing live music to our region nearly every night of the week. Make your first stop here weekly to find out "Who's Playing Out" at one of our live local music venues.
Bands and solos brought to you by our friends at Froggy's in Monroe, Ohio and Hall Around Town Radio (follow the on Facebook)
Froggy's in Monroe – Sponsor of our Thursday LIVE show on Facebook
Friday at 9pm – Stone Mountain Mafia
Saturday at 9pm Marshall Hiwatt
Tuesday 6-9 Brett & Danny on the patio
Wednesday - 8pm Karaoke with DJ Songz
Online seating reservations / tickets at www.gotofroggys.com
---
Heathers Café
Thursday – Junior Guitarist at 6:30pm
Friday – Spungewurthy 7pm
Saturday – Benny Bodine 7pm
Tuesday – Open Mic Night with Junior 7pm + the Queen of Hearts Drawing at 8
Wednesday – Name That Tune with Scott. 7pm Call for reservations
---
Mr. Boro's Tavern Springboro 
Thursday – Paul Cullen 7 to 10 pm
Friday Route 88 – 8 to 11pm
Saturday – Short of Stable - 8 to 11
Sunday ––Last Call with Jamie Combs 2 to 5 pm
Tuesday – "Quiztastic" Q&A Trivia with Scott at 7pm
Wednesday – Queen of Hearts Drawing. 8pm over 10K
---
The Belle & The Bear (Montgomery)
Thursday "The Jam" 8ish
Friday Linus Tate at 9pm
Saturday - Caffeine at 9 PM
Sunday – Ronnie Vaughn 2pm
Monday Game Night - 6pm
Tuesday – Jamie Combs Acoustic Jam 7pm
---
Crooked Handle Brewing Co.
Thursday – Jake Hambone Davis at 7pm
Friday – Nicholas Clay at 7pm
---
Sorg Opera House
Saturday – Simply Queen at 8pm – only a few tickets left Tickets available at Cincyticket.com
---
Pohlman Lanes & Scott's Bar & Grill (Hamilton Ohio)
Family Entertainment Complex 954 Pyramid Hill Blvd., Hamilton Ohio
Friday at 7pm Rock N Bowl with Dj Krutch
Saturday at 7pm Timestamp
Monday at 7pm After Hours Big Band
Wednesday at 1pm The Standard Country Time Band
---
Lebanon Grand Opry House
Saturday – Kim Campbell & Southern Memories Band
Doors open at 6pm for dinner Show - 7pm
Reservations by calling 513-850-1770
---
Little River Bar and Grill (Oregonia)
Thursday –– DJ Songz Patioke Party at 7pm
Friday – Ryan Adams and the SOBs 7pm
Saturday – Sean Poole and Buckin Crazy at 7pm
Tuesday – Bike Night with music
---
The Blue Note Harrison
Future show Tickets are available at …. CincyTicket.com
---
Hidden Gem Music Club
Thursday – Jackson Stokes National Tour with The Doug Heart Band Doors at 7
Friday – Heavy Juice Blues Band – 8pm
Saturday – Wild Front Tears 7pm
Sunday – A Night of Blues with Sax Tone and Friends 7pm
Tuesday – Open Mic Night 8PM
---
Lori's Roadhouse
Thursday – BlackHawk 9pm tickets at lrhlive.com
Friday – The Roasters 6pm
Friday – The Kentucky Headhunters at 8pm tickets at lrhlive.com
Saturday: 3 of hearts at 6pm
Saturday – Pure Grain at 9pm
Tuesday – Line Dancing 7pm
---
Miami Valley Gaming
Friday – Brass Tracks Band – 9pm Center Bar
Saturday – Kevin McCoy Band – 9:00pm Center Bar
Rex Patrick and the Country Legends Show in Germantown
Saturday – Terry Lee Ridley – A killer Honky Tonkin Rock and Roll Show Doors 5:30 Music at 7 Reservations by calling 513- 594-1282
---
Soft Rock Café
Karaoke – Thursday 7pm - Friday 8pm - Saturday 8:30 pm.
---
Brick Tap Tavern
Thursday – Open Mic Night with Scott Houchens 7:00pm
Friday – Jeff Rearick 8:30pm
Saturday – Sowders and Cole at 8:30pm
---
Scott Hall – Hall Around Town Radio
Saturday – at the Austin Landing Event
Tuesday Trivia at Mr. Boros Tavern 7pm
Wednesday – "Name That Tune" at Heathers Café on the patio 7pm "Call for Reservations"
Live Monday to Thursday On Hall Around Town Radio
---
Scotty Long / DJ Songz
Thursdays - at Little River Bar and Grill 7pm PatiOKE Party.
Tuesday - The Barrel 7pm Karaoke obSESSION.
Wednesday- Froggys 8pm Karaoke Xperience.
---
Bands, Solos, Duos and Events
Mix 107.7 Summerfest – Fraze Pavillion Kettering
Thursday – 7:30 pm featuring Rick Springfield, John Waite and Men at Work
---
Austin Landing Taco and Nacho Fest
Saturday from 3 to 9pm vendors will offer many different types of Tacos and Nachos. They will also have Sesh's new Spicy Margarita and Cutwater Margaritas. As well as the Bud Light Beer garden. Something for everyone.
Live music: Party Punch Band 3pm and Kevin McCoy Band 7pm
---
Nick Mitchell
Thursday at Dublin Pub 7 to 10pm
Friday from 8:00-11:00, Chappys Social House
---
Gerhard Albinus Band
Fri. Aug. 26 Solo @ 7:00pm For Dayton, KY "Final Friday Series" at Tube Baking Co. 517 6th Ave, Dayton, KY 41074
Sat. Aug. 27 Solo, Punk Rock Show, featuring Marz Hall line up: Solaris - Opener @ 7:30pm
Gerhard Albinus- Second TBD – Third Marz Hall – Headliner at Bircus Brewing Co. 322 Elm St,Ludlow, KY 41016. Tickets available at: Eventbrite
Sunday Full Band, with altered line up. @ 2:45pmn Oktoberfest, Germania Cincinnati of Cincinnati. 3529 W Kemper Rd, Cincinnati, OH 45251 No CASH
---
That One Party Band
Friday at Sunset Beach Bar and Grill in New Richmond Ohio! Check their page for times
---
Lil Heat
Saturday at Taste of Reading – Koeing Park 2 to 6pm
---
Lakes Ridge
Sunday at Jaynes on Main from 6 to 9 pm Jaynes Birthday Bash
---
Retrovention "A Tribute to the Doors"
Saturday at Madison Live 8pm Entrance open at 7
---
Missing November
Saturday at Sugar Mellon's Saturday from 7-11 in Fairborn
---
White Knuckle Weekend
Saturday at VFW Kettering from 7:30-10:30
---
Tyler VanB Music
Saturday - Good Time Charlies - from 9 to midnight
---
The Weekend Effect
Plays a Wedding Saturday - Congratulations to the bride and groom.
---
Matthew Allen
Friday - at White Dog Distilling Company & Saloon (Middletown) 8-11 pm
---
David Stautberg
Friday - Acoustic Blind Faith Duo at at Indian Springs Winery Sardinia OH 7 to 10pm
---
The Fast Forward Band
Saturday from 7 to 10:30 at Seven Wells Winery Alexandria KY
---
The Donna Kennedy Band
Saturday - Aug 27 Little Eagles Middletown-8:30 -12:30
---
The HomeGrown Band
Friday August 26th from 8-11 at Lucky Star Brewery
---
Heath Bowling Music
Thursday at Liberty Inn 630-1030 Liberty Township, OH
Friday at Cadillac Jack's 830-1230 Shelbyville, IN
Sunday at The Monkey Bar from 6-10p Maineville, OH
Tuesday at CrackerJaks 7-10p Germantown, OH
Wednesday at Open Mic(AJ's) 8-11p Franklin, OH
---
Don't Tell Steve
Saturday from 7-11 at Kreimer's river bar
---
Spungewurthy
Friday from 7 to 11pm at Heathers
---
Wesley Green Music
Friday with 9eight Central at Franklin Orioles 7-10pm
Saturday with 9Eight Central at The Barrel from 8-12
---
Michelle Robinson Band
Friday at the Monkey Bar 7-11
Saturday at Edison Brewing 7-9
---
HnR Rock
Friday from 9 to 1 at the Knotty Pine
---
David Thornton
Thursday at Jayne's On Main (Miamisburg) 7:30-10:30
Friday at Middletown Elks Lodge #257 7:00-10
Saturday at Firehouse Grill (Blue Ash) 6:00-9pm
---
Jordan Wood
Thursday at Twenty Mile Tavern - Open Jam 9pm Landen
Saturday at Broadway Bar & Grill 9pm Blanchester
Monday at Misery & Jens Open Jam 8pm - ? Hamilton, OH
---
Tori Faith
Friday 8/26 ~ with Whiskey Town at El Toro's Walton ~ 7:30-11:30pm
Saturday 8/27 ~ with Whiskey Town at Weather Oar Knot Marina ~ 7-11pm
Sunday 8/28 ~ Tori Faith Acoustic at Weather Oar Knot Marina ~ 1-4pm
---
Marsha Brady
Friday Aug 26th - Club Trio - 8pm - 12am
Saturday Aug 27th - Acheson's Resort, Indian Lake Ohio - 3pm - 7pm
---
Dv8
Saturday at Queen City Harley Davidson /Dragonfly Benefit 1pm to 3 pm 4860 Premier Way ,West Chester
Saturday at Iggy Fest 8pm til 12 St Ignatius Loyola Church 5222 North Bend Road
---
Dreamboat Annie- A Tribute To Heart
Sunday at Iggy Fest St. Ignatius Loyola Church 6:30-9:30 pm With Special guest Kenny Cowden
---
Kevin Cooper
Thursday from 730-1130pm: Belle & Bear Jam
Friday from 8pm-12am: The Hanky Panks at Trillions
Saturday from 1-5pm: Eyes Up Here at Pirate's Cove
Saturday from 8pm-12am: The Hanky Panks at Riverside Marina (Dayton, KY)
Sunday from 330-730pm: Eyes Up Here at Pirate's Cove
Wednesday from 7-11pm: Dos Bozos (Pat Riley, Mike Roberts, and myself) at The Hangar Bar & Grill (West Chester)
---
RED HOT RIOT
Friday August 26-SOUTHGATE VFW -7:30 PM
---
Sepia heyday
Saturday at Q apoluzza at legends in Cheviot show all week long
---
Seiter Haus
Saturday at 7PM - Dickmann's Sports Cafe
Sunday at 2PM - AJ Jolly Park Car Show
---
Heart on Fire Band
Thursday at the Milton club 7pm
---
Audio Graffiti
Friday 8/26 Tin Roof Louisville, Ky 8-11:30
---
Joe Cowels
Thursday Joe C solo at Cappy's in Loveland 6p-9p
Saturday at the Kro-bar beckett ridge 5p-8p
Wednesday at the 31st Century Inn 5:30p-9:30p
---
Geoff Edwards
Friday - His final show with Route 88 from 8-11 at Mr Boro's Springboro, OH
---
Benny Bodine
Saturday 8/27 Oregon District (just outside Trolley Stop) Dayton, OH 1-2
Saturday 8/27 Heathers Café Springboro, OH 7-11
---
Truk
Saturday- Nick's Birthday Bash! At Heroes Pizza from 7-10
---
Shane Demoss
Thursday - Shane deMoss solo at the Rusty Taco Beavercreek, Oh from 7-10
Sunday - Shane deMoss solo at The Barrel Springboro, Oh 5-8
---
Until Rust
Friday at VFW Kettering, Oh 7-10. Outside
Saturday at Lock 27 Dayton, Oh 5-7pm
---
Jay Clark Band
Sunday at the Grainery in Plain City 3pm
---
Billy Brown
Thursday August 25 at 11am - Ole Red in Gatlinburg TN
Friday August 26 at 11am - Ole Red in Gatlinburg TN
Saturday August 27 at 6:30pm - Velocity Esports in Newport KY
Monday - Singing the National Anthem for the American Legion National Conference in Milwaukee WI
---
Uncle Rico
Friday at the Mall at Fairfield Commons in Beavercreek 5:30pm-9pm-outdoor event in conjunction with the Trans Am National Car Show-Food trucks and a beer garden-admission is free.
---
Linus Tate
Friday August 26th at The Belle and the Bear Cincinnati, OH 9PM
Saturday August 27th at Hamilton's Urban Backyard Hamilton, OH 7PM
---
Velvet Crush Unplugged
Friday at The Barrel W/ Last Call Springboro, Ohio. 8-12
---
VELVET CRUSH
Saturday at the Eco bash - Boonshoft Museum of Discovery Dayton, oh 8-11
---
Margo & Adam" Acoustic
Thursday at Pirates Cove (Four Seasons Marina) 6-10 pm
---
Six String Hustle
Friday from 8-11 Olearys Pub Centerville, Ohio
Sun from1-4 Miamiville Trailyard Loveland, Ohio
If you would like to have your musical act featured on our weekly podcast or in Warren County Post contact us @Hall Around Town Radio on Facebook! For additional Band information follow our daily Facebook "Live at Five" program @Hall Around Town Radio