Who's Playing Out: Hall Around Town Week of Nov., 4, 2022
Image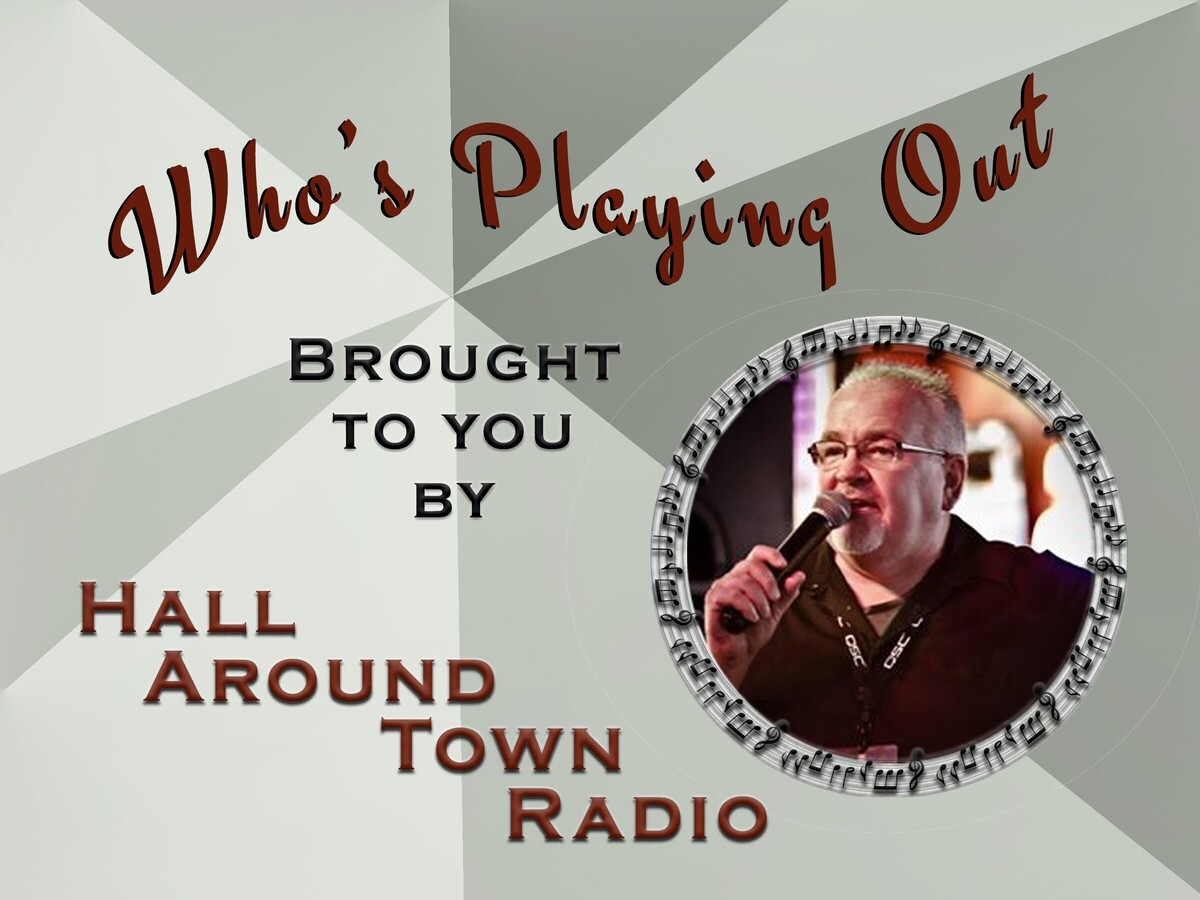 Brought to you by Scott Hall from "Hall Around Town Radio"

A little live music can turn an ordinary day into a memorable experience. The area's top musicians take center stage at some of the tri-states best restaurants and nightspots, bringing live music to our region nearly every night of the week. Make your first stop here weekly to find out "Who's Playing Out" at one of our live local music venues.
Bands and solos brought to you by our friends at Froggy's in Monroe, Ohio and Hall Around Town Radio (follow the on Facebook)
Froggy's in Monroe
Sponsor of our Thursday LIVE show on Facebook
Friday at 9pm - Jimmy's New Invention
Saturday 9p 5 O'clock
Tuesday at 7pm - Music Trivia
Tuesday at 7:30 Queen of Hearts Drawing
Wednesdy - Karaoke 7p-11p with Dj Songz
Online seating reservations for weekend shows only (but not required) at www.gotofroggys.com
---
Heathers Café
No Music - Sides up on Tents Awaiting Christmas in the Boro
Wednesday – Name That Tune with Scott. 7pm Finl Night of Regular Season Call for reservations. NTT Final Championship with Top 20 scoring teams Novemeber 16th at 7pm
Mr. Boro's Tavern Springboro 
Friday –– Ethan and Joey 8 to 11pm
Saturday – White Knuckle Weekend 8pm
Sunday – NFL Football
Tuesday – "Quiztastic" Q&A Trivia with Scott at 7pm
Wednesday – Queen of Hearts Drawing. 8pm over 17K
---
The Belle & The Bear (Montgomery)
Thursday "The Award Winning Jam" 7:30ish
Friday – Sweet Sister Mercy at 9 pm
Saturday Vinyl Countydown at 9 PM
Monday Game Night - 6pm
Tuesday – Jamie Combs Acoustic Jam 7pm
---
Crooked Handle Brewing Co.
Friday – Ricky Veeneman at 7pm
---
Pohlman Lanes & Scott's Bar & Grill (Hamilton Ohio)
Family Entertainment Complex 954 Pyramid Hill Blvd., Hamilton Ohio
Friday at 7pm Jelly Smooch
Saturday st 7pm Tin Penny
Monday - After Hours Big Band 7pm
Wednesday - Honky Tonk Wednesday at 1pm The Standard Country Time Band
---
Sorg Opera House
Friday Rhonda Vincent and the Rage 8pm
Saturday – The Classic Rock Experience 8pm
Tickets available at Cincyticket.com. See the SORG page for more info
---
Lebanon Grand Opry House
Saturday Dinner Show – Featuring Jessie Lyn and the Opry House Band – Plus Special Guests Doors at 6pm
Reservations by calling 513-850-1770
---
Little River Bar and Grill (Oregonia)
Friday –9 Eight Central at 7pm
Saturday – American Rebels –7pm
---
The Blue Note Harrison
Friday - Metallica tribute "Battery" returns to the Blue Note with Pantera Tribute "Walk On Homeboys".Doors open at 5:30pm and music starts at 7pm. One ticket gets you all the bands!
Saturday – Journey Tribute "The Rock Show" with a pre party from Bad Habit on the other stage. Rocking in the pub it's Excalibur! Doors open at 5:30pm
Tickets are available at …. CincyTicket.com
---
Hidden Gem Music Club
Friday – Nasty Bingo – 8pm
Saturday – The Termites 8pm
Sunday – The Bright Moments Quartet – Jazz at 7pm
Tuesday – Open Mic Night 8PM
---
Lori's Roadhouse
Friday – Amy Sailor Band 6pm
Friday – Diamonds and Whiskey at 9:30pm Lori's 1 Year Anniversary
Saturday – Bailey Zimmerman 9pm....Tickets available at LRHLIVE.COM
Tuesday – Line Dancing 7pm
---
Miami Valley Gaming
Friday – LIVE Music 9pm Center Bar
Saturday – LIVE Music – 9pm Center Bar
---
Rex Patrick and the Country Legends Show in Germantown
Saturday – Thunderbay band starring Mike Gabbard. $12 donation at the door 7-10pm Reservations by calling 513- 594-1282
---
Soft Rock Café
Karaoke – Thursday 7pm - Friday 8pm - Saturday 8:30 pm.
---
Brick Tap Tavern
Friday – TBA at 8:30pm
Saturday – Jimmy D Rogers and Friends at 8:30 pm
---
Scott Hall – Hall Around Town Radio
Tuesday Trivia at Mr. Boros Tavern 7pm
Wednesday – "Name That Tune" at Heathers Café on the patio 7pm "Call for Reservations"
Live Monday to Thursday On Hall Around Town Radio
---
Scotty Long / DJ Songz
Tuesdays The Barrel Springboro, OH 7pm-11pm Karaoke
Wednesdays Froggys Monroe, OH 7pm-11am Karaoke Xperience
---
Bands, Solos, Duos and Events
Queen City Blues Fest
Saturday at Southgate House Revival 7 to Midnight
Stage 1 – Andrew Hibbard – John Ford – Ricky Nye
Stage 2 – Jamie Carr Band – CFG & The Family – Doug Hart Band
Stage 3 – King Bee and the Stingers – Johnny Fink and the Intrusion – Noah Wotherspoon
---
Mad Hop Music Fest – Madison Indiana
Saturday, November 5th! The bands are from all over the region, including Ohio, Indiana and Kentucky, with one notable and much-loved performer, Cruz Contreras, out of Knoxville, TN. There's also a strong local component to the band line-up, with many of Madison's favorite musicians filling out the ranks.
MadHop Music Festival will have seven different venues for live music including:
City of Madison City Hall. Visitmadison.org for more info
---
Standard Country Time Band
Friday from 6 to 8pm at Hunter Pizzeria
---
David Thornton
Friday at Lucky Star Brewery from 8-11
Saturday at The Swire Inn (Middletown) 7-10
---
Don't tell Steve
Saturday from 9-1 at Jimmy B's
---
White Knuckle Weekend
Saturday at Mr Boro's Tavern from 8-11
---
Liars for Hire
Saturday at Kettering VFW from 7:30 - 10:30.
---
Heath Bowling Music
Friday at Knollwood Tavern from 9-12a - Beavercreek, OH
Saturday at Good Time Charlie's featuring Beauty and The Beast 830-1230a Miamisburg, OH
Wednesday - Last Open Mic at AJ's from 8-11p Franklin, OH
---
Tyler VanB Music
Thursday - The Pub At The Greene. 6:30-9:30
---
Spungewurthy
Friday at Katz Lounge from 9 to 1
---
Ben & Pete
Friday at Jayne's On Main in Miamisburg from 8 to 11 PM
---
Short of Stable
Friday at Heroes Pizza from 7-10
Sunday at Good Time Charlie's - OPEN MIC from 5-9
---
Joe Lipinski
Friday "jersey joe" -- the genre-transcendent solo show at The Blind Lemon- Cincy 8:30 - 1:00 AM.
Wednesday "jersey joe solo" at Milano's (South -- Miamisburg, OH) from 7 - 10 PM.
---
Chris Lee Acoustic
Saturday at Swine City Brewing - Fairfield OH 8pm-10:30pm
---
Joe Cowels
Friday - Joe Cowels solo at Kro-bar Beckett ridge 5p-8p
Saturday - The Joe Cowels Band at The Fairfield Pub 9p-1a
---
Lätter
Saturday at Wings in Vandalia 9:30 start time.
---
GAMUT
Saturday at Ricks Tavern from 8pm-Midnight
---
Crown Watts
Saturday at Fretboard Brewing 8:00pm
---
Johnny Fink
Saturday - Johnny Fink and the Intrusion at the Queen City Blues Fest - Southgate House Revival Johnny on at 9pm
---
DAT Band
Friday at Turfway Park Bourbon and Brew Lounge 7-9 Soul Pocket from 10-Midnight
---
RED HOT RIOT
Saturday at Pirates Den in Western Hills from 5-8:00PM
---
Kevin Cooper
Friday from 630-1030pm: Eyes Up Here at Gano Tavern
---
Acoustic Blue Trio
Friday at Rick's Tavern in Fairfield, Ohio - for Happy Hour 5 to 7pm. …
---
Marsha Brady
Friday at Jimmy B's - Eastside Cincy - 9:30pm - 1:30am
Saturday at Club Trio - Westside Cincy - 9pm - 1am
---
ReDD
---
Carey Hunley & Floyd
Thursday at Bishops Quarter (Loveland) - Thur 11/3 at 7-10pm
---
Carey Hunley w. Amy Sailor Band
Friday at Lori's Roadhouse - "Lori's One Year Anniversary Party" - at 6pm
---
Carey Hunley Solo
Tuesday at the Eagles (Hamilton) - from 7-11pm
---
Mad Hatter
Friday at The Corner Club 8pm
---
Benny Bodine
Friday at O'Leary's Pub & Grub from 8-11 Centerville, OH
Saturday at the AMVETS-Post 464 Huber Heights Ohio **OPEN TO THE PUBLIC** from 7-11
---
Velvet Crush Unplugged
FRIDAY at Harrigan's in Kettering, oh from 8-11
---
Velvet Crush fulll Band
Saturday packo's restaurant 90 year celebration Inverness country club Toledo, oh 8-10
---
Ithika
Saturday at The Barrel in Springboro 8 to 12
---
6 String Hustle
Saturday from 8-11 Gano Tavern Full band featuring Lee Dixon, Eric Sears and Catfish Campbell from KMB - West Chester, Ohio
---
Alex Poteet
Thursday at Smoke Justis Covington, KY at 7:30PM
---
Linus Tate
Friday at Third Place Brookville Brookville, IN - 7PM
Saturday at Newport Racing & Gaming Newport, KY 8:30PM
---
Brett Brock and Danny Kaufman
Friday at Woolys in Franklin 9pm
---
Sweet Sister Mercy
Friday at The Belle and The Bear 8:30 pm
---
Chris and Dave
Saturday at O'Leary's Pub in Centerville 8pm
---
Bronson Arroyo Band
Saturday at the Madison Theatre 8pm
---
Miss Jacque
Friday at Club Trio Lounge 9pm
---
After The Party
Saturday at the Highway House 9pm
---
That One Party Band
Saturday at Nic and Norms Tavern 9pm
---
The Inturns
Saturday at Big Bulls Roadhouse 9pm
---
More Than Zero
Saturday at Courtyard Lounge 9pm
---
Loudhouse
Friday at the Miamisburg Moose 8pm
If you would like to have your musical act featured on our weekly podcast or in Warren County Post contact us @Hall Around Town Radio on Facebook! For additional Band information follow our daily Facebook "Live at Five" program @Hall Around Town Radio
More News from Franklin