What Election Night Revealed in Warren County
Image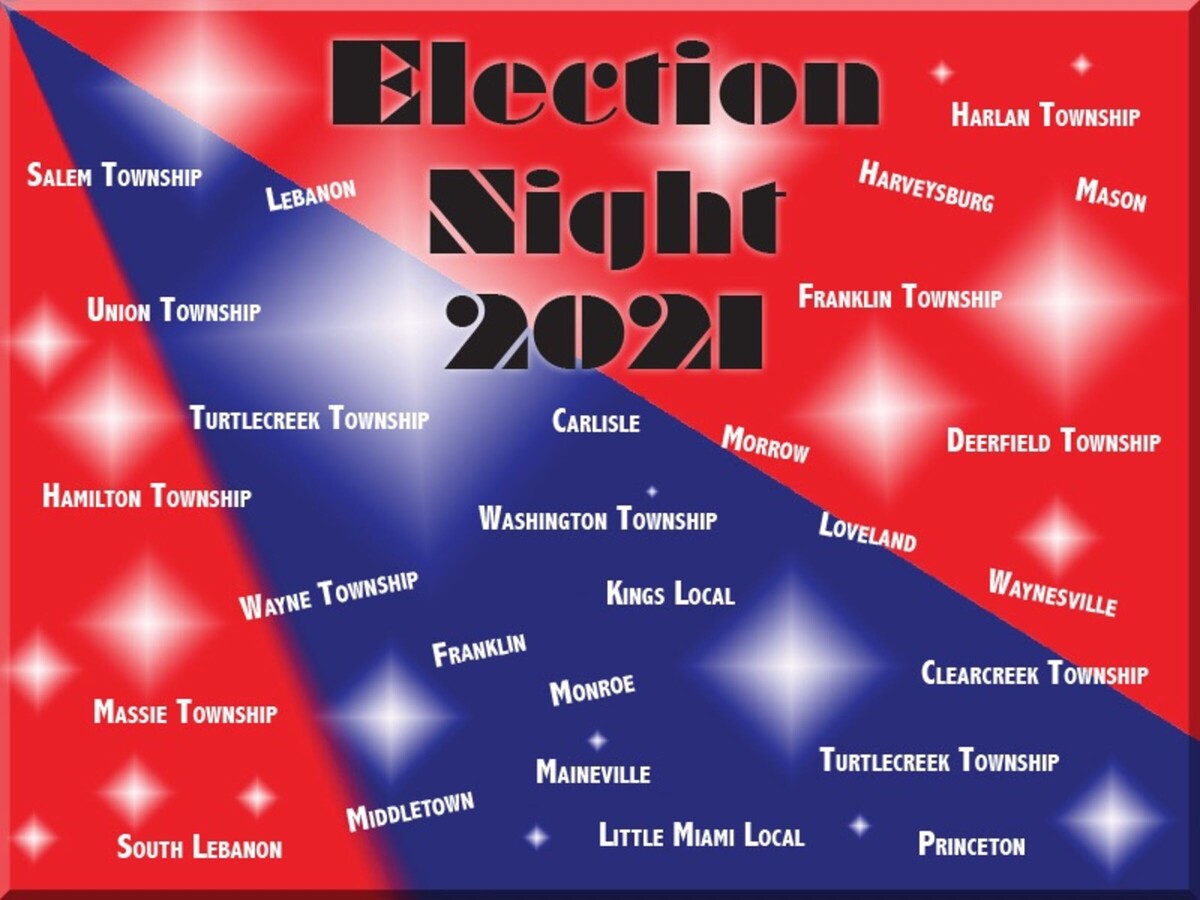 Votes have been counted in Warren County and the unofficial numbers are in. Scheduled to be certified November 18, this year's election created some very intense campaign races in and around Warren County.
Four of the very contested areas were in Lebanon and Mason cities and the Lebanon and Mason School Districts. Common for three of these races is the fact they had no elected-incumbents choosing to run again.
Lebanon City Council had nine people run for four positions, while the Lebanon School Board had six candidates running for two seats and Mason School Board had five individuals running for three seats.
Mason City Council, on the other hand, saw all four of its council members, whose terms were expiring and up for this election, running along with four new challengers.
While the handling of COVID in the public schools has been and still is the hot topic for most school districts and their boards, that didn't seem to be the top issue for the two cities of Lebanon and Mason.
Both of these cities had recently voted to become a Sanctuary City for the Unborn, meaning abortion facilities cannot be built within the city limits.
"The ordinance does not ban people from having an abortion. People can still do as they wish. Judgement will not be made on them. This ordinance does nothing to change the decision of Roe vs Wade. We just do not want abortion facilities built within the city limits," said Lebanon Mayor Amy Brewer.
Lebanon council's Michael Cope, who was appointed in June after the city passed the ordinance, did choose to run for election. Long-time Mayor Amy Brewer along with current council members Wendy Monroe and Douglas Shope whose terms also end in December of this year did not.
Cope, along with Scott Norris, Brad Lamoreaux and Matt Sellers, who were all endorsed by the Republican Executive Committee in October, placed in the top four winning them a spot on Lebanon City Council.
While the GOPs endorsement seemed to work for votes in the Lebanon council race, it may have had the opposite effect for the Mason candidates.
Incumbents Diana Nelson and Ashley Chance, who were not present to vote on Mason's Sanctuary City for the Unborn nor were endorsed by the Warren County Republican Executive Committee, came in as one of the top four candidates along with Barbara Spaeth and Mark Haake.
Mike Gilb and TJ Honerlaw, who were running for re-election, voted for Mason to be a Sanctuary City for the Unborn and were endorsed by the Republican Executive Committee but did not win their seats back.
Below is a breakdown of the Unofficial Election Results for the different municipalities in Warren County.
---
---
Lebanon Municipal Court: Martin Hubbelll
Carlisle City: Michael Kilpatrick, Kim Bibrey, Tim Humphries and Will Bicknell                 (Unofficial Results totaled from Warren and Montgomery Counties)
Franklin City: Michael Aldridge, Matt Wilcher and Denny Centers
Loveland City: Tim Butler, John Hart and Kip Ping                                                                             (Unofficial Results totaled from Warren, Clermont, and Hamilton Counties)
Middletown City: Rodney Muterspaw and Zack Ferrell                                                                      (Unofficial Results totaled from Warren and Butler Counties)
Monroe City: Kelly Clark, Marc Bellapianta and Ben Wagner                                                         (Unofficial Results totaled from Warren and Butler Counties)
Springboro City: Janie Ridd (Ward-1); Dale Brunner (Ward-2); John Hanson (Ward-3); James Chmiel (Ward-4)
Harveysburg: Kimberly Herberth, Charles Juniel, Randall Carruthers and James Nelson
Maineville: Douglas Drook, Patricia Tomsic, Katie Hughes and Linda Humphries
Morrow: Mitchell Fisher, Ben Steiner, Michael McKeehan and Rebecca Lynn Niemesh
South Lebanon: Brenda Combs, Linda Allen, Linda Burke and Rolin Spicer
Waynesville: Chris Colvin, Brian Blankenship, Troy Lauffer and Joette Dedden
Clearcreek Township: Steve Muterspaw and Ed Wade                                                                       (Unofficial Results totaled from Warren and Montgomery Counties)
Deerfield Township: Kristin Malhotra and Julie Seitz
Franklin Township: Shane Centers and Matt Jennings
Hamilton Township: Joe Rozzi and Darryl Cordrey
Harlan Township: Marcus Shelton and Kevin Curran
Massie Township: Darrell McKinney and David Crisenbery
Salem Township: Heath Kilburn and Ralph Blanton
Turtlecreek Township: Daniel Jones and Jonathan Sams
Union Township: Fred Vonderhaar and Chris Koch
Washington Township: Scott Hagemeyer and Jason Fisher
Wayne Township: Andrew Jacobs and Diane Colvin
Warren County Member Governing Board Education Service Center:                                                 Fred Anness, Jiles Farley and Nona Cress
Blanchester Local School Board: Mike Williams, Kathy Gephart and Jeremy Kaehler
Clinton Massie Local School Board: Jeremy Lamb, Andy Avery and Phil Harner
Carlisle Local School Board: Amanda Morris, Mollie McIntosh and Bill Jewell
Franklin City School Board: Rachel Ruppert-Wolfinbarger, Christopher Sizemore and Bill Knipper
Goshen Local School Board: Deborah Gray, Bill Herrera and John Gray                                    (Unofficial Results totaled from Warren, Clermont, and Hamilton Counties)
Kings Local School Board: Janelle Groff, John Skerl and Deb Cowan
Lebanon City School Board: Roy MacCutcheon and Jennifer Daulton
Little Miami Local School Board: Bobbie Grice and Mary Elmer                                                   (Unofficial Results totaled from Warren and Clermont Counties)
Loveland City School Board: Jonathan Eilert, Eric Schwetschenau and Eileen Washburn (Unofficial Results totaled from Warren, Clermont, and Hamilton Counties)
Mason City School Board: Ian Orr, Connie Yingling and Charles Galvin                                    (Unofficial Results totaled from Warren and Butler Counties)
Middletown City School Board: Cathie Mulligan and Todd Moore                                               (Unofficial Results totaled from Warren and Butler Counties)
Monroe Local School Board: Debbie Hagedorn, A.J. Fullman and Tim Carpenter                   (Unofficial Results totaled from Warren and Butler Counties)
Princeton City School Board: Jodi Kessler and Mary Cleveland                                                     (Unofficial Results totaled from Warren, Hamilton and Butler Counties)
Springboro City School Board: David Stuckey and Charles Anderson                                        (Unofficial Results totaled from Warren and Montgomery Counties)
Sugarcreek Local School Board: Audra Dorn, Mike Kinsey and Kevin Price                            (Unofficial Results totaled from Warren and Greene Counties)
Wayne Local School Board: Brad Conner, Darren Amburgy and Jamie Gallagher                (Unofficial Results totaled from Warren and Greene Counties)
Xenia Community City School Board: Joshua Day, Mary Grech and George Leightenheimer (Unofficial Results totaled from Warren and Greene Counties)