Who's Playing Out Brought To You By Hall Around Town Radio
Image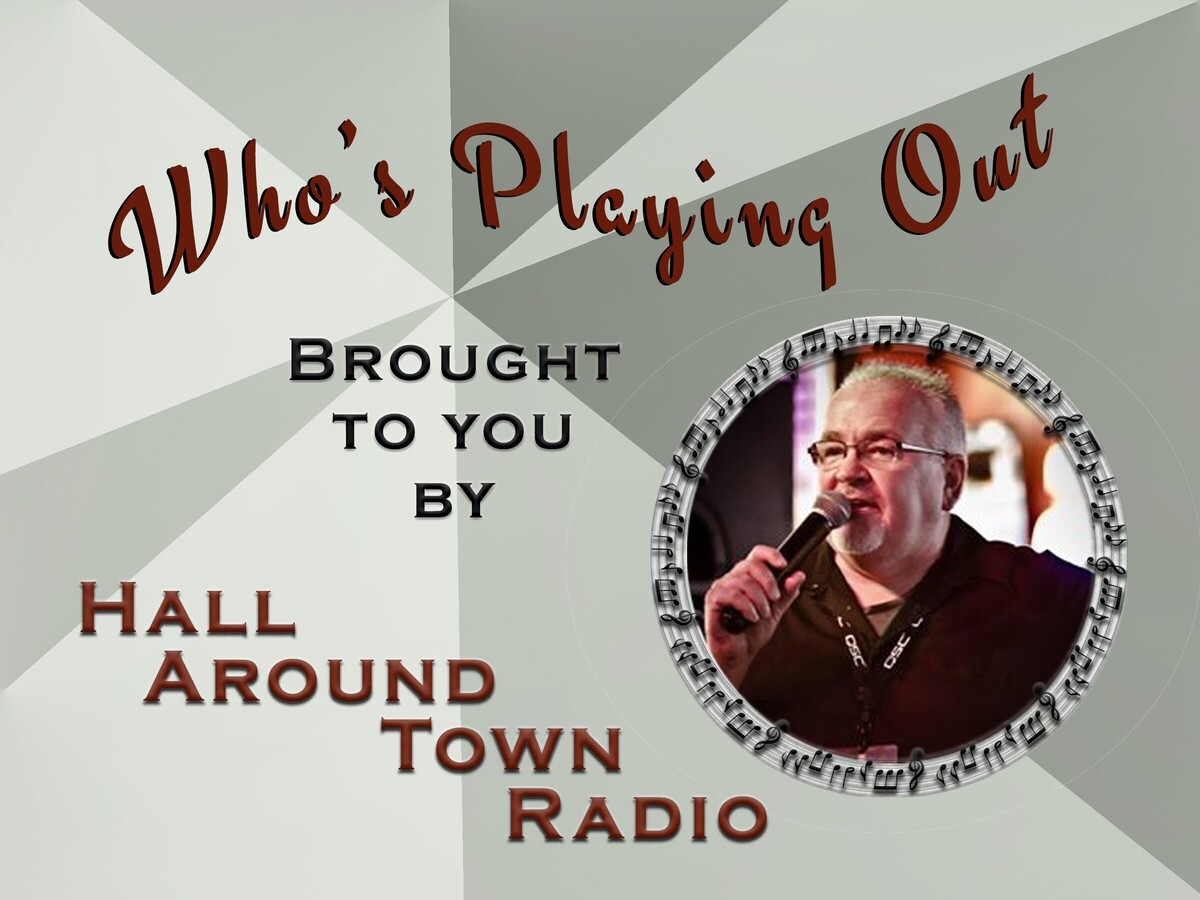 Who's Playing Out - Thursday, February 10th to Wed, February 16th, 2022
Brought to you by Scott Hall from "Hall Around Town Radio"
A little live music can turn an ordinary day into a memorable experience. The area's top musicians take center stage at some of the tri-states best restaurants and nightspots, bringing live music to our region nearly every night of the week. Make your first stop here weekly to find out "Who's Playing Out" at one of our live local music venues.
Bands and solos brought to you by our friends at Froggy's in Monroe, Ohio and Hall Around Town Radio (follow us on Facebook)
Froggy's in Monroe – Sponsor of our Thursday LIVE show on Facebook Now open at 11am daily.
Friday - Fri - 4-7 Brett Brock & Danny Kaufman
No band Friday night... Strange Story
Saturday - 9-1 Pulse
Sun- Super Bowl pregame at 5p with $10 domestic buckets $1 wings and during the game its $1 16oz domestic drafts.
Tuesday - 7:30 What's that Tune Bingo with DJ Angela
Wednesday - 8pm Karaoke with Dj Songz
Online seating reservations / tickets at www.gotofroggys.com
---
Mr. Boro's Tavern Springboro
Thursday – Closed
Friday – Ethan and Joey 8 to 11pm
Saturday – No Refunds 8 to 11pm
Sunday – Super Bowl Party – Pre-Game with Until Rust 2pm
Tuesday – Trivia with Scott at 7pm
Wednesday – Queen of Hearts Drawing
---
The Belle & The Bear (Montgomery)
Thursday Jam featuring the Cincy area's best musicians- LIVE at 5 –A host of local music celebrities at 7:30 pm
Friday – Audio Graffiti 8:30 pm
Saturday – Michelle Robinson Band 8:30 PM
Monday Game Night 6pm
Tuesday – Jamie Combs 7pm
---
Lebanon Grand Opry House
Saturday –Terry Ridley Lee Dinner Show 50s Rock and Roll and Honky Tonk doors at 6pm. Reservations by calling 513-850-1770
---
Sorg Opera House
No Music Shows this weekend
Tickets at Cincyticket.com
---
Soft Rock Café
Karaoke – Thursday 7pm - Friday 8pm - Saturday 8:30 pm. Open also for Super Bowl
---
Crooked Handle Brewing Co.
Thursday – Rick Sylvester 7pm
Friday – Zane Gerlach at 6pm
---
Little River Bar and Grill (Oregonia)
Thursday – Karaoke with DJ Songz 7pm
Friday – Bruce B Acoustic 7pm
Saturday – The Party Foul Band 7pm
---
The Blue Note Harrison
Saturday –"Best of Times" Styx Tribute with Under the Sun and Miss Jacque Doors at 6PM
Tickets available at …. CincyTicket.com
---
Pohlman Lanes & Scott's Bar & Grill (Hamilton Ohio)
Family Entertainment Complex 954 Pyramid Hill Blvd., Hamilton Ohio
Friday - Artist Showcase with Rachel Holt and Aron Napier 7pm to 11pm Host DJ Krutch
Saturday Hi Fi Honey 7pm to 11pm
Sunday Super Bowl Sunday Watch Party Doors open at noon
Monday Big Band Swing 7pm to 9pm
Wednesday Standard Country Time Band 1pm to 3pm
---
Hidden Gem Music Club
Friday – Blues Jam 8pm
Saturday – The Fries and Nasty Bingo 7:30 pm
Sunday – closed
Wednesday – Open Mic Night
---
Lori's Roadhouse
Thursday – Heather Roush Band 6pm
Friday – Cornfield Mafia 6:00pm
Friday – Kevin McCoy Band 9 pm
Saturday – 4 Low 6pm
Saturday – Varner Netherton Revival 9pm
Sunday – Super Bowl Party with the Naked Karate Girls 3pm
---
Miami Valley Gaming
Friday- Richard Lynch – 9pm Center Bar
Saturday – Brimstone – 9pm Center Bar
---
Scotty Long / DJ Songz
Tonight - Little River B&G 7-11pm
Friday- Legends B&G of Hamilton 9pm-1am
Sunday – Super Bowl Party at the Barrel in Springboro from 4 to 6 and then following the game
Tuesday- The Barrel 7pm-11pm
Wednesday - Froggys 8pm-12am
---
Scott Hall – Hall Around Town Radio
Tuesday Trivia at Mr. Boros Tavern 7pm
---
Special Events
Winter Blues Experience III
Manor House in Mason at 5pm Here's the Line Up for both stages
Georgian Ballroom
Tempted Souls Band 5:15pm
Meg Williams 6:30pm
Johnny Fink and the Intrusion 7:45pm
Ally Venable 9:00pm
Eliza Neals & the Narcotics 10:30pm
Manor Ballroom
King Bee and the Stingers 5:30pm
Sister Lucille 6:45pm
Ben Levin 8:00pm
Skyla Burrell Band 9:15pm
Noah Wotherspoon 10:30pm
---
Bands, Solos and Duos
Ben & Pete
Thursday at The Pub at the Greene in Beavercreek, 6 to 9 PM
---
Blind Faith Duo
Saturday at "The Game" in Anderson Twp 8 -11pm
---
Kevin McCoy Band
Friday: Lori's Roadhouse 9:30-12midnight
---
Grey Days
Thursday at Gano tavern 6 to 9 West Chester
Friday at the Kro Bar 5 to 8
Friday at Shorty's Pub Florence Kentucky 9 to 1 am
---
Michelle Robinson
Friday-The Barrel 8-12
Saturday-The Belle & Bear 8:30-12:30
---
Chris Lee Acoustic
Friday, Feb. 11 Instrumental at Red Rose Jems Pizzeria 6pm-8pm
Sunday, Feb. 13 Solo acoustic at Caesar Creek Flea Market 11:30am-2:30pm
---
Short of Stable
Friday 2/11at Good time Charlie's 9p-1a
Saturday 2/12 at Desperados 8p-12a
---
Wesley Green
Friday with 9eight Central Franklin Orioles 7:30-11:30
Saturday at Good Time Charlie's with 9eight central 8-11
Next Thursday Open Mic at Mutt's Brewery and Lounge 8-12
---
Joe Cowels
Saturday - Joe C Solo Show at The Kro-Bar, 5pm - 9pm
---
Kevin Cooper
Thurs 730-1130pm: B&B jam
Fri 7-9pm: solo/acoustic at Hamilton's Urban Backyard
Sat 8pm-12am: solo/acoustic at The Hangar Bar & Grill
---
Acoustic Blue
Friday 5:30pm at Rick's Tavern, Fairfield Oh.
Saturday 7:00pm at The Shift, Bright In.
---
Audio Graffiti
Friday 8:30-12:30 The Belle and the Bear
Saturday 6:30-9:30 Fountain Square downtown Cincy for The Show your Stripes party. Who Dey!!!
Sunday 4:30-6:30 The Banks downtown Cincy For the Super Bowl Watch Party pregame Who Dey!!
---
Tori Faith Band:
Thursday 2/10 at Rick's Tavern ~ 7-10pm
Friday 2/11 at Dixie Station ~ 9:30pm-1:30am
---
Marsha Brady Band
Saturday 2/12 - Monkey Bar 7pm - 11pm
---
Johnny Fink and the Intrusion
Sat 2/12 The Winter Blues Experience. Manor house. Mason Ohio 730pm
---
Amy Sailor
Saturday 2/12 at Bobby Mackeys 7:30-9
---
RED HOT RIOT
Saturdy at Miller's in Bellevue -8:00PM
---
Seiter Haus
Friday 9PM at Millers Fill-Inn
Saturday 8PM at The Augusta Irish Pub
---
Six String Hustle
Thurs 2/10 - 8-12 Highway House Cincinnati, Ohio
Fri 2/11- 8-12 Pirates Den Cincinnati, Ohio
Sat 2/12 - 9:30-1:30 Possum Saloon Bright, Indiana
Sun 2/13 - 1-5 Zazou Covington, Kentucky
Wed 2/16 6:30-9:30 Gano Tavern West Chester, Ohio
---
Truk
Friday, Feb 11 Heroes Pizza Springboro 7-10
---
Until Rust
Friday 2/11 Tumbleweed Connection Dayton, Oh 8-1
Saturday 2/12 Putter's Liberty Township, Oh 7-10
Subnday - Super Bowl Sunday 2/13 Mr. Boro's Tavern Super Bowl Pre-Party 2-5
Wednesday 2/16 The Hangar West Chester, Oh 7-11
---
Mad Hatter
Friday 8-12 Little York Tavern - The return of Kelly Nickol
---
Shawn Bell
Friday 2/11 Full Band Grub Pub Hamilton OH 830 to 1230
Saturday 2/11 Full Band American Legion Connersville IN 8 to 12
---
Ithika
Friday 2/11/22 at JD Legends 8pm-12am
---
Route 88 Full Band
Saturday - 9-1 Courtyard Lounge Englewood, OH
---
Velvet Crush Unplugged
Friday at Lucky Star Brewery Miamisburg oh 8-11
---
After The Party
Saturday at the Highway House - 9:30 pm
If you would like to have your musical act featured on our weekly podcast or in Warren County Post the contact us @Hall Around Town Radio on Facebook! For additional Band information follow our daily Facebook "Live at Five" program @Hall Around Town Radio