From the Desk of Brian Bales: Week of Feb., 14, 2022
Image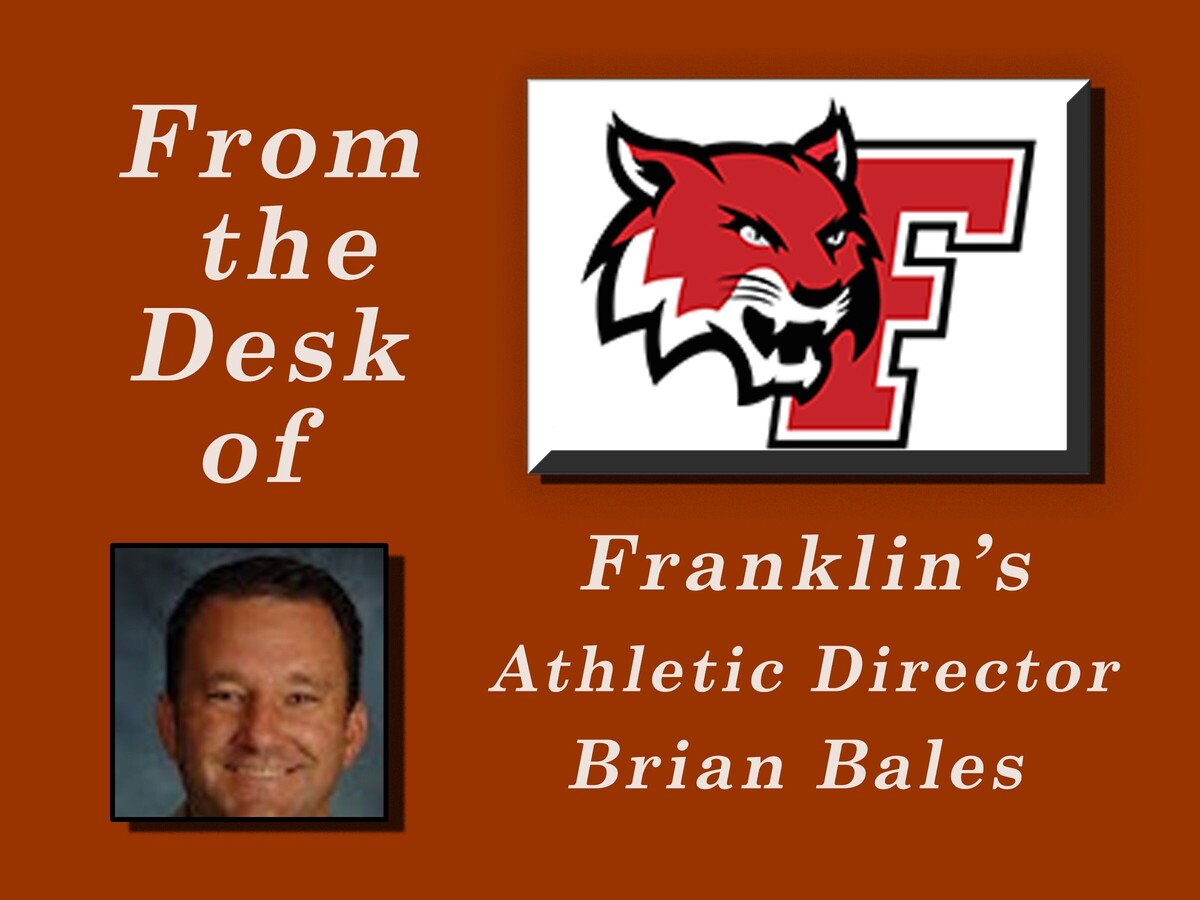 FRANKLIN, OH -- 
Good
luck to our Winter sports teams as they enter their tourney run! And, 
good
luck to Luke Kennard as he will be
participating in the NBA 3 Point Contest this Saturday night in
Cleveland, Ohio!
---
Wrestling
The Wrestling team will compete in the SWBL tournament this weekend at Carlisle High School. Wrestling is scheduled to start at 10am Saturday. Good Luck to the following wrestlers:
106 - Kaizer Downey
113 - Gage Anderson
120 - Nathan Baker
126 - Cater Reed
132 - Cole Stephens
138 - Natha Briner
144 - Nathan Mullins
150 - Landon Speers
157 - Mike Hall
165 - Jude Kuhn
175 - Brandon Garrett
190 - Garrett Tackett
215 - Josh Isaacs
285 - Austin Martinez
---
Swim
Swimming will continue as we had Tyler Bond advance to the district meet in the 100 yard Butterfly! He will be swimming Friday morning at Miami University.
The girls had some great swims at Mason to wrap up the season as well. Camille Lafferty broke the school record in the 100 yard fly. This caps a stellar campaign from the junior who broke two school records (200 Breast and 100 Fly) and put herself on the top 10 list in multiple events.
Way to go swimmers!
We will have a banquet in early March. Please look for emails next week.
---
---
Basketball Sideline Cheer
We want to thank ALL of the basketball players and coaches for a GREAT Winter Sports season! Good Luck to our Varsity Boys basketball team as we begin tournament play next week! AND good luck to ALL winter sports as they finish their seasons! Go Cats!
Comp Cheer
The FHS comp squad had a great performance at UCA Nationals this past weekend and also qualified for State! This weekend the girls will be competing at Cheer for a Cure on Sunday AND at the SWBL League Competition to TAKE BACK THEIR TITLE!!
Come out to Bellbrook Middle School on Saturday to support the FHS comp squad. They perform at 11:15!! Go Cats!!!
---

Bowling
Girls Bowling
The girls lost Monday against a tough Middletown team 1886-1743. Arebella Lloyd was on fire bowling 178 and 153 for a 165.5 average. Great job Arebella!
We ended our season with a 3-1 record in our league and a 5-12 overall record. We travel next week to Crossgate Lanes in Blue Ash to compete in sectionals on Feb. 24.
Boys Bowling
The Boys Bowling Team finished the regular season Monday. The Team dropped a match with Middletown. Ashton Smiley led the Team with a 417 series.
The Bowling Cats will now prepare for the Sectional tournament. This will be held at Colerain Bowl, on Wednesday.

---
Boys Basketball
The Boys Basketball TEAM ended their regular season this past weekend with a Senior Night win vs. Brookville by a score of 84-37. Noah Rich led all scorers with 28 points while every Senior who played scored on the night. The Cats end the regular season with an overall record of 18 wins -4 losses!
At the end of the year SWBL meeting, the Cats had 4 players earn season honors!

Noah Rich - Co Player of the Year
Pierce Bauerle and Nate Paarlberg - 1st Team SWBL
Isaiah Bales - Hon. Mention SWBL
The Cats will play on Monday, Feb. 21st in a second round tournament game at Centerville HS. The opponent will be the winner of the Northmont and Miamisburg game. Ticket information is coming soon.

---
Girls Basketball
The Lady Cats lost to Bellbrook in the SW District Sectional 57-32 Wednesday to conclude the 2021-22 campaign.We finished the season 3-19.
Our program thanks the Administration and parents for all the support during the year. We would also like to thank the following individuals for all they do in helping Our program: Rhonda Parsons, John Dynes, Steve Peters, Robbie Rose, Libby Aldridge, and Greg Shackelford.
The following 13 Student Athletes participated:
Mallory Wulff, SR; Lexi Blevins, JR; Addie Lloyd, JR; Sophia Aldridge, SO; Addie Berry, SO; Kylie Day, SO; Nevaeh Ferguson, SO; Annie Bales, FR; Kenzie Banks, FR; Narissa Jayjohn, FR; Mackenzy Shackelford, FR; Maggi Shackelford, FR; and Morgyn Shackelford, FR.
At the end of year SWBL league meetings with Head Coaches Sophomore Sophia Aldridge was named Honorable Mention in SWBL. Congrats to her on this accomplishment!
The Girls Basketball Coaching Staff consisted of: John Rossi, Matt Abshear, Kaylee Meyer, Ken Haney and Mark Jones.
---
High School Men's Soccer
This Monday we are taking two teams to Trent Arena and participating in the Fairmont Futsal Showdown. This will be a great opportunity for the team to get back together and play as a team one more time against some of the top teams in the area. If you see any of the young men, wish them luck on this awesome opportunity.
---
Lacrosse
Lacrosse Season begins February 21st!!! We are excited about this upcoming season, and if you are interested in playing, regardless of experience, please do not hesitate to join! Email Coach Abshear at matthew.abshear@lakotaonline.com with any questions.
Link for Youth LAcrosse
https://wildcatlacrosse.sportngin.com/page/show/6285866-registration
---
Flag Football
Alpha Flag Football League Combine
The combine is happening right before the season so that coaches and players have a chance to meet. We are also timing and grading the athletes in drills just like NFL players. This will help us make teams as even as possible during the season.
Sign up at: https://www.alphaflagfootball.org/Default.aspx?tabid=1105204
When:
K-3rd: Saturday March 26th from 2:00-3:00
4th-6th: Sunday March 27th from 10:00-11:00
Where:
Home Field Instruction (201 Shotwell Dr., Franklin, Ohio 45005)
How much:
Special guest speaker:
Ryan Montgomery on March 27th
Contact: