From the Desk of Brian Bales: Friday Wrap UP April 8, 2022
Image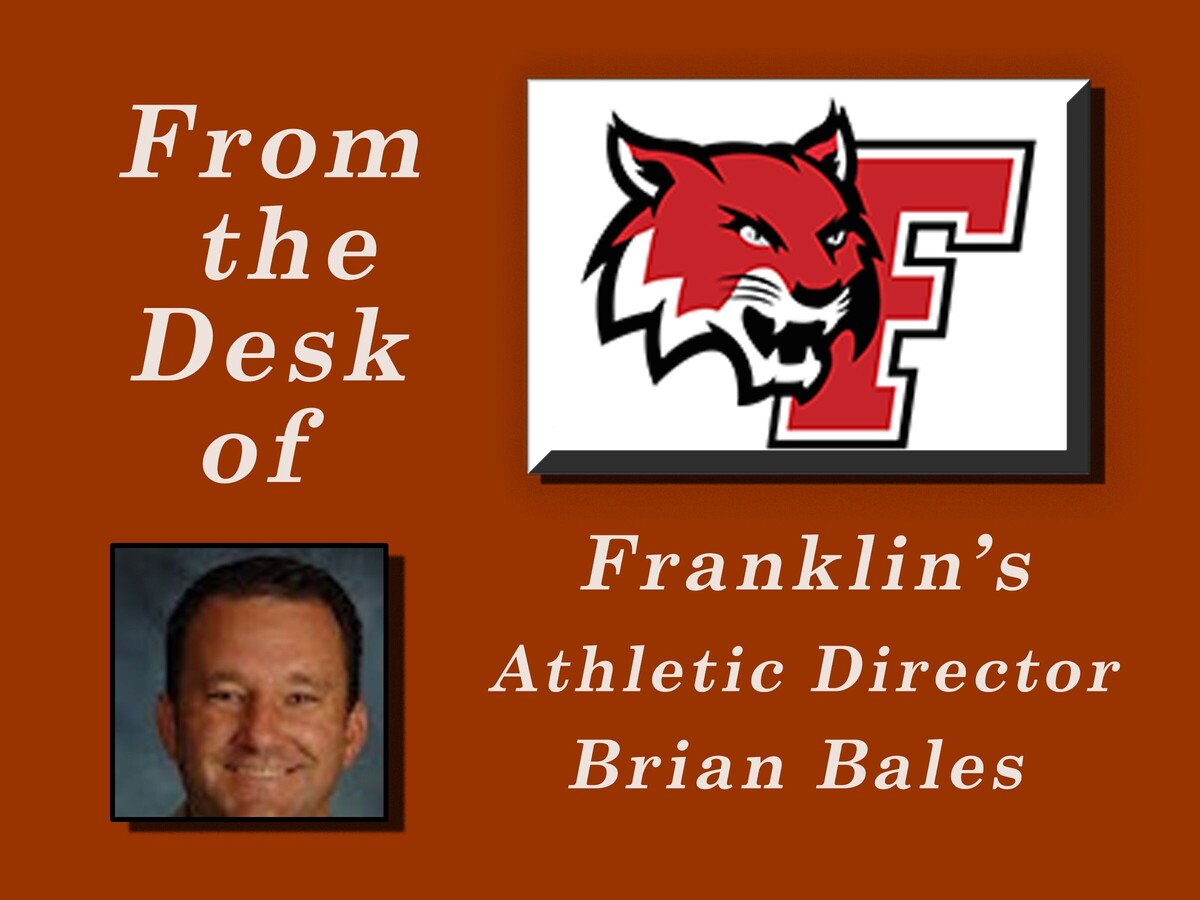 FRANKLIN, OH -- Happy Friday! Spring athletes please make sure your physicals are up to date and your Finalforms are completed in full. Pay to participate is due before your first game.
ATHLETIC BOOSTERS
Calling all interested women and men for designer purses!!! Purse Bingo will help support Franklin JH and High School Cross-Country and Track teams. Join us for amazing raffle baskets from your local businesses, split-the-pot, a wristlet and wallet raffle, and a "cash and carry" table for all your needs!
COST:
$35 until April 23rd, at 11:59pm!
Otherwise, it is $45 at the door.
$35 ticket includes: 20 Rounds of bingo AND a Dauber
$45 ticket includes: 20 rounds of Bingo, a Dauber, AND Chick-fil-A sandwich, chips, and a cookie.
Seating: Circular Tables up to 8-10 people.
After you check-in, you will be able to purchase extra Bingo cards to enhance your chances of winning! We will have a raffle for wallets and wristlets throughout the evening.
We will have concessions running. This includes: Pulled Pork Sandwiches (until supplies last), chips, popcorn, and more.The always favorite, split-the-pot!
Come support a wonderful fundraiser for the Cross-Country and Track teams!
**Remember, you MUST be 18 to play Bingo**
**Sorry, no refunds - only transfer of tickets to other individuals**
**Bingo License available upon request** REGISTRATION LINK - We are LIVE NOW! Register below.
***if registering separate from friends and you want to sit together, please put in the "notes" section who you would like to be placed with***
For more information and to register click... Franklinathleticboosters.org
---
LACROSSE
Lacrosse evened their record to 2 and 2 on the year after they defeated Northmont on the road in Overtime 13-12!
The Wildcats were led in scoring by Danny Fitzpatrick with 4 goals, Dawson Fitzpatrick with 3 goals, and Aiden Creech with 2 goals…including the game winner in OT.
Wildcats host Monroe Saturday at 1…come out and enjoy the show!
---
BASEBALL
The baseball Cats had a tough trip south to Florida playing good competition and coming up short in close losses in three of our five games. We got back on the winning side of things yesterday against Bellbrook in a league divisional game. Evan Fry went 6 innings, striking out 13. Pierce Bauerle had a solo homerun in the 1st inning that proved to be enough in the 3-0 win.
Cats are back in action today in our home opener against Bellbrook today at 5pm at the park!
---
TENNIS
The tennis team lost both matches this week, however, Adam Osborne won his match against Carlisle! He is now 1-1. 
The tennis team continues match play next week against Waynesville, Eaton, and Valley View. 
---
E-SPORTS
Our contribution for the week - excited about the first win of the season. :)
With the Fortnite team having a bye this week, our only match this week was against Clermont Northeastern (CNE) in Rocket League on Wednesday. First to score out of the gate was CNE, but Noah Woo returned the favor with a score for Franklin seconds later. The game went into overtime at 1-1 with Noah Woo scoring within 12 seconds to give Franklin the first round win.
Round 2 started off with a stellar score by Captain Christian Balhetchet 15 seconds into the game. Woo scored again with an assist by Owen Hudson Bateson. Balhatchet scored again with 30 seconds left keeping CNE scoreless and taking the game 3-0. 
Third game remained scoreless for 3 minutes before back-to-back scores by Hudson Bateson and Balhetchet propelled Franklin to a 2-0 lead. CNE rallied with two quick goals to tie it up, but Noah scored with 4 seconds left to give Franklin the win 3-2. 
The match was now 3-0 with no hope for the CNE team to regain ground. The Wildcats were not interested in taking their foot off the gas either. The fourth game began with two quick scores by our Captain and Woo less than a minute into the game. CNE returned with their own goals shortly thereafter to keep the teams tied. Hudson Bateson scored twice, pulling Franklin ahead to win the game 4-3. 
The fifth and final game started with two quick scores from Balhetchet (assist Hudson Bateson) within the first 30 seconds. The third score from the team came from Woo. CNE scored twice on Franklin with 18 seconds left, but it wasn't enough to take the win. Franklin took the last game 3-2, taking the match 5-0.
This gives the FHS Rocket League eSports Team their first overall victory of the season! We are so proud of how far we have come and are excited about what the future brings.
Interested in watching all of the action? Tune in on Mondays and Wednesdays at 3:30 to watch Live on Twitch, or catch our replays on our YouTube channel!
---
SOFTBALL
The Cats have gotten off to a slow start this Spring. The girls are working hard and look to start the turnaround of their season tonight at home vs. Bellbrook. 
They also have a DH at Middletown on Saturday. Game times are 11:00 and 1:00. Come out and support the girls.