Image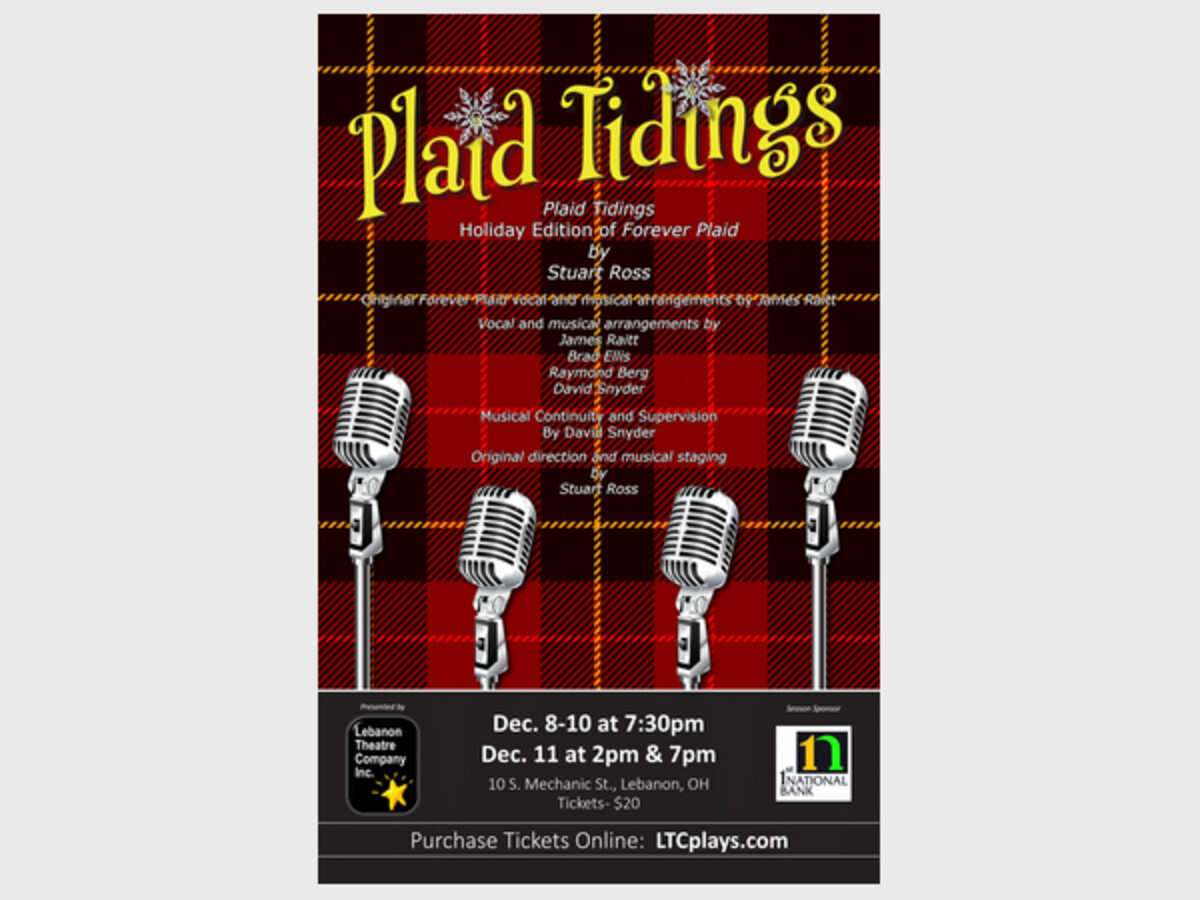 This post expresses the views and opinions of the author(s) and not necessarily that of Warren County Post management or staff.
Audiences are invited to "rejoice and be plaid" this holiday season as Lebanon Theatre Company presents the hilarious and heartwarming musical comedy PLAID TIDINGS. The show runs from December 8 through December 11 at the Mechanic Street Playhouse.
Plaid Tidings — A Special Holiday Edition of Forever Plaid continues the story of the singing group whose lives were lost in an accident involving a busload of teens en route to see "The Ed Sullivan Show." Encouraged by a heavenly phone call from Rosemary Clooney, the high-spirited boys of Forever Plaid – Frankie, Sparky, Jinx and Smudge – are transported from the ethereal cosmos to stage a nostalgic holiday extravaganza for world-weary mortals on Earth. Stuffed with such "Plaid-erized" Christmas standards as "Mr. Santa," "Let It Snow" and "Have Yourself a Merry Little Christmas," Plaid Tidings is one holiday treat that is truly heaven-sent.
The show will lift audiences' spirits and fill them with nostalgia for a bygone era of classic music sung in perfect harmony. With only four actors and a combo needed, Forever Plaid: Plaid Tidings is the perfect holiday show for all ages.
Cast includes Brent Pebbles as Francis, Kurt Percy as Sparky, Patrick Longfellow as Jinks and Evan Smith as Smudge. The show is directed by Wayne Dunn with music director Jay Mills.
There are four opportunities to share in LTC's Christmas cheer. The performances take place on at 7:30 p.m. on December 8th, 9th, and 10th, and at 2 p.m. and 7 p.m. on Dec. 11. Tickets are available online at LTCplays.com or by calling the box office at 513-228-0932 and leaving a message, or if any tickets are remaining, they will be available at the door.
Performance Schedule:
Thursday, December 8 - 7:30 PM
Friday, December 9 - 7:30 PM
Saturday, December 10 - 7:30 PM
Sunday, December 11 - 2:00 PM
Sunday, December 11, - 7:00 PM
Where: The Lebanon Theatre Company – 10 S. Mechanic Street, Lebanon, Ohio
Tickets: All seats are $20 and can be purchase at LTCplays.com or by calling the box office at 513-228-0932
The Lebanon Theatre Company
10 South Mechanic Street
Lebanon, OH 45036
United States