Training The Next Generation of Manufacturers
Image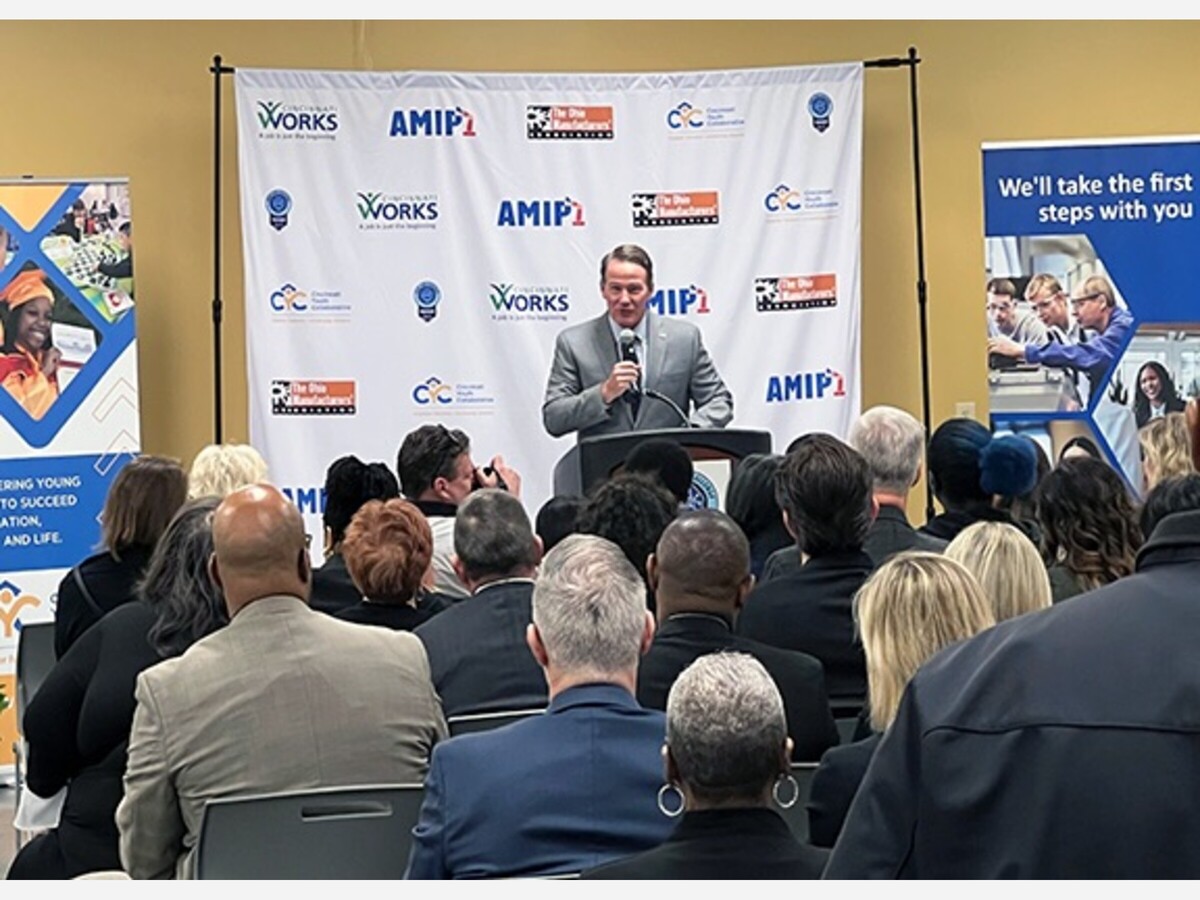 WARREN COUNTY, OH -- Advanced Manufacturing Industry Partnership (AMIP), Cincinnati Youth Collaborative (CYC), and Cincinnati Works (CW) announced a collaborative workforce development action plan on Tuesday. Funded by the Good Jobs Challenge, a two-plus years initiative program that focuses on a recruiting new and upskilling advanced manufacturing employees. 
AMIP received $930,000, part of a $23.5 million grant awarded to the Ohio Manufacturers Association from the Good Jobs Challenge grant, to fund these efforts. The program targets talent pipeline expansion for the advanced manufacturing workforce in Hamilton, Butler, Clermont, Brown, and Warren Counties.
"Advanced manufacturing is a pathway to prosperity. Yet, the advanced manufacturing sector has significant untapped potential to increase productivity and high wage jobs. Industry is facing a critical shortage of skilled workers, and it's only getting worse," said Ohio Lieutenant Governor Jon Husted, who attended the press conference held on Tuesday at Monti, Inc. 
During this time, more than 70 high school seniors from the region will be recruited throughout the duration of the program that combines recruiting, career technical training, pre-screening, onboarding and an ongoing support and one-on-one job coaching to allow for these individuals to begin a lifelong career in advanced manufacturing. 
The program will also support the upskilling of 40 advanced manufacturing employees to grow their knowledge and skills that will strengthen the local advanced manufacturing workforce. All program graduates will receive an industry-recognized credential and guaranteed interviews with local manufacturers.
"Our regions' manufacturers are investing in new technology, utilizing automation and robotics to serve their customers, and still their number one issue is the workforce and how to get the skilled talent they need. The Good Jobs Challenge will provide our manufacturers the immediate opportunity to build our workforce pipeline with newly skilled employees," said Amy Meyer, Chairman of the AMIP Board. 
Meyer went on to explain, "AMIP in conjunction with our Cincinnati Works and Cincinnati Youth Collaborative in partnership with the Ohio Manufacturers' Association offers program participants a unique opportunity to learn new skills and explore career opportunities with local manufacturers to reach their full potential and secure good-paying jobs to achieve economic mobility and security." 
Recruitment began this week for the first iteration of this program, which includes  a cohort of individuals identified through Cincinnati Youth Collaborative and its network of public and technical school connections. This phase of the program will include:
a classroom series with speakers representing advanced manufacturing companies, 
offering in-person tours of modern manufacturing facilities,  
group presentations highlighting earning potential, career advancement opportunities and benefits available to employees in the field.
Cincinnati Works will implement a job readiness and jumpstart curriculum to provide a strong base in the basic knowledge needed to be successful, as well as one-on-one coaching to develop plans and work to address barriers. 
Participants will begin onsite work with AMIP manufacturing employment partners upon completion of technical and job readiness training. 
About AMIP
The Advanced Manufacturing Industry Partnership (AMIP) is the Greater Cincinnati regional association of advanced manufacturing employers, educators and community agencies working together to ensure a robust pipeline of qualified workers. To learn more about AMIP, head to www.advmfgip.org 
About Cincinnati Youth Collaborative
Cincinnati Youth Collaborative (CYC), has been committed to increasing Greater Cincinnati high school graduation rates for over 35 years by collaborating with schools, businesses and volunteers throughout the community. Over the past five years, an average of 95% of CYC senior students have graduated on time from high school. CYC's 3 E's – Enrolled, Employed, and Enlisted – are the key career pathways for our youth, because we know that success does not end after a high school diploma. To learn more about CYC's services and to discover ways that you can positively impact the lives of our region's youth, visit www.cycyouth.org. 
About Cincinnati Works
Founded in 1996, Cincinnati Works partners with regional employers to solve a range of workforce needs: filling open positions with quality candidates, providing retention initiatives, supporting second chance hires, developing potential leaders, and highlighting your business as a Best Place to Work. For more information: Cincinnatiworks.org.