Who's Playing Out: Brought To You By Hall Around Town Radio June 29
Image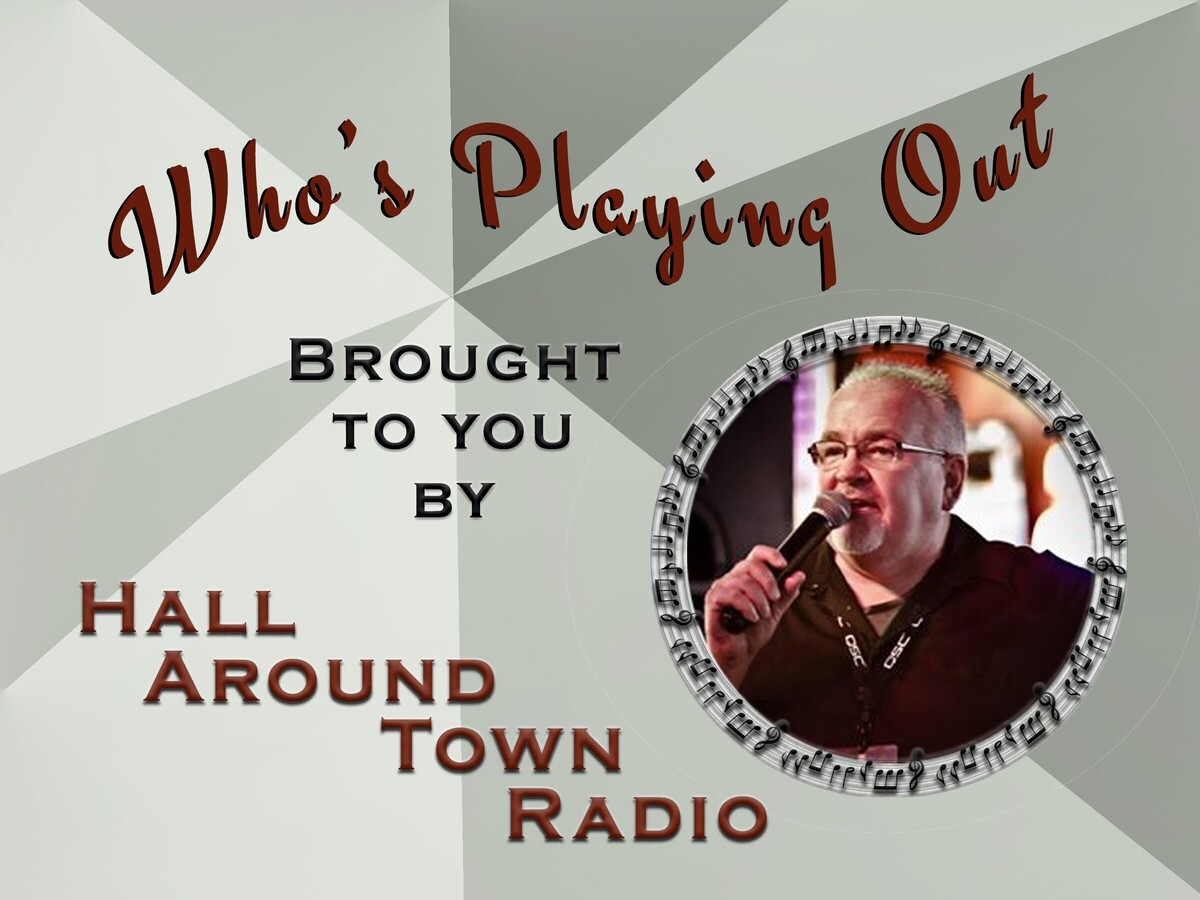 Brought to you by Scott Hall from "Hall Around Town Radio"
A little live music can turn an ordinary day into a memorable experience. The area's top musicians take center stage at some of the tri-states best restaurants and nightspots, bringing live music to our region nearly every night of the week. Make your first stop here weekly to find out "Who's Playing Out" at one of our live local music venues.
Bands and solos brought to you by our friends at Froggy's in Monroe, Ohio and Hall Around Town Radio (follow both on Facebook)
Froggy's in Monroe – Sponsor of our Thursday LIVE show on Facebook
Thursday – TAPS – Tursday Acoustic Patio Sessions – Off tonight
Friday at 8pm – Arcadia
Saturday at 8pm – Sideshow Band
Tuesday 7pm Frog-ingo, 7:30 Queen of hearts $4500+ 12 cards left
Wednesday – Jeep Night (Collect Frogs) from 6 to 10pm Patio with Angela Combs
---
Heathers "On the Patio"
Thursday – Pandora Project from 6:30 to 9:30
Friday – The Homegrown Band at 7pm
Saturday – Drive at 7pm
Tuesdays – Heathers Bingo & Queen of Hearts
Wednesdays –Name That Tune Trivia with Scott 7pm - Resrvations Reccomended
---
Mr. Boro's Tavern Springboro
Thursday – Six String Hustle 7 to 10
Friday – Black Water Voodo 8 to 11pm
Saturday – Cryin Out Loud at 8pm
Sunday Funday - The Hanky Panks from 2 to 5pm
Tuesday – OFF FOR THE HOLIDAY "Quiztastic" Q&A Trivia with Scott at 7pm
Wednesday – Queen of Hearts Drawing. 8pm 37K.
---
The Belle & The Bear (Montgomery) - Award Winning
Thursday "The Award Winning Jam" 7:30ish Special Co-host
Friday – Linus Tate at 8:30 pm
Saturday - Rock Star Band at 8:30 pm
Monday - Game Night - 6pm
Wednesday –- Rick Kern 8pm
---
Crooked Handle Brewing Co. Springboro
Thursday – Shane Demoss – 6 to 9pm
Friday – Short of Stable Duo - 7pm to 10pm
---
Crooked Handle Brewing Co. Piqua
Thursday – Piqua Pub Crawl 6 to 9pm
---
Soft Rock Café
Karaoke – Thursday- 7:30 pm - Friday 8:30pm - Saturday - 8:30 pm.
---
Hamilton's Urban Backyard
Friday – Kramer Fields at 7pm
Saturday – Bam Powell & The Troublemakers at 7pm
---
Pohlman Lanes & Scott's Bar & Grill (Hamilton Ohio)
Family Entertainment Complex 954 Pyramid Hill Blvd., Hamilton Ohio
Friday - Kyla Mainous at 7pm
Saturday – City Slickers at 7pm
Monday – N/A
Wednesday – Standard Country Time Band at 1pm
---
O'Connors Irish Pub Springfield
Thursday – NO Music this weekend
Friday – NO Music this weekend
Saturday – NO Music this weekend
Monday – Trivia with Matt Allen off this week
Tuesday – Closed for the Holiday
Wednesday – Karaoke 10pm
---
Sorg Opera House
No Music Shows this Weekend
Future Show Tickets available at Cincyticket.com visit SORG page for more info
---
Stubbs Park in Centerville
Sunday – Landslide – Fleetwood Mac hits from 7 to 9pm
---
Lofino Park in Beavercreek
Sunday – No Show this week
---
The Heights Summer Music Series at Eichelberger
---
Springboro Summer Concert Series – North Park
Saturday – Escape "Journey Tribute" at 7:30pm
---
Little River Bar and Grill (Oregonia)
Thursday –– DJ Songz Karaoke
Friday - Missing Pieces at 7pm
Saturday – Right Turn Clyde at 7pm
Tuesday – Little River Bike Night plus the Queen of Hearts Drawing
---
Miami Valley Gaming
Friday - DJ Big Daddy Walker 9pm Center Bar
Saturday – DJ Big Daddy Walker 9pm Center Bar
---
The Blue Note Harrison
No Shows this week – Future Show Tickets available at Cincyticket.com
---
Hidden Gem Music Club
Thursday – TBA 7pm
Friday – Kurt Crandall – The Stella Vees with Jimmy D Rogers 8pm
Saturday – Noah Wotherspoon Band at 8pm
Sunday at 7pm – Kelly Ginn and Brian Cashwell Jazz Duo
Tuesday – Closed for Holiday - Open Mic Night 7:30PM
---
Lori's Roadhouse
Thursday – Boozy Bingo and Karaoke at 6pm plus Queen of Hearts …
Friday – Paint Creek at 5:30
Friday – The Dryes at 8pm
Saturday – Danny Frazier at 5pm
Saturday – Mouch and Friend at 8pm
Tuesday – Line Dancing Lessons 7pm
Tickets at LRHLIVE.com
---
Milanos (Miami Township)
Wednesday – Heath Bowling at 7pm
---
Rex Patrick and the Country Legends Show in Germantown
CLOSED FOR HOLIDAY…. doors open at 5:30 Music 7 to 10 Reserve your table now 513-594-1282
---
Moe Harrigan's Tavern
Thursday – Kyle Mercer at 7:30pm
Friday – Acoustic Jr and Guitar Mike 8pm
Saturday – Reyna and Dana 8pm
Wednesday – Nick Mitchell 8pm
---
The Brick Tap and Tavern
Thursday – Scottg Houchens at 8:30pm
Friday – Amy Newhart at 8:30pm
Saturday – The Sowers Family from 8:30 to 11:30
Wednesday – Doug Hart Solo 7:30pm
---
Ricks Tavern
Thursday – Miss Jacque Acoustic at 7pm
Friday – The Whammies at 8
Saturday – Stagger Lee 7pm followed by a DJ
---
KnottyPine
Thursday – Kenny Cowden from 7 to 11
Friday –Final Order Band at 9pm
Saturday – Pandora Effect from 9 to 1 …
---
Scotty Long / DJ Songz
Thursdays - Little River Oregonia, OH. PatiOKE Party 7pm!
Friday Township Tavern - Hamilton, OH 8pm Karaoke & Dance Party!
Check out his Facebook pages at Scotty Long or DJ Songz for all Friday night shows!
---
Scott Hall
Out and about all weekend checking the local music scene
Tuesday at Mr Boros Tavern for Quiztastic Tuesday Trivia OFF FOR THE HOLIDAY
Wednesday – Heathers Name That Tune - Weekly Residency 7pm sharp RESERVATIONS AVAIL
---
Bands, Solos, Duos and Events
Tim Blakeney
Thursday - Solo Acoustic Entertainment 6-9pm Cappy's in Loveland
Friday from 7-11pm with the Missing Pieces Band At Little River Café Orgonia
Saturday - Private Party
Monday night Bike night at Billy's Burgers and Brews Cancelled due to holiday
RockHouse
Saturday at 16 Lots Southern Outpost, Newport on the Levee. 8:00 pm.
Rockstar
Saturday at the Belle and the Bear 8:30 pm
Velvet Crush
Friday at LittleYork Tavern 8pm
The Growlers
Friday at the 4th of July Festival in Liberty, IN. 6pm
Rick Henderson & the .50 Caliber Band
Friday at Hunter Pizzeria. Music starts at 6:00.
"Jim Jones as Elvis"
Friday and Saturday at El Rancho Nuevo from 6 to 8pm
Latter
Friday at Wings in Vandallia Patio Edition! 9:30
Sean Poole
Thursday at The Liberty Inn 6:30pm
Courtney Jo Band
Friday at the Ashland Moose Bike Night in Ashlany Ky 6 to 10pm
Saturday at Spartan Stadium in Portsmouth, Oh 8:30 to 10pm
Tuesday – July 4th at Sternwheel at the Charelston Regotta in Charleston WV 2:40 pm
Joe Cowels
Thursday June 29th Joe Cowels solo at Putters in Maineville 7pm to 10pm
Friday June 30th Joe Cowels solo at Lounge 25 in Hamilton 9pm to midnight
Saturday July 1st The Joe Cowels Band at Nicc&Norm's in Hamilton 8pm to midnight
Sunday July 2nd Joe Cowels solo at Streetside Brewery in Cincinnati 3pm to 6pm
Sweet Sister Mercy
Friday at The Monkey Bar Mainville Oh, 7pm-11pm
Dv8
Thursday - June 29th Rockin the Roebling 166 Mehring Way Cinci OH 7pm til 10pm
Friday - Union Celebrates America at Ryle High School Union KY 6pm til 10 fireworks following
Saturday at Rising Sun Stars and Stripes Celebration Rising Sun Indiana 8pm til 10pm
Sunday at Club TRIO from 3pm til 7pm
Monday – The 4th of July Spectacular Colerain 4200 Springdale Rd from 7pm til 10 pm. Fireworks following
Tuesday - July 4th "4th of July Celebration: Fourth Fest High St in front of Fort Piqua Plaza Piqua OH 45356 6:30 pm til 10 pm fireworks following
Vinyl Countdown
Saturday, July 1st Taps, Tastes & Tunes Festival 12-3:30 PM
Sunday, July 2nd Independence Day Celebration at Inwood Park 6-10 PM
Whisky Town
Tuesday at Turfway Park 7 to 10
Friday at Peecox Erlanger 9:30 to 1:30
Rick Kern
Friday the So Low Show at MVP Sports Bar & Grille 8:30 p.m. - 12:30 a.m.
Wednesday at the Belle & The Bear 8pm
Dat Band
Monday 7/3 at Milford Sparks In The Park 8-10pm (then fireworks)
That One Party Band Lite
Friday at the Pirates Den (acoustic) 8:30-12:30
Saturday at Jacki's in Cleves Ohio 8-12
Tuesday July 4th (full band) at the Lebanon Historical Society Independence Day celebration        7:30-dusk (fireworks following directly after performance). FREE TO THE PUBLIC!
THE GAMUT
Friday from 5-8:30pm Opening for Sister Hazel at theTaps, Taste & Tunes Festival in West Chester,
Saturday from 8pm-midnight Cabana on the Whitewater in Harrison, Oh
Kevin Cooper
Thursday from 730-1130pm: Bell & Bear Jam
Sunday from 2-5pm: The Hanky Panks at Mr. Boro's Tavern
Wednesday from 7-11pm: Kevin Cooper solo at The Corner Pub
Acoustic Blue Band
Saturday July 1st - Electric Ally, Harrison, Oh. 7 to 10pm
Sunday July 2nd - Rising Star Casino, Rising Sun, In. 5 to 9pm
ReDD
Friday at the Cabana on the River - 6/30 @ 8pm-12am
Wednesday at Route 50, bike night - 7/5 @ 7-11pm
Drive
Saturday at Heather's 7/1 8pm.
Marsha Brady
Saturday July 1st - Indian Lake Moose - On the outdoor deck - 3pm - 7pm. 4th of July bash
The Whammies
Friday at Rick's Tavern and Grill 8-12
Jet Pack Academy 
Saturday at FC Cincinnati Pre-Match party in Washington Park, Saturday 4:30-6:30
The BillyRock Band
Friday 8pm Hooters Newport Stage
RED HOT RIOT
two private 4th of July parties this weekend
Michelle Robinson Band
Saturday-Oxford Uptown Concert Series 7:00-9:30
Monday-Mt. Healthy Fireworks 6:00-10:00 (Hometown Show)
Tuesday-Hamilton Township Freedom Parade/4th of July Show 10:00am-2:00pm
Until Rust
Thursday at Crooked Handle Springboro, Oh 6-9
6 String Hustle
Thursday from 7-10 at Mr. Boros Springboro, OH
Friday from 8-11 at Valley View Lounge Williamsburg, Ohio
Saturday from 7-11 at Skippers River Café New Richmond, Ohio
Tuesday from 2:30-4:30 at Fairborn 4th of July in Community Park Fairborn, Ohio
Wednesday from 8-11 at Olde Village Tavern "Pat Riley and Friends" West Chester, Ohio
Benny Bodine
Saturday at Jayne's On Main 7:30-10:30 Miamisburg, OH
Velvet Crush
Friday 6/30 Little York Tavern Dayton, oh 8-12
Tuesday 7/4 at the Village of St. Bernard July 4 celebration Cincinnati, oh 5-830
Jay Clark
Monday 7/3 Jay Clark & friends Lake Choctaw London, Oh 7-10pm
Tuesday 7/4 Jay Clark & friends Plain City 4th of July celebration Pastime Park 7:30-9pm
Chad Applegate
Thursday Chad Applegate solo at Little Miami Brewing Co in Old Milford from 630 to 930
Every Wednsday at Hanks Pub in Mt Carmel Oh from 7 to 10.
Linus Tate
Friday at the Belle and the Bear 9PM Cincinnati, OH
Saturday at Arlins Bar and Garden Cincinnati, OH 10PM
The Homegrown Band
Friday at Heathers from 7-11
Cryin Out LOUD
Friday at the West Carrollton VFW, 8-12
Saturday at Mr BorosTavern, 8-11pm
Steve Kracus - Guitarist
Thursday with DV8: 6/29 Rock The Roebling at Moerlain Lager House
Friday with Mad Hatter 6/30 @JD Legends
Friday DV8: 6/30 Union Celebrates America (Mike Oakley filling in for me)
Saturday with DV8: 7/1 Rising Sun Stars and Stripes Celebration
Sunday with DV8: 7/2 Club Trio
Monday with DV8: 7/3 Colerain 4th of July Spectacular
Tuesday with DV8: 7/4 Piqua Oh. 4th of July Celebration.
The Weekend Effect
Sunday at Froggy's at the Lake from 2-6pm.
Tuesday opening the party in Piqua for their Independence day festival from 3pm-6pm - DV8 to close
Short of Stable
Friday - Mike & Tiff acoustic Crooked Handle (Springboro) 7-10
Saturday - Mike & Tiff acoustic at O'Learys 8-11
Sunday – Good Time Charlies Open Mic (full band setup) 5-9
Chris Lee Acoustic
Friday at Fibonacci Brewing Company Cincinnati/Mt. Healthy OH. 6pm-9pm
Joe Lipinski
Wednesday July 5th jersey joe at Moeller Brew Barn Dayton after the Dragon's game 4:30 to 6:30
David Thornton
Thursday at Jayne's On Main 7-10
Saturday at The Swire Inn 7-10
Sunday at Third Eye Brewing Company 4-7
Heath Bowling
Thursday at Fairfield Pub from 8-11p Fairfield, OH
Friday at Bradford Care Center 12-2p Hamilton, OH
Friday at Knollwood Tavern from 9-12a Beavercreek, OH
Wednesday at Milano's from 7-10p. Miamisburg, OH
Don't Tell Steve
Saturday from 8-11 Satch's bar
Perry Waldron
Saturday with Lee Dixon at The Works in Loveland starting at 7pm
If you would like to have your musical act featured on our weekly podcast or in Warren County Post contact us @Hall Around Town Radio on Facebook! For additional Band information follow our daily Facebook "Live at Five" program @Hall Around Town Radio
More News from Lebanon