Prescription Drug Take Back Event This Saturday
Image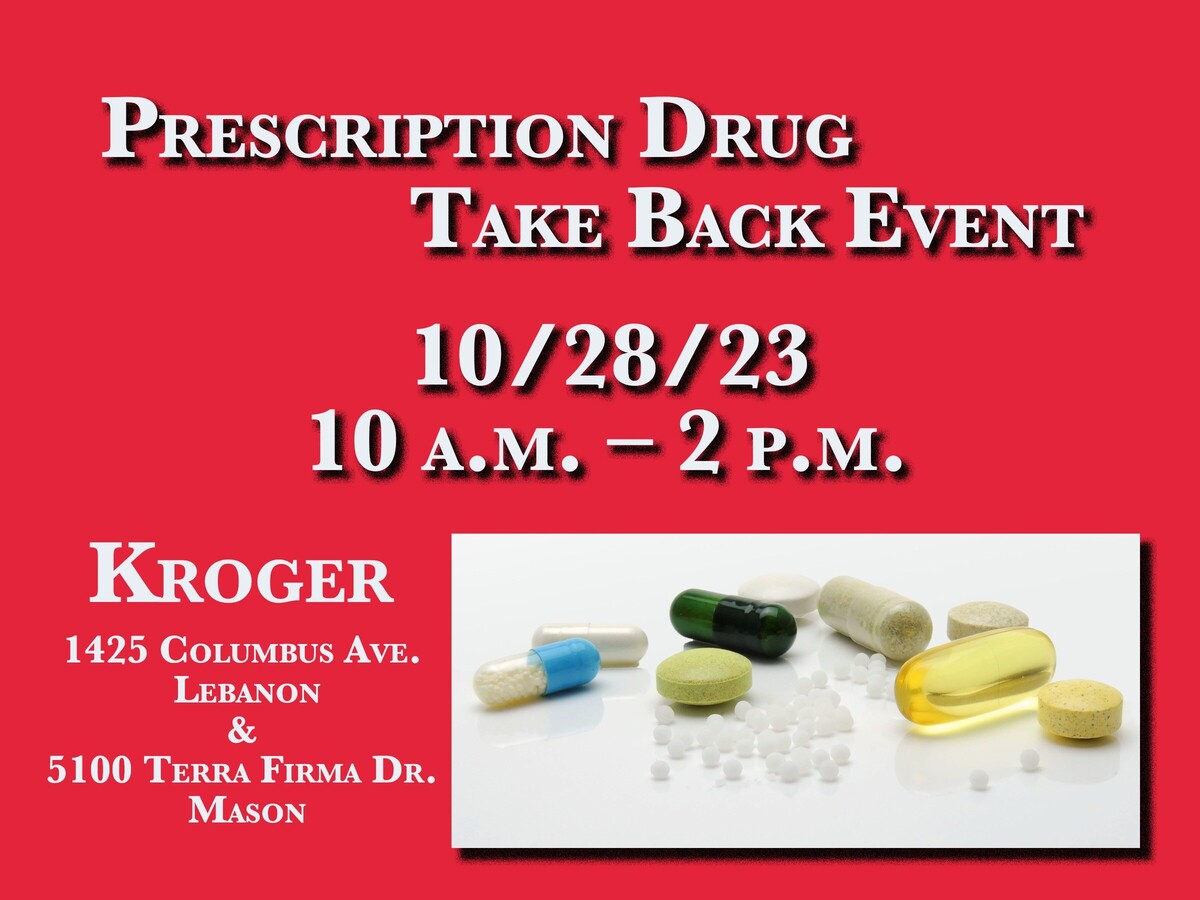 LEBANON & MASON, OH --Kroger Health, the healthcare division of The Kroger Co. and its family of pharmacies, and Cardinal Health, will participate in the DEA's National Prescription Drug Take Back Day, where patients can responsibly dispose of prescription medications at participating local pharmacies, on Saturday, Oct. 28, 2023.
Drug take back events are scheduled from 10 a.m. – 2 p.m. in select Kroger stores throughout the southwestern Ohio region. Local law enforcement officers will be on site to accept unused or expired pills, liquids, gels, and patches just outside stores (no medications will be accepted inside stores). *Acceptance of liquids, gels, and patches may vary by location. Locations include:
WARREN COUNTY AREA

Kroger Marketplace 1425 Columbus Avenue Lebanon, OH 45036
Kroger, 5100 Terra Firma Drive, Mason, OH 45040
DAYTON AREA
Kroger Marketplace, 1095 S. Main Street, Centerville, OH 45458
Kroger, 7747 Troy Pike, Huber Heights, OH 45424
CINCINNATI AREA

Kroger, 4777 Kenard Avenue Cincinnati, OH 45232
Kroger Marketplace, 10477 Harrison Avenue, Harrison, OH 45030
Kroger, 1 West Corry Street, Cincinnati, OH 45219
The National Center for Drug Abuse Statistics reports that 16.3 million Americans misuse prescription drugs annually and over 96,000 Americans lose their lives to drug overdoses. While prescription drug abuse has declined by nearly 14% since 2015, much still needs to be done to help people get rid of unwanted or expired medications.
"Kroger Health works diligently to provide expert and credible care to customers every single day. We prioritize the safe disposal of unused or expired prescription and nonprescription drugs to protect our communities and create healthier environments for everyone," said Chuck D'Imperio, PharmD, RPh, Kroger Pharmacy Practice Coordinator. "We're excited to again collaborate across our communities with local law enforcement and Cardinal Health, by providing safe and convenient locations to dispose of unused or expired prescription drugs on the DEA's National Prescription Drug Take Back Day."
"As a part of our community engagement work, Cardinal Health continues to be dedicated to improving the health and safety of the communities we serve nationwide," said Jessie Cannon, Vice President of Community Relations at Cardinal Health. "We're proud to continue our work with community partners, like Kroger, to combat prescription misuse and provide communities opportunities to dispose of unused and expired medications safely."
Kroger Health, in collaboration with Cardinal Health, has hosted drug take back events across the U.S. since 2018. To date, they have collected more than 147,000 pounds of unused and unwanted medication for safe disposal during drug take back events and served more than 67,000 visitors. To view the complete list of Kroger Health prescription drug take back event locations across the country, visit https://www.kroger.com/health/pharmacy/prescriptions/takeback.
More News from Lebanon