A Look Back to Kings Island's Opening Day 50 Years Ago
Image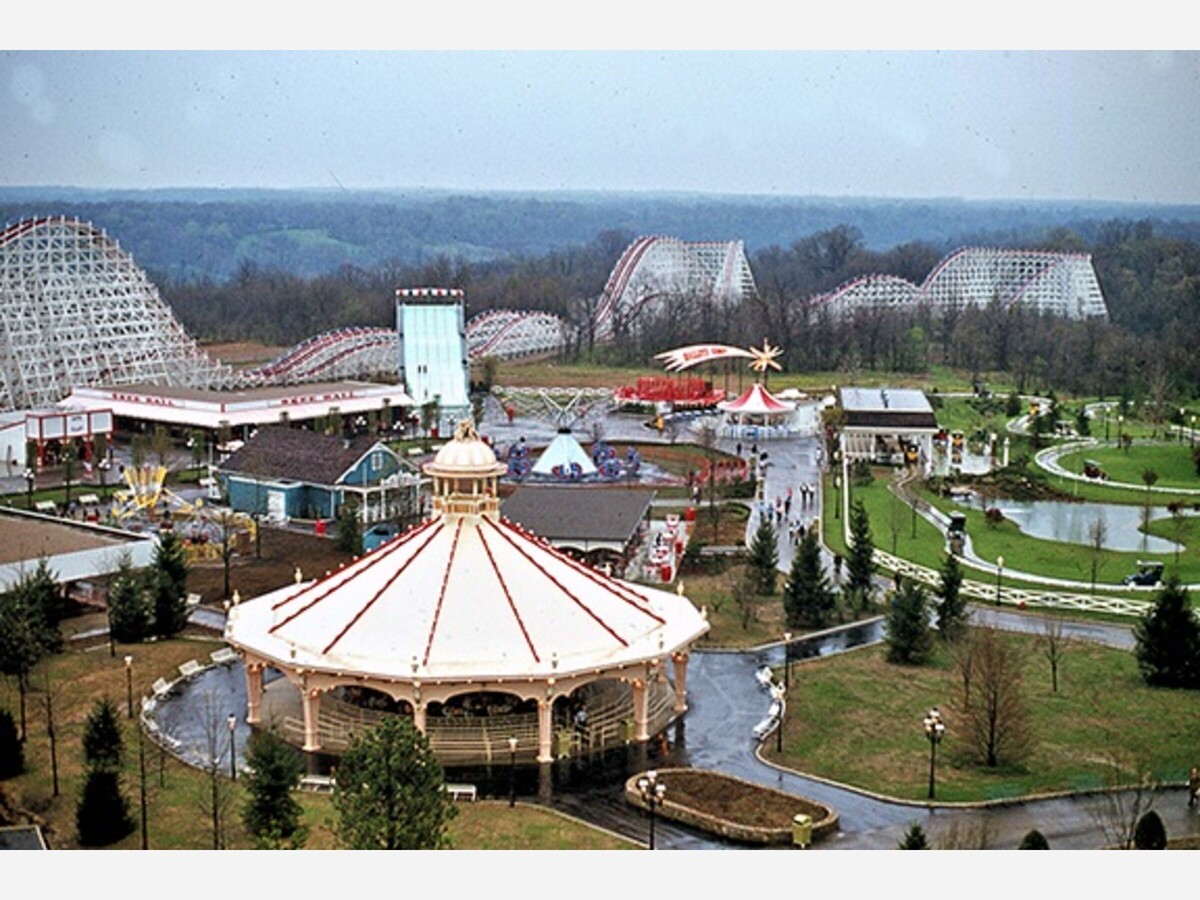 Meeting wonderful, neat, unique and remarkable human beings is one of the rewards of being a journalist/writer. Why do I mention this? Earlier this month, I got a call from one… Paul Holzschuher. Not only did he remind me that it is Kings Island's 50th Anniversary on April 29, but he is letting the Warren County Post E-paper publish his short story and pictures that he took on Opening Day on April 29, 1972. Below is what Paul remembers ...

---
By Paul Holzschuher 
Mason, OH -- Kings Island has an interesting history, going back to 1870. In 1870, Coney Island amusement park started on the Ohio River just east of Cincinnati. 
I remember in the 1940's, my family taking me on a paddlewheel boat ride from Cincinnati to Coney Island. Coney was a full-fledged amusement park, complete with rides and carnival games. However, Coney was close to the Ohio River and flooded most every year. 
In early 1960s, Coney Island's owners talked with local Taft Broadcasting for the purpose of developing a new park on higher ground.The rumor was that Taft talked with Walt Disney about new park locations and Disney said 'buy twice the land you will need.' Therefore, Taft bought 1,600 acres in the county just north of Cincinnati. Taft moved most of Coney Island's rides to Kings Island and Coney's last day for rides was Sept 6, 1971.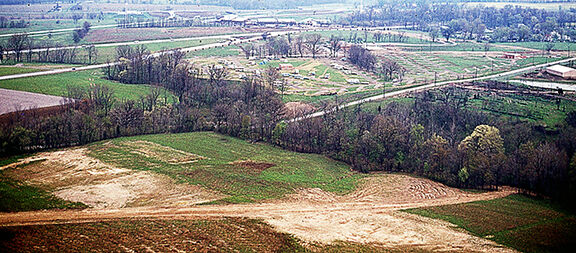 ---
---
Paul went onto to explain he can't confirm his story is 100% correct, but it's what he remembers. "You can find more on Wikipedia and Kings Island's Website," he added.
Taking Paul's advice, I visited both the above sites along with a Warren County site on Ohio's Largest Playground and history site on Coney Island. Here are some fun trivial facts found in these readings on just the creation and purchasing business aspects of the park....
Kings Island got its name from the combination of the Kings Mills community and Coney Island, its amusement park predecessor.
The Grand Carousel is the oldest ride at Kings Island (96-years old) and was purchased by Cincinnati Coney Island in 1926.
Back 1891, John D. Hoff, who owned and farmed the land, used a small portion of the land for a family cemetery. 
The property eventually was purchased by the King Family who bought it to expand their Kings Mill Powder Company. Kings Mills was a company town for King Powder Company, which later became Peters Cartridge Company. The company ceased operation in 1944.
1966 Taft Broadcasting Company obtained Hanna Barbara and was interested in utilizing an amusement park to showcase Hanna Barbara characters in a similar manner Disney had done in its Disney Land Park.
In 1968, Fess Parker who played Davy Crockett for Disney announced plans to build Frontier Worlds in Northern Kentucky near the Interstate 71 and 75 split.
Immediately Gary Wachs co-owner of Coney Island with his dad Ralph began looking into moving Coney Island for it had outgrown its space. He mentioned the idea of teaming up to Taft Broadcasting.
March of 1969 Taft Broadcasting purchased Coney Island in exchange for 174,957 shares of Taft stock, making the acquisition worth approximately $6.5 million.
In July of 1969, Taft had secured 1,600 acres of land in Warren County for $3.2 million or approximately $2000 an acre.
Ground for Kings Island was broken on June 15, 1970.
Management held a contest to name the park.
Coney Island's final season was in 1971 with Labor Day, September 6, being its final day to be opened and The Delta Queen pulling away for the last time playing "Good Bye, My Coney Island Baby."
In 1971, Fess Parker abandoned the idea to build a park in Kentucky.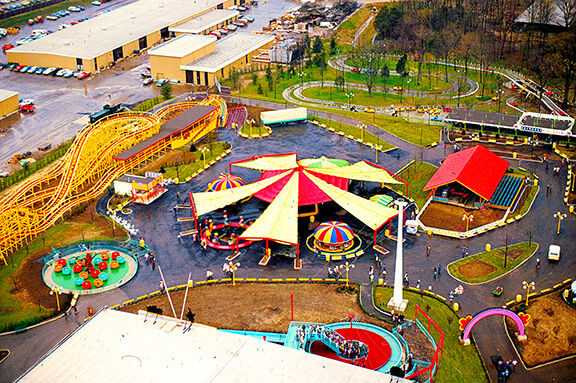 The Sky Ride, Tumblebug, Rotor, Scrambler, Monster, Eagles, the log flume and assorted children's rides from the Land of Oz were moved from Coney Island to Kings Island during the 1971-1972 winter.
On the rainy Saturday of April 29, 1972, Kings Island opened for a series of preview weekends.
On May 27, 1972 Kings Island officially opened with balloon, parades and air force jets.
Kings Island became the first non-Disney park to attract more than 2 million visitors in its inaugural season.
Taft Broadcasting decided to open Coney Island's Sunlite Pool for the 1972 season since the property had not sold.
In 1975 Charles Mechem Jr., head of Taft Broadcasting took the for sale sign down after 420,000 visitors came to Sunlite Pool making Taft money at Coney Island for the first time since 1971.
1984 Taft sold its theme park division, excluding Coney, to a group of executives from its theme park division for $162.5 million. The executives formed a new company called Kings Entertainment Company, KECO.
In 1987, Great American Financial Corporation purchased Taft Broadcasting along with Coney. Later that year, Charles Linder, who owned a controlling interest in Great American Financial, purchased KECO. 
1991 Coney Island was sold to Ronald (Brenda) Walker for $3.8 million.
In 1992 Paramount Parks purchased Kings Island.
In 2006 Cedar Fair, owners of Cedar Point, purchased Kings Island from Paramount. 
Tomorrow look for an article with some of the "famous" people who either worked or did a TV show at the park. 
And in the mean time, enjoy the gallery of Opening Day Photos of Kings Island taken by Paul Holzschuher.