Who's Playing Out Brought To You By Hall Around Town Radio — August 4, 2022
Image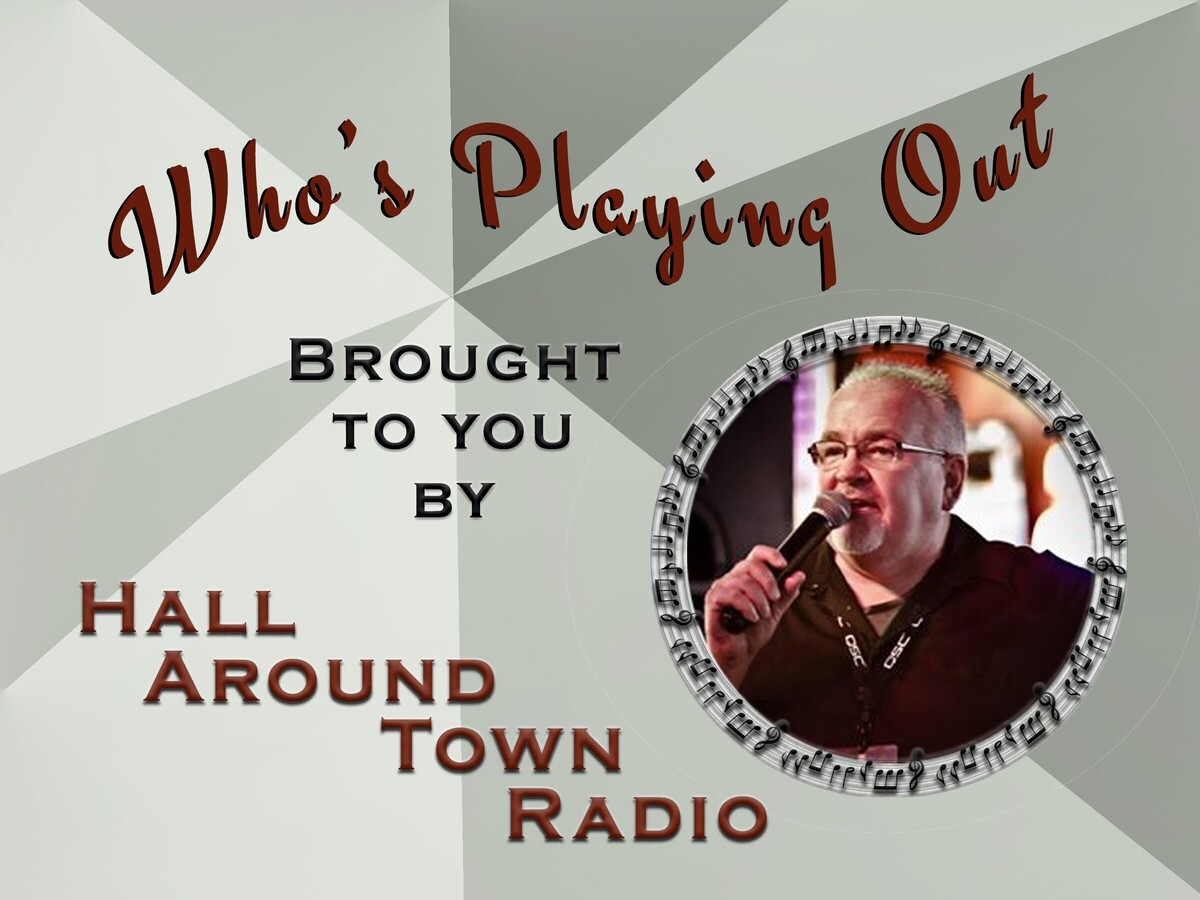 Brought to you by Scott Hall from "Hall Around Town Radio"
A little live music can turn an ordinary day into a memorable experience. The area's top musicians take center stage at some of the tri-states best restaurants and nightspots, bringing live music to our region nearly every night of the week. Make your first stop here weekly to find out "Who's Playing Out" at one of our live local music venues.
Bands and solos brought to you by our friends at Froggy's in Monroe, Ohio and Hall Around Town Radio (follow the on Facebook)
Froggy's in Monroe – Sponsor of our Thursday LIVE show on Facebook
Friday at 9pm - High Crimes
Saturdy at 9pm- Rockstar
Tuesday - 2'fer Tuesday 6p-9p inside with Roger & Louie- AND 6-9p on the patio with Jacob William.... Plus some crazy 2 for 1 drink and appetizers specials
Wednesday 6-9pm on the patio Jamie Combs
Wednesday - 8pm Karaoke with DJ Songz
Online seating reservations / tickets at www.gotofroggys.com
---
Mr. Boro's Tavern Springboro 
Thursday – The Wright Brothers III 7 to 10 pm
Friday – Ninety Four .04 "Debut" – 8 to 11pm
Saturday – Truk - 8 to 11
Sunday –– Element 3 "Debut" - 2 to 5 pm
Tuesday – "Quiztastic" Q&A Trivia with Scott at 7pm
Wednesday – Queen of Hearts Drawing. 8pm over 7K
---
Heathers Café
Tuesday – Open Mic Night with Junior 7pm + the Queen of Hearts Drawing at 8
Wednesday – Name That Tune with Scott. 7pm Call for reservations
Thursday – Last Call Trio at 6:30pm
Friday – Ithika 7pm
Saturday – Jake "Hambone" Davis 7pm
---
The Belle & The Bear (Montgomery)
Thursday "The Jam" featuring a host of local music celebrities at 7:30 pm
Friday – Stoney Doperella at 9pm
Saturday - Britney's Lipstick at 9 PM
Sunday – Kevin Cooper 2pm
Monday Game Night - 6pm
Tuesday – Jamie Combs Acoustic Jam 7pm
Wednesday - Rick Kern 7pm
---
Crooked Handle Brewing Co.
Thursday – Christopher Arellano at 6pm
Friday – Bennie Bodine at 7pm
---
Soft Rock Café
Karaoke – Thursday 7pm - Friday 8pm - Saturday 8:30 pm.
---
Pohlman Lanes & Scott's Bar & Grill (Hamilton Ohio)
Family Entertainment Complex 954 Pyramid Hill Blvd., Hamilton Ohio
Friday at 7pm The Joe C Band
Saturday at 7pm – Jimmys New Invention
Monday at 7pm After Hours Big Band
Wednesday at 1pm The Standard Country Time Band
---
Lebanon Grand Opry House
Saturday – Thunderbirds Rockabilly Show featuring Joe – Linda – Gary and Danny Doors open at 6pm for dinner Show - 7pm
Reservations by calling 513-850-1770
---
Sorg Opera House
No Live Music Shows this Weekend
Future Show Tickets available at Cincyticket.com
---
Little River Bar and Grill (Oregonia)
Thursday –– DJ Songz Patioke Party at 7pm
Friday – Party Foul 7pm
Saturday – SOS at 7pm
Tuesday – Bike Night with music
---
The Blue Note Harrison
No shows this week listed
Tickets to future shows are available at …. CincyTicket.com
---
Hidden Gem Music Club
Thursday – Blues Jam 8pm
Friday – The Distance– 8pm
Sunday – Bright Moments Jazz Quartet 7pm
Tuesday – Open Mic Night 7PM
---
Lori's Roadhouse
Thursday – Service Industry Night 9pm
Friday: Adam Doleac with Sasha McVeigh! Tickets at lrhlive.com 7pm
Saturday: Bourbon Road Band and Mouch & Friend 7pm
Tuesday – Line Dancing 7pm
---
Miami Valley Gaming
Friday- 4th Day Echo – 9pm Center Bar
Saturday – Jason Owens – 9:00pm Center Bar
---
Rex Patrick and the Country Legends Show in Germantown
Saturday The Thunderbay Band "Hawaiian Luau" – Doors at 5:30 Music at 7pm Reservations by calling 513- 594-1282
---
Brick Tap Tavern
Thursday – Open Mic Night with Scott Houchens 7:00pm
Friday – Repeat Offenders at 8pm
Saturday – Benny Bodine at 8:30pm
---
Scott Hall – Hall Around Town Radio
Tuesday Trivia at Mr. Boros Tavern 7pm
Wednesday – "Name That Tune" at Heathers Café on the patio 7pm "Call for Reservations"
---
Live Monday to Thursday On Hall Around Town Radio
Scotty Long / DJ Songz
Thursdays - Little River B&G Oregonia, OH PatiOKE Party 7pm-11pm.
In Vegas this weekend.
Monday - Good Time Charlie's Miamisburg, OH Good Time Karaoke 9pm-1am.
Tuesday - The Barrel Springboro, OH Karaoke obSESSION 7pm-11pm.
Wednesday - Froggys Monroe, OH Karaoke Xperience 8pm-12am.
Bands, Solos, Duos and Events
Austin Landing Events
Friday – Party at the Landing Food Truck Frenzy with music by Lieutenant Dans New Legs 5 to 10pm
Saturday – Seltzer Fest with Spungewurthy 5 to 9pm
---
Sweet Sister Mercy
Friday at Jimmy B's from 9:00 - 1:00am
Saturday - Harley's Against Heroin at Riverbend Live from 4:15 - 5:45
---
Second Wind
Friday from 8:00-11:00, Blue Ash Towne Square Concert Series,
Sunday from 4:00-8:00, St. John Festival, West Chester
---
Standard Country Time Band
Friday at Hunter Pizzeria / Haddix Hall from 6 to 8pm
---
PARTYTOWN
Friday at the Knotty Pine 9pm
Saturday at Club Trio 8pm
---
Joe Cowels
Friday Joe C Band at Pohlman Entertainment complex 7p-11p
Saturday Joe C Solo Kro-bar beckett ridge 5p-8p
Sunday Joe C Band at El Caporal 4p-8p
Monday Joe C solo at The Hanger 7p-11p
---
Kevin Cooper
Thursday from730-1130pm: B&B Jam
Friday from 630-1030pm: Eyes Up Here at Gano Tavern
Sunday from 2-5pm: Kevin Cooper at The Belle & The Bear (Strumday Sunday)
---
Lee Dixon
Wednesday - Lee Dixon w/ Erik Sears at a liberty Inn Wednesday 6:30
Friday - Kevin McCoy Band Fountain Square Friday opening set 9pm
---
Michelle Robinson Band:
Thursday at West Chester Takeover at Union Square 6-9
Friday at Goettafest 8:15-11
Saturday at Mt Orab Music in the Park 5:30-7:30
Sunday at New Philadelphia concert series 7-9
---
GAMUT
Thursday at Goetta Fest early start 5pm
Friday at Mt Healthy Concert Series at the Ray Rissel Pavilion 7:30pm
---
StrangeLove
Saturday their big videography show at Monkey Bar from 7-11
---
Latter
Saturday at Duckfoot Landing Celina Ohio on the lake. 8-12
---
Dv8
Saturday at Kriemers River Bar 6052 State Rt 128 Cleves Ohio 7 to 11
---
Marsha Brady
Wednesday Aug 10th - Quaker Steak and Lube Milford for Bike Night - 6pm - 10pm
---
Tori Faith
Friday 8/5 ~Whiskey Town at The Williamstown Marina ~ 7-11pm
Saturday 8/6 ~ Whiskey Town at Goettafest ~ 12-3:45pm
Saturday 8/6 ~ Whiskey Town at Good Times Only ~ 9pm-1am
Sunday 8/7 ~ Tori Faith Acoustic at Weather Oar Knot Marina ~ 1-4pm
Wednesday 8/10 ~ Whiskey Town at The Boone County Fair ~ 7-11pm
---
Jay Clark Band
Saturday at Dayton Beer Company 7-10
---
Benny Bodine
Friday 8/5 Crooked Handle Brewing Co. Springboro, OH 7-10
Saturday 8/6 The Brick Tap & Tavern Huber Heights, OH 8:30-11:30
---
Truk
Saturday, Aug 6 Mr Boro's 8-11
---
Until Rust
Saturday 8/6 Pirates Den Bar & Grill Cincinnati, Oh "Opener for The Bronson Arroyo Band" U. R. - 8pm
Sunday 8/7 Opening for Aaron Lewis & The Stateliners Outside stage JD Legends. 6:30-7:30    Doors open at 5
---
Billy Brown
Thursday at 8pm - Grizzly Rose in Denver CO
Friday at 8pm - Grizzly Rose in Denver CO
Saturday at 8pm - Grizzly Rose in Denver CO
Sunday at 8pm - Grizzly Rose in Denver CO
---
Jordan Wood
Thurs 8/4 Twenty Mile Tavern - Open Jam 9pm Landen
Friday 8/5 Putters - Liberty Township 7PM Liberty Township
Saturday 8/6 TinCap - Full Band 7pm Wilmington
Sunday 8/7 Millville Tavern - Open Jam 3pm Millville
Monday 8/8 Misery & Jens Open Jam8pm - ? Hamilton, OH
---
Chad Applegate Band
Friday August 5th, River Days festival main stage, in New Richmond Oh 7 til 10
Saturday August 6th at Borderline in West Harrison IN 10 til 2
---
Alex Poteet
Thursday August 4 Smoke Justis Covington, KY 7PM
---
Linus Tate
Friday August 5 Middletown Moose Middletown, OH 8PM
Saturday August 6 at the Hitching Post Darrtown, OH 6PM
---
Cryin Out LOUD
Saturday, August 6th- at The Greene from 6-9 pm
---
The Weekend Effect
Friday at Ramsey's in Marysville 7-10pm.
Saturday at O'Connors in Springfield from 9pm-1am.
---
David Thornton
Thursday, 8/4 Jayne's On Main (Miamisburg) 7:30
Friday, 8/5 The White Dog Distilling Co. & Saloon (Middletown) 8:00
Saturday, 8/6 The Swire Inn (Middletown) 7:00
---
Ben & Pete
Friday at Jayne's On Main in Miamisburg, 8 to 11 PM
---
Chris Lee Acoustic
Saturday, Aug. 6 Swine City Brewing Fairfield OH. 8pm-10:30pm
---
Acoustic Blind Faith Duo
Wednesday 9/3 7-10pm Grant Lick's Tavern Bike Night
---
Quaker Steak and Lube Florence
Fri 9/5. 6-9pm Fast Forward Band Riverside Marina Dayton KY Sat 9/6. 8-12
---
Spungewurthy
Saturday at Austin Landing SeltzerFest - Sat 8/6 6-9pm
---
Joe Lipinski
Saturday jersey joe plays current pop/Originals/Oldies at Hidden Valley Orchard from 6:30 to 9:30. Featuring Jason Swann on sax, Doug Buchanan on drums and Adam Knox on bass.
---
The HomeGrown Band
Saturday August 6th Jayne's on Main. 8-11
---
Wesley Green music
Friday with 9eight Central at Heroes Pizza 8-11
Tuesday at Cracker Jacks 7-10
Thursday Jungle Jim's Bourbon Bar 5-9
---
Bourbon Road Band
Saturday from 6-9 at Lori's Roadhouse
---
Short of Stable
Friday - Dublin Pub 8-12
Saturday - Little River Bar and Grill 7-11
Sunday - Mike & Tiff at Good time Charlie's OPEN MIC - come play and sing!! 5-9
---
Bryan Scott
Thursday Trillions sports bar West chester 6 to 10
Friday Aug 5th Route 50 Saloon Addyston 7 to 11
Sat Aug 6th Gano Tavern 6 to 10 West Chester
---
Michelle Robinson
Thursday West Chester Clock Tower Takeover Series 6-9
Friday Goettafest Saloon Stage 8:15-11:00
Saturday Mt Orab Music in the Park 5:30-7:30
Sunday Tuscora Park Summer Concert Series 7-9
---
Heath Bowling Music
Friday 8/5 Art in the City Third Perk Coffeehouse and Wine Bar 6-8p Dayton, OH
Friday 8/5 Dutch Tavern 930-1230 Middletown, OH
---
Dejavu
Friday at Cub Trio on Springdale road 9 till 12
---
Desalitt,
At Courtyard Lounge, Englewood.
If you would like to have your musical act featured on our weekly podcast or in Warren County Post the contact us @Hall Around Town Radio on Facebook! For additional Band information follow our daily Facebook "Live at Five" program @Hall Around Town Radio