Who's Playing Out Brought To You By Hall Around Town Radio: Sept 9, 2022
Image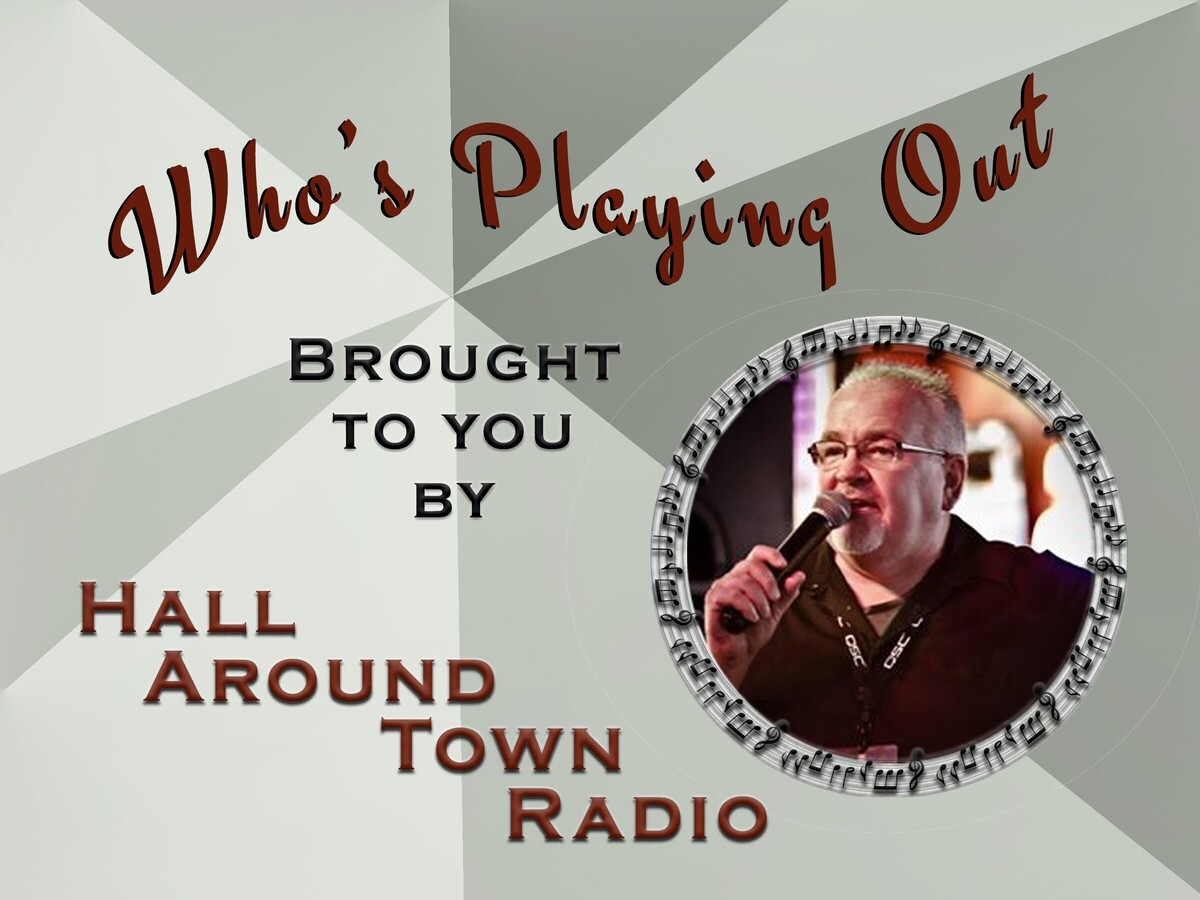 Brought to you by Scott Hall from "Hall Around Town Radio"
A little live music can turn an ordinary day into a memorable experience. The area's top musicians take center stage at some of the tri-states best restaurants and nightspots, bringing live music to our region nearly every night of the week. Make your first stop here weekly to find out "Who's Playing Out" at one of our live local music venues.
Bands and solos brought to you by our friends at Froggy's in Monroe, Ohio and Hall Around Town Radio (follow the on Facebook)
Froggy's in Monroe – Sponsor of our Thursday LIVE show on Facebook
Friday at 9pm - Ninety Four .04
Saturday at 9pm ATP unplugged- No Cover
Tuesday - patio 6-9pm Kevin Cooper
Tuesday - 7:30 Queen of Hearts
Wednesday -6-9 Patio - Four Mile Creek trio
Wednesday - 8pm Karaoke with DJ Songz
Online seating reservations for weekend shows only (but not required) at www.gotofroggys.com
---
Heathers Café
Friday – Grey Days 7pm Tacos & Churro Food Truck
Saturday – Timestamp 7pm Smokin' Double D's Food Truck
Tuesday – Open Mic Night with Junior 7pm + the Queen of Hearts Drawing at 8
Wednesday – Name That Tune with Scott. 7pm Call for reservations
---
Mr. Boro's Tavern Springboro

Friday – Uncle Rico "Debut" – 8 to 11pm
Saturday – Cryin' Out Loud - 7:30
Sunday – Football
Tuesday – "Quiztastic" Q&A Trivia with Scott at 7pm
Wednesday – Queen of Hearts Drawing. 8pm over 10K
---
The Belle & The Bear (Montgomery)
Friday Until Rust at 9pm
Saturday - Crown Watts at 9 PM
Monday Game Night - 6pm
Tuesday – Jamie Combs Acoustic Jam 7pm
---
Crooked Handle Brewing Co.
Friday – Kyla Mainous at 7pm
---
Sorg Opera House
Friday - Fleetwood Mac Mainia 8pm
Saturday - Terrapin Flyer with I Dig Pig 11am Tickets available at Cincyticket.com
---
Pohlman Lanes & Scott's Bar & Grill (Hamilton Ohio)
Family Entertainment Complex 954 Pyramid Hill Blvd., Hamilton Ohio
Friday - Fat Chance 7pm
Saturday - H&R Rock 7pm
Monday - After Hours Big Band 7pm
---
Honky Tonk Wednesday at 1pm The Standard Country Time Band
---
Lebanon Grand Opry House
Saturday – Country Music Dinner Show featuring Jessie Lyn and the TNT Band – Dave Hudson and Hearts on Fire Duo
Doors open at 6pm for dinner Show - 7pm Reservations by calling 513-850-1770
---
Little River Bar and Grill (Oregonia)
Friday – Benny Bodine at 7pm
Saturday – Missing Pieces at 7pm
Tuesday – Bike Night with music
---
The Blue Note Harrison
Friday – Saliva – Doors at 6pm
Saturday – Demun Jones Opening the show it's Dusty Leigh Doors 6pm
Tickets are available at …. CincyTicket.com
---
Hidden Gem Music Club
Friday – The Hearts on Fire Band – 8pm
Saturday – Locking Up Otis 8pm
Sunday – Guitar Fest 4pm
Tuesday – Open Mic Night 8PM
---
Lori's Roadhouse
Friday – Colt Ford at 6pm Doors at 4pm Tickets at lrhlive.com
Saturday: Danny Frazier at 6pm
Saturday – Cornfield Mafia at 9pm
Tuesday – Line Dancing 7pm
---
Miami Valley Gaming
Friday – Chuck Brisbin & The Tuna Project – 9pm Center Bar
Saturday – Red Hot Riot – 9:00pm Center Bar
---
Rex Patrick and the Country Legends Show in Germantown
Saturday – The Country Legends (doors at 5:30) Reservations by calling 513- 594-1282
---
Soft Rock Café
Karaoke – Thursday 7pm - Friday 8pm - Saturday 8:30 pm.
---
Brick Tap Tavern
Friday – Homegrown Band 8:30pm
Saturday – Driving Force at 8:30pm
---
Scott Hall – Hall Around Town Radio
Tuesday Trivia at Mr. Boros Tavern 7pm
Wednesday – "Name That Tune" at Heathers Café on the patio 7pm "Call for Reservations"
Live Monday to Thursday On Hall Around Town Radio
---
Scotty Long / DJ Songz
Thursdays - at Little River Bar and Grill 7pm PatiOKE Party.
Tuesday - The Barrel 7pm Karaoke obSESSION.
Wednesday- Froggys 8pm Karaoke Xperience.
Bands, Solos, Duos and Events
Springboro Oktoberfest
Join us for the 2022 Oktoberfest Springboro, presented by Warped Wing Brewing Company.
Friday, September 9th, 6:00pm - Midnight
Saturday, September 10th, 11:00am - Midnight
Embracing its German heritage and roots as the former German Reformed Church, the Springboro United Church of Christ is proud and excited to bring Oktoberfest to Springboro! The two day festival will be a celebration of authentic German food, beer, wine, and entertainment for the whole family.,
---
Rock the Stigma - Benefiting Student Inturns at Daybreak Dayton
Saturday from 3 to 10pm at Lucky Star
---
Heath Bowling at 3pm and Ben & Pete at 6pm
"Margo & Adam Furnish"
Friday at The Varsity Sports Bar and Grill 7-10pm
---
Nick Mitchell
Thursday at Dublin Pub 7 to 10pm
Friday from 8:00-11:00, Chappys Social House
---
Sweet Sister Mercy
Friday, September 9, Harvest Homes Festival in Cheviot from 5:30 - 7:30.
---
Cryin Out LOUD
Saturday at Mr. Boros from 8-11p
---
Uncle Rico
Friday at Mr. Boros from 8-11p
---
Liars for Hire
Friday at Little York Tavern at 8p.
---
Joe Lipinski
Friday - jersey joe -- Devil Wind Brewery, Xenia, OH. from 7-9PM.
Saturday - Lipinski/Tellmann duo. Noon to 1 PM part of the Troy Porchfest...12 pm
---
Porch 38 Moeller Brew Barn 214 W. Main
Saturday - Lipinski/Tellmann/Buchanan...music from the GLORY DAY CD -- from 5 to 6 PM as part of the Troy Porch Fest. 5 pm Porch 33 420 S. Market
---
Bryan Scott
Friday - Liberty Inn from 7 to 10
---
White Knukle Weekend
Friday at Buckeye Harley Davidson from 5-8pm
---
Chris Lee Acoustic
Saturday, Sept. 10 Tillie's Lounge. 8pm-10:30pm
---
Tyler VanB
Friday Sept 9th - South Park Tavern 9 to 12
Sunday the 11th - The Barrel 5 to 8
---
Heath Bowling Music
Thurs at Fairfield Pub 7-10p
Friday at Knollwood Tavern Beavercreek, OH 9-12a
Saturday at Rock The Stigma Lucky Star Miamisburg, OH 3-5p
Saturday at The Hangar West Chester, OH 8-12a
Sunday Open Mic Good Time Charlies Miamisburg, OH 5-9p
Wednesday Open Mic AJ's Franklin Tavern Franklin, OH 8-11p
---
Matthew Allen
Fri the 9th, 7-9 pm Fratelli's Restaurant (Springfield)
Sat the 10th, 5:30-8 Legacy Park Monument Sq. (Urbana
Sun the 11th, 2-5 pm Dalton Union Winery (Marysville)
---
Kevin McCoy Band
Friday @Upper Deck at 8pmSaturday- Erik Sears @ Green Kayak 8pm -11pm
---
The HomeGrown Band
Friday September 9th The Brick Tap Tavern 8:30-12:00
---
Wesley Green Music
Friday with the Bourbon Road Band: Friendship, IN flea market 8-12
Saturday, BRB at Good Time Charlies 9-1
Tuesday, Wes Green Acoustic Liberty Inn 6:30-10:30
---
Michelle Robinson
Friday St Saviour Festival 7-11
Saturday Liberty Center 6-8
---
Jordan Wood
Thursday at Twenty Mile Tavern - Open Jam 9pm Landen
Monday at Misery & Jens Open Jam 8pm - ? Hamilton, OH
---
Blind Faith Duo
Friday at Quaker Steak & Lube in Florence KY 6-9pm
---
Fast Forward Band
Saturday at Riverside Marina in Dayton Ky from 8 -12
---
Benny Bodine
Friday 9/9 Little River Bar and Grill 7-11 Oregonia, OH
Saturday 9/10 Miamisburg Eagles 2306 8-11 Miamisburg, OH
Tuesday 9/13 Cracker Jak's 7-10 Germantown, OH
---
Until Rust
Friday 9/9 The Belle & The Bear Montgomery, Oh 8:30 - 12:30
---
Saturday 9/10 Hidden Valley Orchards Octoberfest "Locktober Fest Beir Garden" 6:30 - 9:30
---
Shane deMoss
Wednesday 9/14 Milano's Miami Township, Oh 7 - 10
---
Velvet Crush
Friday 9/9 Dublin pub Dayton, oh 8-11
Saturday 9/10 Timothy's- UD welcome back students party Dayton, oh 11-2
---
Linus Tate
Thursday Sept 8 Hidden Valley Orchards 6:30-9:30 Lebanon, OH
Friday Sept 9 Mutts Brewery Lounge Trenton, OH 8PM
Saturday Sept 10 DeSha's American Tavern Cincinnati, OH 6PM
---
Six String Hustle
Fri 9/9 8-12 Misery&jen Hamilton, Ohio
Sat 9/10 8-12 Your Neighborhood Bar Cincinnati, Ohio
---
Jay Clark Band
Saturday 7:30-11:30 Moose Lodge Beavercreek
---
Audio Graffiti
Sept 8-13 Sloppy Joes Key West, FL 10-2 each night
---
Joe Cowels
Fri Sept 9th The Joe Cowels Band, The Fairfield Pub 9p-1a
Sat Sept 10th Joe Cowels solo, Miamiville Trailyard 1p-4p [early show... lunch show?]
Wed Sept 14th Joe Cowels solo, The Hanger Bar and Grille, 7p-11p
---
RED HOT RIOT
Saturday at Miami Valley Gaming9:00PM
---
Kevin Cooper

Fri 630-1030pm: Eyes Up Here at Gano Tavern
Sun 4-730pm: The Hanky Panks at St. Clement Festival
---
Xero Hour
Friday is opening for Saliva at Blue Note Harrison shows starts at 630
---
Marsha Brady
Friday Sept 9th - Trillions Sports Bar, West Chester Oh - 8pm - 12am
Saturday Sept 10th - Moonbird - Dry Ridge Ky - 8pm - 12am
---
Latter
Friday at Wings Vandalia on the patio, 9:45
---
GAMUT
Friday 9/9 Pirates Cove 7:30-11:30
Saturday 9/10 Trillions 8-12
---
Tori Faith
Friday 9/9 ~ Whiskey Town at The Squeaky Squirrel ~ 8pm-12am
Saturday 9/10 ~ Whiskey Town at Dixie Station / TORI'S GOING AWAY PARTY ~ 9:30pm-1:30am
---
StrangeLove
Grainworks 5th Anniversary
Friday 4-7pm Monte Lykins 8-11:30pm Cassette Junkies
Saturday Brock and John Music Show 5-7pm Dat Band 8-11:30pm
---
Acoustic Blue
Thursday Par's Fairfield at 6pm
Jet Pack Academ
??? at the Upper Deck @ 7:30pm
---
Overdrive
Saturday at Duckfoots. St. Mary's 9/10 8:00
---
Dv8
on Saturday Sept 10th St. Susanna Festival 7:30 -11 616 Reading Road Mason Ohio 
Sunday Sept 11 BENGALS TAILGATE AT THE BANKS 9 am - 1pm 95 E Freedom Way Crown Watts
---
Saturday The Belle & The Bear 
If you would like to have your musical act featured on our weekly podcast or in Warren County Post contact us @Hall Around Town Radio on Facebook! For additional Band information follow our daily Facebook "Live at Five" program @Hall Around Town Radio