Who's Playing Out: September 15th to September 21st, 2022
Image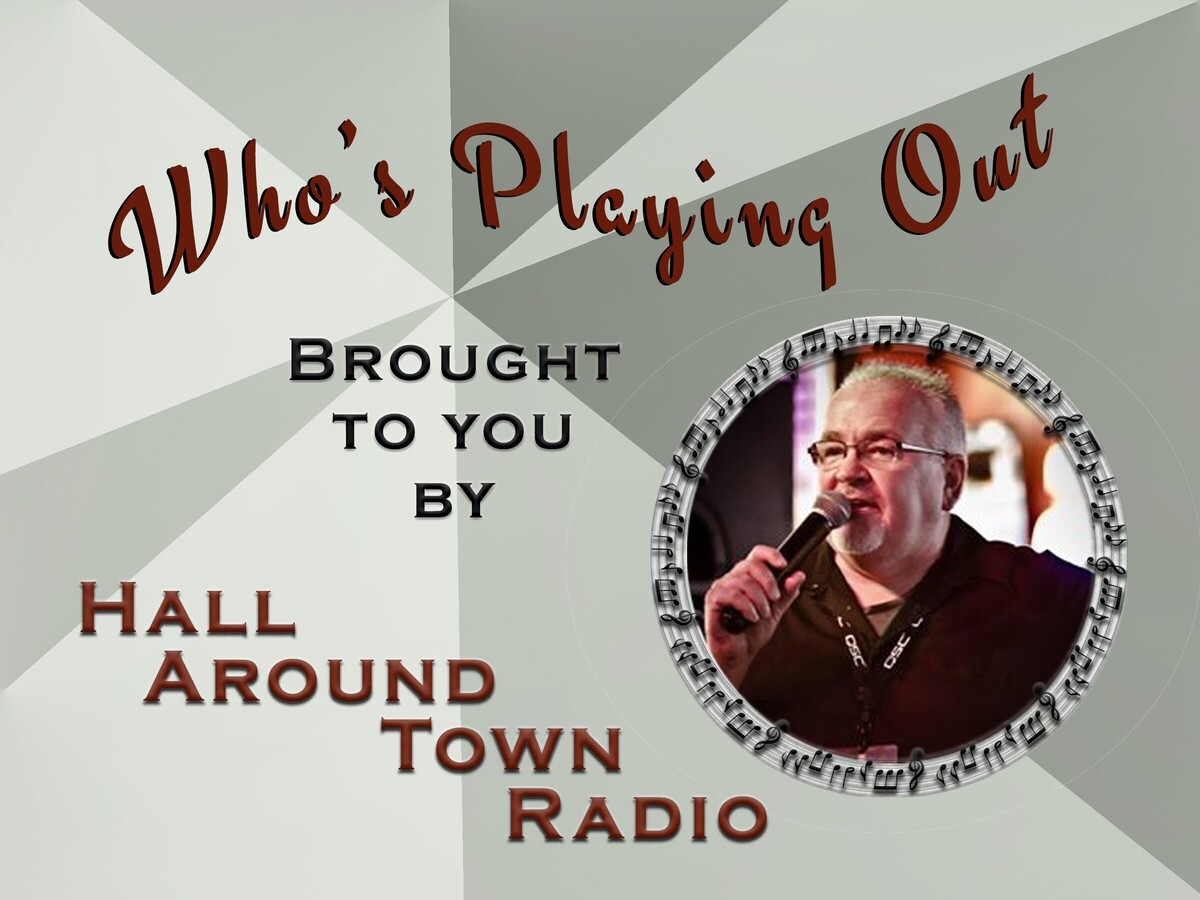 Brought to you by Scott Hall from "Hall Around Town Radio"
A little live music can turn an ordinary day into a memorable experience. The area's top musicians take center stage at some of the tri-states best restaurants and nightspots, bringing live music to our region nearly every night of the week. Make your first stop here weekly to find out "Who's Playing Out" at one of our live local music venues.
Bands and solos brought to you by our friends at Froggy's in Monroe, Ohio and Hall Around Town Radio (follow the on Facebook)
Froggy's in Monroe – Sponsor of our Thursday LIVE show on Facebook
Friday at 9pm - Short of Stable
Saturday at 9pm Britney's Lipstick
Tuesday - patio 6-9 Bret & Dan
Tuesday - 7:30 Queen of Hearts
Wednesday -6-9 Patio - Jordan Wood
Wednesday - 8pm Karaoke with DJ Songz
Online seating reservations for weekend shows only (but not required) at www.gotofroggys.com
---
Heathers Café
Thursday – Cabo Suns at 6:30pm
Friday – Missing November 7pm Acrey's Hog Wild BBQ Food Truck
Saturday – Saturday- Don't Tell Steve - - Food Truck - Slide Thru -
Tuesday – Open Mic Night with Junior 7pm + the Queen of Hearts Drawing at 8
Wednesday – Name That Tune with Scott. 7pm Call for reservations
---
Mr. Boro's Tavern Springboro 
Thursday – Rick Sylvester 7 to 10 pm
Friday – Linus Tate – 8 to 11pm
Saturday – Two For the Road - 7:30
Sunday – Football
Tuesday – "Quiztastic" Q&A Trivia with Scott at 7pm
Wednesday – Queen of Hearts Drawing. 8pm over 12K
---
The Belle & The Bear (Montgomery)
Thursday "The Jam" 2nd Anniversary Party 8ish
Friday Billy Rock Band at 9pm
Saturday - The Hanky Panks at 9 PM
Monday Game Night - 6pm
Tuesday – Jamie Combs Acoustic Jam 7pm
Wednesday – Gina and Johnny Band 7pm
---
Crooked Handle Brewing Co.
Thursday – Dennis Chrisman 6 to 9 pm
Friday – Scott Houchens at 7pm
---
Sorg Opera House
Saturday – Night Fever 8pm
---
Pohlman Lanes & Scott's Bar & Grill (Hamilton Ohio)
Family Entertainment Complex 954 Pyramid Hill Blvd., Hamilton Ohio
Friday – Heavy Juice 7pm
Saturday - The Steve Falearos Project 7pm
Monday - After Hours Big Band 7pm
Honky Tonk Wednesday at 1pm The Standard Country Time Band
---
Lebanon Grand Opry House
Saturday – Country Music Dinner Show featuring Jessie Lyn and the TNT Band – Gary Finton and Shawn Adkins Doors open at 6pm for dinner Show - 7pm
Reservations by calling 513-850-1770
---
Little River Bar and Grill (Oregonia)
Thursday –– DJ Songz Patioke Party at 7pm
Friday – DJ Songz Glow Light Party at 7pm
Saturday – Jordan Wood Band at 7pm
Tuesday – Bike Night with music
---
The Blue Note Harrison
Future Tickets are available at …. CincyTicket.com
---
Hidden Gem Music Club
Friday – Counting Skeletons – 8pm
Saturday – Noa Wotherspoon Band 7pm
Sunday – Dayton Jazz Orchestra 7pm
Tuesday – Open Mic Night 8PM
---
Lori's Roadhouse
Thursday – Service Industry Night and Football
Friday – Vince Moreno at 6pm
Friday - Kelly Daniels at 9pm
Saturday – 4Low at 6pm
Saturday - Josh Melton 9:30pm
Tuesday – Line Dancing 7pm
---
Miami Valley Gaming
Friday – Jason Owens Band – 9pm Center Bar
Saturday – Richard Lynch Band – 9:00pm Center Bar
---
Rex Patrick and the Country Legends Show in Germantown
Friday – B Caged Band (doors at 5:30) Reservations by calling 513- 594-1282
---
Soft Rock Café
Karaoke – Thursday 7pm - Friday 8pm - Saturday 8:30 pm.
---
Brick Tap Tavern
Thursday – Open Mic Night with Scott Houchens 7:00pm
Saturday – The Doug Hart Band at 8:30pm
---
Scott Hall – Hall Around Town Radio
Tuesday Trivia at Mr. Boros Tavern 7pm
Wednesday – "Name That Tune" at Heathers Café on the patio 7pm "Call for Reservations"
Live Monday to Thursday On Hall Around Town Radio
---
Scotty Long / DJ Songz
Thursdays - at Little River Bar and Grill 7pm PatiOKE Party.
Tuesday - The Barrel 7pm Karaoke obSESSION.
Wednesday- Froggys 8pm Karaoke Xperience.
---
Bands, Solos, Duos and Events
Oktoberfest Zinzinnati Entertainment
Friday – Saturday – Sunday
The weekend's entertainment blends German-style bands with local favorites. There are multiple stages: Each has live entertainment scheduled throughout the weekend. There are more than 30 acts slated to appear, including The Royal Klobasneks, Vereins Musikanten with Kolping Sängerchor, the Pete Wagner Schnapps Band, the Polka Warriors and more.
Other local acts include… Jess Lamb & The Factory, Siri Imani Productions, Doghouse, Kyle Hackett, DV8, Mel Bryant & The Mercy Makers + The Prickly Pair, Cincy Brass and more.
---
Bret Michaels Nothin' But A Good Vibe Tour
Friday at Belterra Casino Resort, IN. 8pm
---
Ault Park's September Summer Music Festival
Thursday at 6pm Featuring Saffire Express - Free Admission
---
Sycamore Township Summer Concert Series
Saturday - Featuring Model Behavior at 7pm
---
Lil Heat
Saturday – Foleys Irish Pub 7 to 11pm
---
Nick Mitchell
Thursday at Dublin Pub 7 to 10pm
Friday from 8:00-11:00, Chappys Social House
---
The Joe Cowels Band
Saturday at Cappy's in Loveland, 7:30pm to 10:30pm Outdoor show
---
Joe Cowels solo
Sunday at Streetside Brewery 1pm to 4pm brews, food, fun and tunes!
---
Tori Faith
Thursday ~ Tori Faith Acoustic at Luna's Bar and Grill ~ 7-9pm Last local gig!
---
Kevin Cooper
Thurs 730-1130pm: B&B Jam
Fri 6-10pm: Kevin Cooper solo at Z Place For Wine And Cheese (Montgomery)
Sat 830pm-1230am: The Hanky Panks at The Belle and the Bear
Sun 330-730pm: Eyes Up Here at Pirate's Cove
Wed 9/21 7-11pm: Kevin Cooper solo at The Corner Pub
---
RED HOT RIOT
Saturday – at Jim & Jacks-8:30PM
---
Night Reign
Friday at Duckfoot's, St. Marys at 8:00pm
---
Xero Hour
Friday at the Ultimate Black Market Party in Camden Ohio a 10pm
---
Johnny Fink and the Intrusion
---
Marsha Brady
Friday September 16th - The Eagles - Celina Ohio - 8pm - 12am
---
Sepia heyday
Friday at the Ultimate Black Market Party in Camden 11 pm
---
Dv8
Saturday - Oktoberfest Zinzinnati 8pm to 11pm
2nd and 3rd Streets between Elm and Walnut Downtown Cincinnati
---
Gina and Johnny the band
Wednesday at The Belle and the Bear debut 7:30-10:30
---
Sweet Sister Mercy
Saturday at Trillions "Debut" time TBA
---
Benny Bodine
Friday at Knollwood Tavern 9-12 Beavercreek, OH
Saturday at Wings Sports Bar and Grille (opening for Ithika) 9-10 Vandalia, OH
Tuesday at Submarine House (with Heath Bowling) 7-10 Centerville, OH
---
Truk
Friday at Kettering VFW 7-10
---
Velvet Crush
Saturday playing a Wedding In yellow springs
Tues - Corporate gig in Columbus
---
Velvet Crush Unplugged
FRIDAY at Heroes pizza Springboro, oh 7-10
---
Mad Hatter
Saturday at The Phonebooth Lounge in Kettering from 8-12
---
Until Rust
Thursday at 1572 Road House BBQ "Bike Night" Waynesville, Oh. 6 – 9pm
Friday at Rip Rap Roadhouse Dayton, Oh. 7 – 10pm
Saturday at The Greene Beer Fest and Air Force Marathon After Party. 6 to 9pm
Tickets for the beer tasting MUST be purchased to participate -- $20 in advance and $25 day of event
---
Chad Applegate
Friday from 730 to 1030 Chad Applegate solo at Little Miami Brewing Co, Old Milford
---
Six String Hustle
Thursday from 6:30-10:30 Liberty Inn
Friday from 6-8pm Woodshed Smokehouse Lebanon, Ohio
Saturday from 9pm to 1am Big Buls Roadhouse. Ross, Ohio
Sunday from 4-6pm Latitudes Bistro Cincinnati, Ohio
---
Don't Tell Steve
Saturday at Heathers from 7-11pm
---
Linus Tate
Friday at Mr Boros Tavern Springboro, OH 8PM
Saturday at Arlin's Bar and Garden Cincinnati, OH 10PM
---
Billy Brown
Friday at 7pm - The Varsity in Cincinnati OH
Sunday from 2-4pm - The Fischer Homes Fall Festival in Independence KY
Thursday at 11am - Ole Red in Gatlinburg TN
---
Blind Faith Duo
Thursday at Little Miami Brewery – Milford. 7:30 - 10:30
---
Missing November
Friday at Heathers on the patio from 7-11pm
Saturday at Broadway in Blanchester 9 to 1am
---
Liars for Hire
Saturday at Dayton Beer Company 7p - 10p
---
Wesley Green Music
Friday with the Bourbon Road Band at Mutts Brewery 8-12
Saturday with BBR at Carriage Hill BBQ, Bourbon & Brew Party 7-11pm
---
Matthew Allen
Saturday at Firehouse Grill (Blue Ash). 6pm to 9pm
---
White Knuckle Weekend
Saturday at Kings Point Pub from 8-12
---
Chris Lee
Saturday - Missy Gresham and Chris Lee Acoustic Duo at The Hangar Bar and Grill West Chester 8pm-Midnight
---
Joe Lipinski
Saturday jersey joe solo at The Blind Lemon, Mt. Adams, Cincy. 8:30 PM - 1 AM
---
Ben & Pete
Saturday at Lucky Star Brewery in Miamisburg 8 to 11 PM
---
Short of Stable
Friday at Froggys 9-1 with Heath Bowling filling in on rhythm guitar
Sunday - Good time Charlie's OPEN MIC with Mike (Pettigrew) & Tiff 5-9pm
---
Michelle Robinson
Saturday at the Lakeshore Festival 6-10pm
---
Rockstar
Saturday at Moonbird in Dry Ridge Ky 8pm
---
David Thornton
Thurs, 9/15. Jayne's On Main (Miamisburg) 7:30-10:30
Fri, 9/16 Hamilton's Urban Backyard 7-10
Sat, 9/17 The Common Beer Company (Mason) 7:30-10:30
Wed, 9/21 The Barrel (Springboro) 7-10
---
Jordan Wood
Thursday 9/15 Twenty Mile Tavern - Open Jam 9pm Landen
Saturday 9/17 Little River Bar & Grill - full Band 8pm Oregonia
Sunday 9/18 Open Jam Miamiville Tavern 3pm Miamiville
Monday 9/19 Misery & Jens Open Jam8pm - ? Hamilton, OH
Wednesday at Froggy's – Patio 6pm Monroe
---
Templin Road
Friday at the Monkey Bar 7pm
---
Gerhard Albinus Band
Oktoberfest Zinzinnati - Friday 11am – Saturday 8pm – Sunday 5pm
---
Heath Bowling
Thursday 9/15 Rotary Park Ladies Night Out 6-730 Springboro, OH
Friday 9/16 Froggys Playing with Short of Stable 9-1 Monroe, OH
Wednesday 9/21 Open Mic(AJ's) 8-11p Franklin, OH
---
Tom Stephenson
Friday September 16th Wiedemann's
Saturday September 17th The Monkey Bar with ZaaZoo​
​Sunday September 18th Octoberfest Cincinnati 6pm Gee You Band Smells Teriffic
If you would like to have your musical act featured on our weekly podcast or in Warren County Post contact us @Hall Around Town Radio on Facebook! For additional Band information follow our daily Facebook "Live at Five" program @Hall Around Town Radio