Who's Playing Out – Brought to you by "Hall Around Town Radio"
Image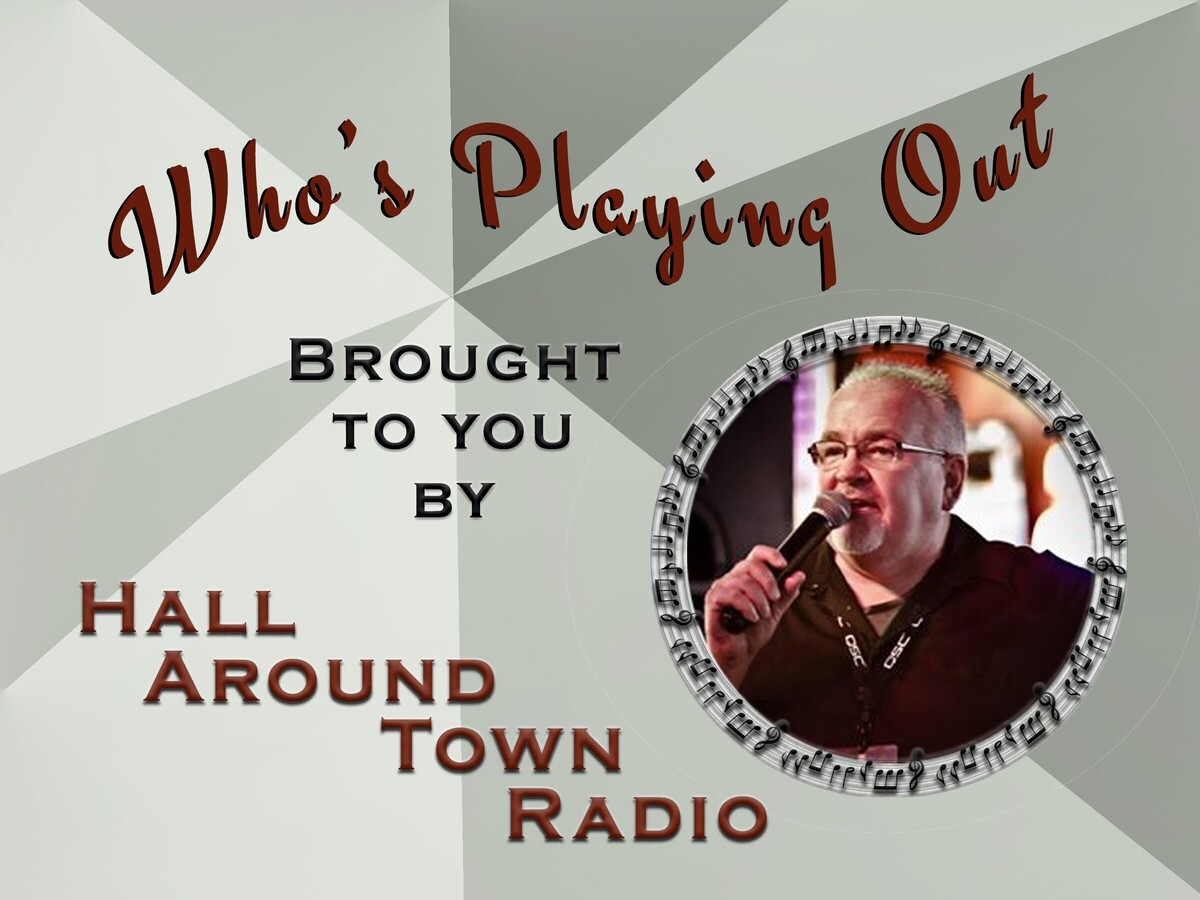 Brought to you by Scott Hall from "Hall Around Town Radio"
A little live music can turn an ordinary day into a memorable experience. The area's top musicians take center stage at some of the tri-states best restaurants and nightspots, bringing live music to our region nearly every night of the week. Make your first stop here weekly to find out "Who's Playing Out" at one of our live local music venues.
Bands and solos brought to you by our friends at Froggy's in Monroe, Ohio and Hall Around Town Radio (follow the on Facebook)
Froggy's in Monroe – Sponsor of our Thursday LIVE show on Facebook
Friday at 9pm - After The Party, and Josh's ( lead singer) 40th Birthday
Saturday -9pm Timestamp
Sunday- 1pm Bengals / Saints party
Tuesday - 6-9pm last patio date of the year Joe Jordan 7:30 Queen of hearts
Wednesdy - NEW TIME Karaoke 7p-11p with Dj Songz
*New hours Mon- Thur 11am til midnight - Fri & Sat 11a- 2a - Sun 11a- 10p
Online seating reservations for weekend shows only (but not required) at www.gotofroggys.com
---
Heathers Café
Thursday – ½ off wine bottle night
Friday – Amy Newhart Duo 7-11 - Sides up on Tents
Saturday – Hanky Panks 7-11pm
Tuesday – Open Mic Night with Junior 7pm + the Queen of Hearts Drawing at 8
Wednesday – Name That Tune with Scott. 7pm Call for reservations. Only a few more weeks
---
Mr. Boro's Tavern Springboro 
Thursday – Heath Bowling and Benny Bodine 7 to 10 pm
Friday –– Ethan and Joey 8 to 11pm
Saturday – Jay Clark Band 8pm
Sunday – NFL Football
Tuesday – "Quiztastic" Q&A Trivia with Scott at 7pm
Wednesday – Queen of Hearts Drawing. 8pm over 16K
---
The Belle & The Bear (Montgomery)
Thursday "The Award Winning Jam" 8ish
Friday Fast Forward at 8:30 pm
Saturday - Johnny Fink and the Intrusion at 8:30 PM
Monday Game Night - 6pm
Tuesday – Jamie Combs Acoustic Jam 7pm
Wednesday – Johnny and Gina 7pm
---
Crooked Handle Brewing Co.
Thursday – Ricky Veeneman 6 to 9 pm
Friday – Blind Summit Duo at 7pm
---
Sorg Opera House
Friday with the Belairs at 8pm tickets available at Cincyticket.com
---
Pohlman Lanes & Scott's Bar & Grill (Hamilton Ohio)
Family Entertainment Complex 954 Pyramid Hill Blvd., Hamilton Ohio
Friday - 7pm the Jim Burns Band
Saturday - 7pm the Stagger Lee Band
Monday - After Hours Big Band 7pm
Wednesday - Honky Tonk Wednesday at 1pm The Standard Country Time Band
---
Lebanon Grand Opry House
Saturday – Jessie Lyns Birthday Bash with the Thunderbirds doors at 6pm Show at 7pm Reservations by calling 513-850-1770
---
Little River Bar and Grill (Oregonia)
Thursday –– DJ Songz Patioke Party at 7pm
Friday –Jordan Wood Band at 7pm
Saturday Justin Elam 7pm
---
The Blue Note Harrison
Friday – Adam Calhoun - Demun Jones - Brodnax - Dusty Leigh Doors open at 5:30pm
Tickets are available at …. CincyTicket.com
---
Hidden Gem Music Club
Thursday – Blues Jam at 8pm
Friday – Visitor – 8pm
Saturday – I Dig Pig 7pm
Sunday – Dayton Jazz Orchestra 7pm
Tuesday – Open Mic Night 8PM
---
Lori's Roadhouse
Thursday – Precilla Block 9pm - Service Industry Night and Football
Friday – KEVIN MCCOY at 6pm
Friday – David Nail with Tyler Braden - 9:00pm
Saturday – Blanco Brown at 9:00pm
Sunday – Game Day  *Tickets available at LRHLIVE.COM*
Tuesday – Line Dancing 7pm
---
Miami Valley Gaming
Friday – The Gamut 9pm - Center Bar
Saturday Model Behavior 9pm - Center Bar
---
Rex Patrick and the Country Legends Show in Germantown
Saturday - Saturday Rick Henderson's & The 50 Caliber Band at the Rex Patrick Country Legends show from 7-10pm Reservations by calling 513- 594-1282
---
Brick Tap Tavern
Friday – Pearl Street at 8:30 pm
Saturday – Spill the Wine 8:30pm
---
Soft Rock Café
Karaoke – Thursday 7pm - Friday 8pm - Saturday 8:30 pm.
---
Scott Hall – Hall Around Town Radio
Tuesday Trivia at Mr. Boros Tavern 7pm
Wednesday – "Name That Tune" at Heathers Café on the patio 7pm "Call for Reservations"
Live Monday to Thursday On Hall Around Town Radio
Scotty Long / DJ Songz
Thursdays - at Little River Bar and Grill 7pm PatiOKE Party.
Mondays The Avenue Sports & Spirits Lebanon, OH 6pm-10pm Karaoke Madness!
Tuesdays The Barrel Springboro, OH 7pm-11pm Karaoke
Wednesdays Froggys Monroe, OH 7pm-11pm Karake Eperience
---
Bands, Solos, Duos and Events
Special Event at Walnut Lake Campground – Jeffersonville Ohio
Saturday - from 5pm till midnight - Help support Rhonda Dunn Harris while she fights Stage 3 Breast Cancer. - Rhonda loves Halloween and a good party. So come out and camp if you want, listen to some great music, have some drinks, and have a great time!
Desalitt, Screaming Evidence and Krank will be playing!
All ages are welcome however; it is BYOB so ID's will be checked at the gate.
Ages 16 and up $10.00 15 and under are free
Camping is available - Camper/ RV $25.00 - Tent $10.00
If you plan to camp with Camper/ RV please call ahead and reserve as spots will be limited 740-426-3000 or 740-572-7179. This is a CASH ONLY event - there is no ATM on campground so come prepared.
Silent Auctions
50/50, Bake Sale
Corn Hole
Fishing
---
Gehard Albinus Band
Friday at the Gano Tavern 8pm
---
Johnny Fink
Saturday - Johnny Fink, and The Intrusion at Belle and the Bear 830pm
Wednesday - Gina and Johnny the band at Bella and the Bear 730pm
---
GAMUT
Friday 10/14 at Miami Valley Gaming 9pm-Midnight
Saturday 10/15 at Belterra Park 8pm-11pm
---
Joe Cowels solo
Friday from 9p-11p Woolly's, 544 S Main St, Franklin, OH 45005
Sat from 8p-11p, Misery & Jens, 1956 Fairground Avenue Hamilton Ohio 45011
---
DRIVE
Saturday at The Madison Inn Saturday 9pm
---
Kevin Cooper
Thursday from 730-1130pm: Belle & Bear Jam Session Host
Friday from 6-10pm: Kevin Cooper solo at Z Place for Wine and Cheese (Montgomery)
Saturday 11am-noon: The Hanky Panks at Weber Pumpkin Festival (Harrison)
Saturday 7-11pm: The Hanky Panks at Heather's Cafe (Springboro)
---
RED HOT RIOT
Saturday at the Gano Tavern - 7:30PM
---
Latter
Saturday - Bradford Ohio at The Annual Pumpkin Festival community building from 8 to midnight
---
Audio Graffiti
Saturday at the Tin Roof on the Banks during Blink 10-2
---
Xero Hour
Friday at Legends in Cheviot opening for the Lonely Ones $15 door $10 pre-sale 8pm
---
Benny Bodine
Thursday 10/13 Mr. Boro's Tavern (with Heath Bowling) 7-10 Springboro, OH
Friday 10/14 Lucky Star Brewery 8-10 Miamisburg, OH
Saturday 10/15 Old Dayton Pizza 7-10 Riverside, OH
Wednesday 10/19 Milano's 7-10 Miami Township, OH
---
Jay Clark Band
Saturday at Mr Boros Tavern from 8-11
---
Six String Hustle
Thursday from 4-8 Clovernook Country Club Cincinnati, Ohio
Tuesday from 6:30-10:30 Liberty Inn Liberty Twnshp, Ohio
---
Linus Tate
Friday October 14th at DeShas Cincinnati Montgomery, OH 6PM
Saturday October 15th Smoke Justis Covington, KY 7:30PM
---
Matthew Allen
Friday at Fratelli's Italian Restaurant 7-9 pm
---
White Knukle Weekend
Friday at Little York Tavern from 8-12
Saturday at St Charles Octoberfest in Kettering from 7-11
---
Spungewurthy
Saturday from 6 to 9pm The Greene Oktoberfest
---
The Weekend Effect
Saturday at Beerfest at Lincoln and Main in Urbana. from 7-9:30
---
Chris Lee Acoustic
Saturday - Acoustic Duo w/ Missy Gresham The Hangar Bar and Grill 8pm-Midnight
---
David Thornton
Thursday at Jayne's On Main (Miamisburg) 7:30-10:30
Friday at Middletown ELKS LODGE #257 7-10
Saturday at The Common Beer Company (Mason) 7:30-10:30
---
Blind Faith Duo
Thursday at Jungle Jim's Fairfield Oscar Station - Bourbon Night from 6-9
---
Fast Forward Band
Friday at The Belle and The Bear from 8:30 - 12:30
---
Don't Tell Steve
Saturday from 8-12 at The One More Bar and Grill
---
Michelle Robinson
Saturday 1:00-2:00pm Weber Family Pumpkin Festival
---
Jordan Wood
Thursday at Twenty Mile Tavern - Open Jam 9pm Landen
Friday at Little River Bar 8pm Oregonia
Sunday at Miamiville Tavern - Open Jam 3pm Miamiville
Monday at Misery & Jens Open Jam 8pm - ? Hamilton, OH
---
Second Wind
Friday from 8:30-12:30 at Rick's Tavern in Fairfield
If you would like to have your musical act featured on our weekly podcast or in Warren County Post contact us @Hall Around Town Radio on Facebook! For additional Band information follow our daily Facebook "Live at Five" program @Hall Around Town Radio
---
More News from Springboro