Who's Playing Out: Brought To You By Hall Around Town Radio Feb., 23
Image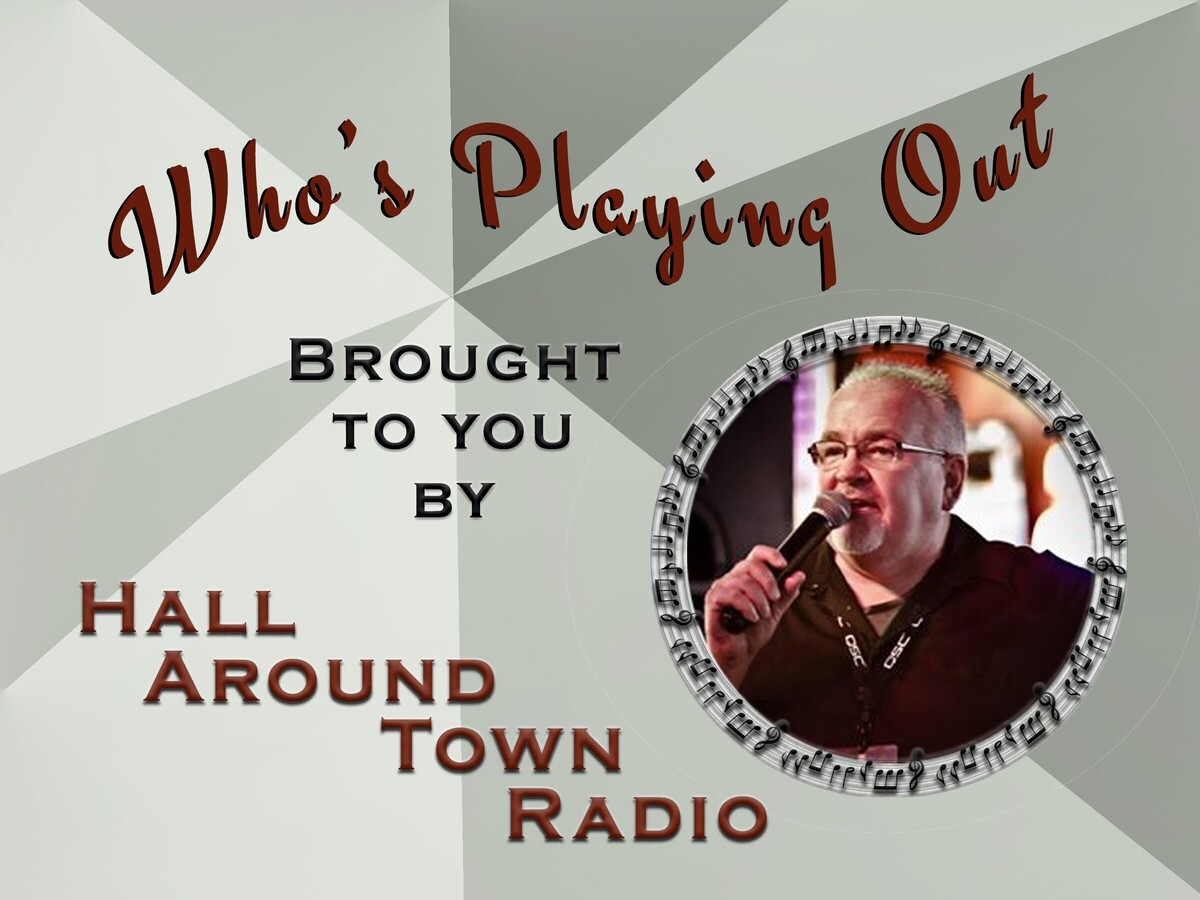 Brought to you by Scott Hall from "Hall Around Town Radio"
A little live music can turn an ordinary day into a memorable experience. The area's top musicians take center stage at some of the tri-states best restaurants and nightspots, bringing live music to our region nearly every night of the week. Make your first stop here weekly to find out "Who's Playing Out" at one of our live local music venues.
Bands and solos brought to you by our friends at Froggy's in Monroe, Ohio and Hall Around Town Radio (follow the on Facebook)
---
Froggy's in Monroe – Sponsor of our Thursday LIVE show on Facebook
Friday at 8pm Diamonds and Boots Dance – No Cover
Saturday – Lori's Secret
Tuesday at 7:30 Queen of Hearts $1600+
Wednesday - 7pm Karaoke with DJ Songz
---
Mr. Boro's Tavern Springboro 
Thursday – Brad Wehitz Music 7 to 10
Friday – Pearl Street 8 to 11pm
Saturday – Stark Marlin 8 to 11pm
Sunday – Jamie Combs 2 to 5pm
Tuesday – "Quiztastic" Q&A Trivia with Scott at 7pm
Wednesday – Queen of Hearts Drawing. 8pm over 45K
---
The Belle & The Bear (Montgomery)
Thursday "The Award Winning Jam" 7:30ish
Friday – The Kevin McCoy Band at 8:30 pm
Saturday - DAT Band at 8:30pm
Sunday - Save The Animals Foundation Benefit 2pm
Monday Game Night - 6pm
Tuesday – Jamie Combs Acoustic Jam 7pm
Wednesday –Rick Kern 7:30 pm
---
Crooked Handle Brewing Co. Springboro
Friday – Doug Hart 7 to 9pm
---
Crooked Handle Brewing Co. Piqua
Saturday – Short of Stable 6pm
---
Pohlman Lanes & Scott's Bar & Grill (Hamilton Ohio)
Family Entertainment Complex 954 Pyramid Hill Blvd., Hamilton Ohio
Friday 7pm - Dallas Moore 7pm
Saturday 7pm – NO Live Entertainment
Monday at 7pm The After Hours Big Band on the lanes
Wednesday at 1pm matinee performance with the Standard Country Time Band
---
Soft Rock Café
Karaoke – Thursday- 7:30 pm - Friday 8:30pm - Saturday - 8:30 pm.
---
Sorg Opera House
Future show tickets available at Cincyticket.com visit SORG page for more info
---
Little River Bar and Grill (Oregonia)
Thursday –– DJ Songz Patioke Party at 7pm Party on the covered enclosed patio
Friday – Justin Elam at 7pm
Saturday – Brad Hatfield at 7pm
Sunday – 4x4 Poker Run and Benefit featuring Blake Tyler
---
The Blue Note Harrison
Saturday it's Journey "The Rock Show" Opening up the show it's Sammy Hagar Tribute "One Way To Rock"! Rocking in the pub it's 1330 Doors open at 5:30pm and music starts at 6:30pm.
Tickets available at Cincyticket.com
---
Hidden Gem Music Club
Friday – Wild Front Tears at 7pm
Saturday – at 7pm Bob Marley Tribute/Onyx's Birthday with The Luv Locz, Izzy Rafeke, and more!
Sunday – The Mambo Combo 7pm
Tuesday – Open Mic Night 7:30PM
---
Lori's Roadhouse
Friday – National Recording artist Rodney Atkins at 8pm Tickets at LRHLIVE.com
Saturday – Dave Campbell II 7pm
Tuesday – Line Dancing 7pm
Wednesday – Boozy Bingo and Karaoke at 6pm plus Queen of Hearts …Jackpot is over 22k
---
Miami Valley Gaming
Friday – The Billy Rock Band 9pm Center Bar
Saturday – DJ Big Dddy Walker 9pm Center Bar
---
Rex Patrick and the Country Legends Show in Germantown
Saturday – Tim Hembree and the DCB band doors open at 5:30 Music 7 to 10
Reserve your table now 513-594-1282
---
The Brick Tap and Tavern
Thursday – Open Mic with Scott Houchens at 8:30pm
Friday – Cross River Junction at 8:30pm
Saturday – Pandora Project at 8:30pm
---
Ricks Tavern
Friday – Acoustic Blue at 5:30
Friday - Naked Karate Girls at 9pm
Saturday – TBA at 8pm
---
Scott Hall – Hall Around Town Radio
Friday – VFW Kettering for 70s, 80s and 90s Flashback Trivia 7:30
Tuesday "Qiztastic" at Mr. Boros Tavern 7pm
---
Scotty Long / DJ Songz
Wednesdays Froggys Monroe, OH 7pm-11am Karaoke Xperience
Thursdays at Little River Bar and Grill 7pm
Friday – Froggys Diamond and Boots Party 7pm
---
Bands, Solos, Duos and Events
A Drink and A Tune for Brian Boggs
Thursday at 7pm – Moe's Harrigans Tavern – Raffles – Numerous Local Musicians and More
Save the Animals Foundation Fundraiser at the Belle & The Bear 2 to 7pm
Sunday Doors open at noon – Fun – Raffles – Live Music from Scotty Bratcher, Melissa Singer-Reed, Ann/Brian Coleman, Noah Wotherspoon, Kathy Nicosia Laverde, Dudley Taft, Gina McCann, Danny Frazier, Casey Gomez, Dave Wade, Brian Boss Hogg, Rick Kern, Benjamin Walz, Jim Questa, Greg Amburgy and more.
Visitor
Saturday at Trail Town Brewing 7:30pm
Pauly Torrence and the Fall From Grace
Saturday from 10pm till 2am at Borderline Bar and Grille in West Harrison In.
Liquor Store Dogs
Friday at the Dugout Sports Bar and Grill 8:30pm
Butch Jones and Standard Counttry Time Band
Wednesday at 1pm Pohlman Lanes
Short of Stable
Saturday at Crooked Handle Brewing in Piqua 6pm
Sunday – Good Time Charlies Open Mic 5 to 9 Mike and Tiff
Controversy for Breakfast
Saturday at 7pm Tuck N Reds in Yellow Springs
That One Party Band
Friday at L'Burg Drinks and More in Lawrenceburg Indiana. 10-2
Ithika
Saturday at Wings Vandalia from 9:00pm- 1:00am
6 String Hustle
Thursday at 7pm Moe Harrigan's Tavern Benefit for Brian Boggs Dayton, Ohio
Saturday from 9-12 at O'learys Pub Centerville, Ohio
Benny Bodine
Thursday at Moe Harrigan's Tavern - A Drink And A Tune" For Brian Boggs benefit from 7-11
Friday at The Hitching Post Saloon 7-10 Oxford, OH
Truk
Friday from 8-12 at Moe Harrigans Tavern
Nick Wheeler of Truk
Thursday at Harrigan's for the Brian Boggs benefit.
Steve Kracus of Mad Hatter
Thursday "A Drink And A Tune" For Brian Boggs 7 PM · Harrigan's Tavern · Kettering, Ohio
Chad Applegate
Thursday Chad Applegate solo at Barnesburg Tavern in Colerain from 8 to 11.
Alex Poteet
Friday, Linus Tate Smoke Justis Covington, KY 7:30PM
Saturday LT Unplugged at Docs Place in Lebanon, OH 7PM
Joe Cowels
Friday - The Joe Cowels Band at The Pirate's Den 8pm-midnight
Saturday - The Joe Cowels solo at The Grapevine wine bar 6pm-9pm
Dat Band
Saturday at The Belle and The Bear at 8:30
GAMUT
Friday at Madtree Brewing from 7-11pm
Saturday at Monkey Bar 7-11pm
Drive
Saturday at Good Time Charlie's in Miamisburg 8pm
Kevin Cooper
Thursday from 730-1130pm: B&B Jam
Friday from 9:30pm-1:30am: The Hanky Panks at The Oak Tavern. (Oakley)
Johnny Fink
Friday - Gina,Johnny duo; Grandview Tavern 7p
Saturday - Johnny Fink and the Intrusion; Mansion Hill Tavern 8pm
Sunday-Fundraiser for STAF at The Belle and The Bear from 3-7p
Sweet Sister Mercy
Friday at Jimmy B's Bar & Grille from 9:30-1:30
RED HOT RIOT
Friday at Belterra Park Cincinnati- 8:00 PM
Saturday at Gano Tavern 7:00 PM
Acoustic Blue
Friday at Rick's Tavern in Fairfield, Oh 5:00 pm
The BillyRock Band
Friday at Miami Valley Gaming 9:00pm
The Times
Saturday at 7PM Bock Family Brewing
Rick Sheets
Saturday - Rick George Acoustic - 6:00-9:00 Southern Ohio Brewing
Michelle Robinson Band
Friday at Club Trio from 9-1
Saturday at Ricks Tavern from 8-12
Jet Pack Academy
Friday at The Monkey Bar and Grille, 7-11
Dv8
Saturday at Fretboard Brewing Company 5800 Creek Rd Cincinnati Ohio 45242 8:00 til 11:30
Ben & Pete
Friday from 8 to 11 PM at Lucky Star Brewery in Miamisburg
Blind Faith Duo
Friday at Quaker Steak and Lube - Florence 6-9pm
The Fast Forward Band
Saturday at Grant's Lick Cafe - Alexandria KY from 8-12
Kevin McCoy Band
Friday-Belle and the Bear 8:30-ish
Saturday- Anderson TapHouse 9pm
White Knuckle Weekend
Saturday at Beavercreek Wings from 8-12
Tyler VanB
Thursday - Tyler VanB Music with James Zornes at The Pub, Beavercreek OH, 630 to 930
David Thornton
Thursday at Jayne's On Main 7-10
Friday at Hamilton's Urban Backyard 7-9
Saturday at The Casual Pint Hamilton 7-10
Chris Lee Acoustic
Saturday at Fibonacci Brewing Company Cincinnati/Mt. Healthy OH. 7pm-9pm
The Homegrown Band
Saturday from 8-11 at Lucky Star brewery in Miamisburg
Heath Bowling Music
Thursday at Moe's Harrigan's Tavern "A Drink and A Tune" for Brian Boggs 7-11p Kettering, OH
Friday at Knollwood Tavern 9-12a Beavercreek, OH
Saturday at Bushrod Brew Works from 7-10p in Eaton, OH
Spungewurthy
Friday at 8pm - Phonebooth Lounge Kettering
Lee Dixon
Thursday at Smoke Justis 7:30pm
The Menus
Friday at the Knotty Pine 9:30pm
Rockstar
Party Punch
Friday at Wings Vandalia 9:30pm
Saturday at BoJangels Nightclub 9pm
Cassette Junkies
Saturday at The Barrel 8pm
The Whammies
Saturday at Turfway Park 9:30pm
Templin Road
After The Party
Friday at Middletown Moose 8pm
Saturday at The Fairfield Pub 9pm
Sean Poole
Friday at Ralphs American Grill 7pm
Curious Animals
Saturday at Kingspoint Pub 8pm
Retrobution
Saturday at Springboro Eagles 8pm
Generations Band
Friday at Bock Family Brewing 7pm
Thing1Thing2
Saturday at Putters in Liberty Township 7pm
If you would like to have your musical act featured on our weekly podcast or in Warren County Post contact us @Hall Around Town Radio on Facebook! For additional Band information follow our daily Facebook "Live at Five" program @Hall Around Town Radio