Who's Playing Out: Brought To You By Hall Around Town Radio March 23
Image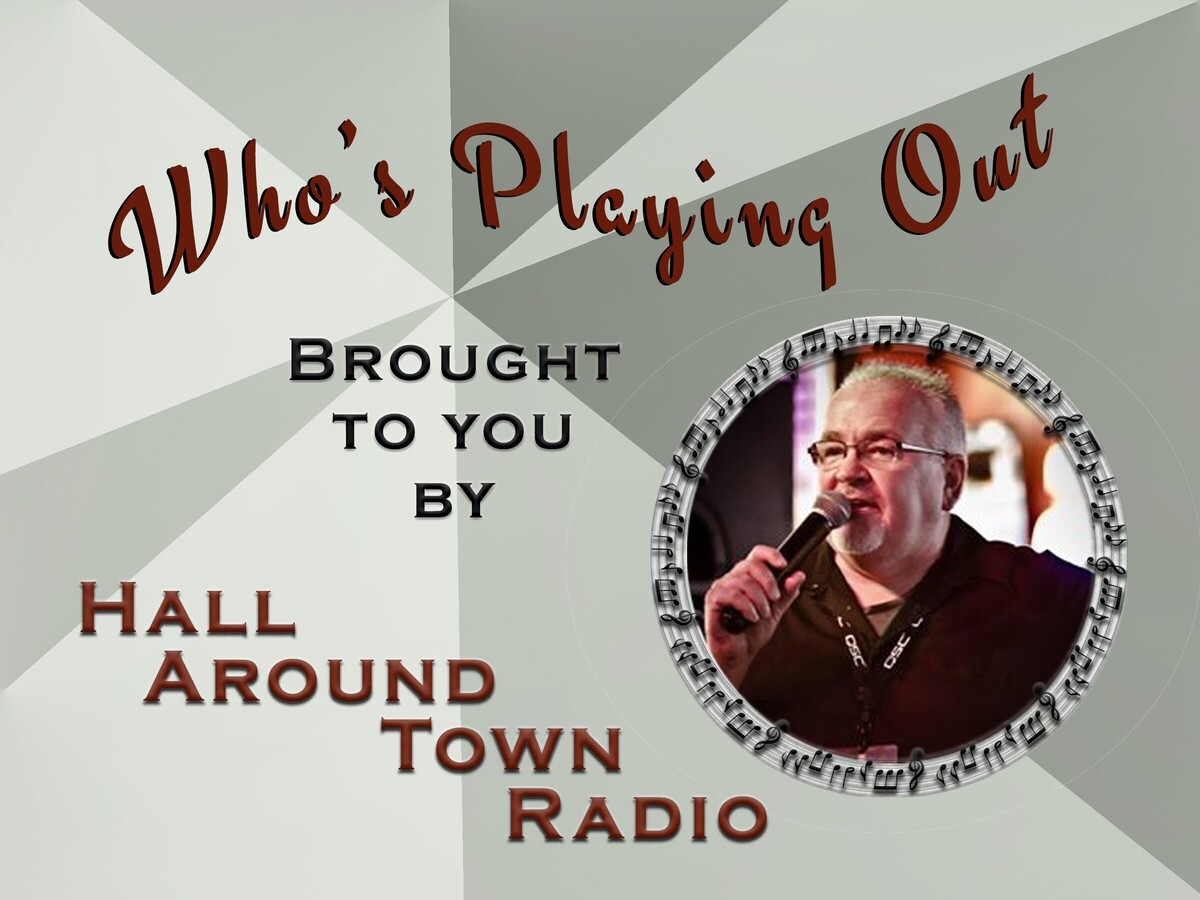 Brought to you by Scott Hall from "Hall Around Town Radio"
A little live music can turn an ordinary day into a memorable experience. The area's top musicians take center stage at some of the tri-states best restaurants and nightspots, bringing live music to our region nearly every night of the week. Make your first stop here weekly to find out "Who's Playing Out" at one of our live local music venues.
Bands and solos brought to you by our friends at Froggy's in Monroe, Ohio and Hall Around Town Radio (follow the on Facebook)
---
Froggy's in Monroe – Sponsor of our Thursday LIVE show on Facebook
Friday at 8pm The Hanky Panks Debut
Saturday at 8pm Home Grown Band
Tuesday 7pm Frog-ingo, 7:30 Queen of hearts $1800+
Wednesday 7pm Pokeoke (Karaoke )
---
Mr. Boro's Tavern Springboro
Thursday – Ben and Pete 7 to 10
Friday – Sons of Liberty 8 to 11pm
Saturday – Southern Summer 8 to 11pm
Sunday – Eyes Up Here 2 to 5pm
Tuesday – "Quiztastic" Q&A Trivia with Scott at 7pm
Wednesday – Queen of Hearts Drawing. 8pm 50K
---
The Belle & The Bear (Montgomery)
Thursday "The Award Winning Jam" 7:30ish
Friday – Caffine at 8:30 pm
Saturday The Michelle Robinson Band at 8:30pm
Monday - Game Night - 6pm
Wednesday – Karaoke 7:30 pm
---
Crooked Handle Brewing Co. Springboro
Thursday – Cory Breath 6pm
Friday – Doug Hart 7 to 9pm
---
Crooked Handle Brewing Co. Piqua
Saturday – Until Rust 6pm
---
Pohlman Lanes & Scott's Bar & Grill (Hamilton Ohio)
Family Entertainment Complex 954 Pyramid Hill Blvd., Hamilton Ohio
Friday 7pm - On Tour From Tampa Florida KAMENAR at 7pm
Saturday – The Bucket List Players 7pm
Monday - After Hours Band 7pm
Tuesday Karaoke DJ KODIE 7pm
Wednesday Standard Country Time Band 1pm
---
Soft Rock Café
Karaoke – Thursday- 7:30 pm - Friday 8:30pm - Saturday - 8:30 pm.
---
Sorg Opera House
Future show tickets available at Cincyticket.com visit SORG page for more info
---
Little River Bar and Grill (Oregonia)
Thursday –– DJ Songz Patioke Party at 7pm Party on the covered enclosed patio
Friday – American Rebels at 7pm
Saturday – Shawn Bell and Blowin the Damn Fuses at 7pm
---
The Blue Note Harrison
Friday – Stacy Mitchhart Band 6pm
Saturday - Metallica Tribute "Battery! Opening the show it's Pantera Tribute "Walk On Homeboys". Rocking in the pub it's Sweet Sister Mercy! Doors open at 5:30pm and music starts at 6:30pm.
Tickets available at Cincyticket.com
---
O'Connors Irish Pub Springfield
Thursday – Karaoke 9pm
Friday – Grocery Store Vodka 9pm
Saturday – The Fleez 9pm
Monday – Trivia with Matt Allen
Tuesday – Flashback Band Unplugged 8pm
Wednesday – Karaoke 10pm
---
Hidden Gem Music Club
Thursday – Generations Big Band Doors at 6pm
Friday – The Trapper Keepers 8pm
Saturday – Yea I said It …. Poetry Event at 7:30pm
Sunday – Tim McCord Jazz Quartet 7pm
Tuesday – Open Mic Night 7:30PM
---
Lori's Roadhouse
Thursday – Line Dancing Lessons 7pm
Friday – Tyler Moore Band at 7pm
Saturday – Dave Campbell at 7pm
Tuesday – Line Dancing 7pm
Wednesday – Boozy Bingo and Karaoke at 6pm plus Queen of Hearts …
Tickets at LRHLIVE.com
---
Miami Valley Gaming
Friday - DJ Big Daddy Walker 9pm Center Bar
Saturday - DJ Big Daddy Walker 9pm Center Bar
---
Rex Patrick and the Country Legends Show in Germantown

Saturday –Country Legends Band with guest Preston Daliey, Tim Hembree and Rick Henderson - doors open at 5:30 Music 7 to 10 - Reserve your table now 513-594-1282
---
Moe Harrigan's Tavern
Saturday – Two For The Road 8pm
---
The Brick Tap and Tavern
Thursday – Open Mic with Scott Houchens at 8:30pm
Friday – Cross River Junction 8:30pm
Saturday – Simple Daze at 8:30pm
---
Ricks Tavern
Friday – The Turned Up Band at 8pm
Saturday – Montage at 8pm
---
KnottyPine
Thursday - Kenny Cowden acoustic show from 7-11
Friday - The Renegades 9-1am
Saturday - Under The Sun 9-1am
---
Scotty Long / DJ Songz
Wednesdays - Froggys in Monroe - Poker Karaoke Party 7pm. Each Singer who sings 2 songs will pick 2 cards from the shuffled decks. At 10:30pm we will lay down the 5 cards. Whoever has the highest Holdem Hand will win $25 Froggys Gift Card that can be used the following week.
Thursdays - Little River Oregonia, OH. PatiOKE Party 7pm!
Tuesdays - Trillions in West Chester, OH. Karaoke Party 8pm
---
Bands, Solos, Duos and Events
Pauly and the Fall From Grace
Saturday at DC Roadhouse 8pm to 12 pm
Joe Cowels
Thurs March 23rd Joe Cowels solo at Cappy's in Loveland 6p-9p
Fri March 24th The Joe Cowels Band at Club Trios 9P-1am
OVERDRIVE
Friday at the Miamisburg Moose Lodge 645 8pm
"Sweet Sister Mercy"
Saturday at the Blue Note Harrison ,Oh with Metallica Tribute "Battery" Opening the show it's Pantera Tribute "Walk On Homeboys". Rocking in the pub is Sweet Sister Mercy. Doors at 5:30
Kevin Cooper
Thursday 730-1130pm: Belle & Bear Jam
Friday 8pm-12am: The Hanky Panks debut at Froggys
Saturday 8pm-12am: The Hanky Panks at Trillions
Sunday 2-5pm: Eyes Up Here at Mr. Boro's Tavern
Wednesday 7:30 Dos Bozos (Pat Riley, Kevin Cooper, Mike Roberts) at Olde Village Tavern
Lätter
Friday the Eagles in Celina Ohio 8pm with NEW bassist Jay Klein
Marsha Brady
Friday March 24th - The Eagles, Marysville Ohio - 7:30pm - 11:30pm
Saturday March 25th - Moonbird - Dry Ridge Kentucky - 8pm - 12am
Acoustic Blue (Ann & Mike) 
Thursday at Par's Place, Fairfield - 6:30pm.
Michelle Robinson Band:
Friday 8-11 at Fretboard Brewing
Saturday 8:30-12:30 at Belle and the Bear
Johnny Fink
Friday 3-24 Gina/Johnny duo at Grandview Tavern 7pm
RED HOT RIOT
Saturday at Southgate (Ky) VFW-Saturday- 7:00PM
Dv8
Friday March 24th at Hollywood Casino 777 Hollywood Blvd Lawrenceburg 8:00 pm til 11:30
Shane Demoss Music
Thursday 4/23 Moe Harrigan's Tavern Kettering, Oh 8-11pm
Wednesday 4/29 Milano's Miami Twp., Oh 7-10pm
Until Rust
Saturday 4/25 Crooked Handle Brewing Co. Piqua, Oh 6-9pm
Billy Brown
Friday March 24 at 7pm - The Varsity in Cincinnati OH
Saturday March 25 at 9pm - Big Buls Roadhouse in Hamilton OH
Chad Applegate
Friday solo at Borderline in West Harrison IN Saturday from 10 til 2.
6 String Hustle
Thur 3/23 8-11 at The Lounge Cincinnati, Ohio
Fri 3/24 from 8-12 at Dublin Pub in Dayton, Ohio
Tues 3/28 at 8:30pm Turfway Racing & Gaming in Florence, KY
Wed 3/29 from 7-10 at O'Learys Pub in Centerville, Ohio
Shawn Bell
Saturday Acoustic Trio with Dave Short and Kevin Ashcraft Little River Bar and Grill 7-11
Linus Tate
Friday March 24th at North 2nd Tap & Bottle Shop Hamilton, OH 9PM
Saturday March 25th at Doc's Place Lebanon, OH 7PM
Retrobution
Friday March 24th, at Wings in Vandalia show starts at 9:30
White Knuckle Weekend
Friday at Kings Point Pub from 8:30-12:30
Don't Tell Steve
Saturday at One More Bar and Grill 8pm
Blind Faith Duo
Friday at Clear Mountain Food Park Batavia, Oh from 7:30 - 10:30
The Homegrown band
Saturday 3/25 at Froggys in Monroe from 8-12
Donna Kennedy Band
Friday at the Avenue Sports and Spirits from 8-12
Saturday at the Amvets 24 in Dayton from 7-11
Matthew Allen
Friday at White Dog Distilling Co. & Bourban Bar from 8-11pm
Heath Bowling
Friday 3/24 at Knollwood Tavern 9-12 Beavercreek, OH
Saturday 3/25 with Route 88 at Bushrod Brew Works 7-10p Eaton, OH
Side Piece
Saturday at Little York Tavern 8pm
Jr Acoustic
Wednesday Open Mic at the Dublin Pub 7pm
Montage
Saturday at Ricks Tavern 8 to 12
Sideshow
Saturday at the Bayview Pub in St. Marys 8 to 12
If you would like to have your musical act featured on our weekly podcast or in Warren County Post contact us @Hall Around Town Radio on Facebook! For additional Band information follow our daily Facebook "Live at Five" program @Hall Around Town Radio