Who's Playing Out: Brought To You By Hall Around Town Radio April 20th
Image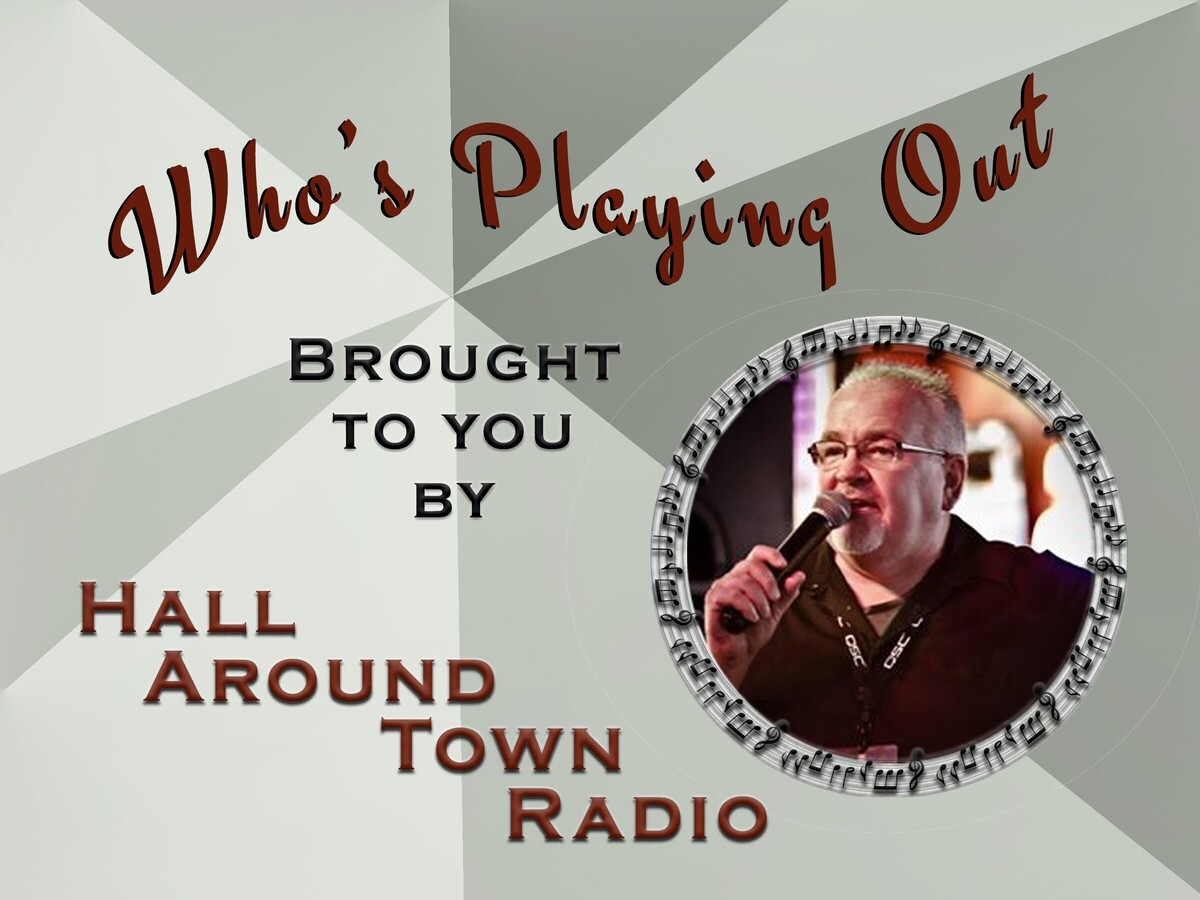 Brought to you by Scott Hall from "Hall Around Town Radio"
A little live music can turn an ordinary day into a memorable experience. The area's top musicians take center stage at some of the tri-states best restaurants and nightspots, bringing live music to our region nearly every night of the week. Make your first stop here weekly to find out "Who's Playing Out" at one of our live local music venues.
Bands and solos brought to you by our friends at Froggy's in Monroe, Ohio and Hall Around Town Radio (follow the on Facebook)
---
Froggy's in Monroe – Sponsor of our Thursday LIVE show on Facebook
Friday at 8pm Timestamp
Saturday at 8pm Montage
Tuesday 7pm Frog-ingo, 7:30 Queen of hearts at $2500
Wednesday 7pm Just Fun Karaoke with DJ Cliff
Starting in May on Thursdays – Acoustic Artists Patio Ssries 5 to 9pm
---
Mr. Boro's Tavern Springboro
Thursday – Shane DeMoss Music 7 to 10
Friday – Pearl Street 8 to 11pm
Saturday – Lights Out (Debut) 8 to 11pm
Sunday – Ethan and Joey Band 2 to 5pm
Tuesday – "Quiztastic" Q&A Trivia with Scott at 7pm
Wednesday – Queen of Hearts Drawing. 8pm 50K. (ONLY 2 Cards Left on the Board)
---
Heathers "On the Patio"
Seasonal - Grand Opening Week Begins May 2nd
Tuesdays – Bingo & Queen of Hearts
Wednesdays – Name That Tune with Scott 7pm
Thursday – Friday and Saturday Live Music
---
The Belle & The Bear (Montgomery) - Award Winning
Thursday "The Award Winning Jam" 7:30ish
Friday – CFG and The Family at 8:30 pm
Saturday - The Whammies at 8:30pm
Sunday – Kip Winger Acoustic with Kern and Wade SOLD OUT 6pm
Monday - Game Night - 6pm
Wednesday – Karaoke - 7pm
---
Crooked Handle Brewing Co. Springboro
Thursday – Cory Breath 6 to 9pm
Friday – Truk 7pm to 10pm
---
Crooked Handle Brewing Co. Piqua
Saturday – The Arellano Band 6pm
---
Soft Rock Café
Karaoke – Thursday- 7:30 pm - Friday 8:30pm - Saturday - 8:30 pm.
---
Pohlman Lanes & Scott's Bar & Grill (Hamilton Ohio)
Family Entertainment Complex 954 Pyramid Hill Blvd., Hamilton Ohio
Friday - City Slickers at 7pm
Saturday – That One Party Band 7pm
Monday - After Hours Band 7pm
Tuesday Karaoke DJ KODIE 7pm
Wednesday Standard Country Time Band 1pm
---
O'Connors Irish Pub Springfield
Thursday – Open Jam 7 to 10 in the music venue
Thursday - Karaoke 9pm in the dining room
Friday – The Loyalists 9pm
Saturday – Flashback Band at 9pm
Monday – Trivia with Matt Allen 7pm
Tuesday – Acoustic with Finding Melissa 8pm
Wednesday – Karaoke 10pm
---
Sorg Opera House
Sunday – The Butler Philharmonic Chours presents: Broadway meets Opera 3pm
Future show tickets available at Cincyticket.com visit SORG page for more info
---
Little River Bar and Grill (Oregonia)
Thursday –– DJ Songz Patioke Party at 7pm Party on the covered enclosed patio
Friday – Benny Bodine at 8pm
Saturday – The Relics at 8pm
Wednesday – Singer Songwriter Open Mic 6 to 9pm
---
The Blue Note Harrison
Friday – Donnie Baker (Comedy) at 7pm
Saturday - Def Leppard tribute "Armageddon" - Poison tribute "Rock of Love" & Ratt tribute "Rattrap". Rocking in the pub it's Strange Show starts at 7pm.Tickets available at Cincyticket.com
---
Hidden Gem Music Club
Thursday – 7:30pm Mombo Combo
Friday – Fusion Fridays Dance Party with DJ Danny Diaz at 7pm
Saturday – The Menus at 8pm
Sunday –Jazz Brunch with Kelly Ginn and Brian Cashwell at 11am
Sunday – Dott Does Maze 7:30pm
Tuesday – Open Mic Night 7:30PM
---
Lori's Roadhouse
Friday – Jake Gaither and Nick Winters at 4:30pm
Friday – Carter New at 8pm
Saturday – Parmalee at 8pm
Tuesday – Line Dancing Lessons 7pm
Wednesday – Boozy Bingo and Karaoke at 6pm plus Queen of Hearts …
Tickets at LRHLIVE.com
---
Miami Valley Gaming
Friday - Party Punch 9pm Center Bar
Saturday – Audio Graffiti 9pm Center Bar
---
Milanos (Miami Township)
Wednesday – Benny Bodine 6 to 9pm
---
Rex Patrick and the Country Legends Show in Germantown
Saturday – Rick Henderson & The .50 Caliber Band –doors open at 5:30 Music 7 to 10
Reserve your table now 513-594-1282
---
Moe Harrigan's Tavern
Thursday – Michael Compton 7:30
Friday – Kevin Fox at 8pm
Saturday – Scott Houchens 8pm
---
The Brick Tap and Tavern
Thursday – Scott Houchens LIVE at 8:30pm
Friday – North Lindsey at 8:30pm
Saturday – A Vicious Cycle from 8:30 to midnight
Wednesday – Doug Hart Solo 7:30pm
---
Ricks Tavern
Friday – Michelle Robinson and Kendall Tucker at 7pm
Saturday – The Remains at 8pm
---
KnottyPine
Thursday – Kenny Cowden Acoustic 7pm
Friday – Wayward Son Cincy from 9 to 1
Saturday – Michelle Robinson Band from 9 to 1
---
Scotty Long / DJ Songz
Thursdays - Little River Oregonia, OH. PatiOKE Party 7pm!
Friday at Township Tavern 8pm
Tuesday – Boozeday at Trillions in West Chester, OH. Karaoke Party 8pm
---
Scott Hall
Tuesday at Mr Boros Taver for Quiztastic Tuesday Trivia at 7pm
Wednesday – Heathers Season Debuts on May 3rd for Name That Tune Weekly Residency
---
Bands, Solos, Duos and Events
Lamar Bliznar
Friday at Tuck-n-Reds Spirits and wine in Yellow Springs from 6-9pm all ages free admission.
Todd The Fox
Saturday - 3pm at the Bellbrook Sugar Maple Festival. In the park
Bourbon Road Band
Friday at The Monkey Bar from 7-11
Spungewurthy
Friday at Phonebooth Lounge 8pm -12
Saturday at Bellbrook Sugar Maple Festival 6 to 10.
Blind Faith Duo
Friday at Quaker Steak and Lube - Florence Ky from 6-9 on the patio
Sunday at Barleycorn's Lakeside Park Crescent Springs KY from 7-10pm
The Fast Forward Band
Saturday at Grant's Lick Cafe Sat 4/22 from 8-12
David Thornton
Thurday at Jayne's On Main from 7-10
Friday at the Middletown ELKS LODGE #257 from 7-10
Saturday at The Casual Pint in Hamilton from 7-10
Missing November
Saturday at the Hillsboro Eagles from 8-12
Tyler VanB Music
Saturday at Seven Mile Winery, Middletown from 6 to 9
Matthew Allen
Friday from 8-11 pm at White Dog Distilling Co.
Wednesday from 6:30-9:30 at the Urbana Brewing Co.
Kevin McCoy Band
Friday 4-20 Party Acoustic with Lee Dixon at Trillions 7-10pm
Saturday at Bristol Republic from 10pm-1am
Sunday Funday Acoustic with Lee Dixon at Zazou KY 2-5m
Michelle Robinson Band
Friday at Ricks Tavern in Fairfield 8-12
Saturday at the KnottyPine from 9-1
Shane Demoss Music
Thursday at Mr. Boro's Tavern in Springboro, Oh 6 - 9
Until Rust
Saturday at Jayne's On Main in Miamisburg, Oh W/special guests A&T Acoustics 7 - 10:30
Sunday at the Sugar Maple Festival - Gazebo Area Bellbrook, Oh 11 - 12:30
Wednesday at Oleary's in Centerville, Oh from 7 - 10
Benny Bodine
Friday at Little River Bar and Grill from 7-11 in Oregonia, OH
Sunday at the Bellbrook Sugar Maple Festival from 3-4:30 in Bellbrook, OH
Wednesday at Milano's from 7-10 Miami Township, OH
Truk
Friday at Crooked Handle Springboro from 7-10
Six String Hustle
Thursday from 8-11at The Lounge Cincinnati, Ohio
Alex Poteet
Thursday at Smoke Justis in Covington, KY 7:30PM
Bob Marley, Grateful Dead and Phish covers only
Linus Tate
Friday April 21Erteo Cellars Winery Batesville, IN 6PM
Linus Tate
Saturday at Knollwood Tavern in Beavercreek, OH 9PM
Billy Brown
Thursday from 7pm-10pm - The Well in Covington KY
Saturday from 11am-3pm - Clayton Homes Real Estate Event in Walton KY.
Monday from 3pm-6pm - Ole Red in Gatlinburg TN
Chad Applegate
Friday - Rooster Crow (his new 90s rock band) in Grayson KY at Little Sandy Speedway for the SxS Shootout Southern Series. We play 10pm until Midnight.
Wednesdays - Chad Applegate solo at Chiefs Lake in Clarksville Oh 7 to 10.
Jordan Wood
Thursday at Twenty Mile Tavern - Open Jam 9pm in Landen
Monday at Misery & Jens Open Jam from 8pm - ? in Hamilton, OH
Donna Kennedy Band
Saturday at the Madison Inn from 9-1
Ann Coleman Acoustic
Thursday at Brown dog Café 6 to 8:30pm
Acoustic Jr.
Wednesdays hosting the Dublin Pub Open Mic Night 7 to 10pm
Joe Cowels
Friday from 8pm to midnight - Joe Cowels solo at The Pirate's Den
Saturday - The Joe Cowels Band at The Hanger Bar and Grill 8pm to midnight
GAMUT
Saturday at the Pirates Den from 8:30-12
The BillyRock Band
Friday at Turfway Park Florence, 9:30pm
Saturday at The Crow's Nest, Sat. 9pm
That One Party Band
Friday at L' Burg Drinks & More in Lawrenceburg Indiana 10pm-2am
Saturday at Pohlman Lanes in Hamilton OH 7-11pm
That One Party Band Lite (acoustic)
Thursday April 20th at Cincinnati State College Earth Day Jam in the cafeteria courtyard 11am-2pm
Crown Watts
Johnny Fink
Saturday - Johnny Fink and the Intrusion at The Phone Booth in Kettering Oh 8pm
Dat Band
Friday at Fretboard Brewing from 7-11 FOR HIS MAJESTY: THE MUSIC OF PRINCE with special guest Amy Reid… In addition: DJ Nevermind (has performed at Paisley Park and opened for New Power Generation and The Time) 7-8pm
Kevin Cooper
Thursday from 730-1130pm: Belle & Bear Jam
Friday from 7-10pm: Eyes Up Here at Hamilton's Urban Backyard
Latter
Friday in Covington Ohio at the endzone lounge. 8:30pm
Whiskey Town
Saturday at Borderline 7pm
Abe's Lincoln
Saturday at JD Legends, along with Ithika and Varner/Netherton Revival for a special event benefiting the Varner Foundation for Children and Families. 6pm.
Sweet Sister Mercy
Saturday at Jimmy B's from 9:30 to 1:30
C.R.A.P. ( Custom rhythm and punk)
Friday are playing John gay's birthday with Doomed City Villains - Black Market Party and Toxic Nobility - Live on the roof in Middletown at the square on central ave 8 pm
Pauly Torrence
Thursday at the Fairfield Pub 6 to 7:30 4 year anniversary party
Adam West and the Beez Kneez,
Saturday, 12:30-2p, Tipp Center during the Tipp City Art Council's "An Art Affair" event. Other musicians Rusty Harden at 10-11 - 11am to12:30 Reyna, 2-3:30 Novena, 3:30-5 Scott Houchens.
Jet Pack Academy
Friday at One More Bar & Grille from 8p-12a
Heath Bowling Music
Thursday at Liberty Inn Liberty Twshp, OH 6-10
Friday at Good Time Charlies in Miamisburg, OH 830-1230
Route 88 (featuring Heath Bowling)
Saturday at the Courtyard Lounge Englewood, OH from 9-1a
Element 3
Friday at the Amarican Legion Post 598 in Kettering 7pm
Noah Wotherspoon
Thursday at the Phone Booth Lounge 7pm
3 Day Rule
Friday at Club Trio Lounge 9pm
Excalibur
Friday at 7pm Kreimers River Bar 7pm
Templin Road
Saturday at Club Trio 8:30 pm
Thing1 Thing2
Saturday at the Monkey Bar 1pm
Velvet Crush Unplugged
Thursday at Elsas Springboro 7pm
Harry Strawberry
Saturday at Jim and Jacks 8pm
Sunday at Club Trio 3pm
Controversy for Breakfast
Saturdayt at Taffys of Eaton 7pm
Rick George
Saturday at Southern Ohio Brewing 6pm
Side Show
Saturday at Froggys Indian Lake 7pm
Margo & Adam
Friday at The Varsity Sports Bar and Grill 7-10pm
If you would like to have your musical act featured on our weekly podcast or in Warren County Post contact us @Hall Around Town Radio on Facebook! For additional Band information follow our daily Facebook "Live at Five" program @Hall Around Town Radio