Peaches are packed full of delicious summer flavor and health benefits
Image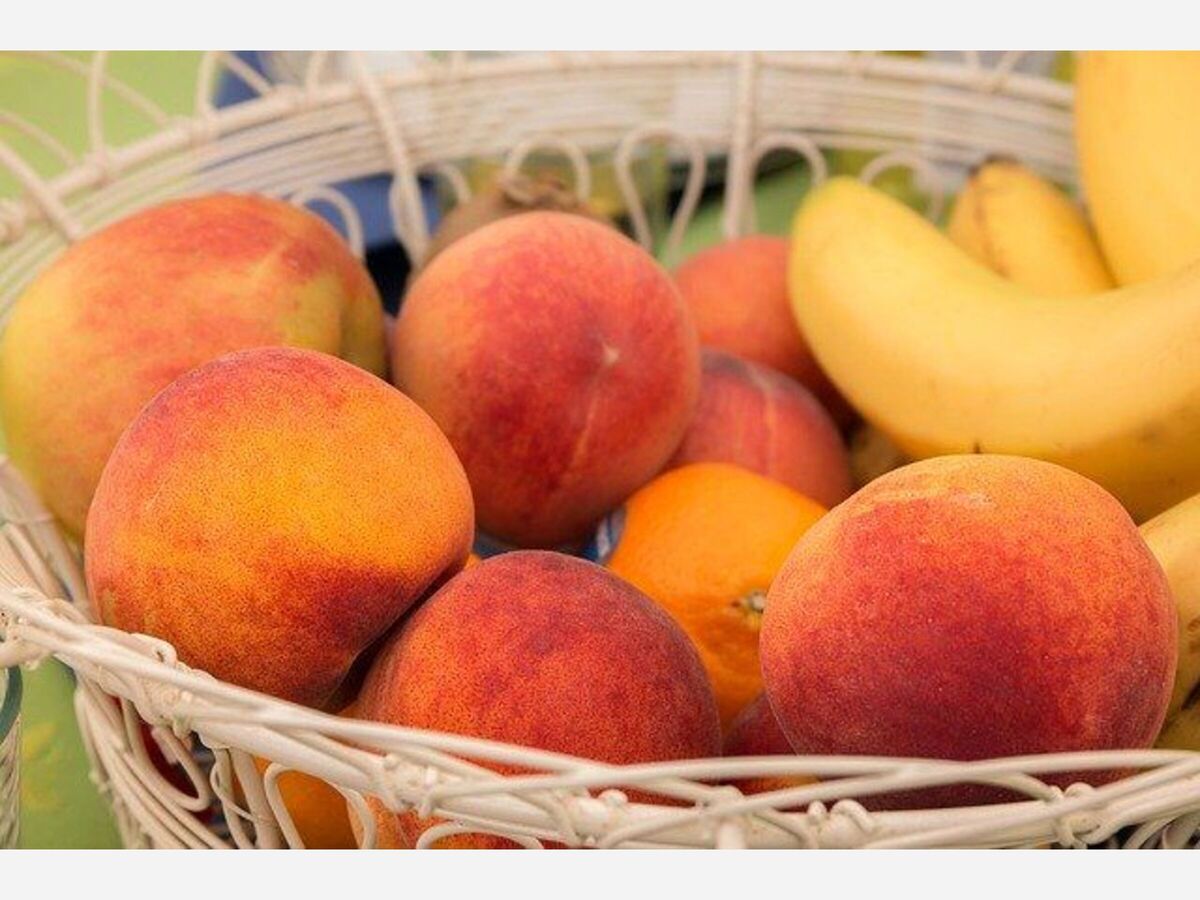 Peaches, the celebrated summer fruit adored by many, are a stone fruit that come from a deciduous tree native to northwest China, where it was first domesticated and cultivated. The fruit was a favorite among Chinese royalty and it was mentioned in writings dating back to the 10th century BC. Peaches were introduced to the parts of the Americas by Spanish explorers during the 16th century, England, France and the American colonies during the 17th. American commercial production of the fruit began during the 19th century in the states of Maryland, Delaware, Georgia and Virginia. Even though California, Georgia and South Carolina are currently the top peach producing states, China is still the largest producer of peaches for worldwide consumption.
There are two main types of peaches: clingstones and freestones, although a type called semi-freestone does exist, as well. Clingstone fruit have flesh that sticks stubbornly to the peach pit. The flesh is yellow in color with touches of red near the pit. This variety is usually harvested earlier in the year (May through August) and is the preferred fruit for canning and making preserves. They are rarely found fresh at the grocery. Freestone fruit have pits that are easily removed from the flesh, making them the more popular choice for eating fresh. 
This is the variety most often found in the produce section of the grocery store and at farmers markets. They are a wonderful choice for baking. As the name implies, the semi-freestone variety is a hybrid of the two main types of peaches, exhibiting characteristics of both. They can be enjoyed fresh or canned. Surprising to many people, peaches and nectarines are actually the same species of fruit even though they are regarded commercially as two separate entities. Genetic studies suggest that nectarines are produced because of a recessive allele while peaches are produced by a dominant one.
A study from Texas A&M has shown that stone fruit have been shown to help ward off weight related diseases such as diabetes, metabolic syndrome and cardiovascular disease. The anti-obesity and anti-inflammatory properties possessed by peaches may reduce LDL, anthocyanins, chlorogenic acids, quercetins and catechins in the human body. In addition to the previously mentioned health benefits, peaches also contain vitamins A, C, E and K, niacin, folate, iron, choline, selenium, potassium, magnesium, phosphorous, manganese, zinc, copper and dietary fiber. The vitamin C alone can help combat free radicals that are known to cause cancer, reduce wrinkles and improve overall skin texture, combat sun damage, support the formation of collagen and support heart health. Fiber, choline and potassium are also key ingredients in heart health. The fiber found in peaches has also been shown to lower blood glucose levels in type 1 diabetics and improve blood sugar, lipid and insulin levels in type 2 diabetics while lowering the risk of colorectal cancer for the population as a whole. Other benefits peaches offer include:
Reduction of hair loss
Removing parasitic worms from the digestive tract
Cleansing the kidneys and bladder
Helping calm chronic bronchitis, coughs and gastritis when leaves and bark are made into and consumed as a tea
Peach extracts have been shown to kill even the most aggressive forms of breast cancer while leaving healthy cells unharmed
Unfortunately, those who suffer from almond allergies may also find themselves allergic to peaches. Peeled and canned fruits may be tolerated by some when fresh cannot, but the risk is ever present.
For those interested in growing and harvesting their own peaches, there are a few things you should know. The peach tree needs full sun, good airflow and a regular, reliable water supply to thrive. They also require more nitrogen than most other fruit trees. This can be supplied by adding blood meal, bone meal or calcium ammonium nitrate to the soil in which the trees grow. Trees should be planted in early winter and harvest can begin as early as May and continue through August. However, don't plan on enjoying fresh fruit from your tree right away-it typically takes three years for the production of fruit to begin.
Healthy trees may continue to bear fruit yearly for up to twelve years. Once your trees have begun blooming, increase the water supply and be sure to thin the flowers. More flowers equals more fruit, which reduces the quality of flavor and size of the individual fruit, leaving them small and tasteless.
Fresh peaches are best left on the tree until you are ready to eat them as they do not store well and bruise easily. If you must store them, the optimal temperature is 32 degrees F with a high level of humidity.
They should be eaten or canned within two weeks, if they even store well for that long. Whether you grow your own or purchase them from the grocery, peaches are a delicious addition to all summer celebrations.
Please enjoy the following recipes featuring the flavor of peaches:
GRILLED PEACHES
4 peaches, cut in half and pits removed
2 tablespoons honey, plus additional for garnish
1 cup cream cheese, softened
4 tablespoons pecans, chopped
1 tablespoon vegetable oil
Directions
Preheat grill to medium high heat. Mix cream cheese and pecans together in a small bowl and set aside. Brush both sides of each peach with a thin coating of oil and place with the cut side down on the heated grill. Cook for 5-6 minutes, until grill marks have appeared. Turn each half over and drizzle with equal amounts of honey. Top with cream cheese and grill a little while longer, until filling is warm. Place on a serving plate, drizzle with additional honey and serve immediately.
Cook's Notes
Be sure to use ripe peaches, as they have the sweetest, freshest flavor.
Experiment with the many varieties of flavored cream cheeses for new flavor combinations
If you don't like-or can't eat pecans, substitute them for another type of nut or leave them out completely
PEACH CRISP
1/2 cup quick cooking oats
1/2 cup granola
3 tablespoons flour
1/2 cup packed brown sugar
1/4 cup butter
5 cups fresh peaches, peeled, pitted and sliced
1 tablespoon flour
1 teaspoon vanilla
1 teaspoon ground cinnamon
1/2 teaspoon ground nutmeg
Directions
Preheat your oven to 375 degrees F. In a bowl, combine the first 4
ingredients until mixed and cut in butter until mixture is coarse and
crumbly. Set aside. Spray a 8X8 baking dish with non stick spray and add
peaches. Sprinkle with vanilla and seasonings and top with oat mixture.
Bake for 25-30 minutes, until golden.
MANGO PEACH SMOOTHIE
1 peach, pitted and cut into chunks
1 mango, peeled and cut into chunks
1/2 cup milk
1/2 cup orange juice
Directions
Combine all ingredients and blend until smooth-about 1 minute. Pour into glass and serve immediately.
PEACH SCHNAPPS INFUSED PEACH ICE CREAM
1 cup peach schnapps
4 fresh peaches, cut into bite size chunks
1/4 cup granulated sugar
1 cinnamon stick
2 pints heavy whipping cream
2 tablespoons honey
3/4 cup brown sugar
Directions
Combine schnapps, peach chunks, sugar and cinnamon stick in a bowl and stir to combine. Cover and allow to sit for an hour at room temperature.
This allows ample time for all of the flavors to blend together and marinate the peaches. While the peaches are marinating, whisk together the remaining ingredients in a large bowl. When thoroughly combined, pour into an ice cream maker and allow tit o run until the mixture reaches the consistency of soft serve ice cream, about 20-30 minutes. While the machine is still running, slowly add the peaches in. Allow mixture to freeze overnight before serving.
PEACHES & CREAM BARS
1 (8 ounce) package refrigerated crescent rolls
1 (8 ounce) package cream cheese, softened
1/4 teaspoon vanilla extract 1 (21 ounce) can peach pie filling
1/2 cup all-purpose flour
1/4 cup packed brown sugar
3 tablespoons cold butter or margarine
Directions
Preheat oven to 375 degrees F. Spray a 9X13 inch pan with non-stick spray. Line the bottom of the pan with crescent roll dough, spreading evenly across the bottom and slightly up the sides. Bake for 5 minutes. Mix together cream cheese, sugar and vanilla. Blend until smooth then spread over baked crust. Spoon peach filling over the cream cheese mixture. In a small bowl, combine flour and brown sugar, cut in butter until coarse crumbs form. Add pecans and sprinkle over top of peach filling. Bake 25-30 minutes, until edges are golden brown. Cool 1 hour before serving, store covered in the refrigerator.
NO BAKE PEACH PIE
1/2 cup water

2/3 cup white sugar

3 tablespoons cornstarch

1 tablespoon butter

6 fresh peaches, peeled, pitted, and sliced

1 (9 inch) graham cracker pie crust
DIRECTIONS
Stir together the water, sugar, cornstarch, and butter in a small saucepan over medium-high heat. When the mixture has come to a boil, add a few slices of the peaches, then lower heat to medium-low and simmer for 5 minutes until thick and smooth. Remove from the heat, and allow to cool completely. Place the remaining peach slices into the pie crust, and spread the sauce all over them, covering completely. Refrigerate for at least 3 hours, or until firm before serving.
Aimee Plesa is currently the head chef at Hammel House Inn in Waynesville.  She has also worked as the head chef at Ollie's Place,  kitchen manager at Bargos Grill and Tap and The Whiskey Barrel (now The Barrel).  She was sous chef at Ele Wine Bar and Bistro and Cobblestone Cafe.  Plesa has also owned and operated Thyme After Thyme Gourmet since 2007.  She was a 2017 and 2018 Dayton Chef Showdown participant, 2018 and 2019 Dayton.com Best Chef nominee, 2019 Dayton.com Best Chocolates nominee and Dayton.com Daytonian of the Week March 25 2020.