Who's Playing Out: Brought To You By Hall Around Town Radio May 4th
Image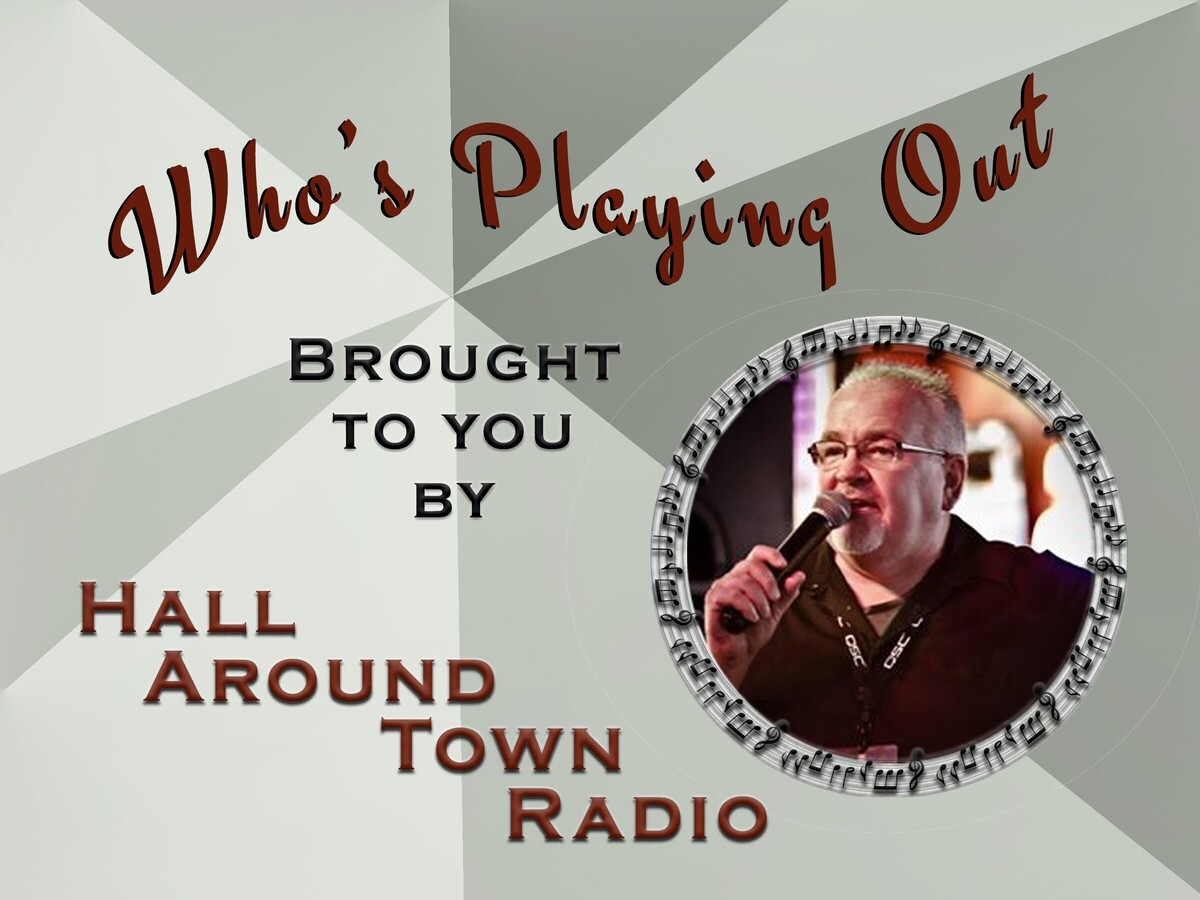 Brought to you by Scott Hall from "Hall Around Town Radio"
A little live music can turn an ordinary day into a memorable experience. The area's top musicians take center stage at some of the tri-states best restaurants and nightspots, bringing live music to our region nearly every night of the week. Make your first stop here weekly to find out "Who's Playing Out" at one of our live local music venues.
Bands and solos brought to you by our friends at Froggy's in Monroe, Ohio and Hall Around Town Radio (follow them on Facebook)
---
Froggy's in Monroe – Sponsor of our Thursday LIVE show on Facebook
Friday at 8pm – Dirthy Water Revival
Saturday at 8pm Brittney's Lipstick
Tuesday 7pm Frog-ingo, 7:30 Queen of hearts
Wednesday 7pm Just Fun Karaoke with DJ Cliff
Starting in May on Thursdays – Acoustic Artists Patio Series 5PM to 9PM
---
Heathers "On the Patio"
Seasonal - Grand Opening Week Begins May 2nd
Tuesdays – Bingo & Queen of Hearts Starts May 16th
Wednesdays – Name That Tune with Scott 7pm
Thursday – Kierstead 6:30
Friday – Truk at 7pm
Saturday – Cryin' Out Loud at 7pm
---
Mr. Boro's Tavern Springboro
Thursday – Until Rust 7 to 10
Friday – Last Call 8 to 11pm
Saturday – Jay Clark Band 8 to 11pm
Sunday – Two for the Road 2 to 5pm
Tuesday – "Quiztastic" Q&A Trivia with Scott at 7pm
Wednesday – Queen of Hearts Drawing. 8pm 34K.
---
The Belle & The Bear (Montgomery) - Award Winning
Thursday "The Award Winning Jam" 7:30ish
Friday – Brent James and the Vintage Youth at 8:30 pm
Saturday - The Gamut at 9pm
Monday - Game Night - 6pm
Wednesday – Noah Wotherspoon & Scotty Bratcher - 7pm
---
Crooked Handle Brewing Co. Springboro
Thursday – Zane Gerlach – Live 6 to 9pm
Friday – Nicholas Clay 6pm to 9pm
---
Crooked Handle Brewing Co. Piqua
Saturday – The Homegrown Band 6pm to 9pm
---
Soft Rock Café
Karaoke – Thursday- 7:30 pm - Friday 8:30pm - Saturday - 8:30 pm.
---
Pohlman Lanes & Scott's Bar & Grill (Hamilton Ohio)
Family Entertainment Complex 954 Pyramid Hill Blvd., Hamilton Ohio
Friday - Kokotto Comeback at 7pm
Saturday – The Torpedoes 7pm
Monday - After Hours Band 7pm
Tuesday Karaoke DJ KODIE 7pm
Wednesday - Standard Country Time Band 1pm
---
O'Connors Irish Pub Springfield
Thursday – Open Jam 7 to 10 in the music venue
Thursday - Karaoke 9pm in the dining room
Friday – Vintage Chrome 9pm
Saturday – Karaoke - DJ Reelz at 10pm
Monday – Trivia with Matt Allen 7pm
Tuesday – Acoustic with Benny Bodine 8pm
Wednesday – Karaoke 10pm
---
Sorg Opera House
Saturday May 6th – Riders In the Sky at 8pm
Show tickets available at Cincyticket.com visit SORG page for more info
---
Little River Bar and Grill (Oregonia)
Thursday –– DJ Songz Patioke Party at 7pm Party on the covered enclosed patio
Friday – Element 3 at 7pm
Saturday – Thirty Ot 6 at 7pm
Wednesday – Singer Songwriter Open Mic 6 to 9pm
---
The Blue Note Harrison
Friday – Micromania Wrestling returns to the Blue Note!! at 6pm
Saturday - Bad Habit and Miss Jacque return to the Blue Note! Bad Habit on one stage and Miss Jacque on the other!! Show starts at 6pm.Tickets available at Cincyticket.com
---
Hidden Gem Music Club
Thursday – Toxic Nobility with Visitor 8pm
Friday – DJ Danny Diaz and the Cinco De Mayo Dance Party 7pm
Saturday – Fleetwood Dreams at 8pm
Sunday – Blue Wisp Big Band 7pm
Tuesday – Open Mic Night 7:30PM
---
Lori's Roadhouse
Friday – National Recording Artists Shenandoah at 8pm
Saturday – Max Geers 4:30pm
Saturday – Southern Summer 8pm
Tuesday – Line Dancing Lessons 7pm
Wednesday – Boozy Bingo and Karaoke at 6pm plus Queen of Hearts …
Tickets at LRHLIVE.com
---
Miami Valley Gaming
Friday - DJ Big Daddy Walker 9pm Center Bar
Saturday – Naked Karate Girls 9pm Center Bar
---
Milanos (Miami Township)
Wednesday – Until Rust 6 to 9pm
---
Rex Patrick and the Country Legends Show in Germantown
Saturday – The Richard Lynch band – doors open at 5:30 Music 7 to 10
Reserve your table now 513-594-1282
---
Moe Harrigan's Tavern
Thursday – TBA 7:30
Friday – TBA at 8pm
Wednesday – Nick Mitchell 8pm
---
The Brick Tap and Tavern
Thursday – Scott Houchens LIVE at 8:30pm
Friday – Music Bingo at 8:00pm
Saturday – Pearl Street from 8:30 to midnight
Wednesday – Doug Hart Solo 7:30pm
---
Ricks Tavern
Friday – Social Chemists at 8pm
Saturday – TBA at 8pm
---
KnottyPine
Thursday – Kenny Cowden 7pm
Friday – Naked Karate Girls from 9 to 1
Saturday – Under the Sun from 9 to 1
---
Scotty Long / DJ Songz
Thursdays - Little River Oregonia, OH. PatiOKE Party 7pm!
Scheduled Fridays: Township Tavern - Hamilton, OH 8pm Karaoke & Dance Party!
Check out his Facebook pages at Scotty Long or DJ Songz for all Friday night shows!
---
Scott Hall
Tuesday at Mr Boros Taver for Quiztastic Tuesday Trivia at 7pm
Wednesday – Heathers Name That Tune - Weekly Residency 7pm sharp
---
Bands, Solos, Duos and Events
VISITOR
Thursday at the Hidden Gem Music Club with Toxic Nobility 7 to 11
Tuesday May 9th at Cracker Jacks "Bike Night" from 7-11.
Liquor Store Dogs
Saturday at Pirates Cove from 7 to 11
Retroactive Band
Saturday at Municipal Brew Works from 6:30-9:30.
Classic Jam
Saturday from 5-7 at El Meson's Cinco De Mayo Celebration. Flash Top Secret is playing right after
Rockstar
Saturday at Peecox Erlanger 9:30 to 1:30
Side Piece
FridayCinco De Mayo Mayhem at the Phone Booth Lounge Kettering 8-midnitght
The Whammies
Saturday morning from 12-2:30 at Turfway Park Racing and Gaming's VIP Derby Watch Party. Saturday at Kriemer's Bier Haus playing from 7-11pm.
Joe Cowels
Thursday The Joe Cowels Band at The Phone Booth Lounge, Dayton OH 7p-10p
Friday Joe Cowels solo at Seven Mile Winery Middletown Oh 6p-9p
Saturday Joe Cowels Solo 6p-9p at The Flying Pig Tavern in Fairborn Ohio
Lätter
Saturday Live at Sloopy's in Greenville Ohio. Show starts at 9pm
Whiskey Town
Fri May 5th at El Toro's in Walton
Saturday at GTO's in Florence
GAMUT
Friday Cinco de Mayo at Mad Tree Brewing 7pm
Saturday at Belle and the Bear 8:30pm
Kevin Cooper
Thurs 730-1130pm: B&B Jam
Fri 7-11pm: The Hanky Panks at Pirate's Cove
Sat 8:30pm-12:30am: The Hanky Panks at MVP Sports Bar & Grille
Wed May 10 7-11pm: Kevin Cooper solo at The Corner Pub (Montgomery)
Lee Dixon
Sunday Lee Dixon solo @ Pirates Cove 4pm - 8pm
Hosting Open Mic at Trillions Monday 5/8 7pm - 10pm
That One Party Band
Friday at Fairfield Pub Cinco de Mayo 9-1
Saturday at Jethros tiki hut, Aberdeen Ohio 9-1
Marsha Brady
Friday May 5th - Cinco de Mayo Bash - at The Eagles Marysville Ohio - 7pm - 11pm
Night Reign
Saturday at Duckfoots, St Mary's 8:00PM
Jet Pack Academy
Friday at Jimmy B's Friday from 9:30pm - 1:30am
Acoustic Blue Band
Friday at the Anchor Lounge in Rising Star Casino, Rising Sun, In. 8-11pm.
Saturday at Three Spirits Tavern, Belleview, Ky. for the Derby Party 6-10pm.
The Times
Saturday at Devil Wind Brewing 6-9
Dat Band
Saturday at Jeff Ruby's Steakhouse 8-11
Until Rust
Thursday at Mr. Boro's Tavern Springboro, Oh 7 - 10
Friday 5/5 (Cinco de Mayo) Devil Wind Brewery Xenia, Oh 7 - 9ish
Wednesday 5/10 Milano's Miami Twp., Oh 7 - 10
Benny Bodine
Friday 5/5 The Barrel 8-11Springboro, OH
Tuesday 5/9 O'Connor's Irish Pub8-11 Springfield, OH
Wednesday 5/10 O'Leary's 7-10 Centerville, OH
Truk
Friday, May 5 Heather's from 7-11
Velvet Crush unplugged
Thur 8/4 Bargos tap and grill Centerville oh 7-10
Friday 8/5 El meson West Carrollton oh Cinco de Mayo 5-7
Saturday 8/6 Moraine country club Moraine oh Derby days celebration 7-10
Velvet Crush
Friday 8/5 El meson West Carrollton oh Cinco de Mayo from 7-10
Jay Clark Band
Saturday from 8-11 at Mr Boros
Six String Hustle
Thur 5/4 6-10 Liberty Inn Liberty Twnshp, Ohio
Billy Brown
Thursday May 4 at 7pm - Big Buls Roadhouse in Hamilton OH
Saturday May 6 at 10pm - Outlaws in Ames Iowa
Wednesday May 10 at 8pm - Grizzly Rose in Denver CO ....Wednesday May 10 through Sunday May 14 at 8pm - Grizzly Rose in Denver CO
Cryin' Out LOUD
Saturday at Heathers Cafe from 7-11 pm
Liars for Hire 
Friday Cinco de Lie-o Wings Vandalia 9:30p - 1a;
Saturday May 6 - Kingspoint Pub Kettering - 9p - 1a.
The Weekend Effect
Saturday debut at The Ole Brick Tavern in Springfield OH. from 8-12.
Joe Lipinski
Friday jersey joe solo at The Blind Lemon (Mt. Adams, Cincinnati) 8:30 PM.
Heath Bowling Music
Thursday 5/4 Gano Tavern 6-10p West Chester, OH
Friday 5/5 with Route 88 at Duckfoots 8-12 St. Mary's, OH
Saturday 5/6 O'Leary's 8-11 Centerville, OH
David Thornton
Thursday at Jayne's On Main (Miamisburg) 7-10
Friday at Putters Sports Grill - Maineville (with Billy Carri) 7-10
Saturday at The Swire Inn (Middletown) 7-10
The Homegrown Band
Saturday May 6th from 7-10 Crooked handle brewing piqua
Short of Stable
Saturday at Little York Tavern from 8-12
Sunday at Good Time Charlie's Open Mic / Tiffs 40th birthday party 5-9
Tyler VanB Music
Friday May 5th 7 to 10 Old capitol brewing Chillicothe, oh
Michelle Robinson
Saturday - Run for the Roses Derby Event at Newport on the Levee 4-6:30
Saturday at Shiners on the Levee 10-1
Don't Tell Steve
Saturday at Club Trio 8-12
Ben & Pete
Friday at Jayne's On Main/Miamisburg from 7:30 to 10:30
If you would like to have your musical act featured on our weekly podcast or in Warren County Post contact us @Hall Around Town Radio on Facebook! For additional Band information follow our daily Facebook "Live at Five" program @Hall Around Town Radio