Who's Playing Out: Brought To You By Hall Around Town Radio May 25th
Image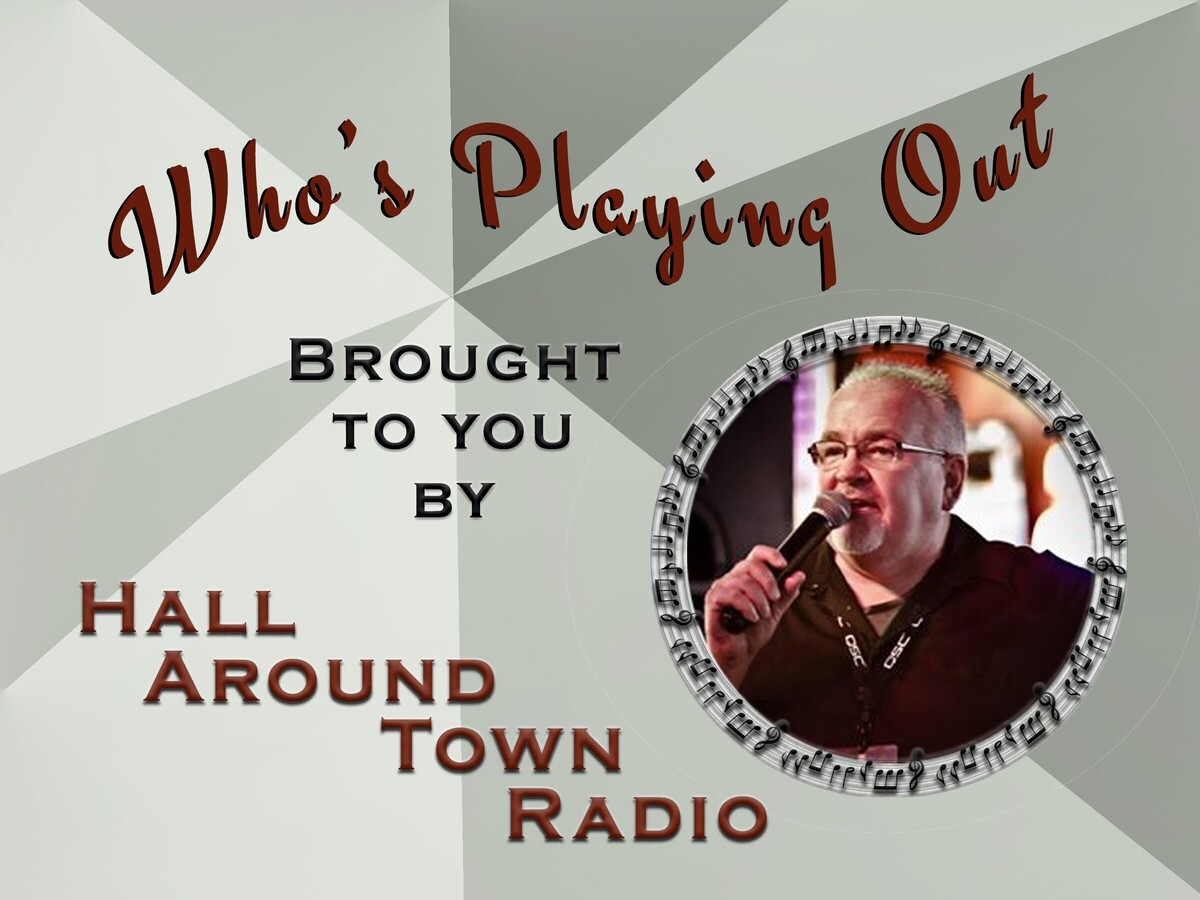 Brought to you by Scott Hall from "Hall Around Town Radio"
A little live music can turn an ordinary day into a memorable experience. The area's top musicians take center stage at some of the tri-states best restaurants and nightspots, bringing live music to our region nearly every night of the week. Make your first stop here weekly to find out "Who's Playing Out" at one of our live local music venues.
Bands and solos brought to you by our friends at Froggy's in Monroe, Ohio and Hall Around Town Radio (follow them on Facebook)
---
Froggy's in Monroe – Sponsor of our Thursday LIVE show on Facebook
Thursday – TAPS – Tursday Acoustic Patio Sessions featuring Joe Jordan 5 to 9pm
Friday at 8pm – Angela Combs
Saturday at 8pm – Miss Jacque
Tuesday 7pm Frog-ingo, 7:30 Queen of hearts $3500 16 cards left
Wednesday – from 6 to 10pm Patio with ATP Unplugged
---
Heathers "On the Patio"
Thursday – Bryan Scott from 7 to 9:30
Friday – Velvet Crush at 7pm
Saturday – Lyndsey Ellen and the Track Hounds at 7pm
Tuesdays – Heathers Bingo & Queen of Hearts
Wednesdays – The award winning - Name That Tune with Scott 7pm - Resrvations Reccomended
---
Mr. Boro's Tavern Springboro
Thursday – Shannon Schmidt and Carey Hunley 7 to 10
Friday – Southen Summer 8 to 11pm
Saturday – Michelle Robinson Band 8 to 11pm (Harry Clevenger Scholarship Foundation Fundraiser)
Sunday – Funday with Jamie Combs from 2 to 5pm
Tuesday – "Quiztastic" Q&A Trivia with Scott at 7pm
Wednesday – Queen of Hearts Drawing. 8pm 34K.
---
The Belle & The Bear (Montgomery) - Award Winning
Thursday "The Award Winning Jam" 7:30ish ( Ceris Birthday Party)
Friday – Audio Graffiti at 8:30 pm
Saturday - The Inturns at 8:30 pm
Monday - Game Night - 6pm
Wednesday – Karaoke - 8pm
---
Crooked Handle Brewing Co. Springboro
Thursday – Cory Breath – Live 6 to 9pm
Friday – Truk 7pm to 10
---
Crooked Handle Brewing Co. Piqua
Saturday – TBA 6pm to 9pm
---
Soft Rock Café
Karaoke – Thursday- 7:30 pm - Friday 8:30pm - Saturday - 8:30 pm.
---
Pohlman Lanes & Scott's Bar & Grill (Hamilton Ohio)
Family Entertainment Complex 954 Pyramid Hill Blvd., Hamilton Ohio
Friday - Ken Waterman Band at 7pm
Saturday – No Entertainment 7pm
Monday – No After Hours Band due to holiday 7pm
Wednesday - Standard Country Time Band off for vacation 1pm
---
O'Connors Irish Pub Springfield
Thursday – No Jam tonight
Friday – The Vynil Ventures at 9pm
Saturday – Drag Show at 7pm
Sunday – Closed
Monday – Closed
Tuesday – TBA
Wednesday – Karaoke 10pm
---
Sorg Opera House
No Music Events this week
Future show tickets available at Cincyticket.com visit SORG page for more info
---
Little River Bar and Grill (Oregonia)
Thursday –– DJ Songz Patioke Party at 7pm Party on the covered enclosed patio
Friday – Missing Pieces at 7pm
Saturday – Triple Edge Band at 7pm
Tuesday – Little River Bike Night
Wednesday – Singer Songwriter Open Mic 6 to 9pm
---
The Blue Note Harrison
Friday - The Texas Hippie Coalition. Opening the show it's Gravel and Seven Stones. Pre party in the pub with Tyrants Downfall and Agnauseam!! 6pm
Sunday – DV8 celebrates 15th anniversary. Greater Cincinnati's own music legends, DV8, is throwing a huge birthday bash to commemorate 15 years together and honor their loyal fans, friends, family, and fellow musicians (past and present). There will be 3 stages of music from DV8, 1330, and Miss Jacque. Doors at 4pm Show starts at 5pm.
Tickets available at Cincyticket.com
---
Hidden Gem Music Club
Thursday – Generations Big Band 7pm
Friday – 8pm Stringus Khan with Kyle Eldridge & The Kentucky Cowhands
Saturday – Big Gil and his Funky All Stars at 8pm
Sunday at 7pm – Alex Anest Organ Trio
Tuesday – Open Mic Night 7:30PM
---
Miami Valley Gaming
Friday - Jason Owens Band 9pm Center Bar
Saturday – DJ Big Daddy Walker 9pm Center Bar
---
Lori's Roadhouse
Friday – Cody Doench at 4:30
Friday – Dave Campbell SOLD OUT at 8pm
Saturday – Marshall Tucker Band, Ben Chapman, & Kevin McCoy.6PM
Tuesday – Line Dancing Lessons 7pm
Wednesday – Boozy Bingo and Karaoke at 6pm plus Queen of Hearts …
Tickets at LRHLIVE.com
---
Milanos (Miami Township)
Wednesday – Benny Bodine at 7pm
---
Rex Patrick and the Country Legends Show in Germantown
Saturday – The Country Legends Band with special guests Tim Hembree and Ryan Parker– doors open at 5:30 Music 7 to 10
Reserve your table now 513-594-1282
---
Moe Harrigan's Tavern
Thursday – Doug Hart at 7:30
Friday – John and Jordan from Hey There Morgan 8pm
Saturday – TBA 8pm
Wednesday – Nick Mitchell 8pm
---
The Brick Tap and Tavern
Thursday – Scott Houchens LIVE at 8:30pm
Friday – Tommy Renfro at 8:30pm
Saturday – Jeff Rearick from 8:30 to 11:30
Wednesday – Doug Hart Solo 7:30pm
---
Ricks Tavern
Thursday – Unplugged with The 2 Wills 7pm
Friday – ?? at 8pm
Saturday – ?? at 8pm
---
KnottyPine
Thursday – ??? 7pm
Friday – PartyTown from 9 to 1
Saturday – 90 Proof Twang from 9 to 1
---
Scotty Long / DJ Songz
Thursdays - Little River Oregonia, OH. PatiOKE Party 7pm!
Scheduled Fridays: Township Tavern - Hamilton, OH 8pm Karaoke & Dance Party!
Check out his Facebook pages at Scotty Long or DJ Songz for all Friday night shows!
Scott Hall
Tuesday at Mr Boros Taver for Quiztastic Tuesday Trivia at 7pm
Wednesday – Heathers Name That Tune - Weekly Residency 7pm sharp
Bands, Solos, Duos and Events
PartyTown
Friday - Knotty Pine Sportsmans Club 8pm
Visitor
Saturday at Rip Rap Roadhouse from 7 to 10pm
Side Piece
Saturday at Good Time Charlies 8:30pm Miamisburg Oh
Until Rust
Thursday 5/24 Oleary's Centerville, Oh 7-10
Friday 5/25 Flying Pig Tavern Fairborn , Oh 6-10
Saturday 5/26 (Shane deMoss Solo) Dublin Pub Dayton, Oh 8:30-11:30
Wednesday 5/31 Misery & Jen Hamilton, Oh 7-10
Steve Kracus
Saturday with DV8 at Club Trio 8pm
Truk
Friday - Crooked Handle Springboro from 7-10
Alex Poteet
Thursday at Smoke Justis Covington, KY 7:30PM
Linus Tate
Friday at Smoke Justis Covington, KY 7:30PM
Saturday at the Taste of Cincinnati Food Truck Alley Stage. Cincinnati, OH 12PM
Sunday at the Strawberry Days Festival Blooms and Berries Farm Market Loveland, OH 1:30PM
Benny Bodine
Thursday at The Liberty Inn 6:30-10:30 West Chester, OH
Friday at Moeller Brew Barn - Dayton, Ohio 7-10 Dayton, OH
Tuesday at Submarine House (with Heath Bowling) 7-10 Centerville,
Wednesday at Milano's 7-10 Miami Township, OH
Velvet Crush
Friday at Heather's Cafe Springboro, oh 7-11
Saturday at Zanesville country club Zanesville, oh 6-10
Velvet Crush Unplugged
Wednesday Party on the patio at Heatherwoode golf club Springboro, oh 6-9 Open to public
Johnny Fink
Friday May 26 Gina and Johnny duo at Grandview tavern 7p
Saturday May 27 Johnny Fink and the intrusion at Mansion Hill 8p
Vinyl Countdown
Saturday at The Monkey Bar & Grille 7-11 PM Cancelled
6 String Hustle
Thursday from 6-10 Trillions sports bar West Chester, OH
Friday from 7-10 at Putters Maineville, OH
Saturday from 9-12 at Olearys Pub Centerville, OH
Sunday from 2-5 at Zazou's Covington, KY
Abe's Lincoln
Friday at Monkey Bar 7pm…… Cancelled
GAMUT—
Friday at Kreimers River Bar 7pm
Joe Cowels
Friday The Joe Cowels Band, Fairfield Pub, 9p-1a
Saturday The Joe Cowels Band, Streetside Brewery, 7p-10p
Marsha Brady
Saturday at Acheson's Resort - Indian Lake Ohio - Memorial Day Weekend Bash - 3pm - 7pm
Latter
Friday at The Phone Booth Lounge! 8pm
Sunday Funday at the lake at Bubba's Duckfoot Bar and Grill Lakeside 8pm in the Dome!
Whiskey Town
Friday at Cabana on the River 8 to 12
Saturday at Peecox In Erlanger 9:30 to 1:30
Kevin Cooper
Thursday 730-1130pm: Belle & Bear Jam
Friday from 8pm-12am: The Hanky Panks at Trillions
Wednesday at 7:30 Dos Bozos (Pat Riley, Kevin Cooper, Mike Roberts) at Olde Village Tavern
Dat Band
Friday at 16 Lots Brewing Southern Outpost (new location at Newport On The Levee) 8:30-midnight
BillyRock Band
Friday at 8pm - Bishop's Quarter
Billy McCarthy
Saturday at 8pm School for Performing Arts w/ John Elefante from Kansas
Adam West and the Beez Kneez
at Moe Harrigans, Thursday June 1 7-10
OVERDRIVE
Saturday = a Private event at Lakeside RV Park at Indian lake at 7PM
Dv8
Saturday at Club TRIO 5744 Springdale Rd Cincinnati Ohio 45247 8pm til 11pm
Sunday – Dv8 15th Anniversary Birthday Bash at the Blue Note With 1330 and Miss Jacque Outside Event Doors at 4 pm Music starts at 5pm
ReDD
Wednesday at Route 50, 7-11pm
Michelle Robinson Band:
Friday at Club Trio 8-12
Saturday at Mr Boros 7-11
Monday at a Taste of Cincy 2pm
That One Party Band Lite
Thursday from 8-11 at the Fairfield Pub
Ben & Pete
Friday at Lucky Star Brewery in Miamisburg from 8 to 11 PM
The Weekend Effect
Friday at DuckFoots in Celina from 8-12
White Knuckle Weekend
Saturday at Duckfoot's Lake St Mary's from 8-12
The Homegrown band
Friday at The Miamisburg Moose from 8-11
Heath Bowling
Friday at Knollwood Tavern 9-12 Beavercreek, OH
Sunday with Route 88 at Duckfoots 2-6p St. Mary's, OH
Tuesday at Submarine House W/ Benny Bodine 7-10p Centerville, OH
Wednesday with Route 88 at Rip Rap Roadhouse 6-10p Huber Heights, OH
Chris Lee Acoustic
Friday at Fibonacci Brewing Company Cincinnati/Mt. Healthy, OH. 6pm-9pm
Saturday at The Hangar Bar and Grill West Chester, OH. 8pm-Midnight
Sunday at Caesar Creek Flea Market Wilmington, OH. 11am-3pm
Wednesday at Marty's Hops & Vines Cincinnati/College Hill, OH. 7pm-9:30pm
Kevin McCoy
Friday at The Works w/ Lee Dixon 7-10pm
Saturday at Lori's Roadhouse W/ Marshall Tucker Band 6pm
Tyler VanB Music w/ James Zornes
Friday at Station 1, Springfield, OH 8:30 to 12
Courtney Jo Band
Friday – Final Friday in Portsmuth Ohio 6:45pm
If you would like to have your musical act featured on our weekly podcast or in Warren County Post contact us @Hall Around Town Radio on Facebook! For additional Band information follow our daily Facebook "Live at Five" program @Hall Around Town Radio
More News from Springboro