Who's Playing Out: Brought To You By Hall Around Town Radio June 22
Image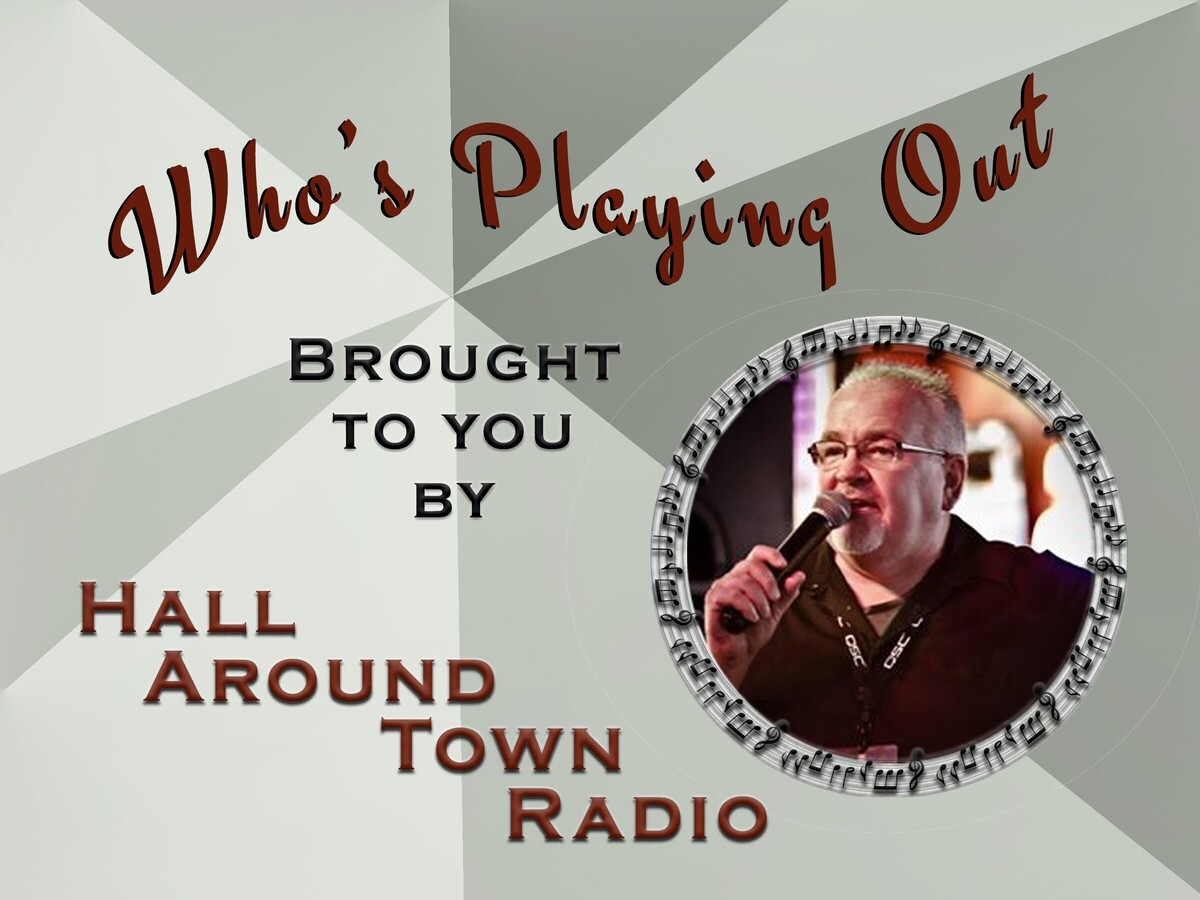 Brought to you by Scott Hall from "Hall Around Town Radio"
A little live music can turn an ordinary day into a memorable experience. The area's top musicians take center stage at some of the tri-states best restaurants and nightspots, bringing live music to our region nearly every night of the week. Make your first stop here weekly to find out "Who's Playing Out" at one of our live local music venues.
Bands and solos brought to you by our friends at Froggy's in Monroe, Ohio and Hall Around Town Radio (follow both on Facebook)
Froggy's in Monroe – Sponsor of our Thursday LIVE show on Facebook
Thursday – TAPS – Tursday Acoustic Patio Sessions – Joe Jordan 6 to 10pm
Friday at 8pm – Stone Mountain Mafia
Saturday at 8pm – Marshall Hiwatt
Tuesday 7pm Frog-ingo, 7:30 Queen of hearts $4000+ 12 cards left
Wednesday – Jeep Night (Collect Frogs) from 6 to 10pm Patio with Curt Cramner
---
Heathers "On the Patio"
Thursday – The Wright Brothers III from 6:30 to 9:30
Friday – The Weekend Effect Debut at 7pm
Saturday – Time Stamp at 7pm
Tuesdays – Heathers Bingo & Queen of Hearts
Wednesdays –Name That Tune Trivia with Scott 7pm - Resrvations Reccomended
---
Mr. Boro's Tavern Springboro
Thursday – Velvet Crush Unplugged 7 to 10
Friday – Short of Stable 8 to 11pm
Saturday – My Day Off Cincy at 8pm
Sunday Funday - Beauty and the Beast from 2 to 5pm
Tuesday – "Quiztastic" Q&A Trivia with Scott at 7pm
Wednesday – Queen of Hearts Drawing. 8pm 36K.
---
The Belle & The Bear (Montgomery) - Award Winning
Thursday "The Award Winning Jam" 7:30ish Special Co-host Mickey Evens
Friday – Kevin McCoy Band at 8:30 pm
Saturday - Second Wind at 8:30 pm
Monday - Game Night - 6pm
Wednesday – Karaoke Night hosted by Rae Renee - 8pm
---
Crooked Handle Brewing Co. Springboro
Thursday – Jake Hambone Davis – 7 to 9pm
Friday – Good Song Guy - 6pm to 9pm
---
Crooked Handle Brewing Co. Piqua
Friday – The Chris Arellano Band 6:30 to 9:30pm
---
Soft Rock Café
Karaoke – Thursday- 7:30 pm - Friday 8:30pm - Saturday - 8:30 pm.
---
Pohlman Lanes & Scott's Bar & Grill (Hamilton Ohio)
Family Entertainment Complex 954 Pyramid Hill Blvd., Hamilton Ohio
Friday - No submission
Saturday – Slick 50 at 7pm
Monday – N/A
Wednesday – N/A
---
Hamilton's Urban Backyard
Friday – Ryan and Rose at 7pm
Saturday – Haze Effect at 7pm
---
O'Connors Irish Pub Springfield
Thursday – Open Jam from 7 to 10pm
Thursday – Karaoke 9pm in the dining room
Friday – Flashback Band at 8pm
Saturday – The Weekend Effect at 9pm
Monday – Trivia with Matt Allen
Tuesday – no music this week
Wednesday – Karaoke 10pm
---
Sorg Opera House
No Music Shows this Weekend
Future Show Tickets available at Cincyticket.com visit SORG page for more info
---
Stubbs Park in Centerville
Sunday – Motown Sounds of Touch from 7 to 9pm
---
Lofino Park in Beavercreek
Sunday – Ludlow Creek 7pm
---
The Heights Summer Music Series at Eichelberger
---
Springboro Summer Concert Series – North Park
Friday – The Sly Band R&B, Pop, Rock at 7:30pm
---
Little River Bar and Grill (Oregonia)
Thursday –– DJ Songz Patioke Party at 7pm Party on the covered enclosed patio
Friday – Terry Metcalf at 7pm
Saturday – Mike Lieser and the Conga Kings at 7pm
Tuesday – Little River Bike Night
Miami Valley Gaming
Friday - Billy Rock Band 9pm Center Bar
Saturday – DJ Big Daddy Walker 9pm Center Bar
---
The Blue Note Harrison
No Shows this week – Future Show Tickets available at Cincyticket.com
---
Hidden Gem Music Club
Thursday – Generations Big Band 7pm
Friday – Duke of Owls 8pm
Saturday – Luv Locz Experiment at 8pm
Sunday at 7pm – Kelly Ginn and Brian Cashwell Jazz Duo
Tuesday – Open Mic Night 7:30PM
---
Lori's Roadhouse
Thursday – Boozy Bingo and Karaoke at 6pm plus Queen of Hearts …
Friday – Alexis Gomez at 5:30
Friday – Zach Top at 8pm
Saturday – Chase Rosselot at 4pm
Saturday – Jesse Cain at 8pm
Tuesday – Line Dancing Lessons 7pm
Tickets at LRHLIVE.com
---
Milanos (Miami Township)
Wednesday – Live Music with Shane Demoss at 7pm
---
Rex Patrick and the Country Legends Show in Germantown
Sunday – from 12 to 6 Adalyn's Recovery Benefit. Please come and join us for a day full of great music with Standard Country Time, Kenny and Ronda Stinson , Southern Thunder and Rick Henderson and .50 Caliber. 50/50 raffle there will be basket raffles
Saturday night - The B- Caged Band …. doors open at 5:30 Music 7 to 10
Reserve your table now 513-594-1282
---
Moe Harrigan's Tavern
Thursday – Doug Hart at 7:30pm
Friday – Velvet Crush Unplugged 8pm
Saturday – John and Jordan 8pm
Wednesday – Nick Mitchell 8pm
---
The Brick Tap and Tavern
Thursday – Rick Sylvester at 8:30pm
Friday – Acoustic Jr and Guitar Mike at 8:30pm
Saturday – The Finnigan-Denson Incident from 8:30 to 11:30
Wednesday – Doug Hart Solo 7:30pm
---
Ricks Tavern
Thursday – Alexa at 7:30
Friday – Acoustic Blue at 5:30 and The Turned Up Band at 8
Saturday – Floyd and the Walkman 8pm
---
KnottyPine
Friday –TBA at 9pm
Saturday – Black Bone Cat from 9 to 1 …
---
Scotty Long / DJ Songz
Thursdays - Little River Oregonia, OH. PatiOKE Party 7pm!
Friday Township Tavern - Hamilton, OH 8pm Karaoke & Dance Party!
Check out his Facebook pages at Scotty Long or DJ Songz for all Friday night shows!
---
Scott Hall
Saturday – Joy Ride Cars – Emcee and Production – Crossroads Church, Mason 9am
Tuesday at Mr Boros Taver for Quiztastic Tuesday Trivia at 7pm
Wednesday – Heathers Name That Tune - Weekly Residency 7pm sharp
Bands, Solos, Duos and Events
Pickle Fest – Austin Landing
Saturday from 3 to 10 pm Music from Classic Jam at 3pm , Catie Offerman and Thomas Mac at 8:30
"Jim Jones as Elvis"
Thursday – De Felice Café 5:30
Vinyl Countdown
Friday, June 23rd Music in Mason 6 - 7:30 PM
Saturday, June 24th Hyde Park Blast 4 - 7 PM
The Eagles Project
Thursday June 22, Sounds of Deerfield, Cottell Park, Mason, 7:00 - 10:00
OVERDRIVE
Friday at Buckeye Harley Davidson from 5-8 for their Bike Night.
Saturday at Duckfoot's at Grand Lake St. Mary's at 8PM
Joe Cowels
Thursday June 22nd Joe Cowels solo at Cartrige Brewing 6p-8p
Friday June 23rd The Joe Cowels Band at Avenue Sports and Spirits 7p-11p
Saturday June 24th The Joe Cowels Band at Bock family Brewing 7p-9p
Sunday June 25th The Joe Cowels Band at Powder keg HD, 11am-2pm
Wednesday June 28th Joe Cowels solo, live without a net on 88.3 WAIF FM 10p-11p [you can also listen live online from thier website]
Latter
Saturday at the Eagles in Celina Ohio. 8-12
Dat Band
Thursday Live On The Levee in Newport from 7pm-9pm
Saturday at the St John Festival In Harrison 8:30pm-11:30pm (Michelle Robinson hits the stage first!)
Kevin Cooper
Thursday 730-1130pm: Bell & Bear Jam
Friday 8pm-12am: The Hanky Panks at Trillions
Sunday 4-8pm: Eyes Up Here at Pirate's Cove
Whiskey Town
Friday at El Toro 7 to 11, Saturday at The Knot 7 to 11
Michelle Robinson Band:
Friday 7- 8:30 opening for Little Texas at Rivers Edge in Hamilton Whimmydiddle
Saturday at St John's festival in Harrison 6 - 8:30
Marsha Brady
Thursday June 22nd - Anderson Concert in the Park - Beech Acres Amphitheatre - 7pm - 9pm
Friday June 23rd - The Monkey Bar - Maineville Ohio - 7pm - 11pm
Saturday June 24th - Turfway Park - Florence, Ky - 9:30pm - 12:30am
Sunday June 25th - The Moose - Outside Deck - Celina, Ohio - 4pm - 8pm
Johnny Fink
Friday - Johnny Fink and the Intrusion ay Kreimers 8pm
Saturday - w/Ben Walz band at Dickmans in Ft Wright ky 8pm
GAMUT
Saturday at City of West Chester Summer Concert Series @ Keehner Park 7pm
Mike Roberts
Friday at Rick's Tavern & Grille, Fairfield, Ohio … Acoustic Blue Band (5pm)
Crown Watts:
Friday - Element Eatery w/Larry Feldner on Keys - 7:00
Saturday - 16 Lots w/Jim Questa on Keys - 8:00
The BillyRock Band
Friday 9pm Miami Valley Gaming
Saturday 8pm Bishop's Quarter
The Whammies
Fri. 7:30-10 Miami Township Summer Concert (North Bend, OH)
Sat. 8-12 St. Veronica Festival (Mt. Carmel, OH)
Black Bone Cat
Saturday 9:00-1:00am at the Knotty Pine
That One Party Band
Friday 23rd at Kroger Anderson Town Center 4-7pm (acoustic)
Saturday 24th at Hamilton Eagles, Crambone plays 2:30-6:30, That One Party Band at 7-11
ReDD
Friday at Borderline Bar & Grill (W. Harrison, IN) - 10pm-1am
Until Rust
Wednesday at Milano's Miami Twp, Oh from 7-10
Benny Bodine
Saturday at Romer's Bar & Grill from 7-10 Bellbrook, OH
Wednesday at O'Leary's Pub & Grub from 7-10 Centerville, OH
6 String Hustle
Thur 6/22 from 6-10 at Liberty Inn in Liberty Twp, OH
Sun 6/25 from 4-7 at Jasper Kitchen + Bar Xenia, OH
Alex Poteet
Thursday at Smoke Justis in Covington, KY 7:30PM
Linus Tate
Friday at Putters Sports Grill Maineville Maineville, OH 7PM
Saturday at Columbia Street Music Festival in Metamora, IN 5PM
White Knukle Weekend
Saturday at the Phone Booth Lounge in Kettering from 8-12
Don't Tell Steve
Saturday at Jim and Jacks from 8-12
Ben & Pete
Friday at Franklin Food Truck Rally on 4th Street Franklin from 5 to 7 PM
Spungewurthy
Friday at Little York Tavern 8pm
Short of Stable
Friday - Mr Boros from 8-11
Saturday - Desperado's (Huntsville) from 8-12
Sunday - Good Time Charlie's Open Mic (Acoustic only this week) from 5-9
Kevin McCoy Band
Friday The Bell and The Bear 8:30ish
The Weekend Effect
Friday debuts at Heathers from 7-11.
Saturday at O'Conners in Springfield on from 9-1.
Heath Bowling
Friday 6/23 Beauty and The Beast at Good Time Charlie's 830-1230 Miamisburg, OH
Sunday 6/25 Beauty and The Beast at Mr. Boro's 2-5p Springboro, OH
Joe Lipinski
Saturday - jersey joe solo at The Blind Lemon, Cincinnati...8:30PM - 1:00AM.
Chris Lee Acoustic
Friday -Pensive Distilling Co Newport KY. 6pm-8pm
Saturday -The Hangar Bar and Grill West Chester OH. 8pm-Midnight
Sunday -Liberty Farm Market Liberty Twp OH. 2:30pm-4pm
Tyler VanB Music
Thursday - The Whistle Stop Inn - Indianapolis 9 to 12
Margo & Adam
Friday - The Varsity Sports Bar and Grill 7-10pm
Saturday at the City of Milford Summer Music Series, 6-8pm
Side Show Band
Saturday at SugarMelons in Fairborn 6pm
Pandora Effect
Thursday from 530-930pm Quaker Steak & Lube "Bike Nite"
Saturday from 2:20-3:50pm: the Reds FanZone at GABP!
Finding Melissa
Friday at the Courtyard Lounge 9pm
Shuffle
Little Miami Brewing Co. 7:30-10:30
Thing 1 Thing 2
Friday at Little Miami Brewing 7pm
Saturday at St. Andrew Church Festival in Milford 7pm
Thom Stephenson
Friday with ZaaZoo Pirtes Cova at 7pm
Sunday at Little Miami Brewing 2pm
Tim Blakeney
Fri. 23rd Putters In Liberty Twnsp (West Chester)7-10pm
Sun. 25th Miami Trailyard5-8pm
Mon. 26th Bike Night Billy's Burgers and Beers 6-8pm
Thurs. 29th Cappy's Loveland 6-9pm
VISITOR
Saturdy at Station 1 in Springfield, $5 cover charge at the door.
If you would like to have your musical act featured on our weekly podcast or in Warren County Post contact us @Hall Around Town Radio on Facebook! For additional Band information follow our daily Facebook "Live at Five" program @Hall Around Town Radio
More News from Springboro