Who's Playing Out: Brought To You By Hall Around Town Radio July 20
Image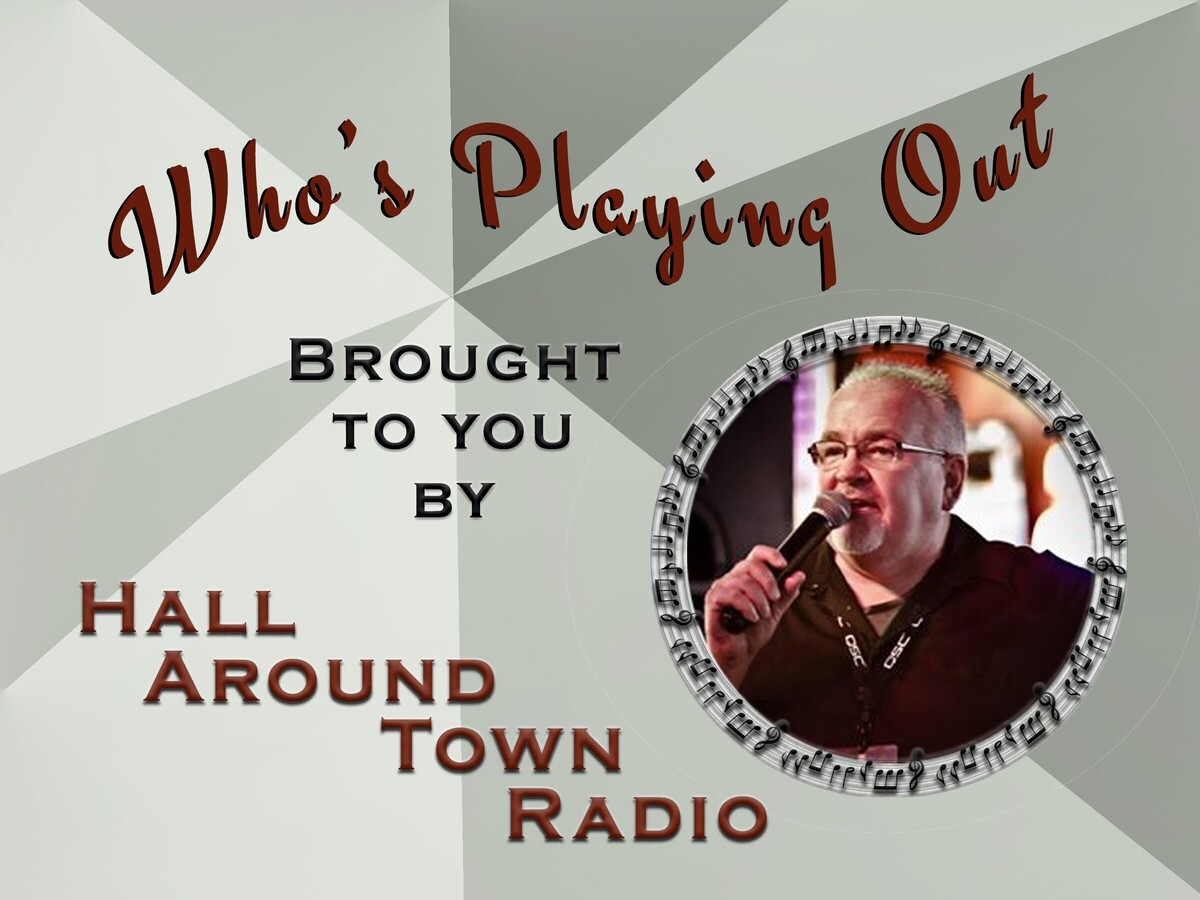 Brought to you by Scott Hall from "Hall Around Town Radio"
A little live music can turn an ordinary day into a memorable experience. The area's top musicians take center stage at some of the tri-states best restaurants and nightspots, bringing live music to our region nearly every night of the week. Make your first stop here weekly to find out "Who's Playing Out" at one of our live local music venues.
Bands and solos brought to you by our friends at Froggy's in Monroe, Ohio and Hall Around Town Radio (follow both on Facebook)
Froggy's in Monroe – Sponsor of our Thursday LIVE show on Facebook
Thursday – TAPS – Tursday Acoustic Patio Sessions – Joe Jordan 6 to 10 rain or shine
Friday at 8pm – Angela Combs Band
Saturday at 8pm – Howard Brothers
Tuesday 7pm Frog-ingo, 7:30 Queen of hearts $6000+ 8 cards left
Wednesday – Jeep Night (Collect Frogs) from 6 to 10pm Patio with Kevin Cooper
Live and Follow Froggys on Facebook
---
Heathers "On the Patio"
Thursday – Locking Up Otis from 6:30 to 9:30 ½ off Wine night … Bourbon Flights
Friday – Streetwise "Debut" at 7pm
Saturday – The Gamut "Debut" at 7pm
Tuesdays – Heathers Bingo & Queen of Hearts
Wednesdays –Name That Tune Trivia with Scott 7pm - Resrvations Reccomended
---
Mr. Boro's Tavern Springboro
Thursday – Denny Cottle Acoustic 7pm
Friday – Vinyl Rewind 8 to 11pm
Saturday – That One Party Band at 8pm
Sunday Funday - The Termites from 2 to 5pm
Tuesday – "Quiztastic" Q&A Trivia with Scott at 7pm
Wednesday – Queen of Hearts Drawing @ 8pm for 37K
---
The Belle & The Bear (Montgomery) - Award Winning
Thursday "The Award Winning Jam" 7:30ish with an amazing cast
Friday – Sons of Liberty 8:30 pm
Saturday - Mojo Rizin at 8:30 pm
Monday - Game Night - 6pm
Wednesday –- Karaoke with Rae Renee 7:30pm
---
Crooked Handle Brewing Co. Springboro
Thursday – Lyndsey Ellen and the TrackHounds - 6pm to 10pm
Friday Scott Houchens 7 to 10pm
---
Crooked Handle Brewing Piqua
Saturday - Doug Hart Band 6 to 9pm
---
Soft Rock Café
Karaoke – Thursday- 7:30 pm - Friday 8:30pm - Saturday - 8:30 pm.
---
Hamilton's Urban Backyard
Friday – Eyes Up Here at 7pm
Saturday – Five Rivers Band at 7pm
Tuesday – Turntable Tuesday with host Hollewood
Wednesday – Team Tune Trivia 7pm
---
Pohlman Lanes & Scott's Bar & Grill (Hamilton Ohio)
Family Entertainment Complex 954 Pyramid Hill Blvd., Hamilton Ohio
Friday - TBA
Saturday – Outta Here 7pm
Monday – After Hours Band 7pm
Wednesday – Standard Country Time Band at 1pm
---
O'Connors Irish Pub Springfield
Thursday – Open Jam at 7pm
Thursday – Karaokre in the dining room at 9pm
Friday – Cheley Tacket from Nashville 8pm
Saturday – No Live Music due to Fair
Monday – Trivia with Matt Allen
Tuesday – TBA 8pm
Wednesday – Karaoke 10pm
---
Sorg Opera House
No Music Shows this Weekend
Future Show Tickets available at Cincyticket.com visit SORG page for more info
---
Stubbs Park in Centerville
Sunday – Elton Rohn from 7 to 9pm
---
Lofino Park in Beavercreek
---
The Heights Summer Music Series at Eichelberger
---
Springboro Summer Concert Series – North Park
Friday – Forever Seger at 7:30pm
Tuesday – Pandora Effect at 7pm
---
Little River Bar and Grill (Oregonia)
Thursday –– DJ Songz Karaoke
Friday – Small Town Southern at 7pm
Saturday – Hip Shakin Daddys at 7pm
Sunday Little River Bar & Grill - Fifty Shades of Pink Breast Cancer Fundraiser for CJ.Doors open at 11am. Live Music at 1pm w/ Joe Jordan, Amy Nicole & Ryan Wolfe and Kevin McCoy to close out the night! Tons of Raffle Baskets, Auction Items including Party Bus Night out on town, Designer Purses and an autographed Ken Anderson Championship Football and Kids Jersey.
Tuesday – Little River Bike Night plus the Queen of Hearts Drawing
---
Miami Valley Gaming
Friday - The Menus 9pm Center Bar
Saturday – Retrobution 9pm Center Bar
---
The Blue Note Harrison
Off this weekend - Future Show Tickets available at Cincyticket.com
---
Hidden Gem Music Club
Thursday – Jazz saxophonist Rahsaan Barber is at The Hidden Gem tonight with his Everyday Magic Sextet! Doors 6pm, music starts at 7:30pm, $10, all ages.
Friday – Rock U Up 8pm
Saturday – The JD Ott Experience with Eder Jay Hayes 7pm
Sunday at 7pm –Kelly Campbell Trio
Tueday - Open Mic Night 7:30PM
---
Lori's Roadhouse
Thursday – TBA 7pm …
Friday – Cody Doench at 4:30
Friday – Alexis Gomez at 8pm
Saturday – Blake Tyler at 8pm
Tuesday – Line Dancing Lessons 7pm
Tickets at LRHLIVE.com
---
Milanos (Miami Township)
Wednesday – Live Music with Until Rust at 7pm
---
Rex Patrick and the Country Legends Show in Germantown
Saturday – Terri Lee Ridley and his million dollar band …. doors open at 5:30 Music 7 to 10 Reserve your table now 513-594-1282
---
Moe Harrigan's Tavern
Thursday – No Submission
Friday – No Submission
Saturday – No Submission
Wednesday – Nick Mitchell 8pm
---
The Brick Tap and Tavern
Thursday – Scott Houchens at 8pm
Friday – Finding Melissa at 8pm
Saturday – Side Piece from 8:30 to 11:30
Wednesday – Doug Hart Solo 7:30pm
---
Ricks Tavern
Friday – Hi Fi Honey at 8 –
Saturday – DJ at 8pm
Tuesday – Acoustic Night with Alexa Michelle 7:30pm
---
KnottyPine
Friday –Sweet Sister Mercy 9pm
Saturday – Wayward Son Cincy from 9 to 1 …
---
Scotty Long / DJ Songz
Thursdays - Little River Oregonia, OH. Throwback Thursday Party 7pm!
Friday at the Township Tavern – Karoke Live at 8pm
Sunday the Little River Event
Check out his Facebook pages at Scotty Long or DJ Songz for all shows!
---
Scott Hall
Tuesday at Mr Boros Tavern for Quiztastic Tuesday Trivia
Wednesday – Heathers Name That Tune - Weekly Residency 7pm sharp RESERVATIONS AVAIL
Bands, Solos, Duos and Events
Immortal Christian Rock Festival
Saturday and Sunday at BMI Event Center in Versailles
Featuring: Theocracy Disciple, Deliverence, Reign of Glory, Human Code Deny the Fallen, Chaotic Esembnlance more info available at BMIEVENTCENTER.COM of Facebook @immortalfestival
---
Ninety Four .04
Bacon Bourbon and Brew – Newport on the Levee Noon to 3:15
Liquor Store Dogs
Friday night at Trillions in West Chester, 8-12,
Saturday at Pirates Cove (at Four Seasons Marina) on Kellog 7-11
---
Retroactive Band
Saturday at The Monkey Bar and Grille from 7-11 PM.
---
Steve and Grayson Zelik
Sunday at The Barrel from 5 to 8pm
---
Strange Brew
Saturday at Verona Vineyards from 6 to 9pm
---
The Weekend Effect
Saturday att the Springfield DAV from,7-11 pm, open to the public, with no cover. 2410 Mechanicsburg Rd, Springfield, OH 45503
---
Ben & Pete
Thursday 7/20 at The Pub at The Greene 6:30 to 9:30,
Saturday 7/22 at Dayton Beer Company 7 to 10 PM,
Sunday 7/23 at Moeller Brew Barn in Monroe 3 to 6 PM
---
White Knuckle Weekend
Saturday at the Celina Moose from 7-11
---
Liars For Hire
Saturday at Kingspoint Pub from 9p-1a...
---
Matthew Allen
Friday from 8 to 11 pm at White Dog Distilling Co Middletown
---
Shane deMoss Music
Saturday at Romer's Bellbrook, Oh from 8-11
---
Until Rust
Friday at Hidden Valley Orchards Lebanon, Oh from 6:30 - 9:30
Wednesday at Milano's Miami Twp. Oh 7-10
---
Kevin McCoy Band
Friday at Anderson Tap House 9:30pm
Saturday at Bristol Republic 10pm
Sunday at the Lil River Fifty Shades of Pink 6:15p
---
Michelle Robinson
Friday at Turfway Park 9:30-12:30
Saturday at Bacon Bourbon Festival 3:45-7:15
---
Tyler VanBuskirk
Saturday Tyler Vanb music w/ James Zornes from 7 to 10 at Bushrod Brew Eaton OH
---
Benny Bodine
Thursday at FigLeaf Brewing Company 6-9pm Middletown, OH
Saturday at Moeller Brew Barn - Dayton, Ohio 4:30-6:30pm Dayton, OH
Wednesday at O'Leary's Pub & Grub from 7-10. Centerville, OH
---
Steve Kracus
With DV8 at Turfway Park Racing and Gaming for the WEBN and Turfway Park Trackyard Bash from 6-9pm
---
Chad Applegate
Friday - Chad Applegate with Ronnie Vaughn at Clear Mountain Food Park in Batavia from 7 to 10
Saturday - Chad Applegate solo at Little Miami Brewing in Milford from 4 to 7.
Every Wednsday at Hanks in Mt Carmel from 7 to 10.
---
6 String Hustle
Thursday from 8-11at The Lounge in Cincinnati
Saturday from 7-11at the Hitching Post Oxford, OH
Sunday from 4-7 at Jasper Kitchen +Bar in Xenia, OH
---
Ashley Knapp
Friday from 6-8 at Austin Landing opening up for Seaforth from Nashville in Miamisburg, Ohio
Friday from 9:30-12:30 at O'Learys Pub in Centerville, OH
Wednesday from 7-11 at Patterson Pub Dayton, Ohio
---
Velvet Crush
Friday at El Meson's 45 year anniversary West Carrollton from 4-7pm
---
Truk
Saturday at Hidden Valley Orchards from 6:30-9:30
---
Joe Cowels
Fri July 21st The Joe Cowels Band at The Madison Inn in Middletown Ohio, 9p-1a
Sat July 22nd The Joe Cowels Band at The Hanger in West Chester 8p-midnight
Mon July 24th Joe Cowels solo at Joey's Roadhouse in mount healthy 7p-10p
Wed July 26th The Joe Cowels Band at Little York Tavern in Dayton - Bike Night! - 8p-11p
---
Brandy and The Beard
Wednesday July 26th at Club Trio from 7-10pm
---
Abes Lincoln
Friday opening the St. James festival in White Oak at 7pm
---
- Vinyl Countdown -
Saturday at TinCap Hard Cider (Wilmington, OH) from 6-10 PM
Sunday at Bacon, Bourbon & Brew Festival 12-2:30 PM
---
Rick Kern
Friday - Black Bone Cat, Club Trio, Springdale Rd, Cinti., OH, 8:00 - 12:00
Saturday - Rick Kern So Low Show, Pars Place, Fairfield, OH, 8:00 - 11:00
Sunday - Rick Kern So Low Show, Club Trio, Springdale Rd, Cinti., OH, 4:00 - 8:00
---
GAMUT—
Friday- The Mason Summer Concert Series 6pm downtown Mason Square
Saturday at 7pm Heathers Cafe Springboro
---
Sweet Sister Mercy
Friday at The Knotty Pine from 9pm-1am
Saturday at Drew's on the river 8pm-Midnight
---
The Beez Kneez
Friday, Third Friday on Broadway in Lebanon, 5-6
---
The Whammies
Saturday at IHM Festival in Beechmont 7-11
---
Michelle Robinson Band:
Fri at Turfway 9:30-12:30
Sat at Bacon, Bourbon & Brew in Newport 3:45-7:15
---
Dat Band
Sunday at Bacon Bourbon and Brews In Newport 6:30-9:00
---
Kevin Cooper
Thurs dy from 730-1130pm: Belle & Bear Jam
Friday from 7-10pm: Eyes Up Here at Hamilton's Urban Backyard
Saturday from 830pm-1230am: The Hanky Panks at MVP
Sunday from 4-8pm: Eyes Up Here at Pirate's Cove
Wednesday from 6-10pm: Kevin Cooper solo at Froggy's
---
Johnny Fink
Friday - Johnny Fink and the Intrusion at Lagoon Saloon 8pm
Saturday - Gina and Johnny band at Riversedge amphitheater 630 pm
---
Marsha Brady
Thursday July 20th - Ault Park Summer Music Festival - at Ault Park, Cincinnati - 6pm - 10pm
Saturday July 22nd - Indian Lake Eagles - 7:30pm - 11:30pm
---
Whiskey Town
Friday at Peecox Erlanger from 9:30 to 1:30'
Saturday at Williamstown marina 7 to 11
---
The BillyRock Band
Saturday at 7p Chamberlain Summer Concert Deer Park
---
Dv8
Saturday at Turfway Park Trackside 7500 Turfway Rd Florence KY 41042 6pm til 9pm
---
Rae Reneé
Thursday at the Fairfield Pub 8-11pm That One Party Band (acoustic)
Friday at Kroger in Anderson Town Centre 4-7pm happy hour That One Party Band (acoustic)
Friday - karaoke night at Murphy's pub in Clifton with Rae Renee filling in for Danee (Da Nay) Lewis
Saturday afternoon 1-3 with Rob+Rae at The Belle and The Bear (fundraising event)
Saturday at Mr. Boros in Springboro 8-11pm (full band)
Wednesday at Nicc + Norm's Hamilton OH 6-9pm (acoustic)
Rae's birthday karaoke extravaganza @ the Belle and the Bear 9:45ish - 2am
---
The Original Jam Band
Thursday at 7pm - Oxford Summer Concert Series
---
The Renegades
Saturday at The Harrison VFW 8pm
---
Margo & Adam
Friday at Coldstream Country Club 7-10pm
Sunday at Miamiville Trailyard 2-5pm
---
SideShow Band
Saturday at the Shady Shores RV park, Marblehead, Lake Erie. 6pm.
---
Jim Jones
Friday Jim as Elvis at Walden Pond Golf Club at 8pm
Saturday at The Barnwood Theatre in Dry Ridge Ky Jim's Jukebox Gold 6pm
If you would like your band or musical act featured on our weekly podcast or shared in the Warren County Post contact us @Hall Around Town Radio on Facebook! For additional Band information follow our daily Facebook "Live at Five" program @Hall Around Town Radio
More News from Springboro