Who's Playing Out: Brought To You By Hall Around Town Radio August 3
Image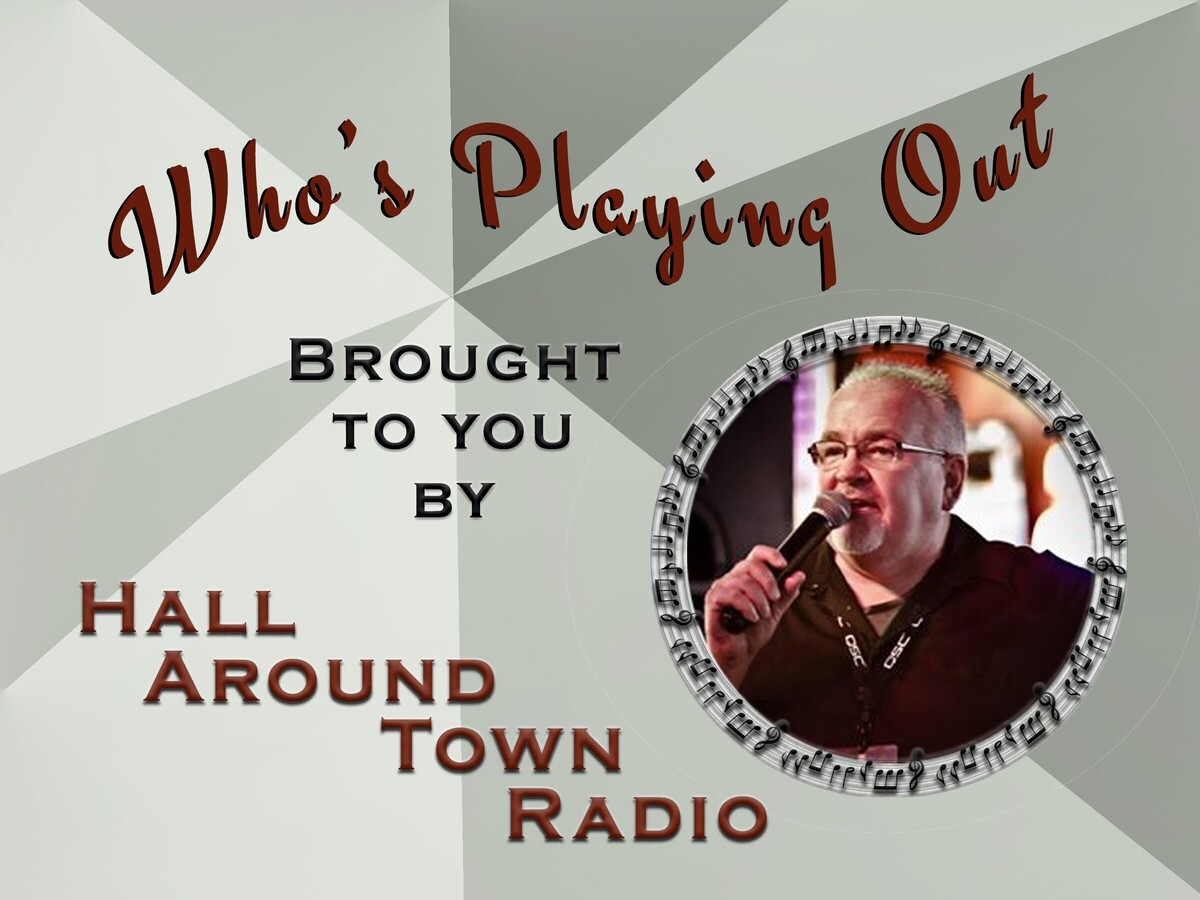 Brought to you by Scott Hall from "Hall Around Town Radio"
A little live music can turn an ordinary day into a memorable experience. The area's top musicians take center stage at some of the tri-states best restaurants and nightspots, bringing live music to our region nearly every night of the week. Make your first stop here weekly to find out "Who's Playing Out" at one of our live local music venues.
Bands and solos brought to you by our friends at Froggy's in Monroe, Ohio and Hall Around Town Radio (follow both on Facebook)
Froggy's in Monroe – Sponsor of our Thursday LIVE show on Facebook
Thursday – TAPS – Tursday Acoustic Patio Sessions – Joe Jordan 6 to 10
Friday at 8pm –
Saturday at 8pm – Britney's Lipstick
Tuesday 7pm Frog-ingo, 7:30 Queen of hearts $7000+ 6 cards left
Wednesday – Jeep Night (Collect Frogs) from 6 to 10pm Patio with Sweeney Rebellion
Live and Follow Froggys on Facebook
---
Heathers "On the Patio"
Thursday – Missing Pieces from 6:30 to 9:30 ½ off Wine night … Bourbon Flights
Friday – The Tailgate Band (debut) at 7pm
Saturday – Jay Clark Band at 7pm
Tuesdays – Heathers Bingo 7pm
Wednesdays –Name That Tune Trivia with Scott 7pm - Resrvations Reccomended
---
Mr. Boro's Tavern Springboro
Thursday – Sarah Beth
Friday - Two for the Road 8 to 11pm
Saturday – Rusted Reserve at 8pm
Sunday Funday - Eyes Up Here from 2 to 5pm
Tuesday – "Quiztastic" Q&A Trivia with Scott at 7pm
Wednesday – Queen of Hearts Drawing. 8pm 40K.
---
The Belle & The Bear (Montgomery) - Award Winning
Thursday "The Award Winning Jam" 7:30ish with an amazing cast and the Faded Cow food truck
Friday – Sweet Sister Mercy 8:30 pm
Saturday - Top This Band at 8:30 pm
Monday - Game Night - 6pm
Tuesday – "Singo" 7 to 9pm
Wednesday –- Special Event Night 7:30pm
---
Crooked Handle Brewing Co. Springboro
Thursday – Ricky Veeneman - 6pm to 9pm
Friday Gerlach & Clemons 6 to 9pm
Sunday – the Music Bingo Show with Todd Moore 6pm
Monday – An Evening with Goldpine 5:30
---
Crooked Handle Brewing Piqua
Saturday – Cory Breath 6:30 to 9:30 pm
---
Soft Rock Café
Karaoke – Thursday- 7:30 pm - Friday 8:30pm - Saturday - 8:30 pm.
---
Hamilton's Urban Backyard
Thursday – Justin Brehm 7pm
Friday – Paradise Crossing at 7pm
Saturday – The Jim Burns Band at 7pm
Tuesday – Turntable Tuesday with host Hollewood
Wednesday – Team Tune Trivia 7pm
---
Pohlman Lanes & Scott's Bar & Grill (Hamilton Ohio)
Family Entertainment Complex 954 Pyramid Hill Blvd., Hamilton Ohio
Friday - Dad Bods on the front patio 7pm
Saturday – Rich the Soul Man and the Metro City All Stars 7pm
Monday – After Hours Band at 7pm
Wednesday – Standard Country Time Band at 1pm
---
O'Connors Irish Pub Springfield
Thursday – Open Jam at 7pm
Thursday – Karaokre in the dining room at 9pm
Friday – BackBurn 8pm
Saturday – Carnival of Sins (Poision and Motley Crue Tribute) at 9pm
Monday – Trivia with Matt Allen 7pm
Tuesday – Acoustic with Matt Allen 8pm
Wednesday – Karaoke 10pm
---
Sorg Opera House
No Music Shows this Weekend
Future Show Tickets available at Cincyticket.com visit SORG page for more info
---
Stubbs Park in Centerville
Sunday – Creedence Revived from 7 to 9pm
---
The Heights Summer Music Series at Eichelberger
Saturday – Dayton Salsa Project 6pm
---
Springboro Summer Concert Series – North Park
No Submission
---
Little River Bar and Grill (Oregonia)
Thursday –– DJ Songz Karaoke
Friday – The TadCasters at 7pm
Saturday – Weston Papp at 7pm
Tuesday – Little River Bike Night plus the Queen of Hearts Drawing
---
Miami Valley Gaming
Friday - 4th day Echo 9pm Center Bar
Saturday – Richard Lynch 9pm Center Bar
---
The Blue Note Harrison
Saturday - Puddle of Mudd! Opening the show it's Sweet Sister Mercy! Pre party in the pub with Datura.Tickets available at Cincyticket.com
---
Hidden Gem Music Club
Thursday – 1st Thursday Jazz Jam hosted by Keli Campbell 7pm,
Friday – Subterranean, Pushing Daisys 7:30
Saturday – Wild FrontTears 7pm
Sunday at 7pm – The Blue Wisp Big Band
Tueday - Open Mic Night 7:30PM
---
Lori's Roadhouse
Thursday – Boozy Bingo 6pm …
Friday – Jason Owens at 8pm
Saturday – Chase Wright at 8pm
Tuesday – Line Dancing Lessons 7pm
Tickets at LRHLIVE.com
---
Milanos (Miami Township)
Wednesday – Live Music at 7pm
---
Rex Patrick and the Country Legends Show in Germantown
Saturday – Standard Country Time Band …. doors open at 5:30 Music 7 to 10
Reserve your table now 513-594-1282
---
Standard Country Time
Friday at Hunter Pizzareia 6pm
Wednesday at Pohlman Lanes 1 to 3pm
---
Moe Harrigan's Tavern
Thursday – Sarah Horstman 7:30
Friday – Scott Houchens 7pm
Saturday – Reyna and Dana 7pm
Sunday – Open Mic with Acoustic Jr 7pm
Wednesday – Nick Mitchell 8pm
---
The Brick Tap and Tavern
Thursday – Scott Houchens 7pm
Friday - Music Bingo at 8pm
Saturday – Spill the Wine from 8:30 to 11:30
Wednesday – Doug Hart Solo 7:30pm
---
Ricks Tavern
Thursday – TBA
Friday – Flipside at 8pm
Saturday – Alexa Michelle at 8pm
Tuesday –Miss Jacque Acoustic 7:30pm
---
KnottyPine
Thursday – Randy Peak
Friday –Miss Jacque 9pm
Saturday – 90 Proof Twang from 9 to 1 …
---
Scotty Long / DJ Songz
Thursdays - Little River Oregonia, OH. Throwback Thursday Party 7pm!
Friday Township Tavern 8pm Karaoke Live.
Check out his Facebook pages at Scotty Long or DJ Songz for all shows!
---
Scott Hall
Tuesday at Mr Boros Tavern for Quiztastic Tuesday Trivia
Wednesday – Heathers Name That Tune - Weekly Residency 7pm sharp RESERVATIONS AVAIL
---
Bands, Solos, Duos and Events
RiversEdge Concert Series
Thursday at 6pm Rivers Edge Presents Back n Black - AcDc Tribute Band with special guest Sweet Sister Mercy Free Show in Marcum Park 116 Dayton St Hamilton Ohio
Rock Star
Thursday at Goettafest 5:00 pm - 7:45 pm
Saturday at Powderkeg Harley Davidson 1 to 4pm
Retroactive Band
Saturday - Free concert at Voice of America park in West Chester. Start time is 10am, following the 9:00 AM 5K FUN Run, benefiting the Karen Wellington foundation for LIVING with Breast Cancer.
Saturday also from 4:00-7:30 at HighGrain Brewing in Deer Park for their "So Long Summer" party..
The Belairs
Thursday at Oxford Memorial Park 7pm
Joe Cowels
Friday - BROOKIES- FULL BAND 8PM
Saturday - WORLD OF GOLF - FULL BAND 7PM
Sunday - PADDY'S ON MAIN - SOLO 2:30PM
Wednesday - CLUB TRIO - SOLO 7PM
The GAMUT—
Saturday from 7pm-11pm at The Monkey Bar
SWEET SISTER MERCY
Thursday Rivers Edge Amphitheater Hamilton Opening for AC/DC Tribute BACK in BLACK
Friday at The Belle & Bear Montgomery ,oh 9pm
Saturday The Blue-Note Harrison , oh Opening for Puddle of Mudd
- Vinyl Countdown -
Saturday Glier's Goettafest (Goetta Saloon Stage) 12-3:15 PM
RED HOT RIOT
Saturday at Immaculata Holy Cross Festival in Mt. Adams -7:00-11:00
Step Lätter
Thursday at Community lanes in Minster Ohio. Bike night! 7pm
Saturday Latter live at McSobers in Coldwater. 9:30 start time.
Whiskey Town
Friday Aug 4 New Richmond River Days 6 to 9
Saturday Aug 5 Borderline Bar and Grill 9 to 1
Kevin Cooper
Thurs 730-1130pm: B&B Jam
Sat 8pm-12am: The Hanky Panks at Riverside Marina (2nd consecutive week, not a typo)
Sun 2-5pm: Eyes Up Here at Mr. Boro's Tavern
Marsha Brady
Friday Aug 4th - Club Trio - 8pm - 12am
Saturday Aug 5th - Element Eatery - Cincinnati - 7pm - 10pm
Audio Graffiti
Thursday Aug 3- Tin Roof Myrtle Beach, SC
Friday Aug 4- Tin Roof Myrtle Beach, SC
Saturday Aug 5- Tin Roof Myrtle Beach, SC
Michelle Robinson Band:
Thursday at Liberty Center Summer Concert Series 6-8
Saturday at Glier's Goettafest 2023 Goetta Stage from 8-11
Sunday at Tuscora Park Summer Concert Series in New Philadelphia 7-9
Dv8
Friday - Miami Twp Community Center North Bend Ohio 7 pm til 10 pm
Johnny Fink
Friday - Gina and Johnny Duo at Pompillios 7pm
Saturday - Johnny Fink and the Intrusion at Lebanon Blues Fest 6:30pm
That One Party Band
Friday at L Burg drinks & More, Lawrenceburg IN 10-2am
Saturday at the Pirates Den, Western Hills 8:30pm-12:30am
Wednesday at Nicc + Norm's tavern Hamilton OH, (Acoustic) (9-1)
Thursday the 10th at Delhi Skirt Game Tailgate Party, charity event, Delhi Park 6pm
Jet Pack Academy
Friday at The Monkey Bar and Grille 7p-11p
Liars for Hire
Saturday - Wings Beavercreek 8p - 1a
White Knuckle Weekend
Friday at Duckfoot's Bar and Grill in Celina from 8-12
Joe Lipinski
Friday jersey joe at devil Wind Brewing in Xenia 7 - 9 PM.
Chris Lee Acoustic
Friday - Pensive Distilling Newport KY. 6pm-8pm
Saturday - The Hangar Bar and Grill West Chester OH. 8pm-Midnight
Sunday - Streetside Brewery Cincinnati OH. 3pm-6pm
Blind Faith Duo
Saturday acoustic at City of Loveland gazebo on the bike trail 1-3pm
Heath Bowling Music
Thursday at O'Learys in Centerville OH 7-10p
Friday at Cadillac Jacks Shelbyville IN 830-1230
Sunday at Desperados Huntsville OH 4-7p
Kevin McCoy Band
Saturday Lori's RoadHouse 6pm
Tiffany Maye
Friday - O'Learys Mike & Tiff 8-11
Sunday open mic at Good Time Charlies - Cody Doench is hosting
David Thornton
Friday- Grainworks Brewing Company(West Chester) 7-10
Saturday- The Swire Inn (Middletown) 7-10
Don't Tell Steve
Saturday Kreimer's from 7-11
Until Rust
Thursday 8/3 at Crooked Handle Piqua, Oh from 6-9
Wednesday 8/9 at Misery & Jen Hamilton, Oh from 7-10
Jay Clark Band
Saturday at Heathers from 7-11pm
Benny Bodine
Thursday 8/3 The Liberty Inn from 7-11 West Chester, OH
Saturday 8/5 Brandeberry Winery from 6-9 Enon, OH
Wednesday 8/9 Stone House Tavern from 7-9Waynesville, OH
Velvet Crush Unplugged
Thursday 8/3 Bargos grill and tap Centerville oh 7-10
Friday 8/4 Double 18 lounge Dayton oh 9-12
Sunday 8/6 Hidden Valley Orchard Lebanon Ohio 1-4
Billy Brown
Friday August 4 at 2:30pm - Ole Red in Orlando FL
Saturday August 5 at 11am - Ole Red in Orlando FL
Linus Tate
Saturday - The Dublin Pub Dayton, OH 8:30-12am
Adam & Jalen….
Thursday at Little Miami Brewing Co. 7-10
Friday at The New KroBar @ Liberty 4-7
Saturday at Grandview Tavern 7-10
More Than Zero
Saturday at Courtyard Lounge 8pm
Relics
Saturday at Sugar Melons 7 to 11pm
Visitor
Saturday at Indian Creek Distillery with Eric Jerardi 6pm
Pandora Effect
Thursday - Quaker Steak & Lube "Bike Nite"! In Florence, KY, 6-10pm
Jim Jones
Friday – Jukebox Gold from 6 to 8pm at El Rancho Nuevo
Saturday – as Elvis from 6 to 8pm Main Steet Milford
If you would like your band or musical act featured on our weekly podcast or shared in the Warren County Post contact us @Hall Around Town Radio on Facebook! For additional Band information follow our daily Facebook "Live at Five" program @Hall Around Town Radio
More News from Springboro