Who's Playing Out: Brought To You By Hall Around Town Radio August 10th
Image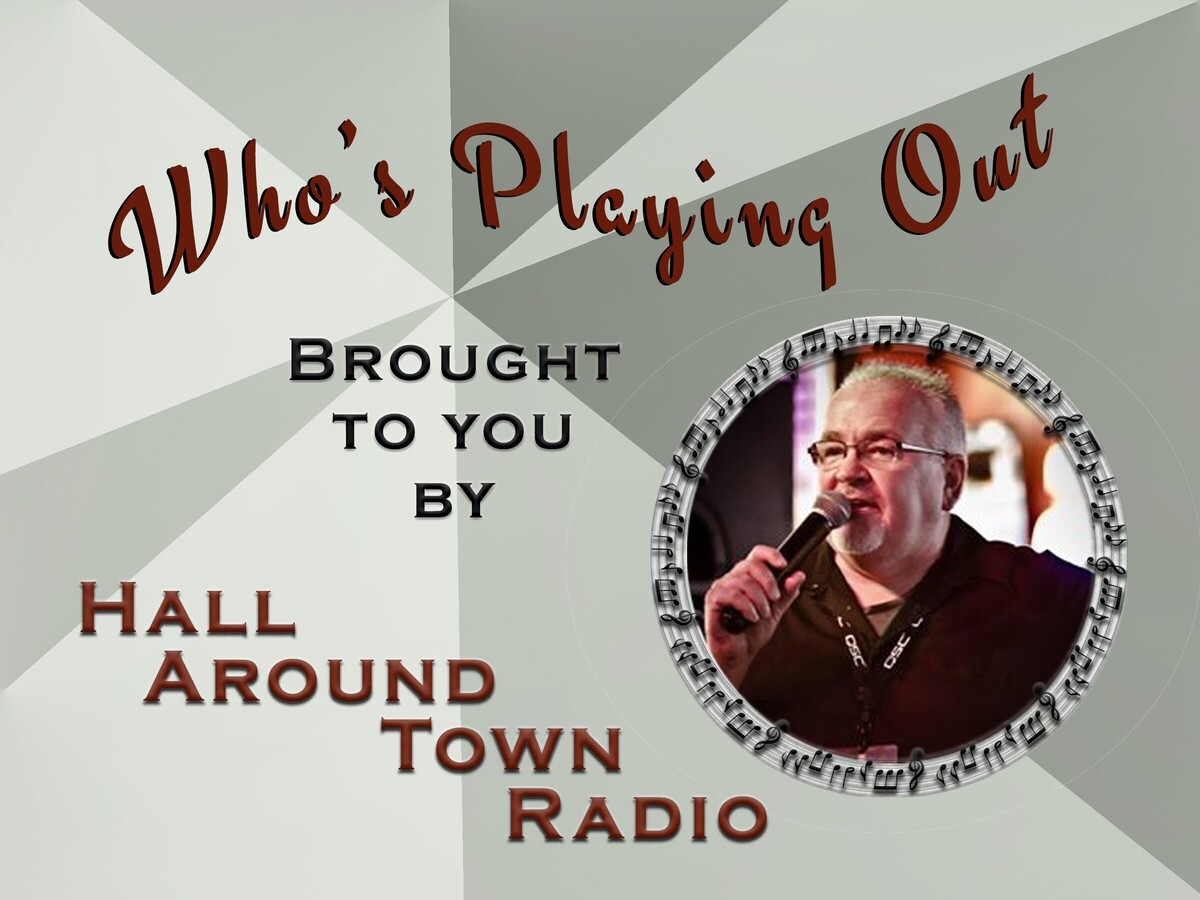 Brought to you by Scott Hall from "Hall Around Town Radio"
A little live music can turn an ordinary day into a memorable experience. The area's top musicians take center stage at some of the tri-states best restaurants and nightspots, bringing live music to our region nearly every night of the week. Make your first stop here weekly to find out "Who's Playing Out" at one of our live local music venues.
Bands and solos brought to you by our friends at Froggy's in Monroe, Ohio and Hall Around Town Radio (follow both on Facebook)
Froggy's in Monroe – Sponsor of our Thursday LIVE show on Facebook
Thursday – TAPS – Tursday Acoustic Patio Sessions – Sweeney Rebellion 6 to 10
Friday at 8pm – No Band
Saturday at 8pm – After The Party
Tuesday 7pm Frog-ingo, 7:30 Queen of Hearts – winner last week ($6,801) starts at $600
Wednesday – Jeep Night (Collect Frogs) from 6 to 10pm Patio with Until Rust
Check out the expanded patio! Live and Follow Froggys on Facebook
---
Heathers "On the Patio"
Thursday – Benny Bodine from 6:30 to 9:30 ½ off Wine night … Bourbon Flights
Friday – The Kevin McCoy Band at 7pm
Saturday – Cryin Out Loud at 7pm
Tuesdays – Heathers Bingo 7pm
Wednesdays –Name That Tune Trivia with Scott 7pm - Resrvations Reccomended
---
Mr. Boro's Tavern Springboro
Thursday – Last Call Trio with Kelly Morelock on drums 7 to 10pm
Friday – Element 3 8 to 11pm
Saturday –at 8pm
Sunday Funday - That One Party Band from 3 to 6pm
Tuesday – "Quiztastic" Q&A Trivia with Scott at 7pm
Wednesday – Queen of Hearts Drawing. 8pm 40K.
---
The Belle & The Bear (Montgomery) - Award Winning
Thursday "The Award Winning Jam" 7:30ish with an amazing cast and the Faded Cow food truck
Friday – The Inturns 8:30 pm
Saturday - Brent James and the Vintage Youth at 8:30 pm
Monday - Game Night - 6pm
Tuesday – "Singo" 7 to 9pm
Wednesday –- Special Event Night 7:30pm
---
Crooked Handle Brewing Co. Springboro
Thursday – Zane Gerlach - 6pm to 9pm
Friday – Jamie Combs 6 to 9pm
---
Crooked Handle Brewing Piqua
Saturday – Truk 6 to 9 pm
---
Soft Rock Café
Karaoke – Thursday- 7:30 pm - Friday 8:30pm - Saturday - 8:30 pm.
---
Hamilton's Urban Backyard
Friday – Gina and Johnny Duo at 7pm
Saturday – Green Light Morning Trio at 7pm
Tuesday – Turntable Tuesday with host Hollewood
Wednesday – Team Tune Trivia 7pm
---
Pohlman Lanes & Scott's Bar & Grill (Hamilton Ohio)
Family Entertainment Complex 954 Pyramid Hill Blvd., Hamilton Ohio
Friday - Stone Mountain Mafia 7pm
Saturday – Katlin Davis Band 7pm
Monday – After Hours Band at 7pm
Wednesday – Standard Country Time Band at 1pm
---
O'Connors Irish Pub Springfield
Thursday – Open Jam at 7pm
Thursday – Karaokre in the dining room at 9pm
Friday – JR and the Crossfire 9pm
Saturday – Private Party in the Music Venue
Monday – Trivia with Matt Allen 7pm
Tuesday – Finding Melissa 8pm
Wednesday – Comedy Night music venue 7pm Karaoke dining room 10pm
---
Sorg Opera House
No Music Shows this Weekend
Future Show Tickets available at Cincyticket.com visit SORG page for more info
---
Stubbs Park in Centerville
Sunday – BeatleMania Magic from 7 to 9pm
---
The Heights Summer Music Series at Eichelberger
Saturday – Ludlow Creek 6pm
---
Springboro Summer Concert Series – North Park
---
Little River Bar and Grill (Oregonia)
Thursday –– DJ Songz Karaoke
Friday – Everything Hurts at 7pm
Saturday – Sinners Circle with Bryan Scott at 7pm
Tuesday – Little River Bike Night plus the Queen of Hearts Drawing
---
Miami Valley Gaming
Friday - The Whammies 9pm Center Bar
Saturday – The Everyday People Band 9pm Center Bar
---
The Blue Note Harrison
Friday - Adelitas Way with A Killers Confession and Sick Serenity! Doors at 5:30
Tickets available at Cincyticket.com
---
Hidden Gem Music Club
Thursday – Mambo Combo 7pm,
Friday – Joey Said No 7:30
Saturday – Authorized Personnel 7pm
Sunday at 7pm – Day Luster
Tueday - Open Mic Night 7:30PM
---
Lori's Roadhouse
Thursday – Closed for VOA Concert Weekend
Friday – VOA Afterparty with DJ at 8pm
Saturday – VOA Afterparty with DJ at 8pm
Tuesday – Line Dancing Lessons 7pm
Tickets at LRHLIVE.com
---
Milanos (Miami Township)
Wednesday – Live Music with Rick Sylvester at 7pm
---
Rex Patrick and the Country Legends Show in Germantown
Saturday – The Country Legends Band Band …. doors open at 5:30 Music 7 to 10
Reserve your table now 513-594-1282
---
Moe Harrigan's Tavern
Thursday – Shane DeMoss 7:30
Friday – Heather Roush and the Heartstrings 7pm
Saturday – The Marthas 7pm
Sunday – Open Mic with Acoustic Jr 7pm
Wednesday – Nick Mitchell 8pm
---
The Brick Tap and Tavern
Thursday – Scott Houchens 7pm
Friday – Steve Lewis at 8pm
Saturday – Lights Out Band from 8:30 to 11:30
Wednesday – Doug Hart Solo 7:30pm
---
Ricks Tavern
Thursday – TBA
Friday – Gamut at 8pm
Saturday – DJ at 8pm
---
KnottyPine
Saturday – Crown Watts at 9pm
---
Scotty Long / DJ Songz
Thursdays - Little River Oregonia, OH. Throwback Thursday Party 7pm!
Check out his Facebook pages at Scotty Long or DJ Songz for all shows!
---
Scott Hall
Tuesday at Mr Boros Tavern for Quiztastic Tuesday Trivia
Wednesday – Heathers Name That Tune - Weekly Residency 7pm sharp RESERVATIONS AVAIL
Bands, Solos, Duos and Events
Shane deMoss
Thursday at Moe Harrigan's Tavern Kettering, Oh 8 - 11
Friday at Bellbrock Park Bellbrook, Oh 6 - 7:30
Until Rust
Wednesday 8/16 at Froggy's Monroe, Oh from 6 - 10
Saturday at The Hangar Bar & Grill West Chester, Oh 8-12
Benny Bodine
Thursday at Heathers Café 6:30-9:30pm Springboro, OH
Heath Bowling
Thursday at Liberty Inn West Chester, OH 6-10p
Friday - Beauty and The Beast at Township Tavern Hamilton, OH 8-12
Saturday at St Paul Tavern St Paul, IN 9-11p
Sunday at Wright Station Springboro, OH 7-9p
Tuesday at CrackerJaks Germantown, OH 7-10p
Wednesday at O'Learys from 7-10p Centerville, OH
Pauly and The Fall From Grace
Saturday at Borderline in West Harrison, IN 10pm-2am.
Tuesday - Pauly, Steve, Chip acoustic trio at Mutt's Main Bar Middletown 6-10 for Bike Night
Ruck Henderson & The .50 Caliber Band
Friday at 7:00pm - VFW Post 2402 in Xenia for "Finally Friday"! Country, old rock-n-roll, and 70's.
Tim Blankeny
Thursday - BAABs Middletown 7-10pm Solo Acoustic
Friday - Miami Trailyard 7-10pm Solo Acoustic
Saturday - Private Event
Monday - Hosting Open Mic Billy's Burgers and Beers Lebanon 6-8pm
Standard Country Time
Wednesday at Pohlman Lanes 1 to 3pm
Billy Brown
Thursday Aug 10 at 6pm - Trillions in West Chester OH
Friday Aug 11 at 10pm - Bristol Republic in Columbus OH
Saturday Aug 12 at 9pm - The Blind Squirrel in Florence KY
Sunday Aug 13 at 1pm - The Signature Club in Lexington KY
Wednesday Aug 16 at 8pm - The Grizzly Rose in Denver CO (Aug 16-20)
Brandy Evans
Saturday from 2-5 Brandy and the Beard at Monkey Bar
GAMUT—
Friday at Ricks Tavern 8pm
Saturday at the Cabana on the Whitewater 8pm
Audio Graffiti
Thursday thru Sunday at Mr Ed's - Put in Bay, Oh 9:30-1:30 each night
-Vinyl Countdown-
Friday - Tri-County Battle of the Bands Washington Court House 7:30 - 10:30 PM
Saturday - Lake Waynoka Music on the Green 8-11 PM
Sunday - Great Inland Seafood Festival 3-5:30 PM
The Whammies
Friday August 11th at Miami Valley Gaming Center Stage 9-12
BillyRock Band
Thursday at 6pm - Liberty Center Summer Concerts
Joe Cowels
Friday - Joe Cowels solo at the casual pint in Hamilton 7p-10p
Sunday - Joe Cowels solo at Streetside Brewery 3p-6p
Marsha Brady
Thursday - Quaker Steak & Lube Colerain - Bike Night - 5:30pm - 9:30pm
Saturday - Sunshower Country Club - Centerville Indiana - Annual Toga Party - 7:30pm - 11:30pm
Sunday - Great Inland Seafoodfest - Newport Festival Park - Closing out the Seafoodfest - 6pm - 9pm
Kevin Cooper
Thursday 730-1130pm: Belle & Bear Jam
Friday 7-11pm: The Hanky Panks at El Toro of Walton (Walton, KY)
Saturday 7-11pm: Eyes Up Here at Gano Tavern
Tuesday 7-10pm: The Hanky Panks at Turfway Park (Bourbon & Brews stage)
Wednesday 7-11pm: Kevin Cooper solo at The Corner Pub
Crown Watts
Saturday at 9:00 Knotty Pine
Wednesday – Quaker Steak and Lube Milford – Bike Night 6pm
That One Party Band
Thursday at the Delhi Skirt Game Tailgate Party, Delhi Park 6pm (Full band)
Saturday at Jockos Pub in Delhi 9-1 (acoustic)
Sunday at Mr. Boro's in Springboro Ohio 3-6 (acoustic)
Johnny Fink
Friday - Gina and Johnny duo at the HUB 7-10p
Rick Kern
Sunday - Rick Kern So Low Show, Club Trio, 3:00-7:00pm
Whiskey Town
Friday at Moonbird 8 to 12
Saturday at Dixie Station 9:30 to 1:30
Latter
Saturday at Duckfoot in Celina Ohio 8pm in the dome!
Dv8
Friday at Sacred Heart Festival 400 Nilles Rd Fairfield Oh 45014 7:30 - 11:30
Saturday at Visi Fest - Our Lady of Visitation 3172 South Rd Cinti OH 45248 7 pm til 11 pm
Michelle Robinson Band:
Friday at Our Lady of Visitation 7-11
Saturday at St Elizabeth Ann Seton 8:30-11:30
Sunday at Voices of America Country Festival 1pm
Jet Pack Academy
Saturday at the Western and Southern Open, 11:30am-1:30pm
Under the Sun
Saturday at Club Trio 8pm
Cryin Out Loud
Saturday at Heathers Cafe 7-11pm
Ben & Pete
Friday August 11th at Jayne's On Main, 7:30 to 10:30
Blind Faith Duo acoustic
Friday - Taproom on Ludlow Ave 8-10
Saturday - Seven Wells Winery 7-10
Spungewurthy
Thursday at Bargos 6pm
Friday at Little York Tavern 8pm
Short of Stable
Saturday - Carlisle Railroad Days 5-9 (full band)
Kevin McCoy Band
Thursday VOAFest Main Stage from 5:30-6:10
Friday at HEATHERS from 7-11pm
Saturday Indian Spring Winery 7-10
Tyler VanB music w/ James Zornes
Sunday at Jasper Hills Xenia, OH 4 to 7pm
David Thornton
Thursday at Jayne's On Main (Miamisburg) 7-10
Friday at Moeller Brew Barn (Monroe) 7-10
Saturday at Browns Run County Club (Middletown) 6-9
Joe Lipinski
Sunday jersey joe Moeller Brew Barn downtown Dayton 3-6.
Chad Applegate
Friday 8/11 Chad Applegate solo at Barnesburg Tavern in Colerain 7 to 10
Wednesday - Hanks Pub in Mt Carmel every Wed from 7 to 10
Burress Brothers
Friday at The Barrel from 8-11
Jacob William
Saturday at Carols Speakeasy from 8-11
Truk - full band
Saturday at Crooked Handle Piqua
Linus Tate
Thursday at Oxford Uptown Summer Music Series Oxford, OH7PM
Friday at FigLeaf Brewing Company Middletown, OH 7PM
Brass Tracks Band
Saturday – Boomer Fest at St. Leonard Living Community 3 to 6pm
Classic Jam Band
Friday from 6 to 9 at Carlisle Railroad Days
SideShow Band
Friday at Acheson's, Lakeview, Indian Lake, 6pm.
Saturday at Sugar Mellons, Fairborn 7pm.
Wednesday at Little York Tavern, Dayton, 8pm.
Timeless
Friday at Pirates Cove Tropical Bar and Grill 7-11
Margo & Adam Acoustic
Saturday at Miamiville Trailyard 7-10
If you would like your band or musical act featured on our weekly podcast or shared in the Warren County Post contact us @Hall Around Town Radio on Facebook! For additional Band information follow our daily Facebook "Live at Five" program @Hall Around Town Radio
More News from Springboro