A New Route Therapists Are Trying
Image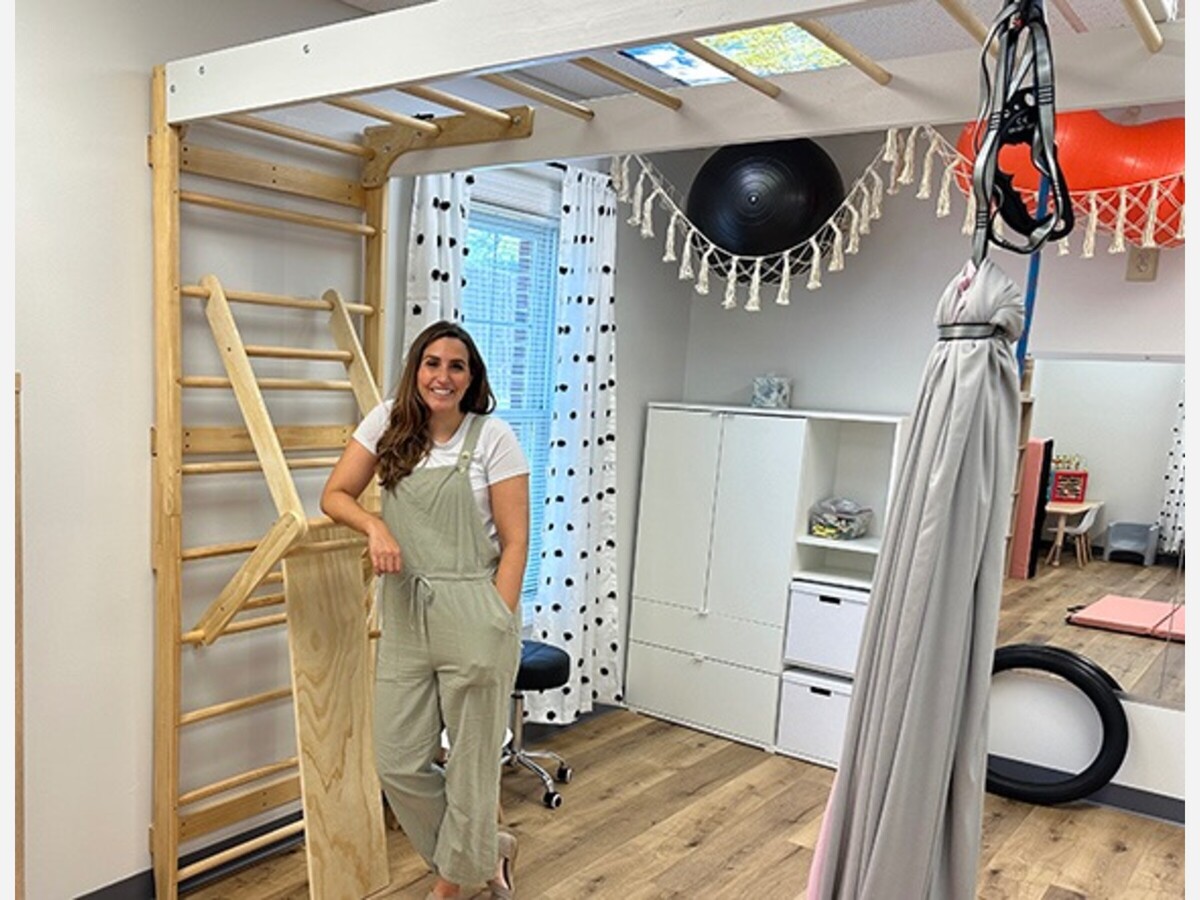 SPRINGBORO, OH -- Megan Miller, who recently opened her own private Pediatric Occupational Therapy Service practice called Polka Dot Kids in Springboro, explains why she decided to go out on her own.
"I've worked with clients in both hospital settings and in school settings. While I really loved what I was doing and the people I was working with, I was running into a couple of things I found really frustrating,"  Miller said.
Miller explained how the turnover rate for therapist is so high in Ohio due to burn out they have had to create a new safe haven program for therapist. "The older therapist, who have all the experience and knowledge are leaving the field and these are the people we need to stay because they have all this experience and information to help out the new grads entering the field."
Miller believes that the "expectation" environment that therapist are under plays a big cause for therapist burn out. "The time frame for what a therapist can or should be able to do is affecting the quality of therapy," she said.
At one point, Miller explained she had 80 kids a week on her case load..."It was a revolving door... there was no downtime." 
Downtime is not only needed to help a therapist prepare for the next client, but gives a therapist time to study, research and stay up to date for patient's need. "When you work for someone else, you are working to reach a productivity reading they have created... I just want to provided good quality therapy." 
To do this, Miller has stepped away from working for the large companies, such as hospitals and schools, where children are often in a group settings rather than one-on-one, and has stepped out on her own.
"This is kind of a new route therapist are trying… going out on their own," she added.
Miller explained her game plan... "Let (me) the therapist be in control and allow me to give quality time to my patients. And, I set my schedule." Rather than having an 80 patient case load a week, Miller said she would like to have more like 20 clients a week. 
"I would have time to do research and stay up to date with stuff... this would help the needs of my clients... You don't have time for that when working in a large hospital setting or a school."
Miller said she understands some the of the hesitance parents have about switching to a private practice versus the hospital or school setting. When getting OT at school, it is free and at a hospital campus all the therapies are at one locations, such as OT, PT and speech, she noted.
"I do want to get where all three are offered here, but right now it is just OT," she said explaining that OT deals with physical, sensory, or cognitive problems. "I help kids play. This is their occupation. This is how they learn. Then in school, it maybe handwriting, tying their shoes and even feeding therapy.... OT is both physical and mental therapy, for we are working with teaching muscles on what to do."
Miller added that in the state of Ohio, parents do not need a pediatrician referral for their child to receive OT. 
"A parent or gaurdain can call and ask for me to see their child if they notice their child is struggling with something. We test them to see where they are compared to their peers, and if we see they are falling behind from where their peers are, we can step in and provide intervention," she said.
Miller noted that families can be reimbursed by their insurance companies when coming to Polka Dot Kids for OT. "We provide a special bill that they can submit to their insurance companies to be reimbursed. This allows them to still go through insurance to pay for this service. They just don't have to go through all the extra layers of administration that make up hospitals and schools," she said.
Below is a list of Fine Motor Milestones by age that Miller uses. If your child is struggle with these skills call Polka Dot Kids for a free consultation at 513-930-0224 or for more information visit polkadotdays.com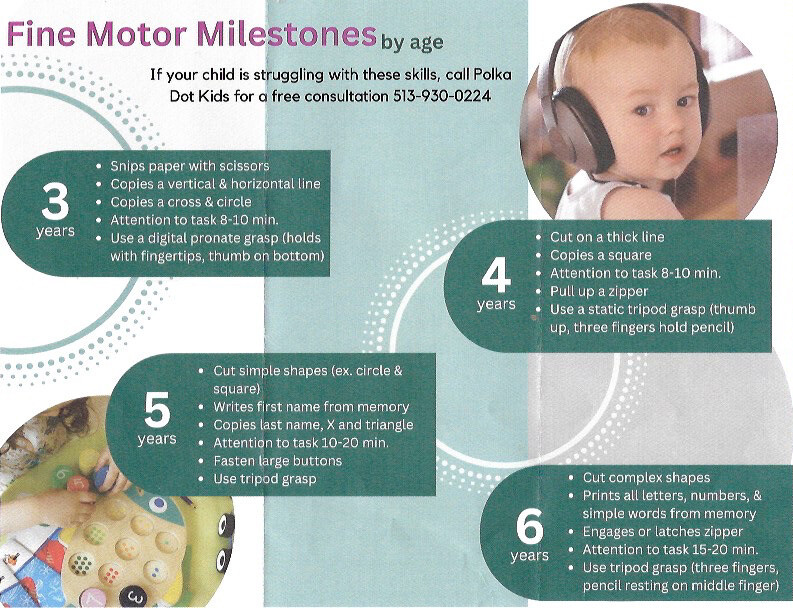 More News from Springboro