Who's Playing Out: Brought To You By Hall Around Town Radio September 7th
Image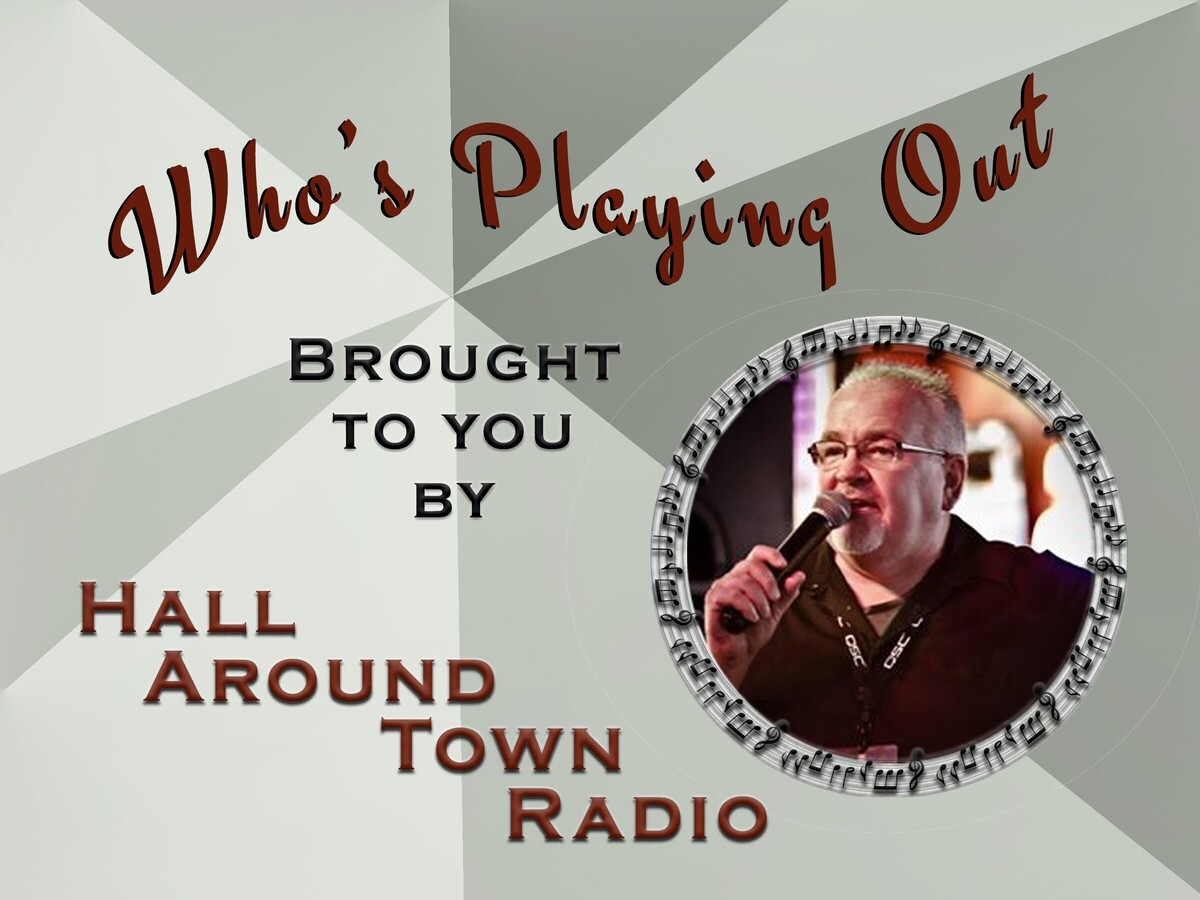 Brought to you by Scott Hall from "Hall Around Town Radio"
A little live music can turn an ordinary day into a memorable experience. The area's top musicians take center stage at some of the tri-states best restaurants and nightspots, bringing live music to our region nearly every night of the week. Make your first stop here weekly to find out "Who's Playing Out" at one of our live local music venues.
Bands and solos brought to you by our friends at Froggy's in Monroe, Ohio and Hall Around Town Radio (follow both on Facebook)
Froggy's in Monroe – Sponsor of our Thursday LIVE show on Facebook
Thursday – TAPS – Tursday Acoustic Patio Sessions – Brett and Danny 6 to 10
Friday at 8pm – Stone Mountain Mafia
Saturday at 8pm – Chazapalooza 4 bands - Headliner is Social Chemist at 10p
Tuesday 7pm Frog-ingo, 7:30 Queen of Hearts –at $1000
Wednesday – Jeep Night (Collect Frogs) from 6 to 10pm Patio with Angela Combs
Check out the expanded patio! Live and Follow Froggys on Facebook
---
Heathers "On the Patio"
Thursday – "Session Five" debut at 6:30
Friday – The Wright Brothers Band at 7pm
Saturday – Timestamp at 7pm
Tuesdays – Heathers Bingo 7pm
Wednesdays –Name That Tune Trivia with Scott 7pm - Resrvations Reccomended
---
Mr. Boro's Tavern
Thursday - Mike Pettigrew solo 7 to 10pm
Friday – Short of Stable 8 to 11pm
Saturday –Linus Tate at 8pm
Sunday NFL Football on Surround "Bengals vs Browns"
Tuesday – "Quiztastic" Q&A Trivia with Scott at 7pm
Wednesday – Queen of Hearts Drawing. 8pm for 41K.
---
The Belle & The Bear (Montgomery) - Award Winning
Thursday "The Award Winning Jam" 7:30ish and the Faded Cow Food Truck
Friday – Mojo Rizin at 8:30 pm
Saturday - Crown Watts at 8:30 pm
Monday - Game Night - 6pm
Tuesday – "Singo" 7 to 9pm
Wednesday –- Special at 8pm
---
Crooked Handle Brewing Co. Springboro
Thursday – Shane DeMoss 6pm
Saturday – Doug Hart 9pm
---
Crooked Handle Brewing Piqua
Thursday – Bike Night with Steven "Crash" Worley 6pm
Friday – Steven "Crash" Worley 6 to 9pm
Saturday – The Homegrown Band 6 to 9 pm
---
Soft Rock Café
Karaoke – Thursday- 7:30 pm - Friday 8:30pm - Saturday - 8:30 pm.
---
Hamilton's Urban Backyard
Friday – The Brock and John Show at 6pm
Tuesday – Turntable Tuesday All Vinyl with host Hollewood
Wednesday – Team Tune Trivia 7pm
---
Pohlman Lanes & Scott's Bar & Grill (Hamilton Ohio)
Family Entertainment Complex 954 Pyramid Hill Blvd., Hamilton Ohio
Friday - Brad Elchlinger at 7pm
Saturday – Satin Smooth Project 7pm
Monday - The After Hours Band at 7pm
Wednesday – The Standard Country Time Band at 1pm
---
O'Connors Irish Pub Springfield
Thursday – Open Jam 7pm
Thursday – Karaokre in the dining room at 9pm
Friday – DJ Adrian at 9:30pm
Saturday – Flashback Band at 9pm
Monday – Trivia with Matt Allen 7pm
Tuesday – Corn Hole Tourney at 6:30 and Music by Finding Melissa at 8pm
Wednesday – Karaoke at 10pm
---
Sorg Opera House
Friday September 8th – The Oak Ridge Boys a few tickets left
Future Show Tickets available at Cincyticket.com visit SORG page for more info
---
Little River Bar and Grill (Oregonia)
Thursday –– DJ Songz at 7pm
Friday – Terry Metcalf at 7pm
Saturday – Right Turn Clyde 7pm
Tuesday – Queen of Hearts Drawing
---
Miami Valley Gaming
Friday - Chuckies In Love 9pm Center Bar
Saturday – Lucy's Trucks and Tunes Noon – 9pm
LIVE MUSIC ALL DAY!
1:00 – 2:30 PM Naked Karate Girls
3:00 – 4:30 PM Brass Tracks
5:00 – 6:30 PM Nightflyer – Eagles Tribute
7:00 – 8:30 PM New Frontiers – Journey Tribute
FREE ADMISSION! 30 FOOD TRUCKS!
---
The Blue Note Harrison
Sunday – "Kings X" doors open at 5pm –Show Tickets available at Cincyticket.com
---
Hidden Gem Music Club
Thursday – Mambo Combo 7pm,
Friday – Salvadore Ross with WAHFU 9pm
Saturday – Junior presents Last Call in Margaritaville Fans of Buffett 8pm
Sunday at 7pm – Top Secret
Tueday - Open Mic Night 7:30PM
---
Lori's Roadhouse
Thursday –Boozy Bingo 6pm plus Queen of Hearts
Friday – Tailgate Revival from Nashville at 8pm
Saturday – Marshull at 8pm
Sunday – Tunes – Boots and Berets for the Green Beret Foundtion 6:30pm
Tuesday – Line Dancing Lessons 7pm
Tickets at LRHLIVE.com
---
Milanos (Miami Township)
Wednesday – Last Call at 7pm
---
Rex Patrick and the Country Legends Show in Germantown
Saturday – The Country Legends Band …. doors open at 5:30 Music 7 to 10
Reserve your table now 513-594-1282
---
Moe Harrigan's Tavern
Thursday – Heath Bowling 7:30
Friday – Pdearl Street 8pm
Saturday – Eric Henry Blues Band 8pm
Wednesday – Nick Mitchell 8pm
---
The Brick Tap and Tavern
Thursday – Scott Houchens 8:30pm
Friday – Jeff Rearick at 8:30pm
Saturday –Premonition from 8:30 to 11:30
Wednesday – Doug Hart Solo 7:30pm
---
Ricks Tavern
Friday – Alexa Michelle at 8pm
Saturday – Paisley Cane at 8pm
---
KnottyPine
Thursday – Kenny Cowden at 7pm
Friday – Sweet Sister Mercy at 9pm
Saturday – Bad Habit at 9pm
---
Scotty Long / DJ Songz
Thursdays - Little River Oregonia, OH. Party 7pm!
Friday- Township Tavern Karaoke Party 8pm
Check out his Facebook pages at Scotty Long or DJ Songz for all shows!
---
Scott Hall
Tuesday at Mr Boros Tavern for Quiztastic Tuesday Trivia
Wednesday – Heathers Name That Tune – Week 20 7pm sharp RESERVATIONS AVAIL
Bands, Solos, Duos and Events
Rivers Edge – Hamilton 116 Dayton St Hamilton Ohio
Saturday – Jared's Jam at RiversEdge
4:00 PM — Bedford, 
5:15 PM — Bee Taylor 
6:00 PM — J & The Causeways  
8:00 PM — Cole Chaney 
9:30 PM Red Clay Strays will headline the concert  116 Dayton St Hamilton Ohio
---
H & R Rock
Saturday at Peecox ibn Erlanger 9pm
---
Rockstar
Saturday at Great American ballpark in the fanzone pre-party at 5:00 pm before the Reds game
---
Liars for Hire
Friday at Wings Beavercreek from 8p-12a.
---
Ryan Adams and the SOB's
Friday at Soughern Ohio Brewrey from 6 to 9pm
---
Kevin McCoy Band
Saturday and Sunday September 9-10 at Gilley's Dallas TX
---
White Knuckle Weekend
Friday at Wright Station in Springboro from 7-9 pm.
---
Tim Blankeny
Thursday - 6-9 Solo Acoustic at Cappy's Loveland
Friday- 630-930 Missing Pieces Band at Hidden Valley Orchard
Sunday 12-3pm Solo Acoustic at Miamiville Trailyard
Monday- 6-8pm Open Mic at Billy's Burgers Beers in Lebanon
---
Timestamp
Friday at the Monkey Bar and Grill 7pm
Saturday at Heathers in Springboro from 7 to 11
---
Spungewurthy
Friday at Little York Tavern 8pm
---
Grocery Store Vodka
Saturday at Sugar Melons in Fairborn 8pm
---
Michelle Robinson Band
Thursday-West Chester Summer Concert Series 6-9
Friday-Kreimer's Bier Haus 7-11
Saturday-Lithopolis Honeyfest 5:15-6:45
---
Bryan Scott
Friday at Krobar from 5 to 7om West Chester
Friday from 8 to 11 at E street Pub in Richmond indiana
Saturday from 5 to 7pm at the Krobar in West Chester
---
Don't Tell Steve
Saturday at Club Trio from 8-12
---
Heath Bowling
Thursday at Moe's Harrigan's Tavern from 8-11 Kettering, OH
Friday at Good Time Charlie's from 830-1230 in Miamisburg, OH
Saturday at Rip Rap Roadhouse with Route 88 from 7-10 Huber Heights, OH
Wednesday at O'Leary's from 7-10p in Centerville, OH
---
Chris Lee Acoustic
Friday, Sept. 8 at Pensive Distilling Co in Newport KY. 6pm-8pm
Saturday, Sept. 9 at Maya Mexican Restaurant – Milford Milford OH. 6pm-9pm
---
DV8
Friday at the Fairfield Autofest from 6-9pm
Saturday at the St. Susanna Festival from 7-11pm
---
Until Rust
Thursday at Crooked Handle in Springboro, Oh from 6-9
Wednesday at Misery & Jen "Bike Night" Hamilton, Oh from 7-10
---
Truk
Saturday at the The Milton Athletic Club in Dayton 7:30-11:30 Open to the public.
---
Billy Brown
Friday Sept 8 at 7pm - Boonedocks in Union KY
Saturday Sept 9 at 1-3pm - Fischer Homes Event in northern KY
---
Benny Bodine
Wednesday 9/13 at the Franklin Orioles from 7-10 in Franklin, OH
---
Linus Tate
Friday at the Hitching Post Saloon in Darrtown, OH 7PM
Saturday at Mr Boros Tavern Springboro, OH 8PM
Sunday at the Loveland Summer Concert Series at Nisbet Park and Amphitheater 6PM
---
Kevin Cooper
Thursday 730-1130pm: Belle & Bear Jam host
Friday 7-11pm: Eyes Up Here at Gano Tavern
Saturday 9pm-1am: The Hanky Panks at Madison Inn (Middletown)
Sunday 4-730pm: The Hanky Panks at St Clement Festival (St. Bernard)
---
Brandy Evans
Friday, Brandy and the Beard at West Chester/Liberty Twnship Putters 7-10
---
The Whammies
Friday at St. Barbara's Rocktoberfest, Erlanger, KY, 8-1
---
Joe Cowels
Friday September 8th solo at Woolly's 9pm-11pm
Saturday September 9th Guitar Fest noon to midnight Band, solo, and jams!
Monday solo at Joey's Roadhouse 6pm-9pm
---
Grainworks Brewing 6th Anniversary 9/8-9/9
Friday: Monte Lykins 3pm-6pm, Cassette Junkies 7pm-10pm
Saturday: Matt Waters 3pm-6pm, Dat Band 7pm-10m
---
Delvon Lamar Organ Trio.
Sunday at Fretboard Brewing 7pm
---
Audio Graffiti
Friday from 8:00-11:00pm at Covingtons Oktoberfest MainStrasse Village
---
Sweet Sister Mercy
Friday at the Knotty Pine Cheviot 9pm-1pm
---
Vinyl Countdown
Sunday at Covington Oktoberfest 4-8 PM
---
Crown Watts
Saturday at 9pm The Belle & The Bear
---
The GAMUT
Friday at 8pm Fretboard Brewing in Blue Ash
Saturday at 8:30pm MVP on the Never on Sunday Stage
---
Rick Kern
Saturday with The Eagles Project, Village Of Evendale, 10500 Reading Road Cincinnati, OH, 7:pm
---
Whiskey Town
Friday from 8 to 12 at the Fairfireld Pub
Saturday at Kings Landing 8 to 12
---
BillyRock Band
Friday at 9pm - 1 More Bar Bright, IN.
---
Marsha Brady
Friday Sept 8th - Jimmy B's - Eastside of Cincy - 9:30pm - 1:30am
Saturday Sept 9th - The Pirates Den - Westside of Cincy - 8:30pm - 12:30am
---
Rae Reneé
Saturday, September 9th: That One Party Band @ Skippers, New Richmond OH 7-11 (Full band)
Sunday, September 10th: Rae Renee filling in for DJ Danee @ MVPs in Silverton 8-12 (or later) (karaoke night)
If you would like your band or musical act featured on our weekly podcast or shared in the Warren County Post contact us @Hall Around Town Radio on Facebook! For additional Band information follow our daily Facebook "Live at Five" program @Hall Around Town Radio
More News from Springboro