Who's Playing Out: Brought To You By Hall Around Town Radio October 5th
Image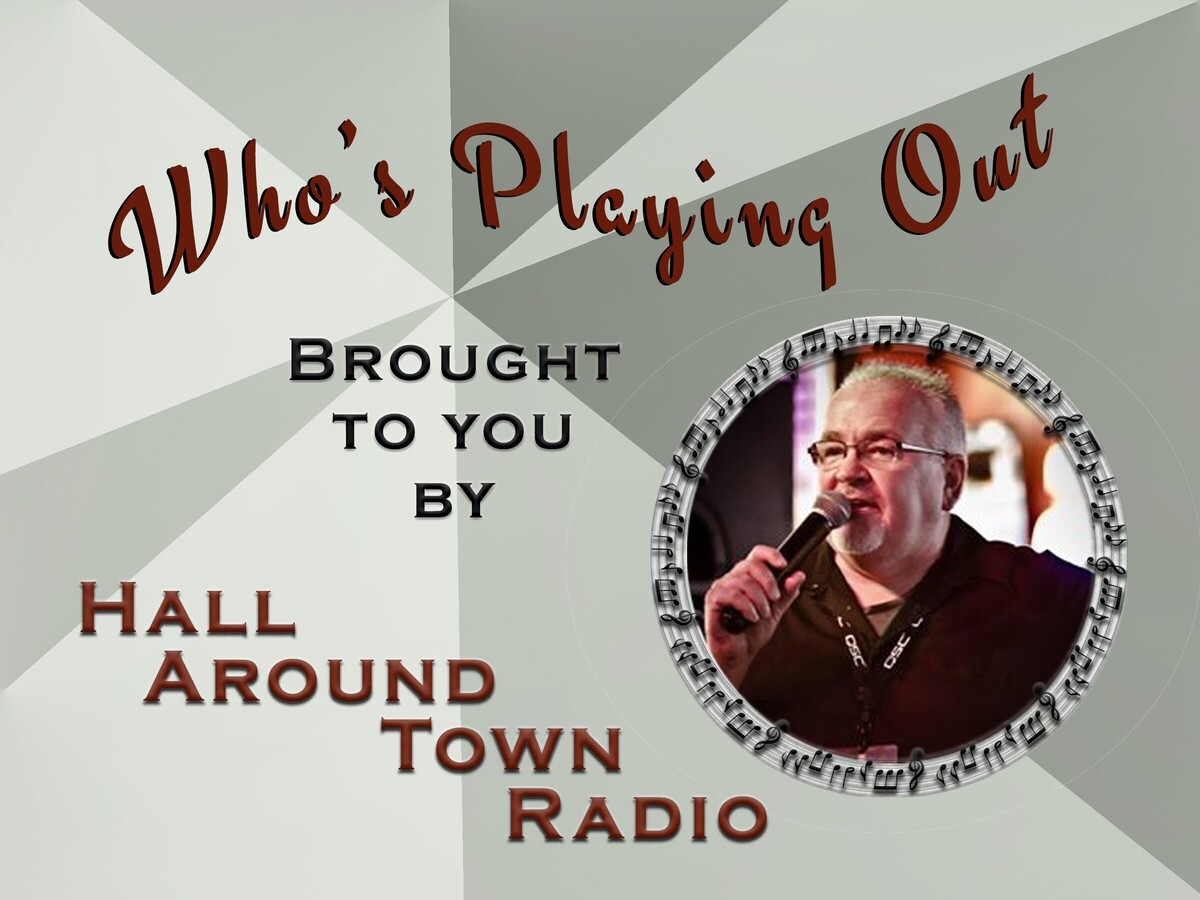 Brought to you by Scott Hall from "Hall Around Town Radio"
A little live music can turn an ordinary day into a memorable experience. The area's top musicians take center stage at some of the tri-states best restaurants and nightspots, bringing live music to our region nearly every night of the week. Make your first stop here weekly to find out "Who's Playing Out" at one of our live local music venues.
Bands and solos brought to you by our friends at Froggy's in Monroe, Ohio and Hall Around Town Radio (follow both on Facebook)
Froggy's in Monroe – Sponsor of our Thursday LIVE show on Facebook
Thursday – No Music this week
Friday – Social Chemists 8pm
Saturday at 8pm – Visitor
Sunday - Bengals Game at 1pm
Tuesday 7pm Frog-ingo, 7:30 Queen of Hearts – over $1500
Wednesday – Jeep Night from 6 to 10pm Patio with ATP
Check out the expanded patio! Live and Follow Froggys on Facebook
---
Heathers "On the Patio"
Thursday – Jake "Hambone"Davis w/TeeDee Young, Pete Davidson, and Greg Skinner 6:30
Friday –Barely Able at 7pm
Saturday – Smithville South 7pm
Tuesdays – Heathers Bingo 7pm
Wednesdays – Week 24 - Name That Tune Trivia with Scott 7pm - Resrvations Reccomended
---
Mr. Boro's Tavern
Thursday - Denny Cottle 5:30 to 8pm Footballl at 8:15pm
Friday – Velvet Crush Unplugged 8 to 11pm
Saturday –Two for the Road at 8pm
Sunday NFL Football on Surround
Tuesday – "Quiztastic" Q&A Trivia with Scott at 7pm
Wednesday – Queen of Hearts Drawing. 8pm 43K +
---
The Belle & The Bear (Montgomery) - Award Winning
Thursday "The Award Winning Jam" 7:30ish and the Faded Cow Food Truck
Friday – The Billy Rock Band at 8:30 pm
Saturday - Doghouse at 8:30 pm
Sunday – Women Who Rock – Charity Event 3pm
Monday - Game Night - 6pm
Tuesday – "Singo" 7 to 9pm
Wednesday –- Special Entertainment Night at 7:30pm
---
Soft Rock Café
Karaoke – Thursday- 7:30 pm - Friday 8:30pm - Saturday - 8:30 pm.
---
Crooked Handle Brewing Co. Springboro
Thursday – Zane Gerlach 6pm
Friday – Doug Hart 6pm
---
Crooked Handle Brewing Piqua
Saturday – Christopher Arellano Band 6:30 pm
---
Hamilton's Urban Backyard
Friday at 7pm Sonny Moorman Group
Saturday at 7pm Joe Augar Trio
Tuesday – Turntable Tuesday All Vinyl with host Hollewood
Wednesday – Team Tune Trivia 7pm
---
O'Connors Irish Pub Springfield
Thursday – Karaoke in the dining room at 9pm
Friday – Stellar Sire at 9pm
Saturday – Oh Yea Band 9pm
Monday – Trivia with Matt Allen 7pm
Tuesday – corn Hole Tourney 7pm and finding Melissa 8pm
Wednesday – Music Bingo 7pm and Karaoke at 10pm
---
Pohlman Lanes & Scott's Bar & Grill (Hamilton Ohio)
Family Entertainment Complex 954 Pyramid Hill Blvd., Hamilton Ohio
Friday - Jelly Smooch trio 7pm
Saturday – City Slickers 7pm
Monday - The After Hours Band at 7pm
Wednesday – The Standard Country Time Band at 1pm
---
Sorg Opera House
Friday – The Animaniacs In Concert 8pm
Future Show Tickets available at Cincyticket.com visit SORG page for more info
---
Little River Bar and Grill (Oregonia)
Thursday –– DJ Songz at 7pm
Friday – Hill Climb Weekend with live entertainment
Saturday – Hill Climb Weekend with live entertainment
Sunday - Hill Climb Weekend with live entertainment
Tuesday – Bar Bingo Queen of Hearts Drawing
---
The Blue Note Harrison
No Shows this weekend – Future Show Tickets available at Cincyticket.com
---
Milanos (Miami Township)
Wednesday – Live Music at 7pm
---
Miami Valley Gaming
Friday - Brass Tracks Band 9pm Center Bar
Saturday – Vinyl Countdown – 9pm Center Bar
---
Rex Patrick and the Country Legends Show in Germantown
Saturday – No submission this week …Reserve your table now 513-594-1282
---
Hidden Gem Music Club
Thursday – Mambo Combo 7pm,
Friday – 8pm YinYang Sunflower
Saturday – Junior and Guitar Mike 8pm
Sunday at 7pm – Organ Trio
Tueday - Open Mic Night 7:30PM
---
Lori's Roadhouse
Thursday –Football Line Dancing Thursdays
Friday – Shoot Em Straight at 8pm
Saturday – Kevin McCoy Band 5:30pm and Jesse Cain at 9pm
Sunday – Football
Tuesday – Line Dancing Lessons 7pm
Tickets at LRHLIVE.com
---
Moe Harrigan's Tavern
Thursday – Jeremiah Throwbridge 7:30
Friday – Pearl Street 8pm
Saturday – Reyna and Dana 8pm
Sunday – Open Mic with Acoustic Junior 7pm
Wednesday – Nick Mitchell 8pm
---
The Brick Tap and Tavern
Thursday – Scott Houchens 8:00pm
Friday – Music Bingo at 8:30pm
Saturday – 5 band 7pm
Wednesday – Doug Hart Solo 7:30pm
---
Ricks Tavern
Friday – Second Wind at 8pm
Saturday – Rox City at 8pm
---
KnottyPine
Thursday – Kenny Cowden at 7pm
Friday – Wayward Son cincy at 9pm
Saturday – Lunch Box at 9pm
---
Scotty Long / DJ Songz
Thursdays - Little River Oregonia, OH. Party 7pm!
Check out his Facebook pages at Scotty Long or DJ Songz for all shows!
---
Scott Hall
Tuesday at Mr Boros Tavern for Quiztastic Tuesday Trivia
Wednesday – Heathers Name That Tune – Week 24 7pm sharp RESERVATIONS Plz
---
Bands, Solos, Duos and Events
Women Who Rock Charity Event at The Belle & Bear
Sunday – doors at noon – music at 3pm … raffles – food – music and more
Shane deMoss
Friday 10/6 Country Club Of The North Xenia, Oh 6-9pm
Liars for Hire
Saturday at Dayton Beer Company Oktoberfest from 7p-11p.
Ben & Pete
Friday at Jayne's On Main in Miamisburg 7:30 to 10:30 pm
Spungewurthy
Friday at Katz Lounge 9pm
The Fast Forward Band
Saturday at Riverside Marina in Dayton KY from 8-12.
Burbon Road Band
Friday at the Pink Ribbon Girls event in Blue Ash 
Saturday Art Van Atta park – Dayton 3-6
David Thornton
Thurs, 10/5 - Jayne's On Main (Miamisburg) 7-10
Fri, 10/6 - Putters Sports Grill - Liberty Twp 7-10
Sat, 10/7 - The Casual Pint - Hamilton 7-10
Wed, 10/11 - Milano's Pizza, Subs & Taps (Miami Township) 7-10
Heath Bowling
Friday at Cadillac Jacks in Shelbyville, IN 9-1a
Saturday at Courtyard Lounge with Route 88 Englewood, OH 9-1a
Tuesday at Liberty Inn Liberty Twshp, OH 6-10p
Wednesday at O'Leary's in Centerville, OH 7-10p
Chris Lee
Saturday with Heather Lynn Acoustic Duo Mainstreet Social Milford OH. 9pm-12pm
Michelle Robinson Band
Friday at Element Eatery from 7-10
Saturday at Nee Albany Oktoberfest from 8-11
Tyler VanB Music
Saturday from 7 to 9pm at Bock Family Brewing
Short of Stable
Friday at Good Time Charlie's 8:30-12:00
Kevin Cooper
Thursday – hosting the Jam at The Belle & The Bear 7:30
Saturday at Par's Place in Fairfield with Eyes Up Here 8pm to midnight
Sunday at the Women Who Rock benefit 3pm
Vinyl Countdown
Friday – Debut at Wings Sprts bar 9:30 pm
Saturday at Miami Valley Gaming 9 to midnight
Gina anf Johnny
Friday – full band at Trillions 8pm
Johnny Fink and the Intrusion
Saturday at The Phone Booth Lounge 8pm
Mark Robinson an Mick Evans of Sweet Sister Mercy
Sunday, September 8th The Belle The Bear "Women who Rock" doors at noon
Brandy Evans of Strangelove
At Women Who Rock this Sunday Oct 8th Belle & Bear
Chris Reese and Byron Walton of DAT Band
Whiskey Town
Friday at Barrett's Pour House from 9 to 11
Crown Watts
Saturday at Kreimer's Beir House 7:00pm
Jake "Hambone"Davis w/TeeDee Young, Pete Davidson, and Greg Skinner
Thursday at Heather's Cafe Springboro 6:30-9:30
Nathan Jenkins and the band that killed Elvis
Friday Oct 6th at the Possum in Indiana from 9-1
Marsha Brady
Saturday - The Taste of New Richmond & Car Show. Downtown New Richmond Ohio. Free event. Cars, food, drinks, Marsha Brady plays & event is 12pm - 4pm.
Wednesday at Quaker Steak & Lube Milford - Bike Night Finale' of the year, Harley Davidson Giveaway - 6pm - 10pm
Finding Melissa Acoustic
Tuesday at O'Conners Springfield Tuesday from 8-11
Dv8
Saturday - October 7th BrewAsh in Summit Park 4335 Glendale Milford Rd 6 to 8 pm
Shawn Bell and Friends
Sunday from 11 am - 2PM at Little River Bar and Grill Orgonia OH for the Hill Climbs
Joe Cowels
Friday at Cappy's - Full Band 7:30pm-10:30pm
Saturday at the Avenue Sports And Spirits - Full Band 7pm-11pm
Monday at Joey's Roadhouse - Solo 6pm-9pm
Benny Bodine
Saturday at Hidden Valley Orchards from 1-4 Lebanon, OH
Rise II Reign
Thursday from 6-10 at the Liberty Inn - Liberty Twp, Ohio
Ashley Paige Band
Friday from 6:30-9:30pm at Hidden Valley Orchards in Lebanon, Ohio
Saturday from 6-9:45pm at the Carter New Benefit #2 Sharps Bar & Grill Sidney, Ohio
Standard Country Time Band
Friday at Hunter Pizzeria 6pm
Wednesday at Pohlman Lanes 1pm
Rockstar
Saturday at 1st and 10 - 9 pm
Barely Able
Middletown Metal Fest this Saturday Free show
7pm FREE SHOW: Form Of Aggression - Fighting The World - Kilmister Motörhead tribute
Liquor Store Dogs
Friday at Pirate's Cove from 7-11
Saturday at Fairfield Pub from 9 to1!
Pauly Torrence
Thursday solo at Tavern on the Bend from 7-11
Friday at Borderline in West Harrison from 10-2
If you would like your band or musical act featured on our weekly podcast or shared in the Warren County Post contact us @Hall Around Town Radio on Facebook! For additional Band information follow our daily Facebook "Live at Five" program @Hall Around Town Radio
More News from Springboro