WHo's Playing Out: Brought To You By Hall Around Town Radio OCTOBER 19, 2023
Image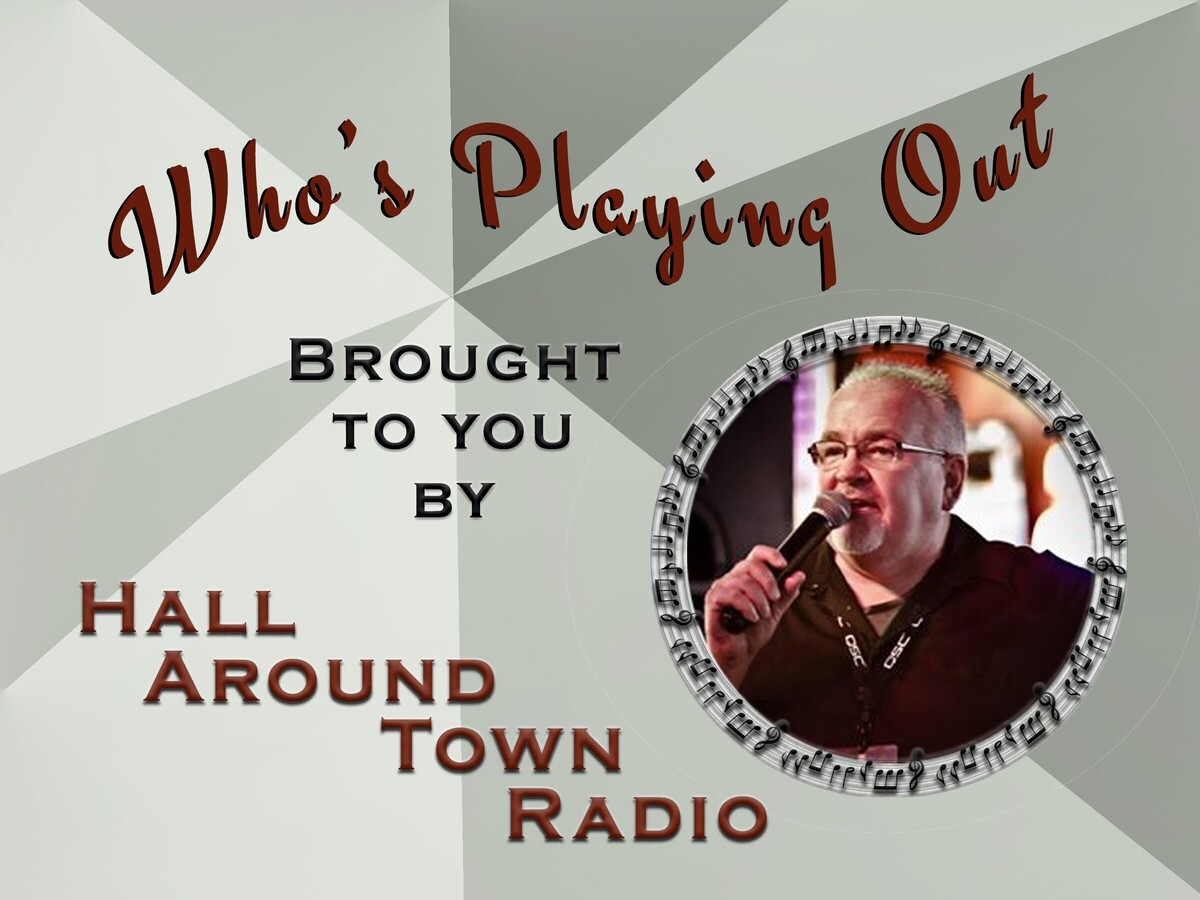 Brought to you by Scott Hall from "Hall Around Town Radio"
A little live music can turn an ordinary day into a memorable experience. The area's top musicians take center stage at some of the tri-states best restaurants and nightspots, bringing live music to our region nearly every night of the week. Make your first stop here weekly to find out "Who's Playing Out" at one of our live local music venues.
Bands and solos brought to you by our friends at Froggy's in Monroe, Ohio and Hall Around Town Radio (follow both on Facebook)
Froggy's in Monroe – Sponsor of our Thursday LIVE show on Facebook
Thursday – 4 Mile Creek 6 to 10pm TAPS (inside if weather is poor)
Friday – Crambone 8pm
Saturday at 8pm – Stone Mountain Mafia - Halloween Party
Sunday - Football and Drink Specials
Monday – Football with Jess
Tuesday 7pm Frog-ingo, 7:30 Queen of Hearts – over $1500
Wednesday – Jeep Night with Kevin Cooper
(Starting Nov 1st, Wednesday Karaoke returns with Kj Love 6 - 10p)
---
Heathers "On the Patio"
Thursday – Until Rust 6:30
Friday –5 Band at 7pm
Saturday – Stranger with Love Bomb 7pm
Tuesdays – Heathers Bingo 7pm
Wednesdays – Week 26 - Name That Tune Trivia with Scott 7pm - Resrvations Reccomended
---
Mr. Boro's Tavern – New Menu Items
Thursday - Ethan and Jada 5:30 to 8pm Footballl at 8:15pm
Friday – Last Call 8 to 11pm
Saturday – The Courtney Jo Band at 8pm
Sunday NFL Football on Surround
Tuesday – "Quiztastic" Q&A Trivia with Scott at 7pm
Wednesday – Queen of Hearts Drawing. 8pm 45K +
---
The Belle & The Bear (Montgomery) - Award Winning
Thursday "The Award Winning Jam" 7:30ish and the Faded Cow Food Truck
Friday – Johnny Fink and the Intrusion at 8:30 pm
Saturday - Second Wind at 8:30 pm
Monday - Game Night - 6pm
Tuesday – "Singo" 7 to 9pm
Wednesday –- Karaoke with Rae Rene' at 7:30pm
---
Soft Rock Café
Karaoke – Thursday- 7:30 pm - Friday 8:30pm - Saturday - 8:30 pm.
---
Crooked Handle Brewing Co. Springboro
Thursday – Brian Jump 6pm
Friday – Scott Houchens 6pm
---
Crooked Handle Brewing Piqua
Sunday – The Christopher Arellano Band 6:30 pm
---
Hamilton's Urban Backyard
Friday at 7pm - Kramer Fields
Saturday at 7pm - Tracy Walker
Tuesday – Turntable Tuesday All Vinyl with host Hollewood
Wednesday – Team Tune Trivia 7pm
---
O'Connors Irish Pub Springfield
Thursday – Karaoke in the dining room at 9pm
Friday – Matt Clarkson at 9pm
Saturday – Side Piece at 9:00pm
Monday – Trivia with Matt Allen 7pm
Tuesday – Cornhole Tourney at 7:30pm music with Heath Bowling at 8pm
Wednesday – O' Comedy Night at 7pm with Brian Swinehart and friends Wednesday - Karaoke at 10pm
---
Pohlman Lanes & Scott's Bar & Grill (Hamilton Ohio)
Family Entertainment Complex 954 Pyramid Hill Blvd., Hamilton Ohio
Friday - 90 Proof Twang 7pm
Saturday – Cincinnati Rhythm Kings 7pm
Monday - The After Hours Band at 7pm
Wednesday – The Standard Country Time Band at 1pm
Halloween Show with Don't Tell Steve on the 28th Theme is "Freak Show"
---
Sorg Opera House
No Music Shows This Weekend
Future Show Tickets available at Cincyticket.com visit SORG page for more info
---
Little River Bar and Grill (Oregonia)
Thursday –– DJ Songz at 7pm
Friday – Justin Elam at 7pm
Saturday – Westin Papp at 7pm
Tuesday – Bar Bingo Queen of Hearts Drawing
---
The Blue Note Harrison
Friday - Black Sabbath tribute "Sabbath" with Judas Priest tribute "Rapid Fire"! 6pm
Saturday – 11th Annual Wicked Night Out Charity Ball from 7-11pm
Purchase tickets here: https://cincywicked2023.eventbrite.com
THIS YEAR'S CHARITY  BENEFICIARY IS PINK RIBBON GOOD (formerly Pink Ribbon Girls).
Sunday - 1pm - 6pm Celebrating the Life of Lauralee McCroby! Lauralee is Scotty McCroby's (the bass player from Prizoner who also passed away from cancer way too soon) sister. She lost her battle with cancer on September 17th. We have Krimson Road to start us off, DV8 (which always rocks the house), Brain Bucket (for those who were not on the scene a few years ago...you will be blown away with their classic metal rock) and last but not least the last appearance ever of Prizoner Resurrected who has been rocking this town for over 40 years!
Future Show Tickets available at Cincyticket.com
---
Milanos (Miami Township)
Wednesday – Live Music at 7pm
---
Miami Valley Gaming
Friday - Jay Jessee Johnson 9pm Center Bar
Saturday – Danny Frazier – 9pm Center Bar
---
Rex Patrick and the Country Legends Show in Germantown
Saturday – The B – Caged Band 7 to 10pm - Doors open at 5:30
Reserve your table now 513-594-1282
---
Hidden Gem Music Club
Thursday – Patricia Berg Trio at 7pm
Friday – 8pm The Golden Guy and his Bucking Bloviators CD Release Event!
Saturday – SaxTone Arrington and sayceeofdreams Sweetest Day Show 8pm
Sunday at 6:30pm – 7pm The Dirty Janes, with Visitor_official, and The Social Q
Tueday - Open Mic Night 7:30PM
---
Lori's Roadhouse
Thursday –Football and Line Dancing
Friday – Chris Linton at 5:30 and Straight from Nashville Chris Schrader at 9pm
Saturday – Michelle Robinson at 5:30pm and Jake Taylor at 9pm
Sunday – Football
Tuesday – Line Dancing Lessons 7pm
Wednesday – Karaoke 9pm
Tickets at LRHLIVE.com
---
Moe Harrigan's Tavern
Thursday – John Arnold 7:30
Friday – Heather Roush and the Heartstrings (Halloween Party) 8pm
Saturday – Eric Henry Blues 8pm
Sunday – All Star Jam with Acoustic Junior 7pm
Wednesday – Nick Mitchell 8pm
---
The Brick Tap and Tavern
Thursday – Scott Houchens 8:00pm
Friday – Joe Cowles Band at 8:30pm
Saturday – The Locals at 8:0pm
---
Ricks Tavern
Friday – Flipside at 8pm
Saturday – Vinyl Countdown 8pm
---
KnottyPine
Thursday – Randy Peak at 7pm
Friday – Kenny Cowden from 7 to 11
Saturday – The Whammies at 9pm
---
Scotty Long / DJ Songz
Thursdays - Little River Oregonia, OH. Party 7pm!
Friday - from 9-1am Big Buls Roadhouse Karaoke Live - sing on grand stage w/ full stage production! Hamilton, OH / Ross area
Check out his Facebook pages at Scotty Long or DJ Songz for all shows!
---
Scott Hall
Tuesday at Mr Boros Tavern for Quiztastic Tuesday Trivia
Wednesday – Heathers Name That Tune – Week 26 7pm RESERVATIONS Please
Bands, Solos, Duos and Events
The Casual Pint in Hamilton - Special Event
Saturday - DJ Christian D. joining us on the 1's and 2's for the Hamilton BAWM Pink Party!! Every pour of Michelob Ultra will be a $1 donation to The American Cancer Society. Additionally we will have plastic mugs available for a $5 donation and every pour of Ultra in that mug will receive $1 off until the end of the month. Come groove with us and support a fantastic cause over a few drinks with friends and family
Frayed Covers
Friday at Doonies in Felicity 8pm
Saturday at Jane's Saddlebag in Union KY. 5 to 8 pm
Side Piece
Saturday at O'Connors Irish Pub 9pm
DeJavu
Saturday at the Silverton Cafe 8 till 12pm
Courtney Jo Band
Saturday at Mr Boros Tavern 8pm
Until Rust
Thursday at Heather's – Cancelled Springboro, Oh 6:30-9:30pm
Friday at Tommie's Place in West Chester, Oh from 7-10pm
Saturday at Hidden Valley Orchards in Lebanon, Oh from 6-9pm
Wednesday at Oleary's Pub & Grub in Centerville, Oh 7-10pm
LoveBomb and Stranger
Saturday at Heather's in Springboro, OH from 7-11
Benny Bodine
Wednesday at Elsa's Boro Cantina from 7-10pm. Springboro, OH
Steve Kracus
DV8 at the Bluenote Sunday for the Lauralee McCroby Benefit from 1-6pm. Show starts at 1:00 with Krimson Rd. then DV8 followed by Brain Bucket and then the Prizoner Resurrected closes the show.
The GAMUT
Friday CANCELLED at Kreimers River Bar from 7pm-11pm
Saturday at Little Miami Brewing Company at 7:30pm
Johnny Fink
Friday - Johnny Fink and the Intrusion at the Belle and the Bear 8:30pm
Joe Cowels
Friday at the Brick Tap And Tavern - Full Band 8:30pm To Midnight
Saturday at the Hamilton Bar And Grill - Full Band, 8pm To Midnight
Marsha Brady
Friday at Club Trio - Colerain, Ohio - 9pm - 1am
Saturday at the Moose Lodge - Beavercreek, Ohio - 7:30pm - 11:30pm
Kevin Cooper
Thursday from 730-1130pm: Belle & Bear Jam (Rick Kern filling in for Jamie Combs in house band)
Friday from 9pm-1am The Hanky Panks debut at Jocko's Pub (Delhi Twp)
Saturday from 8pm-12am: The Hanky Panks at Trillions (Halloween bash)
Sunday from 12-1pm: The Hanky Panks at Weber Pumpkin Festival (Harrison, OH)
Wednesday from 6-10pm: Kevin Cooper solo at Froggy's
RED HOT RIOT
Sunday at Jim & Jack's- 7:00 PM.
Whiskey Town
Friday at 1st and 10 in Florence from 9 to 1
Saturday at GTO's Erlanger 9 to 1
DV8 – Celebration of life of Lauralee McCroby
Sunday Oct 22 at the Blue Note Harrison Ohio featuring Krimson Rd, Dv8,Brain Bucket and Prizoner Resurected. Event from 1 pm til 6
Rick Kern
Thursday - Belle Jam House Band (guest) Belle & Bear from 7:30 - 11:30
Friday - Rapid Fire (Judas Priest tribute) with Sabbath (Black Sabbath tribute) Blue Note Harrison from 7:00 - 11:30
Vinyl Countdown
Saturday at Rick's Tavern & Grille from 8-12
The Whammies:
Friday - Knotty Pine from 9-1
Saturday - 50th Birthday Party for Karin Loftus
Audio Graffiti
Friday from 8 to midnight at Trillions Sports Bar
Saturday from10:30-1:30 at Shiners on the Levee (All Country Show)
Lätter
Friday at The Endzone Lounge in Covington Ohio 8:30pm
Liars for Hire
Friday at Wings Vandalia from 9p -1a.
Matthew Allen
Thursday from 6:30-9:30pm at Urbana Brewing Company
Friday from 7-10pmat White Dog Distilling Co.
Heath Bowling
Thursday at the Liberty Inn 630-1030 Liberty Township, OH
Friday at the Hitching Post from 8-11p in Darrtown, OH
Saturday - Beauty and The Beast Private Party in Beavercreek, OH
Sunday - Wedding Party Centerville, OH
Spungewurthy
Saturday at 9pm - Kingspoint Pub in Kettering
Joe Lipinski
Friday - jersey joe at The Blind Lemon, Mt. Adams, Cincy 8:30PM - 1:00 AM.
Short of Stable
Friday - Mike & Tiff at O'Learys from 8-11
David Thornton
Friday - Middletown Elks Lodge #257 7:00-10
Saturday - The Common Beer Company (Mason) 8-11
Michelle Robinson
Friday at Hard Rock Cincinnati from 11:00-2:00am
Saturday at Webers Pumpkin Festival 1-2
Saturday at Lori's Roadhouse from 5:30-8:30
Ashley Paige Band
Friday at Jerzee's in Newport, 8pm
Gina Cullen
Saturday from 7-10pm at the Rip Rap Roadhouse .
Standard Country Time Band
Wednesday at Pohlman Lanes 1pm
Boo in the Burg
Thursday at 6pm – multiple bands including Southen Summer at Good Time Charleis, Nothing But Treble at Jaynes on Main
1330
Saturday at Club Trio 8pm
Counting Skeletons
Friday at The Phone Booth Lounge in Kettering 8pm
Black Water Voodoo
Saturday at The Phone Booth Lounge in Kettering 8pm
The Menus
Friday at Turfway Racing and Gaming 8:30pm
That One Party Band
Friday – Acoustic at Anderson Tap House TBA
Saturday – Full Band at Jcoko's In Delhi 9 to 1
Donna Kennedy Band
Friday at Big A BBQ anniversary party 8pm
If you would like your band or musical act featured on our weekly podcast or shared in the Warren County Post contact us @Hall Around Town Radio on Facebook! For additional Band information follow our daily Facebook "Live at Five" program @Hall Around Town Radio
More News from Springboro