Who's Playing Out: Brought To You By Hall Around Town Radio November 16
Image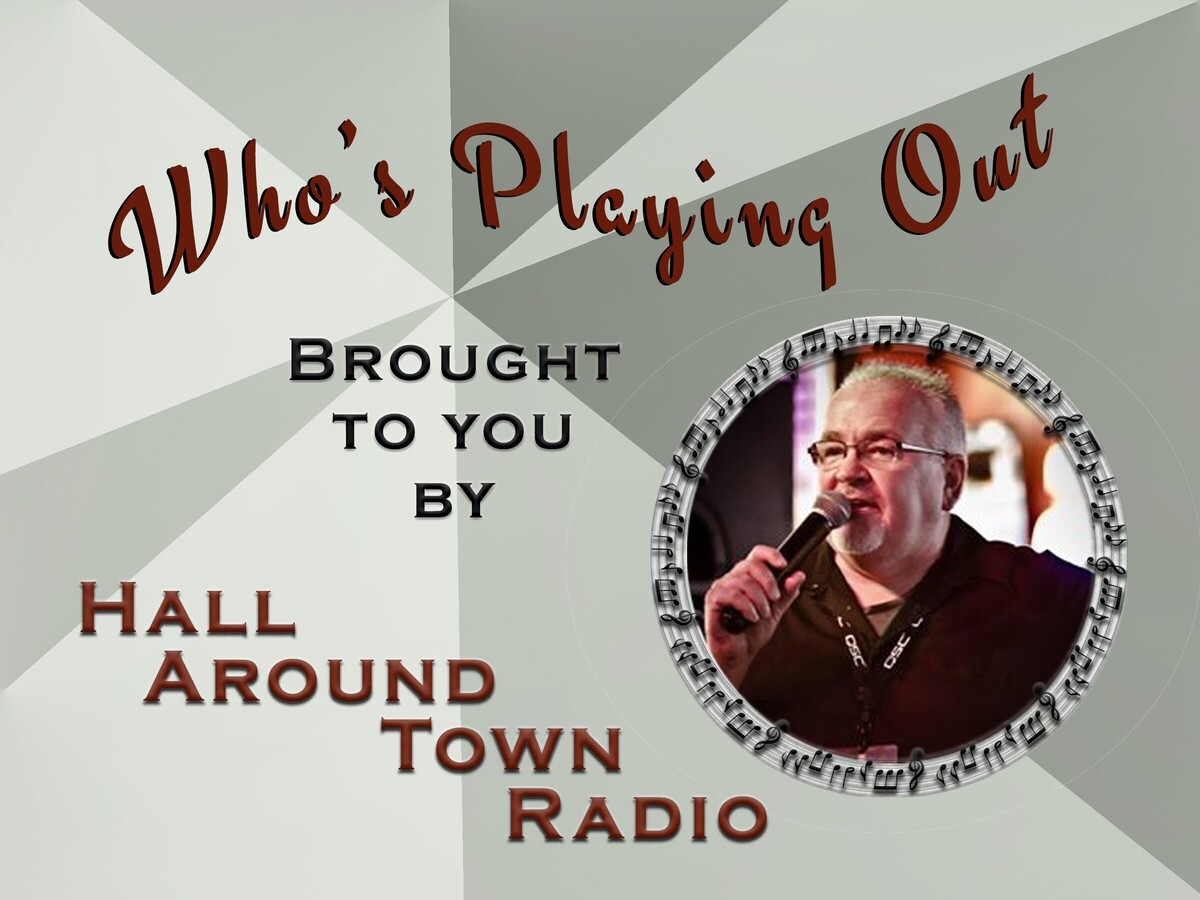 Brought to you by Scott Hall from "Hall Around Town Radio"
A little live music can turn an ordinary day into a memorable experience. The area's top musicians take center stage at some of the tri-states best restaurants and nightspots, bringing live music to our region nearly every night of the week. Make your first stop here weekly to find out "Who's Playing Out" at one of our live local music venues.
Bands and solos brought to you by our friends at Froggy's in Monroe, Ohio and Hall Around Town Radio (follow both on Facebook)
---
Froggy's in Monroe – Sponsor of our Thursday LIVE show on Facebook
Friday – Quiet Storm 8pm
Saturday – Montage 8pm
Sunday and Monday – Football
Tuesday 7pm Frog-ingo, 7:30 Queen of Hearts – over $2500
Wednesday – Jeep Night and Karaoke with Kj Love 6 - 10p
---
Heathers "On the Patio"
Tuesdays – Heathers Bingo 7pm
Friday the Gamut and Christmas in Springboro – 7pm
Saturday – Vynil Countdown and Christmas in Springboro – 7pm
---
Mr. Boro's Tavern – New Menu Items
Thursday - Jake Hambone Davis from 5:30 to 8pm Footballl at 8:15pm
Friday – Spungewurthy 8 to 11pm
Saturday – Dave'd and Confused at 8pm
Sunday NFL Football on Surround
Tuesday – "Quiztastic" Trivia with Scott at 7pm - All New Format
Wednesday – Queen of Hearts Drawing. 8pm $1k
---
The Belle & The Bear (Montgomery) - Award Winning
Thursday "The Award Winning Jam" 7:30ish and the Faded Cow Food Truck
Friday – Sweet Sister Mercy at 8:30 pm
Saturday - Under the Sun at 8:30 pm
Monday - Game Night - 6pm
Tuesday – "Singo" 7 to 9pm
Wednesday –- Thanksgiving Eve with Top This Band 8:30pm
---
Soft Rock Café
Karaoke – Thursday- 7:30 pm - Friday 8:30pm - Saturday - 8:30 pm.
---
Crooked Handle Brewing Co. Springboro
Friday – Nicholas Clay 6pm
---
Crooked Handle Brewing Piqua
---
Milanos (Miami Township)
Wednesday – Live Music each week at 7pm with David Thornton next week
---
Hamilton's Urban Backyard
Friday at 7pm – Heather Linville – Music on Main Event
Saturday at 7pm – Mark Goodwin
Tuesday – NO Turntable Tuesday - All Vinyl with host Hollewood
Wednesday – Team Tune Trivia 7pm
---
O'Connors Irish Pub Springfield
Thursday – Karaoke in the dining room at 9pm
Friday – Drag Show at 8pm
Saturday – Privat Show in the Party Room
Monday – Trivia with Matt Allen 7pm
Tuesday – Corn Hole Tourney at 7pm Matt Allen at 8pm
Wednesday – Pre Thanksgiving Party with the Weekend Effect at 9pm
Thursday - open to first responders only working on the holiday also delivering food to the 911 center and Jail workers
---
Pohlman Lanes & Scott's Bar & Grill (Hamilton Ohio)
Family Entertainment Complex 954 Pyramid Hill Blvd., Hamilton Ohio
Friday - Stone Mountain Mafia 7pm
Saturday – H&R Rock 7pm
Monday - The After Hours Band at 7pm
Wednesday - Nate Jenkins Band at 7pm
---
Sorg Opera House
Friday – A Mowtown Christmas at 8pm
Saturday – Captain Fantastic Detroit … The music of Elton John 8pm
Show Tickets available at Cincyticket.com visit SORG page for more info
---
Little River Bar and Grill (Oregonia)
Thursday –– DJ Songz at 7pm
Friday – Missing Pieces at 7pm
Saturday – Brad Hatfield at 7pm
Tuesday – Bar Bingo Queen of Hearts Drawing
Wednesday – Right Turn Clyde at 7pm
---
The Blue Note Harrison
Friday – Motley Crue tribute "Wreking Crue" with Judas Priest tribute "Rapid Fire".6pm
Saturday – Dreamboat Annie a tribute to Heart at 6pm
Tuesday - Jackyl is returning to the Blue Note Opening the show it's Cincinnati's own Flatline. In the pub it's The New Machine, Kick N Steel & Burdens Within.
Show Tickets available at Cincyticket.com
---
Miami Valley Gaming
Friday - the Weekend Effect 9pm Center Bar
Saturday – Varner Netherton Revival – 9pm Center Bar
Wednesday – The Menus 9pm Center Bar
---
Rex Patrick and the Country Legends Show in Germantown
The Standard Country Time Band 7 to 10pm - Doors open at 5:30 …
Reserve your table now 513-594-1282
---
Hidden Gem Music Club
Thursday at 7pm Rockstead
Friday at 8pm Elvis Tribute with Ryan Roth & The Comeback Special
Saturday –8pm The Menus
Sunday at 7pm – Dayton Jazz Orchestra
Tueday - Open Mic Night 7:30PM
---
Lori's Roadhouse
Thursday –Football and Line Dancing
Friday – Drake Milligan with support from Alex Hall – opener Dave CampbellIIat 8pm
Saturday – Blake Tyler at 9pm opening act 4 Low at 5:30pm
Sunday – Football
Tuesday – Line Dancing Lessons 7pm
Wednesday – Karaoke 9pm
Tickets at LRHLIVE.com
---
Moe Harrigan's Tavern
Thurday - Doug Hart 8pm
Friday – Reyna and Dana 8pm
Saturday – Truck Monkey 8pm
Sunday – Open Mic with Acoustic Junior 7pm
Wednesday – Nick Mitchell 8pm
---
The Brick Tap and Tavern
Thursday – Scott Houchens 8:00pm
Friday – Trapper Keepers at 8:30pm
Saturday – Solistic at 8:0pm
Wednesday – Doug Hart 7:30pm
---
Ricks Tavern
Friday – Acoustic Blue 5 to 7pm and Michelle Robinson at 8pm
Saturday – 3 Day Rule at 8pm
Wednesday – Rockstar With Social Chemists 8pm
---
KnottyPine
Thursday – Football at 7pm
Friday – Pandora Effect at 9pm
Saturday – Crown Watts at 9pm
---
Scotty Long / DJ Songz
Thursdays - Little River Oregonia, OH. Who Dey Karaoke Party 7pm!
Friday - Township Tavern karaoke Dance Party 8pm-1am.
Wednesday – Karoke Dance Party at Township Tavern Friendsgiving 6pm till 2am
---
Scott Hall
Tuesday at Mr Boros Tavern for Quiztastic Tuesday Trivia
Weekly on Hall Around Town Radio for all your music news and needs
---
Bands, Solos, Duos and Events
1330
Saturday at Audrey's Frogtown Tavern in Cleves, debuting another original tune. 8-12
Lätter
Saturday their last show of the year till Feb 2024 in Piqua Ohio at Referees downtown. 8-12am
Abe's Lincoln
Saturday at the grand opening for Third Eye Brewing's Hamilton location 7pm
Rick Kern
Friday - Rapid Fire - Judas Priest tribute at Blue Note Harrison with Wrecking Crue - Motley Crue tribute 8:00-12:00
Crown Watts
Saturday with guest Rick Kern at Knotty Pine from 9:00-1:00
finding Melissa acoustic
Friday at 9pm Courtyard Lounge Englewood;
Saturday at Southern Ohio Brewery;
Sunday at 5pm Xenia Moose.
Joe Cowels
Friday at Cappy's in Loveland, full band, 7:30pm to 10:30pm
Saturday at Township Tavern in Hamilton ohio, full band, 8pm to midnight
Vinyl Countdown
Saturday at Heather's Cafe - 14th Anniversary Weekend and "Christmas in Historic Springboro" 7-11 PM
Crown Watts w/special guest Rick Kern
Saturday at the The KnottyPine 9:00pm
RED HOT RIOT
Wednesday at Gano Tavern-Thanksgiving Eve- -7:00-11:00
Sweet Sister Mercy
Friday - The Belle and The Bear 8:45pm-12:45am
The Whammies
Friday - Trio's - 8-12
Saturday - Andersons Tap House - 8-12
Dat Band
Friday at Turfway Park - 8:30-11:30pm
Saturday - Light Up The Levee Newport On The Levee (Christmas Tree Lighting) 5:00-7:00pm when Santa arrives!!!!
Wednesday - For His Majesty (The Music of Prince)16 Lots Southern Outpost (Newport On The Levee) 8:30pm
Whiskey Town
Friday at Peecox from 9 to 1
Saturday at Fairfield Pub from 9 to 1
Kevin Cooper
Thursday 730-1130pm: B&B Jam
Saturday 8pm-12am: Kevin Cooper solo at The Hangar Bar & Grill (West Chester)
Wednesday 6-9pm: Eyes Up Here at Par's Place (Thanksgiving Eve)
CFG & the Family
Wednesday at Basil 1791 downtown Hamilton for the Thanksgiving bash, 7pm
Rockstar
Wednesday at Rick's tavern with Social Chemist band. 8pm - Thanksgiving eve. Call for reservations
Marsha Brady
Friday November 17th - Jimmy B's, Eastside of Cincy - 9pm - 1am
Saturday November 18th - L'Burg Drinks & More, Lawrenceburg, Indy - 8pm - 12am
Weds November 22nd, Thanksgiving Eve - Jimmy B's - Eastside of Cincy - 9pm - 1am
THE GAMUT—
Friday - Heathers Cafe 7pm at Christmas in Springboro & Anniversary
Saturday at the Monkey Bar at 7pm
Johnny Fink
Friday - Johnny Fink and the intrusion at Trillions 8p
Saturday - Gina and Johnny full band at Mansion hill 8p
DRIVE
Saturday at Good time Charlie's Miamisburg 8:30pm
Dreamboat Annie
Saturday at the Blue Note in Harrison Ohio 8pm show time. Doors open at 6
Acoustic Blue
Friday - Rick's Tavern, Fairfield, Ohio - 5:30pm; followed by the Michelle Robinson Band.
Night Reign
Friday at the Miamisburg Moose Lodge 1645 at 8PM. Members and qualified guest only.
ReDD acoustic
Friday at the Grub Pub – from 8:30pm-12:30am
Cryin Out LOUD
Saturday - Beavercreek Moose from 8-12
Rae Renee
Thursday the 16th: Fairfield pub (acoustic) That One Party Band 5-8pm (early start bengals game)
Friday the 17th: Kroger anderson town center (acoustic) That One Party Band 4-7pm
Saturday the 18th: @ Nicc and Norm's tavern, Hamilton OH 9-1
That One Party Band\
Tuesday the 21st: Karaoke with Rae Renee at Voodoo Brewpub downtown Cincinnati
Wednesday the 22nd: lebo's bar and grill, California OH 4-7pm (acoustic) That One Party Band
White Knuckle Weekend
Friday at The Barrel in Springboro from 8-12
Don't Tell Steve
Saturday at Jimmy B's from 9-1
Matthew Allen
Friday from 7-10 pm at White Dog Distilling Co. Middletown,
Frayed Covers
Future dates at DeSha's Friday Loveland 11/24 6:00-9:00, and Janes Saddlebag Stable Club Tavern Saturday 11/25 Union Kentucky 6:00-9:00
The Weekend Effect
Friday at Miami Valley Gaming 9pm-12
Spungewurthy
Friday at Mr Boros Tavern from 8 to 11
David Thornton
Thursday at Jayne's On Main (Miamisburg) 7-10
Friday at the Middletown ELKS LODGE #257 7-10 (open to public)
Saturday at The Common Beer Company (Mason) 7:30-10:30
Wednesday at Milano's Pizza, Subs and Taps (Miami Township) 7-10
Heath Bowling
Thursday - Liberty Inn 6-10p Liberty Twshp, OH
Friday - Good Time Charlies 830-1230a Miamisburg, OH
Saturday - Bushrod Brew Works 7-10p. Eaton, OH
Tuesday - Submarine House W/ Benny Bodine 7-10p Centerville, OH
Wednesday - Elsa's Springboro Cantina 7-10p Springboro, OH
Side piece
Saturday at Wings in Vandalia 9:30pm
Wednesday Acoustic Show at O'Learys (pre-thanksgiving) 8pm
Joe Lipinski
Sunday jersey joe at Moeller Brew Barn downtown Dayton 3-6 PM.
Chris Lee Acoustic
Friday Acoustic duo w/ Michelle Deal Coba Bar & Grill Taylor Mill KY. 7pm-10pm
Saturday Chris Lee Acoustic Norwood Moose Lodge #301 Norwood OH. 7pm-11pm
Sunday, Nov. 19 Chris Lee Acoustic Caesar Creek Flea Market Wilmington OH. 11:30am-2:30pm
Michelle Robinson
Friday at Ricks Tavern 8-12
Saturday at Community Lanes 7-11
Tyler VanB Music
Saturday at Mother Stewart's 6 to 9pm
Truk
Saturday at Crooked Handle Piqua 6-9
Chad Applegate solo
Saturday solo at Valleyview Lounge in Williamsburg OH 8 to 11
Every Tues at Everybodys Pub in Goshen Oh 7 to 10
Every Wednsday at Hanks Pub in Mt Carmel OH from 7 to 10
Benny Bodine
Friday Moeller Brew Barn 7-10 Dayton, OH
Tuesday Submarine House (with Heath Bowling) 7-10 Centerville, OH
Linus Tate
Friday Middletown Moose 501 Middletown, OH 8PM
Saturday Smoke Justis. Covington, KY 7:30PM
Velvet Crush
Friday at the Phone booth lounge Kettering oh 8-12
Wednesday at theDublin pub m Dayton oh 8-12
Billy Brown
Saturday Nov 18 at 9pm - Big Buls Roadhouse in Hamilton OH
If you would like your band or musical act featured on our weekly podcast or shared in the Warren County Post contact us @Hall Around Town Radio on Facebook! For additional Band information follow our daily Facebook "Live at Five" program @Hall Around Town Radio
More News from Springboro