Who's Playing Out Brought To You By Hall Around Town Radio
Image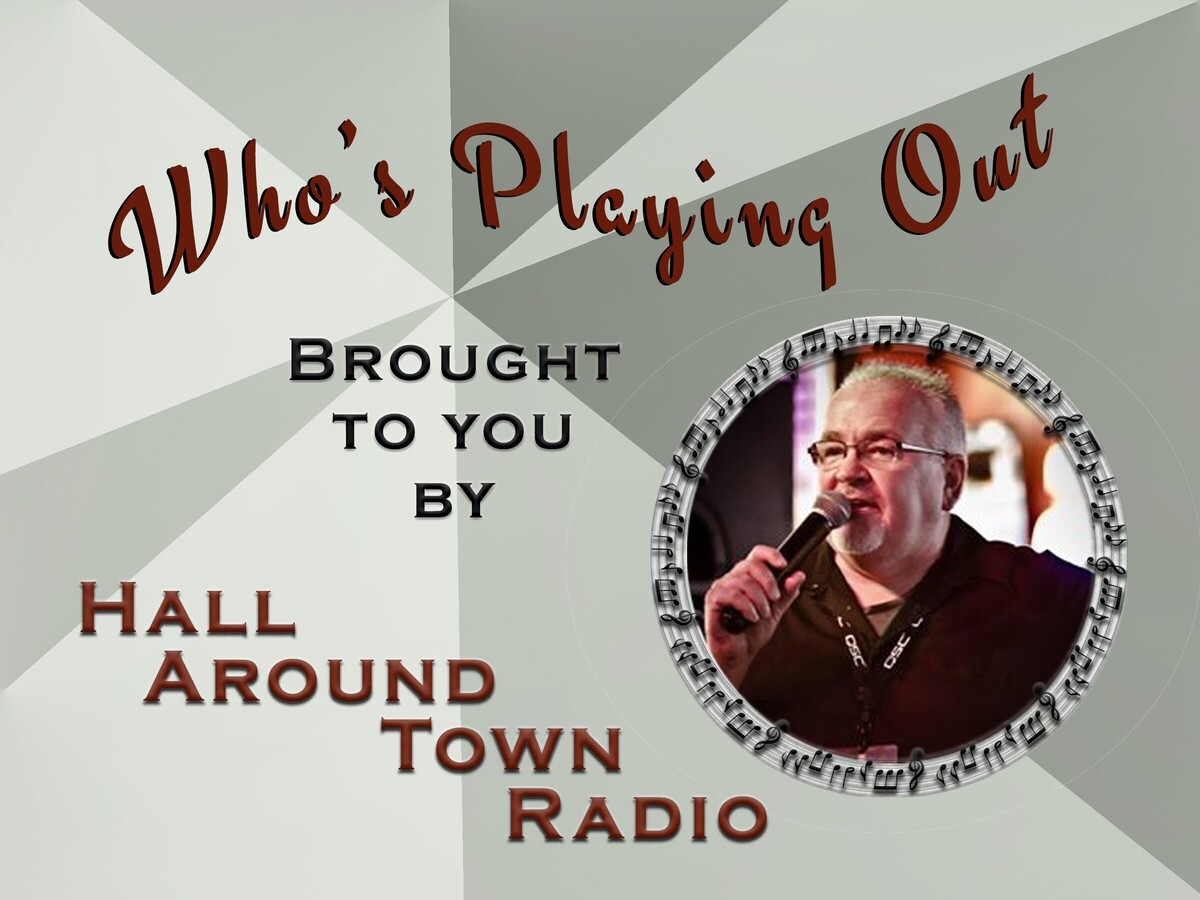 Brought to you by Scott Hall from "Hall Around Town Radio"
A little live music can turn an ordinary day into a memorable experience. The area's top musicians take center stage at some of the tri-states best restaurants and nightspots, bringing live music to our region nearly every night of the week. Make your first stop here weekly to find out "Who's Playing Out" at one of our live local music venues.
Bands and solos brought to you by our friends at Froggy's in Monroe, Ohio and Hall Around Town Radio (follow us on Facebook)
Froggy's in Monroe – Sponsor of our Thursday LIVE show on Facebook Now open at 11am daily.
Friday - 4-7 Curt Cranmer acoustic
Friday Night – TBA
Saturday 9-1 with Drive
Tuesday - 7:30 What's that Tune Bingo with DJ Angela
Wednesday - 8pm Karaoke with Dj Songz
Online seating reservations / tickets at www.gotofroggys.com
---
Mr. Boro's Tavern Springboro
Thursday – Shannon Schmidt and Carey Hunley 7pm
Friday – Pearl Street 8 to 11pm
Saturday – Lyssa Coulter 8 to 11pm
Sunday – Funday with Two for the Road 2pm
Tuesday – Trivia with Scott at 7pm
Wednesday – Name That Tune Trivia with Scott and Queen of Hearts Drawing
---
The Belle & The Bear (Montgomery)
Thursday Jam featuring the Cincy area's best musicians- LIVE at 5 –A host of local music celebrities at 7:30 pm
Friday – Road Trip 8:30 pm
Saturday – Vinyl Countdown 8:30 PM
Monday Game Night - 6pm
Tuesday – Jamie Combs 7pm
---
Lebanon Grand Opry House
Saturday – Stage and Dinner Show with Joshua Richardson, Jessie Lyn and the Opry House Band and Preston Daily doors at 6pm. Reservations by calling 513-850-1770
---
Sorg Opera House
No Music Shows this weekend
Tickets at Cincyticket.com
---
Soft Rock Café
Karaoke – Thursday 7pm - Friday 8pm - Saturday 8:30 pm.
Crooked Handle Brewing Co.
Thursday – David Mullikin 7pm
Friday – Ricky Veeneman at 6pm
---
Little River Bar and Grill (Oregonia)
Thursday – Karaoke with DJ Songz 7pm
Friday – Mike Soloman Acoustic 7pm
Saturday – Sean Poole and Buckin Crazy 7pm
Sunday – Autism Rocks 13 Watch Party and Music Event with Courtney Jo Hard, Blake Tyler, Amy Newhart, Rayne Johnson and The Kevin McCoy Band – Noon till 9pm
---
The Blue Note Harrison
Friday – Bon Jovi Tribute "Jovi" with Sweet Sister Mercy 6pm
Saturday –Black Sabbath Tribute "Sabbath" with Sammy Hagar Tribute "One Way to Rock Doors at 6PM
Tickets available at …. CincyTicket.com
---
Pohlman Lanes & Scott's Bar & Grill (Hamilton Ohio)
Family Entertainment Complex 954 Pyramid Hill Blvd., Hamilton Ohio
Friday 02/18 Doug Dillman 7pm to 11pm
Saturday 02-19 Mike Davis 8pm show time
Monday Big Band Swing 7pm to 9pm
Wednesday Standard Country Time Band 1pm to 3pm
---
Hidden Gem Music Club
Thursday – Blues Jam 7:30 pm
Friday – Otis Money Band 8pm
Saturday Locking Up Otis – 7pm
Sunday – Dayton Jazz Orchestra
Wednesday – Open Mic Night
---
Lori's Roadhouse
Thursday – Heather Roush Band 6pm
Friday – East of Austin 6:00pm
Friday – 90 Proof Twang 9 pm
Saturday – The Roasters 6pm
Saturday – Mouch and Friend 9pm
Sunday – Autism Rocks 13 – 11am with Melodic Connections, Déjà vu, Blue Spectrum Band, Audio Graffiti, Sweet Sister Mercy, Marsha Brady and The 4 Aces www.kenanersonalliance.org for more information and donation links
---
Miami Valley Gaming
Friday- Danny Frazier Band – 9pm Center Bar
Saturday – The Company – 9pm Center Bar
Scott Hall – Hall Around Town Radio
Tuesday Trivia at Mr. Boros Tavern 7pm
Wednesday – Name That Tune "80's – 90"s and 2000's" Trivia at 7pm
Live Monday to Thursday On Hall Around Town Radio
---
---
Scotty Long / DJ Songz
Tonight - Little River B&G 7-11pm
Friday- Legends B&G of Hamilton 9pm-1am
Sunday – Autism Rock 13 Party at Little River Bar and Grill 12 to 9pm
Tuesday- The Barrel 7pm-11pm
Wednesday - Froggys 8pm-12am
---
Bands, Solos and Duos
Liars for Hire
Friday 7p - 11p
The Weekend Effect
Friday 18th O'Conners In Springfield 9pm -1am
Saturdy 19th Wings Vandalia 9:45pm -1:45am
Wesley Green Music
Thursday 8-12 Open Mic Mutt's Brewery and Lounge 
Tuesday Open Mic Heroes Pizza 6:30-9:30
Saturday 9eight Central Springboro Eagles 7:30-11:30
Ben & Pete
Friday Lucky Star Brewery in Miamisburg 2/18 8 to 11 PM
Blind Faith Duo
Fri February 18, 8-11pm The Game in Anderson
David Thornton
Thurs, 2/17 Jayne's On Main 7-10
Fri, 2/18 Grainworks Brewing Company 7-10
Sat, 2/19 The Common Beer Company 7:30-10:30
Kevin McCoy Band
Thursday: The Lounge 8-11
Friday: The Listening Room 8-10pm central
Saturday: The Listening Room 8-10pm Central
Sunday: Lil River Cafe Autism Rocks 7:30-9pm
Johnny Fink
Saturday Johnny Fink and the Intrusion Smoke Justis in covington 7-11pm
Sunday Autism Rocks 13 with the 4 Aces
Brandy and The Beard
Saturday at Rotolo Lanes in Newport on the Levee- 8pm-12am
Joe Cowels
Saturday - Joe C Solo Show at The Kro-Bar in Beckett Ridge 5pm - 9pm
Drive
Saturday at Froggy's 9pm.
Whiskey State Line
Saturday at Trillions 8-12
Kevin Cooper
Thurs 730-1130pm: B&B jam
Fri 9pm-1am: The Hanky Panks at MVP Sports Bar & Grille
Sat 8-11pm: Eyes Up Here at Gano Tavern
Lätter
Saturday, Feb 19th (Quintins birthday!!!) at McSobers Coldwater 9:30-1:30am
Heath Bowling
Thursday at Foleys Irish Pub 7-11
Friday at Knollwood Tavern Beavercreek 9 to 12
Saturday at AJ's in Franklin 8 to 11pm
Sunday at Good Time Charlies in Miamisburg for Open Mic 6 to 9pm
Lil' Heat
Saturday – Foleys Irish Pub in Reading 7pm to 1am
Acoustic Blue
Thursday 6:30 - Par's Place, Fairfield Ohio
Crown Watts
Fretboard Brewing
Saturday 8:00
PARTYTOWN
Saturday Feb 19th L'burg Drinks n More in Lawrenceburg, IN10-2 am
Kitchen open til 3 bar open til 330
Seiter Haus
Thursday 9PM at La Ru Bowling Center
Friday - El Toro Walton at 7PM
Saturday 8PM Flintlocks Bar & Grill
Thom Stephenson
Sunday at Little Miami River Brewing from 4 to 7pm
Standard Country Time Band
Wednesday – Pohlman Lanes 1 to 3 pm
Saturday – Bobby Mackey's Wilder Ky. 7:30
Sepia heyday
Saturday February 19th Swine city In Fairfield 8pm
Tori Faith
Saturday 2/19 ~ Tori Faith Band at Good Time Charlie's ~ 9pm-1am
Monday 2/21 ~ Tori Faith Acoustic at The Squeaky Squirrel ~ 8-10pm
Marsha Brady
Sunday Feb 20th - Autism Rocks - Lori's Roadhouse - 5:10pm - 5:55pm
Mad Hatter
Saturday Feb 19th Wings Beavercreek 9 to 1
Ithika
Saturday 2/19/22 Corner Club 7:30-11:00pm
Truk
Friday, Feb 18 WO Wrights Happy Hour Extravaganza!! 7-10
Until Rust
Thursday 2/17 Leon's Garage Marysville, Oh 6-9
Friday 2/18 Putter's Mainville, Oh 7-10
Saturday 2/19 Foley's Irish Pub Reading, Oh 8-12
Shane deMoss Music
Wednesday 2/23 Franklin Orioles Franklin , Oh 7-10
Six String Hustle
Fri 2/18 10-2 Borderline Bar West Harrison, IN
Wed 2/23 6-10 Jimmy Bs Cincinnati, Ohio
Jordan Wood
Thursday 2/17 Twenty Mile Tavern Open Jam 9pm Landen
Saturday 2/19 TinCap w/Mac McDaniel 7pm Wilmington
Monday 2/21Misery & Jens Open Jam8pm - ? Hamilton, OH
Linus Tate
Friday February 18 Brink Brewing Co 5 year party 7:30-10:30pm Cincinnati, OH
Saturday February 19 Terry B's tavern Hamilton, OH 9:30PM
Sunday February 20 Northern Row Brewery & Distillery OTR Cincinnati, OH 2PM
---
If you would like to have your musical act featured on our weekly podcast or in Warren County Post the contact us @Hall Around Town Radio on Facebook! For additional Band information follow our daily Facebook "Live at Five" program @Hall Around Town Radio