Who's Playing Out Brought To You By Hall Around Town Radio: May 5, 2022
Image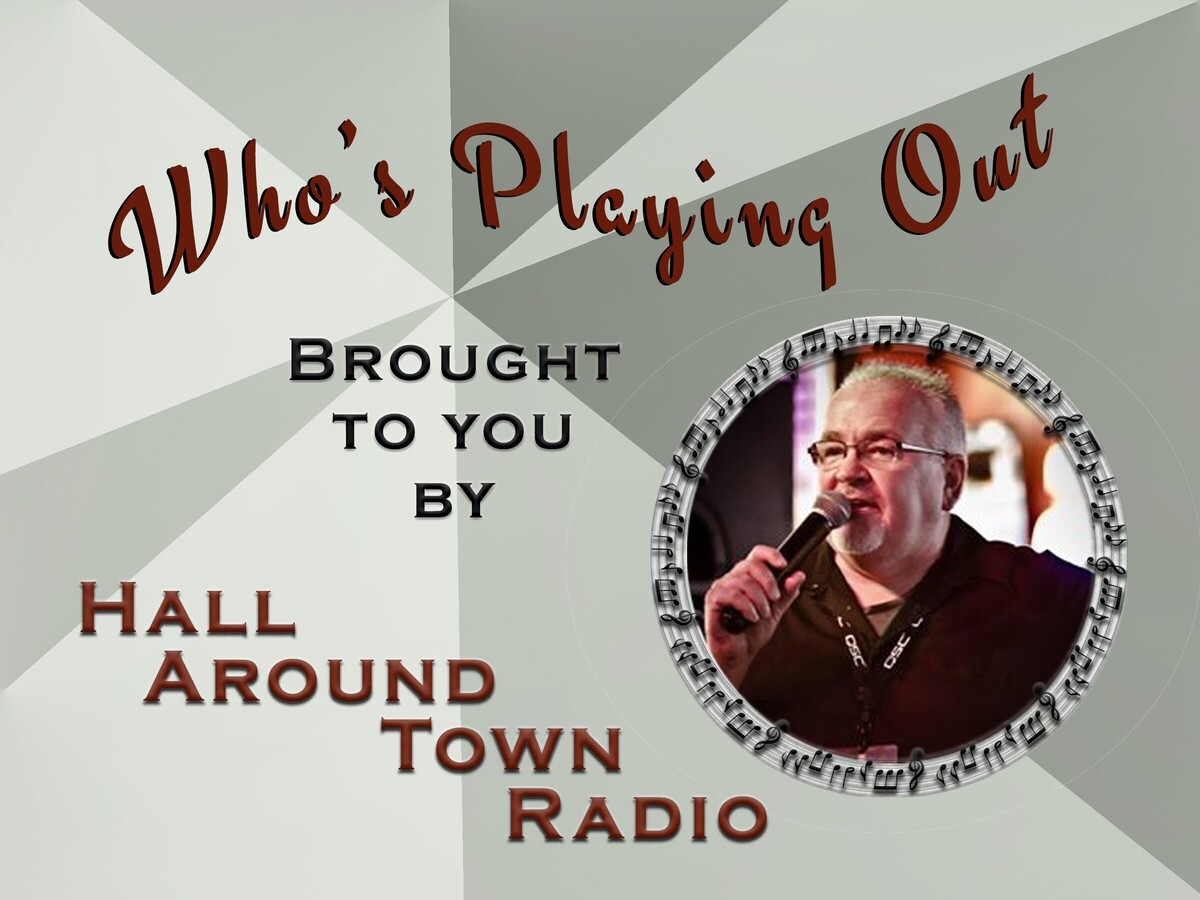 Brought to you by Scott Hall from "Hall Around Town Radio"
A little live music can turn an ordinary day into a memorable experience. The area's top musicians take center stage at some of the tri-states best restaurants and nightspots, bringing live music to our region nearly every night of the week. Make your first stop here weekly to find out "Who's Playing Out" at one of our live local music venues.
Bands and solos brought to you by our friends at Froggy's in Monroe, Ohio and Hall Around Town Radio (follow the on Facebook)
Froggy's in Monroe – Sponsor of our Thursday LIVE show on Facebook
Friday at 9pm The Inturns
Saturday at 4pm - Derby Party with Best Dressed and Best Derby Hat Contest with cash prizes
$5 hors d'oeuvre bar, Mint julep and Mimosa specials.
Saturday at 9pm Drive
Wednesday - 8pm Karaoke with Dj Songz … Froggys only Karaoke Contest coming soon.
Online seating reservations / tickets at www.gotofroggys.com
---
Mr. Boro's Tavern Springboro - Fundraiser till next Thursday Shane & Krista
Thursday – Cinco De Mayo - 7pm
Friday – Last Call 8 to 11pm
Saturday – A Vicious Cycle - 8 to 11
Sunday - Happy Mothers Day
Tuesday – Trivia with Scott at 7pm
Wednesday – Queen of Hearts Drawing. 8pm
---
Heathers Café
Tuesday – Open Mic Night with Junior and the Queen of Hearts Drawing at 7pm
Wednesday – Name That Tune with Scott. 7pm Call for reservations
Thursday – 9Eight Central 7pm
Friday – The Hanky Panks Debut at Heathers 7pm (rain or shine)
Saturday – Barely Able 7pm
---
The Belle & The Bear (Montgomery)
Thursday "The Jam" featuring a host of local music celebrities at 7:30 pm
Friday – The Marty Connor Band 8:30 pm
Saturday – KY Derby Party – 4pm
Saturday – Middle Age Man Band 8:30 PM
Monday Game Night - 6pm
Tuesday – Jamie Combs 7pm
---
Lebanon Grand Opry House
Saturday – Identical Twin Duo "The Spitting Image" Dinner at 6pm… show at 7pm. Reservations by calling 513-850-1770
---
Sorg Opera House
No Musical Shows this week
Future Show Tickets available at Cincyticket.com
---
Soft Rock Café
Karaoke – Thursday 7pm - Friday 8pm - Saturday 8:30 pm.
---
Crooked Handle Brewing Co.
Thursday – Blind Summit Duo at 7pm
Friday – Scott Houchens at 6pm
---
Little River Bar and Grill (Oregonia)
Thursday – DJ Songz – Karaoke at 7pm
Friday – Paul Rosewood 7pm
Saturday – Shawn Bell and Blowin' the Damn Fuses 7pm
---

The Blue Note Harrison
Friday – Iron Maidens with Burning Witches and 1330 - Doors at 6pm
Saturday – The Belairs Doors at 5pm
Tickets available at …. CincyTicket.com
---
Pohlman Lanes & Scott's Bar & Grill (Hamilton Ohio)
Family Entertainment Complex 954 Pyramid Hill Blvd., Hamilton Ohio
Friday Michelle Robinson Band 7pm to 11pm
Saturday – Exit 6 7pm
Monday Big Band Swing 7pm to 9pm
Wednesday – The Standard Country Time Band 1pm to 3pm
---
Hidden Gem Music Club
Thursday – Blues Jam 8pm
Friday –California Howdy with A Sides / B Sides and Matt Hobbs 8pm
Saturday – Fleetwood Dreams – 8pm
Wednesday – Open Mic Night 7PM
---
Lori's Roadhouse
Thursday - Cinco De Mayo 4pm
Friday – Myron Elkins at 6pm
Friday – 4Low Band at 9:00pm
Saturday – Kaleb Hensley 6pm
Saturday – On the Road 9:30pm
---
Miami Valley Gaming
Friday- Jay Jesse Johnson – 9pm Center Bar
Saturday – The River City Band – 9pm Center Bar
---
Brick Tap Tavern
Thursday – Open Mic Night with Dana Farley 7:00pm
Saturday – Driving Force 8:30pm
Scott Hall – Hall Around Town Radio
Tuesday Trivia at Mr. Boros Tavern 7pm
Wednesday – "Name That Tune" at Heathers Café on the patio 7pm Call for Reservations
---
Live Monday to Thursday On Hall Around Town Radio Scotty Long/DJ Songz
Thursday - Little River Bar & Grill 7pm Karaoke Party.
Friday – Legends Bar & Grill – Hamilton @ 9pm
Tuesday -The Barrel @ 7pm
Wednesday - Froggys @8pm Karaoke & Jamz
---
Bands, Solos and Duos
Standard Country Time Band
Friday at Hunter Pizzeria 6pm
---
Tyler Van B
Saturday at Heroes Pizza 7 pm
---
Thom Stephenson
Friday May 6th Silverton Café with ZaaZoo
​Saturday May 7th Silverton Café with Gee Your Band
​Sunday May 8th Little Miami Brewing 4-7pm Thom Stephenson with Brother Stretch
​Wednesday May 11th Little Miami Brewing Thom Stephenson
---
DRIVE
Saturday at Froggy's 9pm
---
StrangeLove
Saturday at Pirates Den 9
---
Dat Band
Friday - UC Health West Chester Hospital Spring Gala
At the Oscar Event Center in Fairfield. 6pm
---
Audio Graffiti
Thursday 5/5 10-2 Tin Roof Delray Beach, FL
Friday 5/6 10-2 Tin Roof Delray Beach, FL
Saturday 5/7 10-2 Tin Roof Orlando, FL
Sunday 5/8 9-midnight Tin Roof Orlando, FL
---
Joe Cowels
Friday - M.o.g. Fairfield Entertainment Complex, 5p-9p
Saturday - Rick's Tavern Fairfield 5p-7p
Wednesday May 11th The Hanger, West Chester, 7p-11p
---
Tori Faith
Friday 5/6 ~ Whiskey Town at Cuzz's Bar ~ 8pm-12am
Saturday 5/7 ~ Whiskey Town at 1 More Bar and Grill - 8pm-12am
Wednesday 5/11 ~ Tori Faith Acoustic at Fairfield Pub - 7-10pm
---
RED HOT RIOT
Saturday - Talon Tavern in Milford -8:00 PM
---
Night Reign
Friday at the Miamisburg Moose - 8:00pm
---
Kevin Cooper
Thursday 730-1130pm: B&B Jam
Friday 7-11pm: The Hanky Panks Debut at Heather's Cafe (Steven Bell on sound)
---
Marsha Brady
Thursday 5/5 - Quaker Steak & Lube Colerain for Bike Night 5:30pm - 9:30pm
Saturday 5/7 - Indian Lake Eagles 7pm - 11pm
---
Shannon Clark and the Sugar, Jamie Suttle, and Truk
Saturday - WO Wrights. 8pm
---
Ithika
Saturday at Wings Vandalia 9pm-1am
---
Velvet Crush
Thursday El meson Cinco de Mayo West Carrollton, oh 6-10
Friday - The syndicate VIP BEER FESTIVAL BELLEFONTAINE, oh 7-10
---
Benny Bodine
Friday Audrey's Frogtown Tavern Grandview 8-11
Wednesday Milano's Miami Township 7-10
---
Shawn Bell
Friday - Reading FOE Reading Ohio 8 to 12
Sat 5/7 Little River Bar And Grill Orgoneia Ohio 7 to 11
Wed 5/11 Misery and Jens Hamilton Ohio acoustic Duo Bike Night 7 to 10
---
Six String Hustle
Fri - 7-10 Putters Liberty Twnshp Ohio
Tues - 6-10 Jimmy Bs Cincinnati, Ohio
---
Alex Poteet
Thursday May 5 Smoke Justis Covington, KY 7PM
---
Linus Tate Unplugged
Friday May 6 Third Place Brookville Brookville, IN 7PM
---
Bryan Scott - Grey days
Thursday at Fairfield pub 8 to 12
Friday May 6th Gano Tavern West Chester 7 to 10
Saturday May 7th Amvets Franklin 8 to 12
Wednesday May 11th Route 50 Saloon Addyston oh 7 to 11
---
The Weekend Effect
Saturday at Lincoln and Main in Urbana Sat - 6-9pm.
---
Donna Kennedy Band
Saturday at Eaton Eagles - 7:30 - 11:30
---
Ben & Pete:
Thursday May 5th, Cinco De Mayo Party at Lucky Star Brewery in Miamisburg, 6:30 to 9:30,
Saturday May 6th, Jayne's On Main in Miamisburg, 8 to 11
---
Liars for Hire
Friday at Little York Tavern 8pm-12am
---
Kevin McCoy Band
Kevin- Thursday Get The Gig – JD LEGENDS 7-10
Friday- Monkey Bar 7-11pm
---
The Fast Forward Band
Saturday at Riverside Marina, Dayton KY from 8-12
---
Matthew Allen
Sun. May 8th, 2-5pm Dalton Union Winery & Brewery (Marysville)
---
Michelle Robinson
Friday at Pohlman's Entertainment Complex 7-11
Saturday at Bristol Republic 10-1
---
David Thornton
Thurs, 5/5 Jayne's On Main (Miamisburg) 7:30
Fri, 5/6 - The White Dog Distilling Co. & Saloon (Middletown) 8:00
Sat, 5/7 The Swire Inn (Middletown) 7:00
---
Short of Stable Duo - Mike and Tiff
Saturday Misery&jen 8-12 (it's Tiffs birthday!)
Sunday Open mic at Good Time Charlie's 5-9
---
Spungewurthy
Saturday May 7 Wings Beavercreek. 9 to 1
---
Jordan Wood
Thurs 5/5 Liberty Inn 6:30pm Liberty Township
Friday 5/6 Queen City Harley Bike Night - Full Band 6PM Fairfield
Saturday 5/7 TinCap w/Mac McDaniel 7pm Wilmington, OH
Monday 5/2 Misery & Jens Open Jam 8pm - ? Hamilton, OH
---
Chris Lee Acoustic
Sat., May 7 (Day) Treasure Aisles Flea Market Monroe OH. 11:30am-2:30pm
Sat., May 7 (Night) Swine City Brewing Fairfield OH. 8pm-10pm
---
Heath Bowling Music
Friday 5/6 Cadillac Jacks Shelbyville, IN 8-12a
Saturday 5/7 Private Party West Chester Twshp 7-10p
Wednesday 5/11 Open Mic (AJ's) Franklin, OH 8-11p
---
The Nailers & Bloody Royal Family
Saturday at Rahe Mountain Live 6pm
---
Perry Waldron and Eric Sears
Thursday at the Lounge Anderson Twp. 8pm
---
Lori's Secret
Friday at Pirates Cove 7pm
If you would like to have your musical act featured on our weekly podcast or in Warren County Post the contact us @Hall Around Town Radio on Facebook! For additional Band information follow our daily Facebook "Live at Five" program @Hall Around Town Radio