Who's Playing Out Brought To You By Hall Around Town Radio: June 9, 2022
Image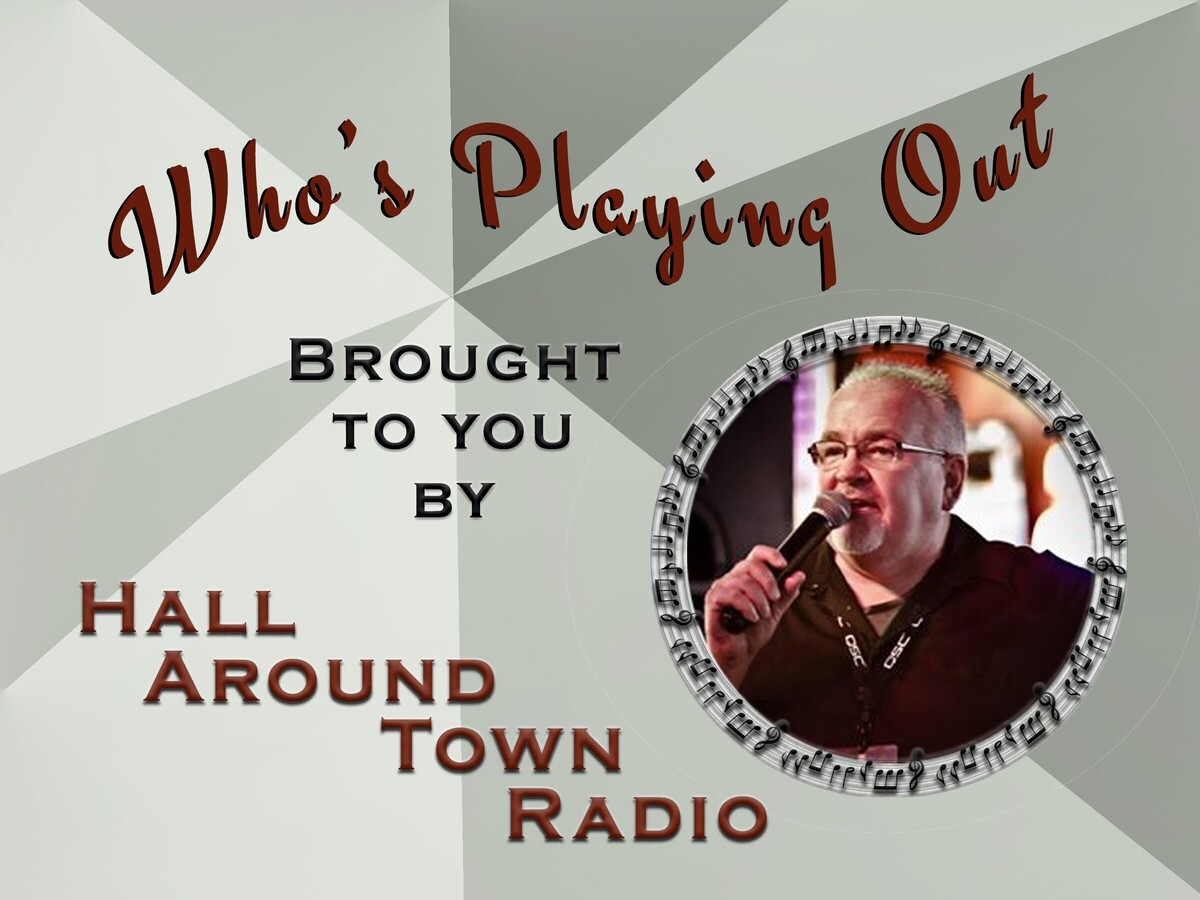 Brought to you by Scott Hall from "Hall Around Town Radio"
A little live music can turn an ordinary day into a memorable experience. The area's top musicians take center stage at some of the tri-states best restaurants and nightspots, bringing live music to our region nearly every night of the week. Make your first stop here weekly to find out "Who's Playing Out" at one of our live local music venues.
---
Bands and solos brought to you by our friends at Froggy's in Monroe, Ohio and Hall Around Town Radio (follow the on Facebook)
Froggy's in Monroe – Sponsor of our Thursday LIVE show on Facebook
Friday - 9pm Quiet Storm
Saturday - 9pm Sweet Sister Mercy
Tuesday - 6-9pm Jim Williams patio
Wednesday - 8pm Karaoke Contest with Dj Songz
Online seating reservations / tickets at www.gotofroggys.com
---
Mr. Boro's Tavern Springboro 
Friday – Nathan Jenkins – The Band That Killed Elvis 8 to 11pm
Saturday – Velvet Crush Unplugged - 8 to 11
Sunday –– Ethan and Joey - 2 to 5 pm
Tuesday – Trivia with Scott at 7pm
Wednesday – Queen of Hearts Drawing. 8pm
---
Heathers Café
Tuesday – Open Mic Night with Junior 7pm + the Queen of Hearts Drawing at 8
Wednesday – Name That Tune with Scott. 7pm Call for reservations
Thursday – Matthew Allen Acoustic 6:30pm
Friday – Michelle Robinson Band 7pm
Saturday – White Knuckle Weekend 7pm
---
The Belle & The Bear (Montgomery)
Friday – Johnny Fink and the Intrusion 8:30pm
Saturday _ H&R Rock 8:30 PM
Sunday – "Strumday" with Pat Riley
Monday Game Night - 6pm
Tuesday – Jamie Combs 7pm
---
Soft Rock Café
Karaoke – Thursday 7pm - Friday 8pm - Saturday 8:30 pm.
---
Lebanon Grand Opry House
Upcoming shows on Facebook -This Weekend is the Lebanon Country Music Festival Reservations by calling 513-850-1770
---
Sorg Opera House
No Music Shows this weekend
Future Show Tickets available at Cincyticket.com
---
Crooked Handle Brewing Co.
Friday – Joe Jordan at 7pm
---
Little River Bar and Grill (Oregonia)
Friday – Element 3 at 7pm
Saturday – Jordan Wood 7pm
Tuesday – Bike Night with music
---
The Blue Note Harrison
Wednesday – Liliac with special guests DV8
Tickets available at …. CincyTicket.com
---
Pohlman Lanes & Scott's Bar & Grill (Hamilton Ohio)
Family Entertainment Complex 954 Pyramid Hill Blvd., Hamilton Ohio
Friday - Outta Here 7pm
Saturday - Miss Jacque 7pm
Monday - Big Band Swing 7pm to 9pm
Wednesday – The Standard Country Time Band 1pm to 3pm
---
Hidden Gem Music Club
Friday –Tony Monaco 8pm
Saturday – Tery Metcalf Project – 8pm
Sunday – Grant "King" Koeller Jazz 8pm
Wednesday – Open Mic Night 7PM
---
Lori's Roadhouse
Friday – Derek Alan at 9:30pm
Saturday – Ali Taylor and Gary Wayne 6pm
Saturday – Martin McDaniel 9:30pm
---
Miami Valley Gaming
Friday- Model Behavior – 9pm Center Bar
Saturday – The River City Band – 9:00pm Center Bar
---
Setters Volleyball Club
Friday – TBA
Saturday – TBA
---
Brick Tap Tavern
Thursday – Open Mic Night with Scott Houchens 7:00pm
Friday – Music Bingo at 8pm
Saturday – Triple Edge at 8:30pm
---
Scott Hall – Hall Around Town Radio
Tuesday Trivia at Mr. Boros Tavern 7pm
Wednesday – "Name That Tune" at Heathers Café on the patio 7pm "Call for Reservations"
Live Monday to Thursday On Hall Around Town Radio
---
Scotty Long / DJ Songz
Thursday - Little River B&G 7pm-11pm Karaoke Party
Friday Legends B&G. 9pm-1am Karaoke Party
Tuesday The Barrel 7pm-11pm Karaoke Party
Wednesday Froggys 7pm-10pm Sing 2 Paradise Karaoke Contest 2nd Audition!
---
Bands, Solos, Duos and Events
St. Helens Festival (event)
Friday – Spungewurthy – Truk – The Doug Hart Band 6 to 9pm
Saturday – Ludlow Creek, The Hathaways, Mad Hatter, 5 Story Plunge, Last Call, Junior Citizens, The Distance, Route 88
Sunday – Flat Out, Lt. Dans New Legs, Ithika, Todd the Fox, Nasty Bingo, Retrobution
---
Rahe Mountain Live (event)
Saturday – J Edwards and The Jamie Carr Band Independence Ky,
Gates at 5pm – Primitive Camping, Food Truck
---
Tyler VanB
Friday – Old Dayton Pizza at 5pm
---
Jordan Wood
Friday - Putters Maineville 7pm,
Saturday - Little River Bar Oregonia 7p,
Sunday - Miamiville Tavern open Jam 3p,
Monday - Misery&jen Open Jam 8p
---
Spungewurthy
Friday at St. Helens Festival 7 to 10pm
---
DV8
Friday at Kuliga Park Green Township 7pm
---
Standard Country Time Band
Wednesday – Pohlman Lanes 1 to 3pm
---
Velvet Crush Unplugged
THURSDAY 6/9 Bargos tap and grill Centerville, oh 7-10
Friday 6/10 The syndicate Bellefontaine, oh 7-10
Saturday 6/11 Mr Boros tavern Springboro, oh 8-11
---
The Weekend Effect
Saturday at Froggy's by the Lake. Lakeview Ohio 8-12
---
The Donna Kennedy Band
Friday at Middletown Moose 8pm
---
Matthew Allen
Thursday- Heather's Cafe (Springboro) 6:30 to 9:30
Friday - Fratelli's Italian restaurant (Springfield) 7-9
---
Ben & Pete
Friday - "Ben & Pete 10 Years Of Music Celebration" at Lucky Star Brewery in Miamisburg 8 to 11 PM
---
White Knuckle Weekend
Saturday at Heather's From 7-11
---
The Fast Forward Band
Thursday - induction into the "Northen Kentucky Legends Music Legends Hall of Fame" Ft Thomas Tower Park from 6-10pm.
---
Short of Stable (full band)
Friday at The Barrel 8-12
---
Heath Bowling Music
Thursday 6/9 Fairfield Pub 7-10p Fairfield, OH. (Vaughn Sutherland Covering)
Friday at Overlook Lodge 830-1130p Cincinnati, OH
Saturday at Heroes Pizza(BNB) 7-10p Springboro, OH
Sunday at The Barrel 4-7p Springboro, OH
Wednesday 6/15 Open Mic(AJ's) 8-11p Franklin, OH
---
Joe Lipinski
Saturday - Jersey Joe at Hidden Valley Orchard Saturday 6:30 - 9:30. Joe Lipinski brings the Island/reggae/pop/country sound to Hidden Valley Orchard featuring Brian Malone on steel drum and Kim Kelly, Dan Nicora and Roger Bowman…..outdoor venue with a brew pub, country store, ice cream parlor, walking trails and more. Family- and pet-friendly.
Sunday - jersey joe sings the National Anthem at 1:00 for the Dayton Dragons game on Sunday,
---
Don't Tell Steve
Saturday 6/11 at Club Trio 8-12
---
David Thornton
Fri, 6/10 Middletown ELKS LODGE #257 7:00
Sat, 6/11 Grainworks Brewing Company (West Chester) 7:00
---
Michelle Robinson
Thursday Quaker Steak Colerain Bike Night 5:30-9:30
Friday Heathers 7-11
Saturday Lebanon Country Music Festival 4-5:30
---
Kevin McCoy:
Thursday/Friday - CMAFEST
Saturday Indian Spring Winery w Erik Sears 7pm
---
Benny Bodine
Friday 6/10 Knollwood Tavern Beavercreek, OH 9-12
Saturday 6/11 AMVETS-Post 464 Huber Heights Huber Heights, OH 7-11 Public Invited
Wednesday 6/15 Milano's Miami Township, OH 7-10
---
Route 88
Friday 7-11 St Christopher Festival Vandalia, OH
Saturday 11 June 8-10 St Helen Festival Dayton, OH
---
Uncle Rico
Friday - Outdoors 8-11 VFW Kettering Ohio
---
Billy Brown
Friday June 10 at 8pm - LaZ Acres Campground in Zanesville OH
Saturday June 11 at 9pm - Railyard Billiards & Sports Pub in Louisville KY
Monday June 13 at 11am - Ole Red in Gatlinburg TN
---
Truk
Friday - St. Helen's Festival 10-12
---
Nick Wheeler
Saturday, with Latter - Burketsville Community Picnic 8-12
---
Shawn Bell
Saturday June 11th Acoustic Trio Gano Tavern West Chester OH 6 to 10
---
Six String Hustle
Fri 6/10 10-2 (Full Band) Jimmy Bs Cincinnati, Ohio
Sat 6/11 7-11 (Acoustic Band) Monkey Bar Maineville, OH
Sun 6/12 2-5 Zazou Covington, KY
Tues 6/14 7-10 Submarine House Centerville, OH
Wed 6/15 6:30-10:30 Liberty Inn Liberty Twnshp, OH
---
Mad Hatter
Saturday June 11th at 5:30 St. Helens Festival.
---
Joe Cowels
Friday June 10th Joe C solo show. Kro-bar Beckett ridge 5pm to 9pm
Saturday June 11th Rick's Tavern 5pm-7pm
---
Johnny Fink and the intrusion
Friday 6/10 Belle and Bear 9pm
Saturday 6/11 Mansion hill tavern 8pm
---
Crown Watts
Saturday at Latitudes - 8:30pm
---
Kevin Cooper
Fri 6-9pm: Eyes Up Here at deSha's
Sun 330-730pm: Eyes Up Here at Pirate's Cove
Wed 6/15 7-11pm: Kevin Cooper solo at The Corner Pub
---
Dat Band and The Whammies
Friday night Music In Mason. DB hits the stage 6-7:30 followed by The Whammies.
Saturday - Miami Twp Concert in the Park (Riverview Community Park in Loveland) 6-9:30pm
---
StrangeLove
Friday at Latitudes 9pm
---
Tori Faith
With Whiskey Town at Dixie Station both Friday 6/10 and Saturday 6/11 9:30pm-1:30am
---
Overdrive
Saturday at Jayne's on Main patio at 7pm
---
Whiskey State Line
Saturday June 11 at the Barrel Springboro
---
Michelle Robinson Band:
Fri at Heathers 7-11
Sat at Lebanon Country Music Festival 4-5:30
---
Latter
Saturday - playing the Burkettsville community festival. Burkettsville Ohio 7-11pm
---
Marsha Brady
Saturday June 11th - St Antoninus Music Festival, Westside 9pm - 12am.
---
Audio Graffiti
Saturday 6/11 Tin Roof Louisville 8-11:30
---
PartyTown
Friday at the Knotty Pine 9pm
---
Lori's Secret
Saturday at Pirates Cove 7:30pm
---
Grocery Store Vodka
Saturday at Katz in Kettering 9pm
If you would like to have your musical act featured on our weekly podcast or in Warren County Post the contact us @Hall Around Town Radio on Facebook! For additional Band information follow our daily Facebook "Live at Five" program @Hall Around Town Radio