Underground Railroad Tours Return to Waynesville
Image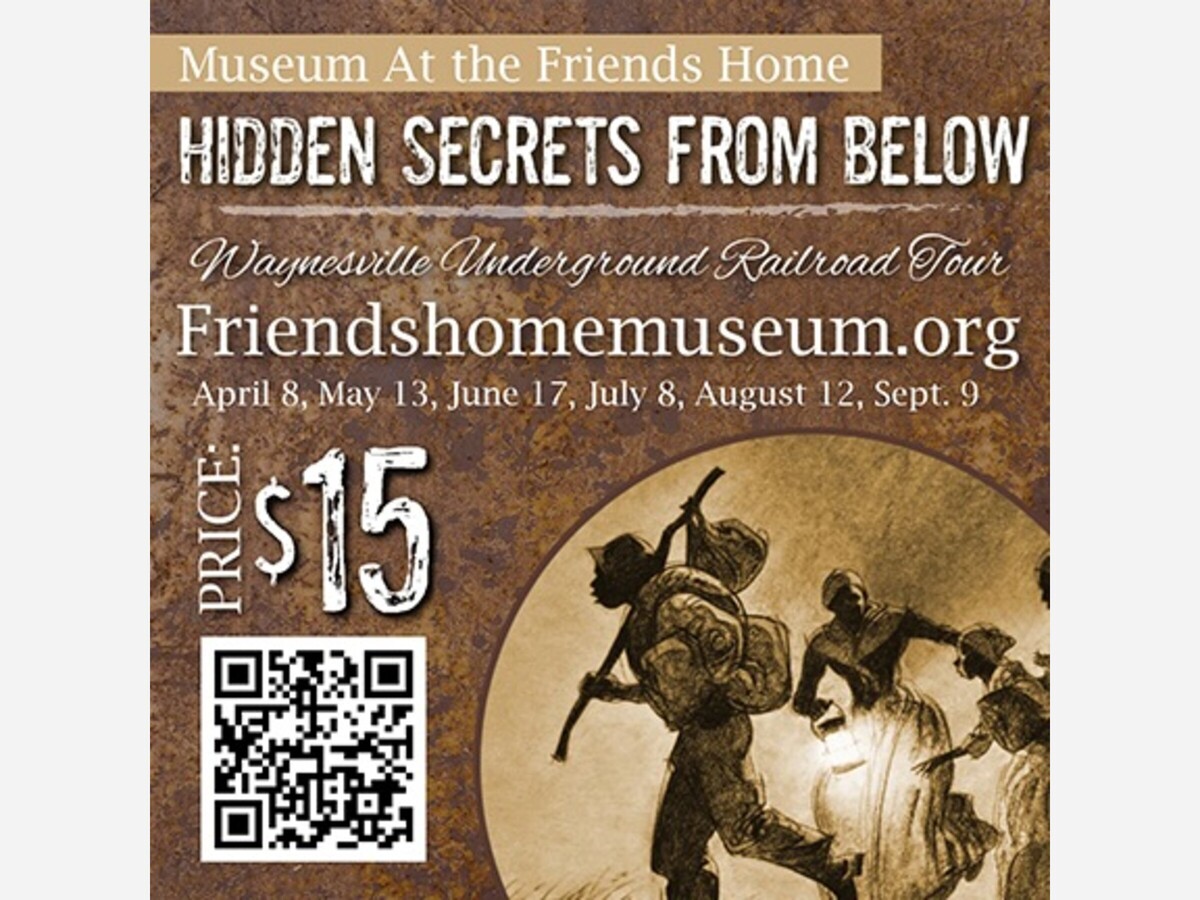 WAYNESVILLE, OH -- After an almost 10-year hiatus, Museum at the Friends Home in Waynesville is bringing back its Underground Railroad Tour ... with next Saturday (April 8, 2023) being the first tour. 
"Our mission is education... preserving what we have in our town," said Paula Dytko Board Trustee Member of Museum at the Friends Home. 
 "Many (of the museum) programs have been shut down because of Covid,  and we are trying to bring them back," added Dytko, who holds a history degree with an emphasis on the 1800's and Civil War time period.
Dytko, who is also one of the guides of the Waynesville ghost tours, explained how the board decided to bring the Underground Railroad Tours back. "I began looking around with some of the other members to see what the Museum had... we found we had 'blips' everywhere on the Underground Railroad."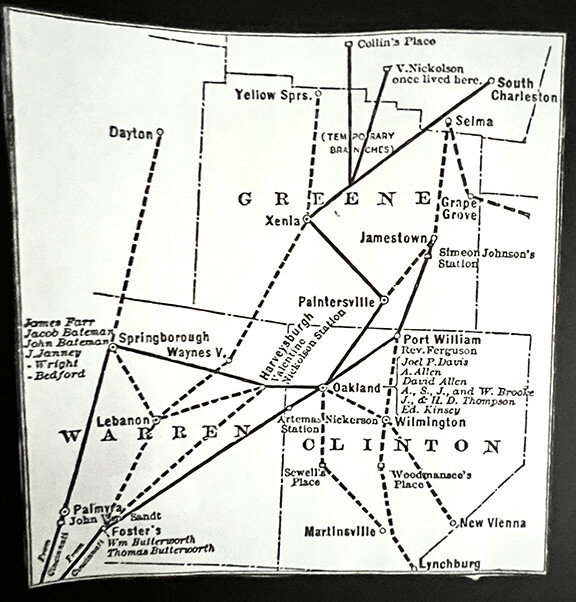 "We have old sketches of buildings, pictures of the tunnels, pictures of the artifacts they pulled out from the tunnels of hidden rooms and places they discovered," she said, adding that when the village was doing construction on the road near the Philpot Mansion... "a wall gave out in the road, and there was a tunnel right there." 
"I found out we had a committee back in 2010 /2011. They went and did all the research. We have binders and binders of research. We have minutes from the papers when the Quakers had meetings. We have those records!" she said with excitement. "There is not a lot of written information on the Underground Railroad because Post Civil War people were still afraid of what would happen if they were caught... in that they were helping or had helped these run away salves."
Dytko explained many people feared retroactive fines and/or jail time if it had been discovered they had helped a run away slave.
"There are  hints of documentation on how they got the slaves up here... what some of the symbols were for and what they were to look for.... We have how they did that ... We have that! We have the Quaker minutes with all these hints and all these suggestions," Dytko said.
According to University of York Brothwick Institute of Archives, Quakers, who are also known as The Society of Friends, were the first religious movement to condemn slavery and would not allow their members to own slaves.  And, Waynesville was and is a Quaker community settled by Friends from the Bush River (South Carolina).
"There is a house in Waynesville that was owned by Achilles Pugh, who was the printer for The Philanthropist, it was an anti-slavery newspaper,"  said Dytko explaining that he had moved to Waynesville from Cincinnati to get away from the mobs of people who were angry with his stance against slavery. He lived in Waynesville from 1854 until 1875, when he moved back to Cincinnati. 
Dytko added that Pugh even had a press in Springboro for a short time before making his move to Waynesville with his family. "We even have notes from his daughter who shares how she  remembers slaves coming into their house and her dad being given money to help with the slave cause."
Along with all the pictures, sketches, notes and artifacts from this time, Museum at the Friends Home has a certificate from the National Park Services and The Freedom Center for all its documented participation in The Underground Railroad effort.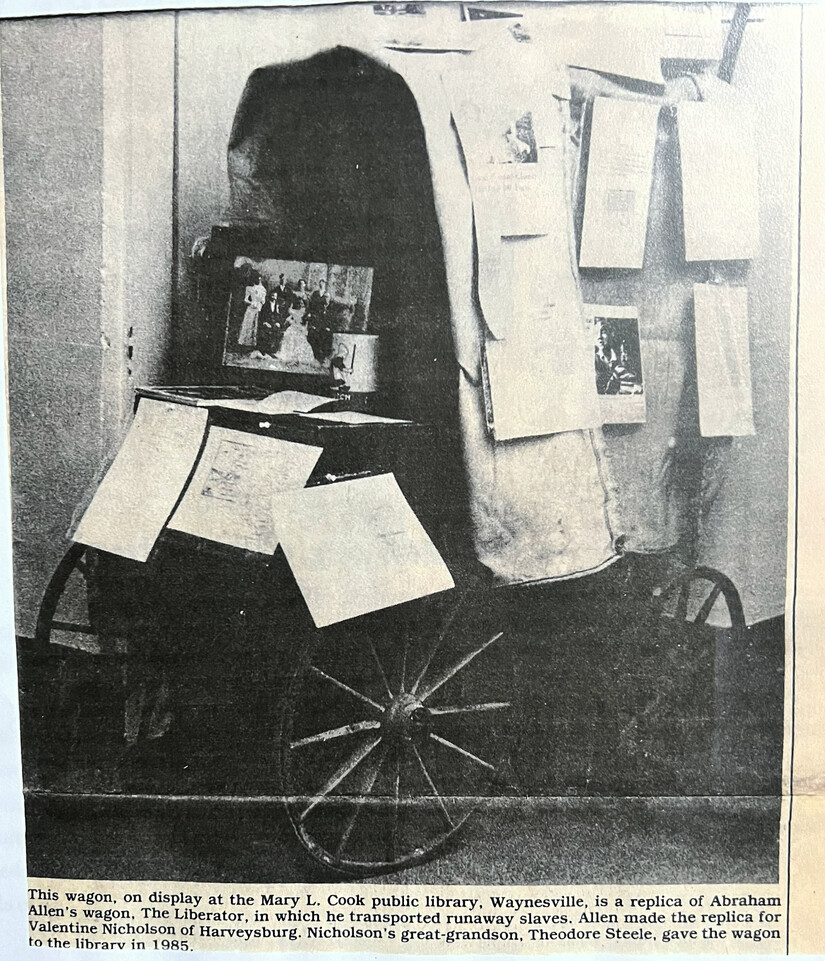 Waynesville, which is located along the Little Miami River and nine miles east of Springboro is an established site of Underground Railroad activity. With the little Miami River and the trains that came through Corwin, along with the assistance of the Friends, Waynesville became a good spot for a run away slave to stop for food, rest, and assistance on his journey to freedom up north in Canada. 
On a side note, just five miles east of Waynesville is the town of Harveysburg, which established in 1831 the first free school for African American children in Ohio. 
The Underground Railroad Tours are walking tours. It is approximately 90 minutes and about 1 mile in length. All tours are on a Saturday and start at 10 am. The first tour starts on April 8th with cost for the tour being $15 per person. Tours begin at the Gazebo located in Waynesville Memorial Park at 274 S. Main St.
The tour includes stops at locations of pivotal Anti-Slavery influencers and locations that hold secret rooms & tunnels. Also tour goers will hear from historians about Waynesville areas Freedom Seekers' passage to the North while learning about Waynesville's Quaker community. Dates for the tours are: 
April 8

May 13
June 17
July 8
August 12
September 9
To purchase tickets visit Museum at the Friends Home website here. For more information call 513-897-1607 or email info@friendshomemuseum.org 
While in Waynesville take time to visit its unique shops, restaurants, and overnight stay facilities on Main Street, High Street, Miami Street, and Scioto Square.