Phil's Auto & Tires Gets New Owners
Image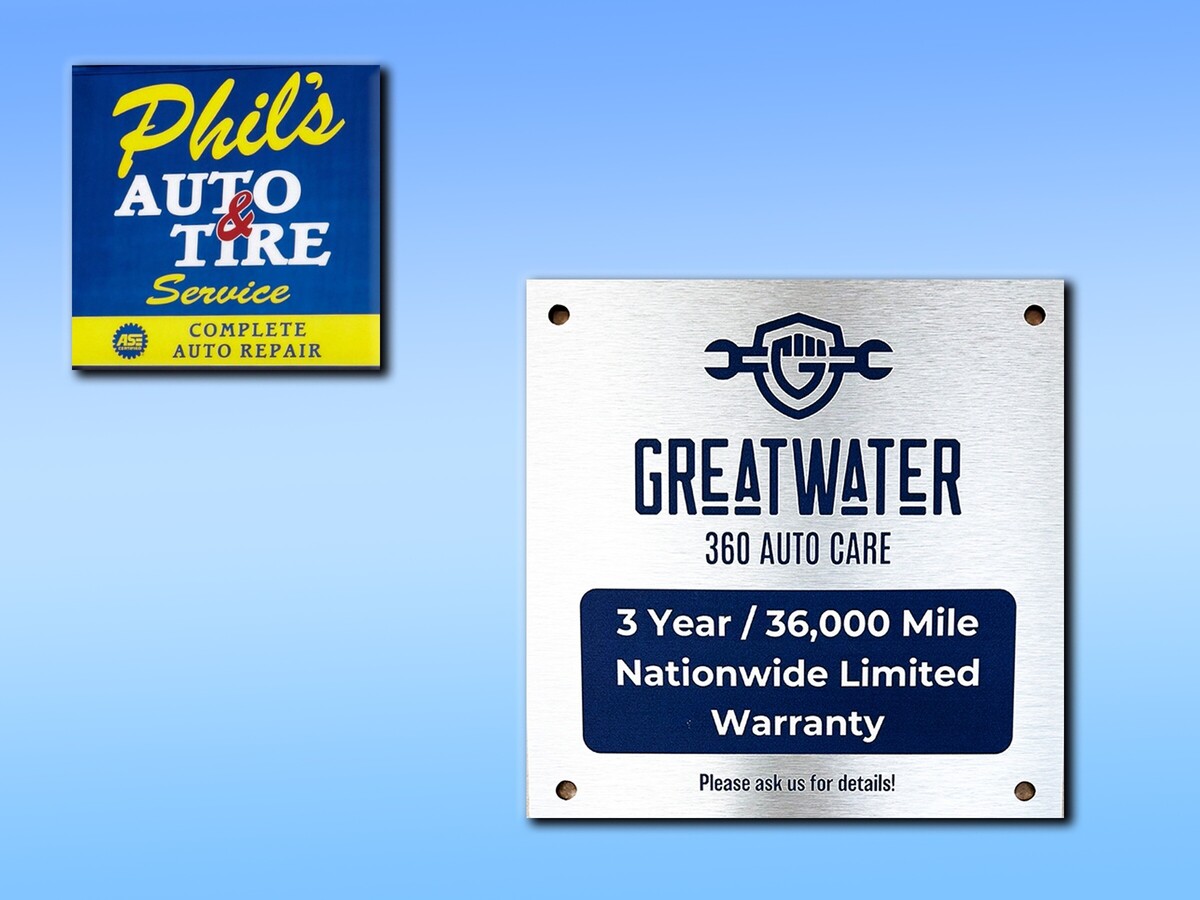 CARLISLE, OH -- After 34 years Phil and Teresa Wilcher decided it was time to sell their business … Phil's Auto and Tire Service in Carlisle, to spend more time with their family and friends. So, back in December of 2022, Phil began the selling process and by Jan 6, they began spreading the news. First by Facebook then by letter and is still slowly spreading though word of mouth.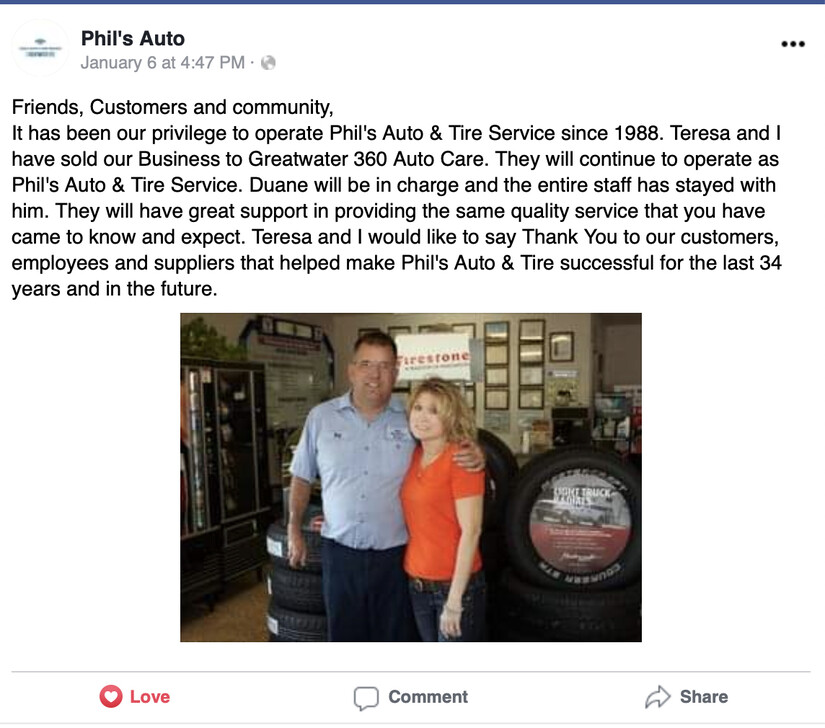 Back in December, Great Water 360 Auto Care purchased the business that has set at the corner of Carlisle's eastern entrance for over 30 plus years. In 1988 it first, stood on the north side corner as a gas station and garage that was called Phil Wilcher's Carlisle Ashland. Then later, in 1992 (on the south side of the street a little further west of the corner) Phil and Teresa purchased land to build  a four bay garage without a gas station.
As Phil's business grew, he added more bays to meet the demand that his customers needed.
"Phil was always there to help," said Carlisle Councilman Tim Humphries.
And, he was.
Stepping away as a professional reporter, I'm going into a personal story. Phil's Auto and Tires and the Wilcher family have been a wonderful asset to the Carlisle Community. Phil was there to help build a Carlisle Chamber of Commerce and bring the village into a city the first time around. Teresa was very instrumental in helping the PTO build the two school playgrounds in the late 1990's and early 2000's. Both were very involved in the Carlisle School sports programs as parents and as a business donating money and time.
As a mechanic, Phil was always there. 
Once I was driving a car that was terminal, meaning it was going to take more to fix it then what it was worth. Phil and his crew would tweak it to keep it going ... often at little or no charge, while I was trying to find away to buy a newer car. I was in there at least once a week, if not two ... or even three times.
One time they must have tweaked it so good that I didn't need to go to the garage for about two weeks. It was during that time I realized not only was Phil a great mechanic, but he really cared about his customers. And, it was through a phone call.
To my great surprise, after answering the phone in the middle in the afternoon, it was Phil himself calling.
"Hi Beth. This is Phil," he said.
"Hi Phil," I said, thinking this is rather odd. For usually, it was me calling Phil's... asking if his towing truck was available to come get me and my three kids stranded on the highway, or at the store, or at the school, or even my own driveway. 
"What's up?" I added.
"Teresa and I... and the crew... we just wanted to be sure you and the kids were'nt stranded someplace. We have'nt seen you and were worried," he answered.
"My car's that bad?" I asked.
"Yes, Beth. It is. You need a new one."
Growing up I always heard how hard it was to find an honest mechanic. After all my experiences with Phil's... 
getting coins out that were lodged in my gear shifter after my son Adam, who was three at time, thought it was a piggy bank, 
accidentally stealing a care from his parking lot, 
accidentally putting antifreeze in my engine, 
accidentally running our of gas at 6PM when they were closing because the new used car we had just purchased gas gage didn't work
calming me down 100 miles away and helping me find a towing company when my timing chain busted in my other new used car recently purchased at the OSU stadium parking lot 18 hours prior to game time when all the media people were trying to move in.
helping me get a car dealership to honor its recall notice
helping me find a tow truck while sitting on I-75 traffic during rush hour in Cincinnati with a blown out tire... just to name a few things.
Phil and Teresa were always there. And, they were there for so many of us.
But like many hitting that retirement age, he and Teresa deserve to enjoy their grown children and grand children.  And as Phil put it, "We're excited to travel and hang out with our grandchildren at the lake house!"
GreatWater 360 Auto Care does recognize the value of customers, and it is the customers support that is the "lifeblood of our business," the Wilchers wrote in their Thank You/Goodbye Letter mailed out in late January to their customers.
"The GreatWater team has years of experience in the auto repair industry and the CEO Jim Dykstra… We share smiliar values, operating with inegrity, honesty and fair pricing. I trust them to carry on my legacy and contiue to provide superior auto services for our community," the Wilcher's added.
Much of Phil's crew stayed on and continue to show the same customer courtesy and integrity from which the Wilcher's built their business. Also, a new plus that GreatWater's brings to the customer is a 3 year/36,000 Mile Limited Nationwide Warranty. 
Phil's Auto & Tires is located at 343 Central Ave., Carlisle. For more information visit greatwater360autocare.com.