Who's Playing Out Brought To You By Hall Around Town Radio — July 15
Image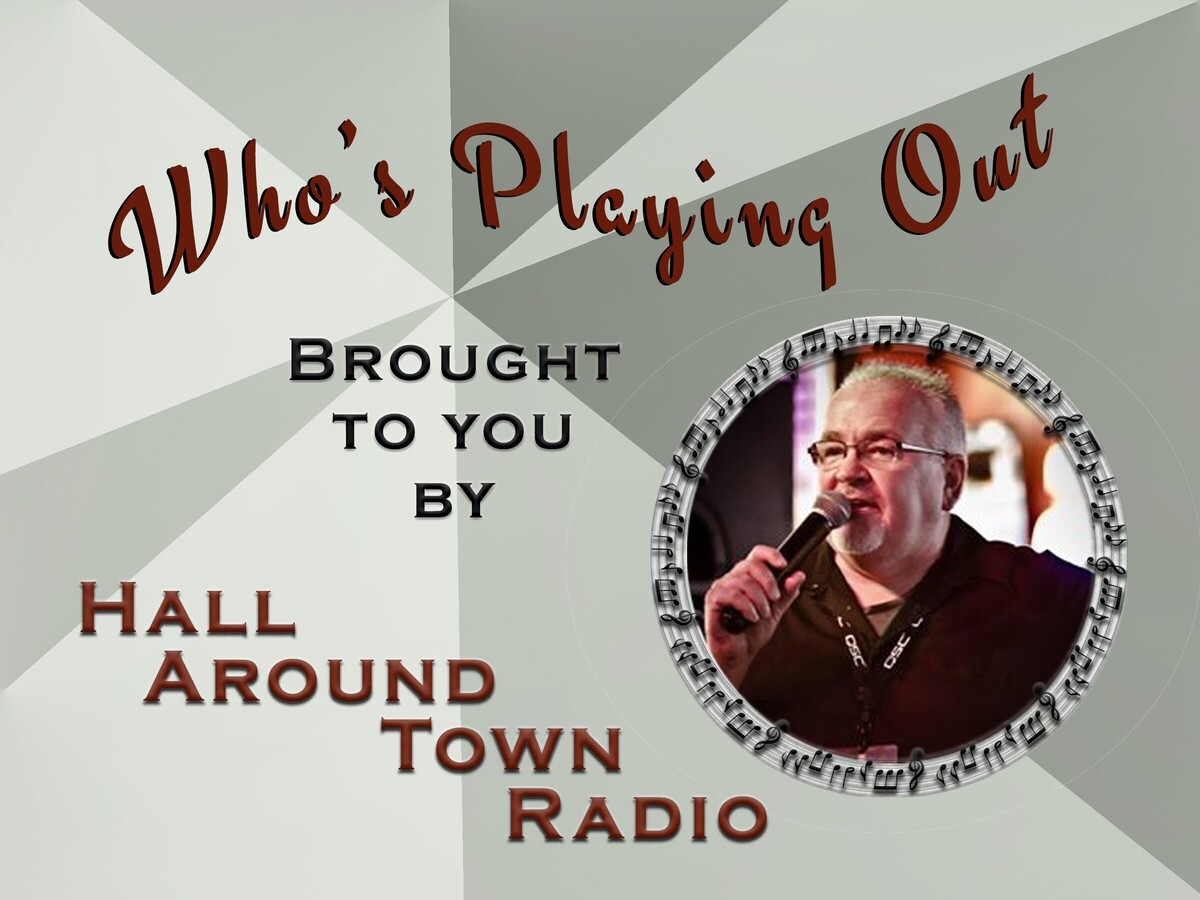 Brought to you by Scott Hall from "Hall Around Town Radio"
A little live music can turn an ordinary day into a memorable experience. The area's top musicians take center stage at some of the tri-states best restaurants and nightspots, bringing live music to our region nearly every night of the week. Make your first stop here weekly to find out "Who's Playing Out" at one of our live local music venues.
Bands and solos brought to you by our friends at Froggy's in Monroe, Ohio and Hall Around Town Radio (follow the on Facebook)
Froggy's in Monroe – Sponsor of our Thursday LIVE show on Facebook
Friday 9pm – Black Violets
Saturday 9pm – Jimmys New Invention
Tuesday - 6pm Not Far From The Tree
Wednesdy 6pm - Jordan Wood
Wednesday - 8pm Karaoke Contest with DJ Songz
Online seating reservations / tickets at www.gotofroggys.com
---
Mr. Boro's Tavern Springboro 
Friday – Happy Hour Show with Ethan and Joey 4pm
Friday – Jay Clark Band – 8 to 11pm
Saturday – Last Call - 8 to 11
Sunday –– Jake Roberts and DC - 2 to 5 pm
Tuesday – Q&A Trivia with Scott at 7pm
Wednesday – Queen of Hearts Drawing. 8pm over 7K
---
Heathers Café
Tuesday – Open Mic Night with Junior 7pm + the Queen of Hearts Drawing at 8
Wednesday – Name That Tune with Scott. 7pm Call for reservations
Thursday – Six String Hustle at 6:30pm
Friday – Spungewurthy 7pm
Saturday – Drive 7pm
---
The Belle & The Bear (Montgomery)

Friday – The Inturns 9pm
Saturday - Billy Rock Band 9 PM
Sunday – "Strumday" with Ronnie Vaughn 2pm
Monday Game Night - 6pm
Tuesday – Jamie Combs Acoustic Jam 7pm
---
Pohlman Lanes & Scott's Bar & Grill (Hamilton Ohio)
Family Entertainment Complex 954 Pyramid Hill Blvd., Hamilton Ohio
Friday at 7pm Frech & Company
Saturday at 7pm 90 Proof Twang
Monday 7pm After Hours Big Band
Wednesday – The Standard Country Time Band 1pm to 3pm
---
Soft Rock Café
Karaoke – Thursday 7pm - Friday 8pm - Saturday 8:30 pm.
---
Lebanon Grand Opry House
Saturday – Country & Gospel Night featuring Jessie Lyn and the Opry House Band with Terri Barnett and Nathan Gifford Doors open at 6pm
Reservations by calling 513-850-1770
---
Sorg Opera House
Friday – Doug Stone and the Stone Age Band with Scott Luck Band opening Doors at 6pm
Saturday – Beatlemania Magic – Doors open at 7
Tickets available at Cincyticket.com
---
Crooked Handle Brewing Co.
Friday – Shane Demoss at 7pm
---
Little River Bar and Grill (Oregonia)
Friday – Side Piece 7pm
Saturday – 9Eight Central 7pm
Tuesday – Bike Night with music
---
The Blue Note Harrison
Saturday – Mid Summer Rock Fest featuring Battery (Metallica Tribute), Walk on Homeboys (Pantera Tribute) and 1330 Doors open at 6pm
Tickets to future shows available at …. CincyTicket.com
---
Hidden Gem Music Club
Friday – Quiet Storm 8pm
Saturday – The Hearts on Fire Band – 8pm
Sunday – Dayton Jazz Orchestra 7pm
Wednesday – Open Mic Night 8PM
---
Lori's Roadhouse
Friday – National Recording Artist - Terri Clark 8pm tickets at ETIX
Saturday – Breland at 8pm
---
Miami Valley Gaming
Friday- The Gamut – 9pm Center Bar
Saturday – The Company – 9:00pm Center Bar
---
Brick Tap Tavern
Friday – Diddley at 8:30pm
Saturday - Lights Out at 8:30pm
---
Rex Patrick and the Country Legends Show in Germantown
Saturday Country Legends Band – Doors at 5:30 Music at 7pm
Reservations by calling 513- 594-1282
---
Scott Hall – Hall Around Town Radio
Tuesday Trivia at Mr. Boros Tavern 7pm
Wednesday – "Name That Tune" at Heathers Café on the patio 7pm "Call for Reservations"
Live Monday to Thursday On Hall Around Town Radio
---
Scotty Long / DJ Songz
Friday - Orioles Franklin, OH 7pm Dance Party w/ Karaoke
Saturday - Ohio Mud Volleyball for Epilepsy Dayton, OH In the mix w/ DJ Songz at 1pm
Tuesday - The Barrel Springboro, OH 7pm Karaoke Party
Wednesday - Froggys Monroe, OH 7pm Sing to Paradise Diamond Round "Semi Finale" w/ special guest judges!
---
Bands, Solos, Duos and Events
Jimmys New Invention
Saturday at Froggys in Monroe 9pm
---
Scott Luck Band
Friday at the Sorg opening For Doug Stone 7pm
Saturday at Rex Patrick Theatre 7pm
---
Tyler Van B
Friday at Devil Wind Brewing 7pm
Saturday – Huber Heights Farmers Market with James Zornes from 10am till 2pm
Saturday at Heroes Pizza 7pm
---
Standard Country Time Band
Wednesday at Pohlman Lanes from 1 to 3pm
---
Fetch & Co
Friday at Pohlman Lanes - 7pm
---
Courtney Jo Harr Band
Friday at Tomcats in Ashland Ky 10pm
---
Shane Demoss Music
Friday 7/15 Crooked Handle Springboro, Oh 7-10
---
Route88
Friday 15 Jul 9-1 The Barrel Springboro, OH
---
Route 88 Unplugged
Sat 16 Jul 9-12 Timothy's Double 18 Dayton, OH
---
Benny Bodine
Friday 7/15 Lucky Star Brewery Miamisburg, OH 8-11
Tuesday 7/19 Country Club of the North Beavercreek, OH 6-9
---
Jacob William
Saturday 7/16 BAABs 7-10
Sunday 7/17 The Barrel 5-6
---
Jay Clark Band
---
Six String Hustle
Sat 7/16 7-11 Monkey Bar Mainville, OH
Sun 7/17 1-4 Miamiville Trailyard Loveland, OH
---
Shawn Bell
Sat 7-16 acoustic @ Misery and Jens Hamilton OH 7to 11
Tuesday at Little River Bar and Grill Orgonia Ohio 6 to 10 Trio
---
Billy Brown
Friday at 10pm - Bristol Republic in Columbus OH
Saturday at 5:30pm - Velocity Esports in Newport KY
Sunday at 1pm - National Anthem at Florence Freedom in Florence KY
---
Linus Tate
Friday July 15th Olde Schoolhouse Winery Eaton, OH 6:30
Saturday July 16th Arlin's Bar & Garden Clifton, OH 10PM
---
Jordan Wood
Friday 7/15 Grub Pub Full Band 9PM Hamilton
Monday 7/18 Misery & Jens Open Jam 8pm - ? Hamilton, OH
Wed 7/20 Froggy's Patio 6PM Monroe
Thurs 7/21 Twenty Mile Tavern - Open Jam 9pm Landen
---
Cryin Out LOUD
Saturday at Little York Tavern from 8-12
---
Wesley Green Music
Friday with 9eight Central at Heroes 7-10
Saturday with 9Eight Central Little River Bar 7-11
---
Short of Stable
Saturday 7/16 Full band - Sugar Mellons - 7-10:30
Sunday 7/17 Mike & Tiff - Joseph's legacy benefit @ The Barrel 3:15-4
---
Blind Faith Duo
Friday Acoustic at Harmony Hills Vineyard in Bethel 5 -9pm.
---
Spungewurthy
Friday at Heathers 7pm
Saturday at Wings Vandalia 9pm
---
The Weekend Effect
Friday Wings Vandalia 9pm-1 am
Saturday at Station One in Springfield 8pm-12am
---
Donna Kennedy Band
Saturday Amvets 464 Huber Heights 7 -11
---
Greg Goforth
Friday night at the Sorg Opry House With the Scott Luck Band opening for Doug Stone. 6pm
Saturday night at The Monkey Bar, Six String Hustle, 6pm.
---
Matthew Allen
Fri July 15th, 6-9pm at Mela Urban Bistro(Springfield)
---
Michelle Robinson
Friday Club Trio's 8-12
Saturday Bacon Bourbon and Brew Festival 3:45-7:15
The Joe C Band
Saturday at The Hanger in West Chester 8pm to midnight
---
DRIVE
Saturday at Heather's cafe, Springboro 7/16 7pm 😊
---
Sepia heyday
Saturday at the slice in Middletown with doomed city villains and hosted by black market party 8ish
---
Lätter
Saturday at Paradise point campground , Portland Indiana 7pm open to public.
---
Crown Watts
Saturday at KnottyPine - 9:00pm
---
RED HOT RIOT
Friday at Clear Mountain Food Park in Batavia -7:00pm
---
Dv8
Friday July 15th Music in Mason Ohio 8 til 10
Saturday at Immaculate Heart of Mary Festival in Burlington KY. 7:30 til 12
---
Tori Faith

Friday 7/15 ~ with Whiskey Town at King's Landing ~ 8pm-12am
Saturday 7/16 ~ with Whiskey Town at The Squeaky Squirrel ~ 8pm-12am
Sunday 7/17 ~ Tori Faith Acoustic at The Weather Oar Knot Marina ~ 12-3pm
---
Brandy and The Beard
Sunday at Club Trio- from 4-8
---
Marsha Brady
Saturday July 16th - St Cecilia Summer Concert Series in Independence Kentucky - 7pm - 11pm
---
GAMUT
Friday at Miami Valley Gaming 9-12 with Guest Vocalist & previous lead singer for the Gamut-Emily Rockin' Roberts
Saturday GAMUT-Moeller 50th Reunion for Class of 1971-Private
---
OVERDRIVE
Friday at Fresh Water Farms in Urbana for the Champaign County Arts Council's "Sounds of Summer" Concert., 7-9PM
---
Johnny Fink and the Intrusion-
Friday 7/15 Chappys in Milford 9pm
If you would like to have your musical act featured on our weekly podcast or in Warren County Post the contact us @Hall Around Town Radio on Facebook! For additional Band information follow our daily Facebook "Live at Five" program @Hall Around Town Radio