Who's Playing Out: Hall Around Town
Image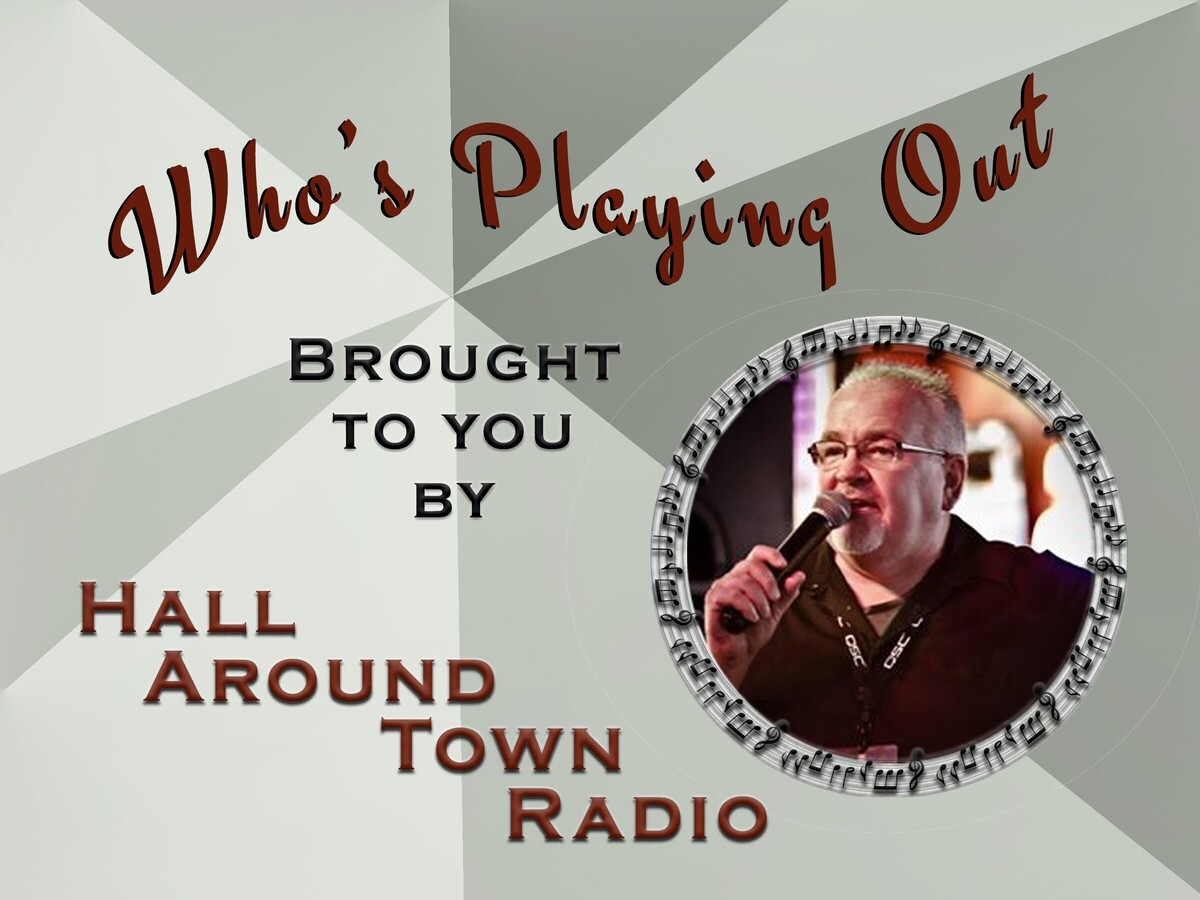 Brought to you by Scott Hall from "Hall Around Town Radio"
A little live music can turn an ordinary day into a memorable experience. The area's top musicians take center stage at some of the tri-states best restaurants and nightspots, bringing live music to our region nearly every night of the week. Make your first stop here weekly to find out "Who's Playing Out" at one of our live local music venues.
Bands and solos brought to you by our friends at Froggy's in Monroe, Ohio and Hall Around Town Radio (follow the on Facebook)
Froggy's in Monroe – Sponsor of our Thursday LIVE show on Facebook

Friday at 9pm - Liars for Hire
Saturday - 9pm - Black Water Voodoo
Tuesday - 2 for Tuesday 6-9 Jacob William inside, Roger & Louie on the patio plus a bunch of 2 for Tuesday food and drink specials
Tuesday 7:30 Queen of hearts
Wednesday 6-9 patio Jordan Wood
Wednesday - 8pm Karaoke with DJ Songz
Online seating reservations for weekend shows only (but not required) at www.gotofroggys.com
---
Heathers Café
Thursday –Mark Goodwin 6:30 to 9pm 1⁄2 off wine bottle night 
Friday – Dirty Water Revival 7-11 .... Our food truck for Friday is Asian Cuisine
Saturday – Counting Skeletons 7-11pm.... Food truck Saturday is El Buen Taco
Tuesday – Open Mic Night with Junior 7pm + the Queen of Hearts Drawing at 8
Wednesday – Name That Tune with Scott. 7pm Call for reservations. Only a few more weeks
---
Mr. Boro's Tavern Springboro 
Thursday – David Thornton 8 to 11 pm Friday –– Last Call 8 to 11pm 
Saturday – Spungewurthy 8pm Sunday – NFL Football
Tuesday – "Quiztastic" Q&A Trivia with Scott at 7pm 
Wednesday – Queen of Hearts Drawing. 8pm over 15K
---
The Belle & The Bear (Montgomery)
Thursday "The Award Winning Jam" 8ish 
Friday Audio Grafitti at 8:30 pm 
Saturday - Second Wind at 8:30 PM 
Monday Game Night - 6pm
Tuesday – Jamie Combs Acoustic Jam 7pm
---
Crooked Handle Brewing Co.
Thursday – Cory Breath 6 to 9 pm 
Friday – Zane Gerlach at 7pm
---
Sorg Opera House
Next Show October 14 with the Belairs show tickets at Cincyticket.com
---
Pohlman Lanes & Scott's Bar & Grill (Hamilton Ohio)
Family Entertainment Complex 954 Pyramid Hill Blvd., Hamilton Ohio
Friday - 7pm Whey Jennings With special guest Nate Jenkins
Monday - After Hours Big Band 7pm
Wednesday - Honky Tonk Wednesday at 1pm The Standard Country Time Band
---
Lebanon Grand Opry House
Saturday – Tyler Christopher as Elvis doors at 6pm Show at 7pm 
Reservations by calling 513-850-1770
---
Little River Bar and Grill (Oregonia)
Thursday –– DJ Songz Patioke Party at 7pm
Friday –Smithvill South at 7pm
Saturday and Sunday – Hill Climb Party Weekend
Saturday's line-up
begins at 1:00 PM with Jason Ritchie. 
The Courtney Jo Band takes the stage at 4:00! 
Then the Saturday night headliner is the Joey Said No dance party beginning at 8:00! 
The inside restaurant and bar will be opened as usual for dining and drinks. The beer gardens will also be serving some delicious food and drinks, too!
Sunday's line-up 
begins at 11:00 AM with the Jordan Wood Band. 
Sean Poole & Buckin' Krazy takes the stage at 2:00 
our Sunday night headliner starts at 5:00 with the one and only Blake Tyler! 
Sunday the inside restaurant will be closed but the bar will be open. All food can be purchased in the beer gardens all day Sunday, including breakfast. Some food items include biscuits and gravy, sausage, coffee and orange juice, slice of pizza, pulled pork, pork fritters, burgers, hot dogs, bratts, and mets, walking tacos, chips, mac and cheese, cowboy baked beans. 
No coolers, bags or outside food and drinks will be permitted. You can bring a lawn chair for a guaranteed seat!
Tuesday – Bike Night with music
---
The Blue Note Harrison
Friday – Texas Hippie Coalition with openers Sweet Sister Mercy 
Saturday – Saving Abel with special guests Flatline 6pm doors 
Tickets are available at .... CincyTicket.com
---
Hidden Gem Music Club
Thursday – Blues Jam at 8pm
Friday – Trapper Keepers – 8pm 
Saturday – RA Feke and Friends 7pm 
Sunday – Roy Jones Jazz 7pm 
Tuesday – Open Mic Night 8PM
---
Lori's Roadhouse
Thursday – Service Industry Night and Football
Friday – Jason Owens at 6pm
Friday – Shawn Gerhards Ultimate Tribute to Garth 9:30pm 
Saturday – Bailey Callahan at 6pm and Todd Cameron at 9:30pm 
Tuesday – Line Dancing 7pm
Tickets available at LRHLIVE.COM
---
Miami Valley Gaming

Friday – Saturday Live Music - Center Bar
---
Rex Patrick and the Country Legends Show in Germantown
Saturday - Country Music Hall of Famer Eddie Krueger and the Wilson Brown Band Doors at 6pm and show from 7-10pm 
Reservations by calling 513- 594-1282
---
Brick Tap Tavern
Thursday – Open Mic Night with Scott Houchens 7:00pm 
Friday – Music Bingo at 8pm
Saturday – The Termites 8:30pm
---
Soft Rock Café
Karaoke – Thursday 7pm - Friday 8pm - Saturday 8:30 pm.
---
Scott Hall – Hall Around Town Radio
Tuesday Trivia at Mr. Boros Tavern 7pm
Wednesday – "Name That Tune" at Heathers Café on the patio 7pm 
"Call for Reservations" Live Monday to Thursday On Hall Around Town Radio
---
Scotty Long / DJ Songz
Thursdays - at Little River Bar and Grill 7pm PatiOKE Party.
Mondays The Avenue Sports & Spirits Lebanon, OH 6pm-10pm Karaoke Madness! 
Tuesdays The Barrel Springboro, OH 7pm-11pm Karaoke
Wednesdays Froggys Monroe, OH 8pm-12am Karaoke Xperience
---
Bands, Solos, Duos and Events
Heath Bowling Music
Friday 10/7 Cadillac Jacks 830-1230p Shelbyville, IN
Saturday 10/8 Good Time Charlie's 930-1230a Miamisburg, OH 
Sunday 10/9 Open Mic(GTC) 5-9p Miamisburg, OH 
Wednesday 10/12 Open Mic(AJ's) 8-11p Franklin, OH
---
GAMUT
Friday 10/7 at Trillions 8pm-12
---
Joe Cowels
Thursday Joe Cowels solo at the Fairfield Pub, Fairfield, 7p-10p 
Friday The Joe Cowels Band at The Madison Inn, Middletown, 9p-1a
---
Marsha Brady
Friday Oct 7th - Monkey Bar - Maineville Ohio - 7pm - 11pm
Saturday Oct 8th - Latitudes - Anderson Ohio - 9pm - 1am
Wednesday at Quaker Steak & Lube Milford - Last Bike night of the season Bike Giveaway 6 - 10pm
Thursday Oct 13th - Quaker Steak & Lube Colerain - last bike night of the season - bike giveaway - 5:30pm - 9:30pm.
---
Brandy Conarroe
Saturday with Brandy and the Beard at Jackis from 8-12
---
Jet Pack Academy
Thursday at Madtree Brewing from 7:00p - 10:30pm
Saturday (10/8) at Trillions Sports Bar and Grill from 8:00p - 12:00a.
---
Audio Graffiti
Friday 10/7 - The Belle and the Bear 8:30-12:30
---
Kevin Cooper
Thurs 730-1130pm: B&B Jam
Fri 9pm-1am: The Hanky Panks at Mt. Lookout Tavern 
Sat 7-11pm: The Hanky Panks at Riverside Marina
---
RED HOT RIOT
Saturday - Southgate VFW-Southgate, Ky -7:30 PM
---
Standard Country Time Band
Friday at Hunter Pizzeria for 6pm to 8pm
---
Courtney Jo Band
Saturday at Devil's Staircase Hill Climb at Little River Bar and Grill 4-7pm
---
Until Rust
Friday 10/7 O'Leary's Centerville, Oh 8-11
Saturday 10/8 Octoberfest Farmersville, Oh 2 to 5pm 
Tuesday 10/11 Nick's Xenia, Oh6-9
Wednesday 10/12 Knollwood Tavern Beavercreek, Oh 8-11
---
Benny Bodine
Friday 10/7 Knollwood Tavern 9-12 Beavercreek, OH
Saturday 10/8 O'Leary's Pub & Grub 8-11 Centerville, OH
Sunday 10/9 at Yellow Cab Tavern Celebration of Life Party for Barry Leggett 6:30-7
---
Velvet Crush
Friday 10/7 Bellbrook, oh Surprise party
Saturday 10/8 Miami University Delta Kappa Epsilon Homecoming Oxford, OH
---
Alex Poteet
Thursday October 6 Smoke Justis Covington, KY
Sunday October 9th Worleys Country Store Eaton, OH 1PM
---
Linus Tate
Friday October 7 Riverside Athletic Club Hamilton, OH 7PM
Saturday October 8 Hitching Post for Jim BurnS Band 5th Annual Fall Picnic Darrtown, OH 5:30PM
---
Six String Hustle
Thur 10/6 6:30-10:30 Liberty Inn Free BirdDog Whiskey Promotion at 6:45 Liberty Twnshp, OH 
Fri 10/7 9:30-1:30 Possum Saloon Bright, Indiana
Sat 10/8 6-9 Octoberfest Downtown Greenville, Ohio
Tues 10/11 7-10 Submarine House Centerville, OH
---
Billy Brown
Thursday Oct 6 at 8pm - Grizzly Rose in Denver CO
Friday Oct 7 at 8pm - Grizzly Rose in Denver CO - Opening for Lainey Wilson 
Saturday Oct 8 at 8pm - Grizzly Rose in Denver CO
Sunday Oct 9 at 8pm - Grizzly Rose in Denver CO
Wednesday Oct 12 at 7pm - Jerzees in Newport KY
---
Shawn Bell
Saturday Oct 8 - Double header 2-4 Private Party
Saturday 8-12 Full Band - Reading Fraternal Order Of Eagles for Members and Guests of Members
---
Cryin Out LOUD
Friday at Little York Tavern on Friday October 7th. 8-12
---
Liars for Hire
Friday debut at Froggy's at 9p
---
Wesley Green
Friday with the Bourbon Road Band Watch Hill Proper North Commons Louisville, KY 6-10pm 
Saturday at the Hamilton Moose 8-12
Sunday at the Sauerkraut Festival in Waynesville 4-5:30
---
The Weekend Effect
Saturday at the Tecumseh 20 year High School Reunion at Mother Stewart's brewery in Springfield. 7pm-11pm.
---
Spungewurthy
Saturday at Mr Boros Tavern from 8 to 11
---
Joe Lipinski
Saturday jersey joe solo presents beer drinking songs between the football games from 6:30-8:30 at Bock Family Brewing in Centerville
---
Retrobution
Saturday October 8th at The Phone Booth. Show time 8 pm to midnight.
---
Blind Faith Duo
Friday at Quaker Steak and Lube - Florence KY, 6 to 9pm on the patio!
---
Don't tell Steve
Saturday from 7-11 Operation Pumpkin Festival in Hamilton
---
Michelle Robinson
Friday at Bristol Republic 10-1
Saturday at the Ohio Sauerkraut Festival -2:00-3:30 
Saturday at Mutts Brewery Lounge 8-12
Sunday at Operation-Pumpkin Festival 1:30-2:45
---
Kevin McCoy
Thursday Oct 6th 6-9pm at Oscar Station "Bourbon Tasting" 
Friday Oct 7th 10-1am at Turfway Park
If you would like to have your musical act featured on our weekly podcast or in Warren County Post contact us @Hall Around Town Radio on Facebook! For additional Band information follow our daily Facebook "Live at Five" program @Hall Around Town Radio
---
More News from Franklin