Family Friendly Events Happening Throughout the County on Saturday
Image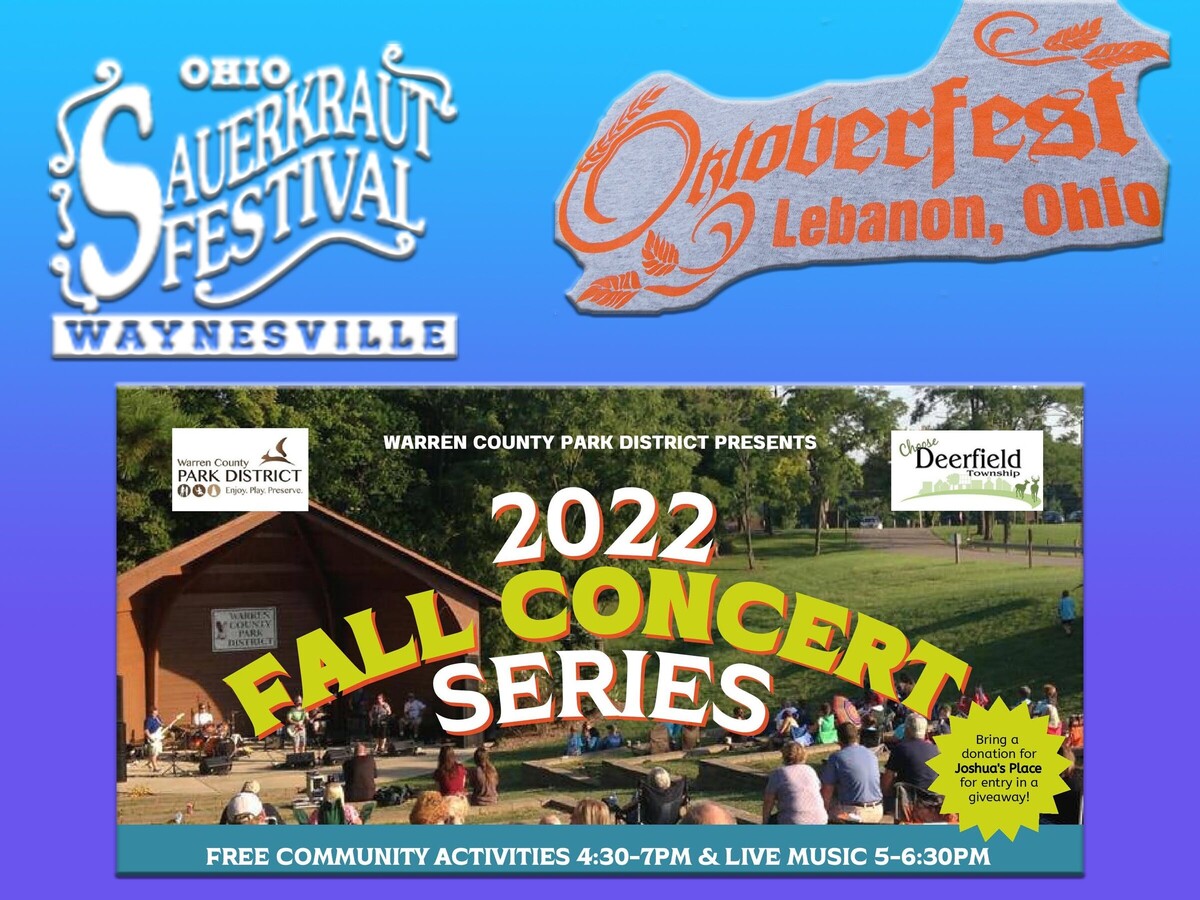 WARREN COUNTY, OH -- Looking for something to do today (Saturday Oct. 8, 2022)? There are are at least three free family friendly activities happening...
Waynesville's Sauerkraut Festival
Warren County Parks Free Fall Concert at the Landen-Deerfield Park's Amphitheater in Maineville
Lebanon's Oktoberfest in Centennial Park.
WAYNESVILLE SAUERKRAUT FESTIVAL
In 1970, Waynesville's Sauerkraut Festival was birthed when approximately 1,5000 visitors who attended the Waynesville Merchants's Sidewalk Sale were offered the opportunity to have a sauerkraut dinner. According to the festival's history over 528 pounds of sauerkraut was served that day. 
Now 52 years later, the festival, which has grown into a two day event, attracts over 300,000 visitors.
Happening both today (Saturday, October 8) and Sunday, October 9, 2022,  the festival features over 400 vendors of quality, handmade goods; untold numbers of food vendors offering a wide variety delicious selections; and live entertainment. The festival happens in Historic Downtown Waynesville at....
October 8th 9:00am - 8:00pm
October 9th 9:00am - 6:00pm
For more information visit sauerkrautfestival.waynesvilleohio.com (The Ohio Sauerkraut Festival is always held the second full weekend of October.)

---
WCPD LANDEN-DEERFIELD PARK FREE FALL CONCERT SERIES (Alcohol Free)
This weekend is the final 2022 Free Fall Concert and Community Event sponsored by Warren County Park District.
ABE'S LINCOLN, a premier Cincinnati-based cover band, will be performing hits from the 1980's to today in the parks amphitheater starting at 5 pm and playing until 6:30 pm.
Also, WCPD Certified Naturalist Shannon Pennington will have some special reptiles and monarch caterpillars and butterflies on display. After the concert, Pennington will release monarch butterflies so that they can make their journey to Mexico before winter sets in. 
For more information visit FWCPDOH.com
---
LEBANON'S OKTOBERFEST CENTENNIAL PARK 
Plenty of German food, beer, music and fun is happening at Lebanon's Oktoberfest celebration at Centennial Park off Cherry Street. Festivities begin at 11 am and go till 11 pm on Saturday.
Along with the food and music... 
COSI is sponsoring a kids zone
A big Chicken Dance is planned at 3pm 
5pm Parade — German Clubs from the Cincinnati region parade down Mulberry Street to the Kadant Stage where the Blessing of the Taps and the Ceremonial Keg Tapping will be lead by Burgermeister Bob Herzog from Local12 News.  
For more information visit Lebanonohio.gov.