Volunteers help to Remember, Honor & Teach About Our Community's Heroes
Image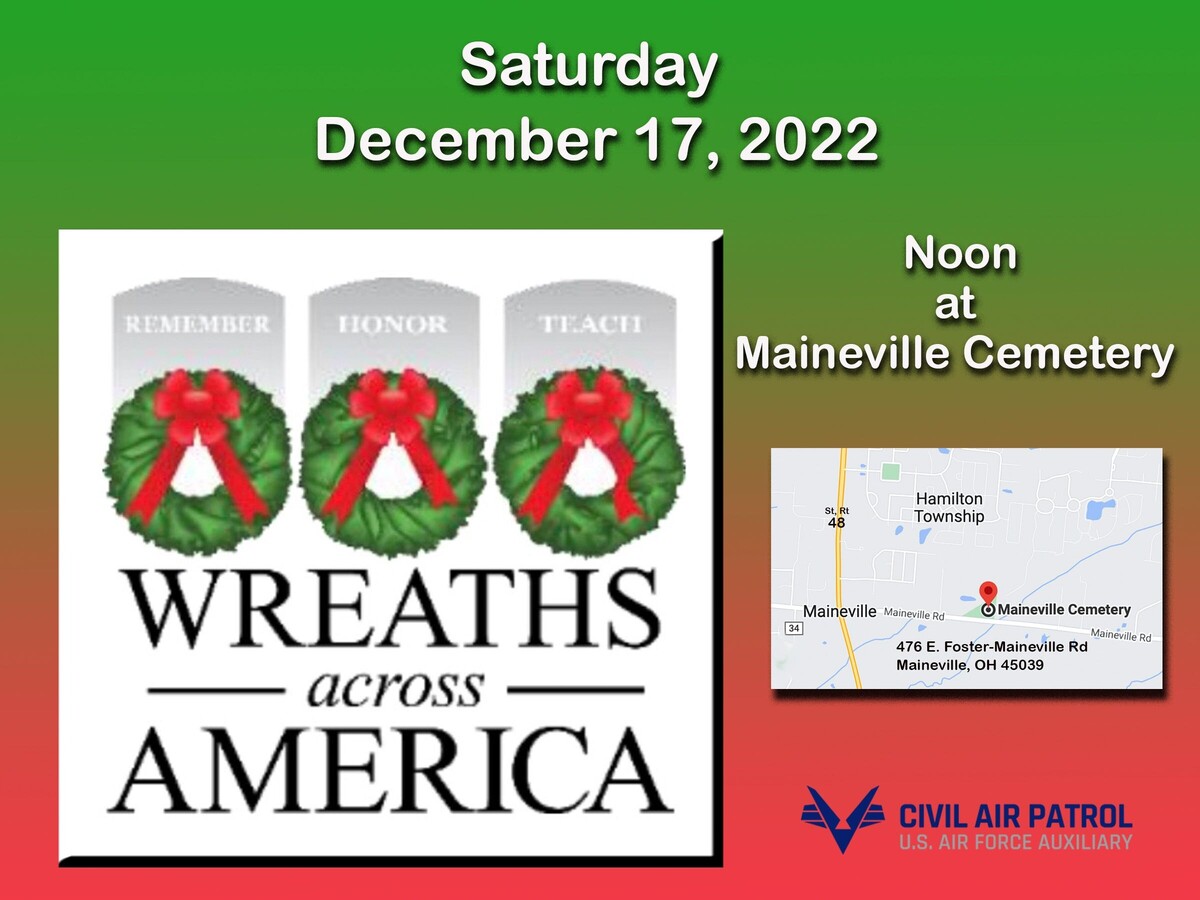 MAINEVILLE, OH -- Civil Air Patrol and Hamilton Township volunteers are working hard to ensure that all veterans laid to rest at the Maineville, Murdock, and Hopkinsville Cemeteries are remembered this coming Saturday as part of National Wreaths Across America Day.
On Saturday Dec. 17 at noon, on what has been designated National Wreath Across America Day, a special ceremony is being held at the Maineville Cemetery to honor those who have served and are now laid to rest. 
Participating in this year's ceremony will be Cincinnati Hills Christian Academy and the Warren County Sheriff's Office Honor Guard, who will provide a 21-gun salute. Following the ceremony attendees are invited to place a live, balsam fir veteran's wreath at the headstone of every American veteran to remember their sacrifice, honor their service, and teach the next generation about the value of freedom. 
Along with Maineville's ceremony, wreath laying ceremonies will be happening in communities throughout the United States on Saturday at noon. The event, which takes place annually on the third Saturday in December, has grown from its beginnings in Arlington National Cemetery to include cemeteries across the country. Last year, ceremonies were held across the country at more than 3,100 participating locations, placing 2.4 million wreaths for interred veterans.
According to Wreaths Across America, it beginning began at the Worchester Wreath Company in Harrington, Maine, in 1992 when there was a surplus of wreaths. 
Morrill Worchester, the wreath company's founder, had won a trip to Washington, D.C., as a young boy. While in the nation's capitol at the age of 12, he visited the Arlington National Cemetery. That trip left a huge impression on him. Worchester had always felt that a large part of his good fortune and successful career was due to his country and those who had laid their lives down for his freedoms. He decided to use his surplus of wreaths to honor those that had sacrificed their lives for our country by placing wreaths on some of the graves. 
With help from Maine Sen. Olympia Snowe and other individuals and organizations, the wreaths were transported to Arlington. It was decided to place the wreaths on veterans' graves in the older section of the cemetery that was not visited as often. 
Then, in 2005 the project was noticed when a photo of a snowy Arlington Cemetery whose headstones were adorned with wreaths was circulated. In 2007, the Worchester Family, veterans and other groups and individuals who had helped with the Annual Veterans Wreath Ceremony in Arlington, formed Wreaths Across America. This nonprofit organization's purpose is to "expand this effort, and support other groups around the country who wanted to do the same."
Today, Wreaths Across America coordinates wreath-laying ceremonies at more than 3,100 locations across the United States, at sea and abroad, with more than two million volunteers. To read the full story visit wreathsacrossamerica.org.
---
About Wreaths Across America: Wreaths Across America is a 501(c)(3) nonprofit organization founded to continue and expand the annual wreath-laying ceremony at Arlington National Cemetery begun by Maine businessman Morrill Worcester in 1992. The organization's mission – Remember, Honor, Teach – is carried out in part each year by coordinating wreath-laying ceremonies in December at Arlington, as well as at thousands of veterans' cemeteries and other locations in all 50 states and beyond. All Wreaths Across America Day events are non-political/religious events, open to all people.
About Civil Air Patrol: Established in 1941, Civil Air Patrol is the official auxiliary of the U.S. Air Force and as such is a member of its Total Force. In its auxiliary role, CAP operates a fleet of 555 single-engine aircraft and 2,250 small Unmanned Aircraft Systems (sUAS) and performs about 90% of all search and rescue operations within the contiguous United States as tasked by the Air Force Rescue Coordination Center (AFRCC). Often using innovative cellphone forensics and radar analysis software, CAP was
credited by the AFRCC with saving 108 lives last year. CAP's 58,000 members also perform homeland security, disaster relief and drug interdiction missions at the request of federal, state, and local agencies.
As a nonprofit organization, CAP plays a leading role in aerospace education using national academic standards-based STEM (science, technology, engineering and math) education resources. Members also serve as mentors to over 24,000 young people participating in CAP's Cadet Programs. Located in Maineville, Lt Col Jerome P. Ashman Composite Squadron provides programs for both cadets
and senior (adult) members. Cadets participate in leadership, aerospace education, fitness through calisthenics and team building games, and character forums.
More News from Franklin