The Urban Votes Takes The Win On Issue 1
Image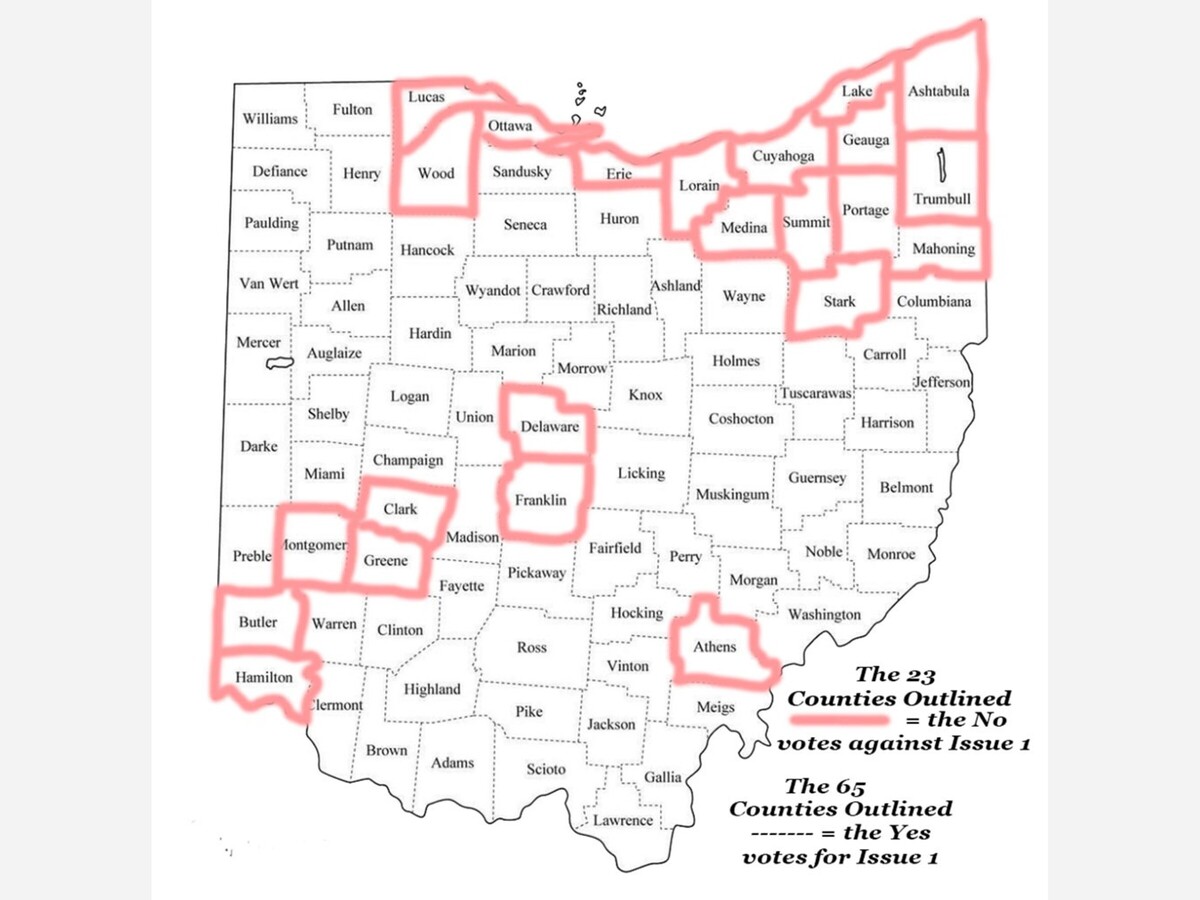 WARREN COUNTY, OH -- While 65 counties had the majority of their voters vote to pass Issue 1 and 23 counties had the majority of their voters vote not to pass Issue 1, Issue 1 did not pass when all 88 counties' votes were added up.
How did that happen?
The majority of the 65 counties that voted FOR Issue 1 are rural (less dense populations) where as the counties that voted AGAINST it are more urban consisting of Ohio's larger cities, such as, Cleveland, Toledo, Akron, Cincinnati, Columbus and Dayton.
According to The Columbus Dispatch, which kept live election results Tuesday night, the unofficial count is:
1,734,466 NO votes cast (56.96%)
1,310,396 YES votes cast (43.04%)
With Issue 1 failing, Ohioians will be going to the ballot in November to vote again on a constitutional amendment. This amendment is to enshrine abortion protections in the state constitution.
When hearing the news that Issue 1 did not pass, Warren County's Congressman Greg Landsman (OH-01) released the following statement on the rejection of Issue 1 in Ohio... "Democracy won in Ohio tonight."
When hearing the news that Issue 1 failed, Joshua Beckmann, founder of Warren County Conservatives released this statement... "Many Ohio voters were confused on Issue 1. The Democratic Party and out of state interest groups often lied about it's true intention, which demonstrated their lack of integrity and credibility on the subject matter. In November, citizens have the opportunity to defend the most vulnerable by ensuring abortion on-demand and child sex change procedures without parental knowledge is not enshrined in our Constitution. Ohio is a pro-life, pro-family state, and I believe the results of Issue 1 will not stop Ohioans from voting a resounding no in November."
More News from Franklin