From the Desk of Brian Bales
Image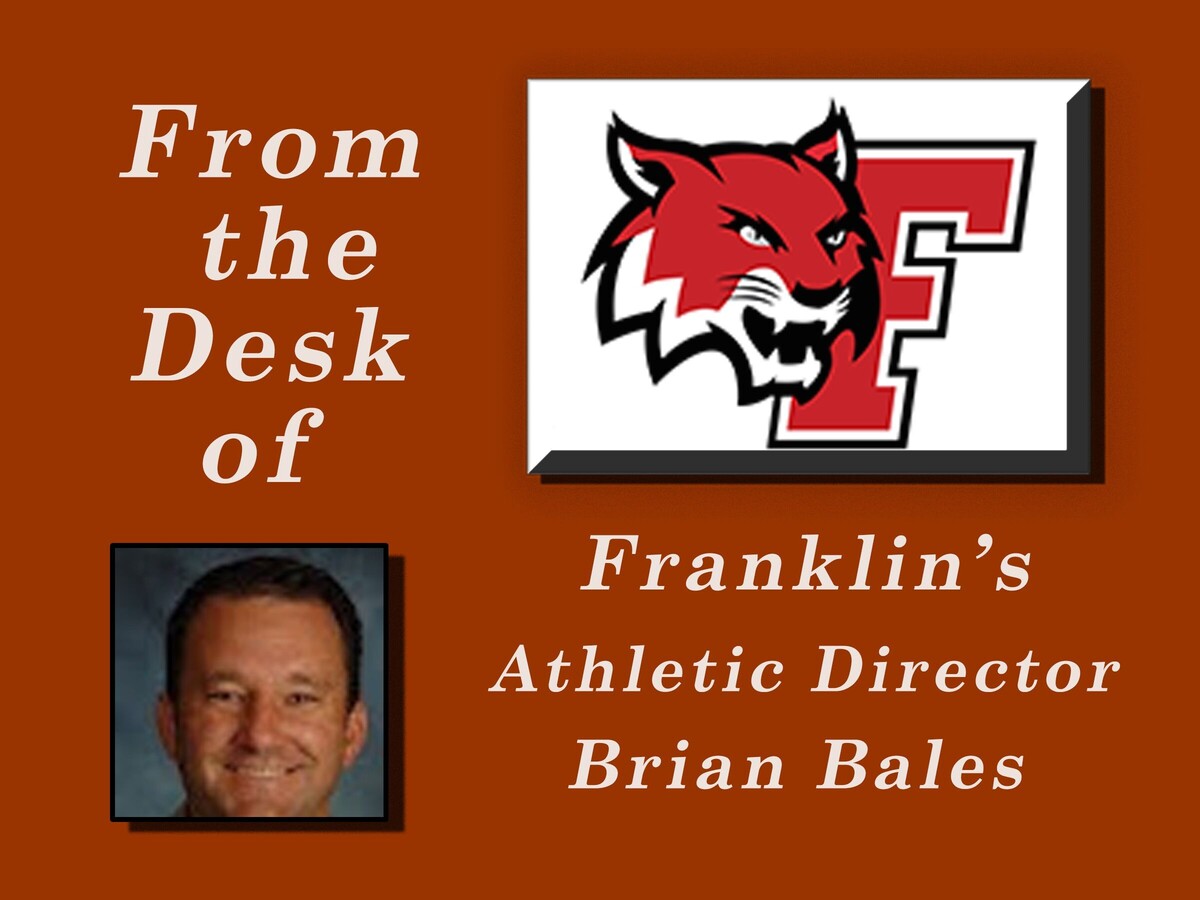 Franklin, OH -- Franklin Wildcats had a lot going on this week...
Wrestling
Wrestling competed in a tri-match with Monroe and Dixie on Wednesday. The cats defeated Dixie, but fell short of Monroe. The Varsity team competes in the Hammer and Anvil Tournament this weekend at Western Brown High School. This is a very tough tournament. Wrestling is set to begin at 9:30am
The Freshman will compete in the Centerville Buckeye Classic, which is a Freshman only event. Wrestling is supposed to start at 9:30 am at Centerville High School.
Good Luck to all of the wrestlers this weekend!!
---
Swim
Swimming is heading to Centerville for the Southwest Coach's Classic. This is the largest high school meet in the country. Swimmers will be competing against every team in the Southwest District. This is our first competition since winter break, and the swimmers are excited to be back in competition. Follow results here: https://www.swimmeet.com/classic22/
2022 Southwest Ohio High School Swimming & Diving Classic
2022 Southwest Ohio High School Swimming & Diving Classic at St. Xavier High School (Cincinnati, OH) on January 15-16, 2022. For more info visit... www.swimmeet.com
---
Basketball Sideline Cheer
We would like to wish all sports teams good luck this weekend! Stay safe everyone!
---
Bowling
Boys Bowling - The Boys Bowling Team won on Monday. The Team defeated Dunbar at JD Legends. Ashton Smiley had the high game with a 181, and Ethan Rebholz added a 172 game. 
Thursday, the team dropped a match to Middletown. The Cats bowled well, but could not top the undefeated Middies. The team will return to action next Thursday versus Valley View. 
Girls Bowling - The girls lost last night to Middletown. The next match is Thursday at home vs Valley View.

---
Boys Basketball
The Cats had 3 wins in the past week with wins vs. Blanchester, Greenview and Carlisle. In the Blanchester game, Nate Paarlberg led the way with 27 points, Noah Rich tallied 21, Isaiah Bales had 18 and Kai Cook had 7 points. Pierce Bauerle pulled down 11 rebounds and Ashton Everitt grabbed 7 boards. 
In the Greenview game, Rich led the way with 23 points followed by Bauerle with 16 and Paarlberg with 14 points and 9 rebounds. Rich and Bales each had 5 and 6 assists. 
In the Carlisle game, the Cats held Carlisle to only 12 points in the 2nd - 4th period. It was one of the most impressive defensive performances of the year! Leading the way was Rich with 24 and Paarlberg with 20! Rocky Williams, Ashton Everitt, Evan Fry, Ethan Adkins, and Trustin Highley gave great minutes off the bench!
Friday, the Cats hosted Monroe in a SWBL showdown looking for their 12th consecutive win on the season. We thank everyone for your support!


---
Girls Basketball
The Lady Cats continue to work hard. We return to action on Monday at Dayton Christian with a 5:30 pm JV start time, and then, varsity will follow at 7 pm. 
On Thursday, Waynesville comes to Franklin in a SWBL match up.
---
Lacrosse
For those interested in playing lacrosse this year, please review the dates and times in January where you can attend activities and workouts to get ready for the upcoming season.
Lacrosse Weight Room Dates and Times:
January 10th, 12th, 14th, 19th, 21st, 24th, 26th, 28th, and 31st from 4:00-5:00
Lacrosse Stick Work Skill Sessions in Back Gym Dates and Times:
January 12th, 14th, 21st, 24th, 26th, 28th, and 31st from 3:00-4:00
Link for Youth LAcrosse
https://wildcatlacrosse.sportngin.com/page/show/6285866-registration
---
Jersey Retirement Ceremony 
Travis Lakins - Saturday, January 29th at the boys basketball game
Luke Kennard - Tuesday, February 1st at the boys basketball game
Both games will be in the Darrell Hedric gym at Franklin High School, 750 E. 4th St. Varsity games tip off at 7:15 p.m. Tickets must be purchased online for the games; there will be NO ticket sales at the gate.
For the Sat., Jan. 29 game, tickets will go on sale Thurs., Jan. 26.
For the Tues., Feb.1 game, tickets will go on sale Sun., Jan. 30.
We will keep the purchase window open until game time or until we are sold out. See ticket links below. Our website for desktop:
https://www.franklincityschools.com/athletics/general-information-28/purchase-tickets-134/
If you are using a mobile device: https://schoolapp.franklincityschools.com/purchase-tickets/
If you don't see your favorite sport on the update, it is because I did not receive any information from their Coaches.