From the Desk of Brian Bales: Friday Wrap UP April 22, 2022
Image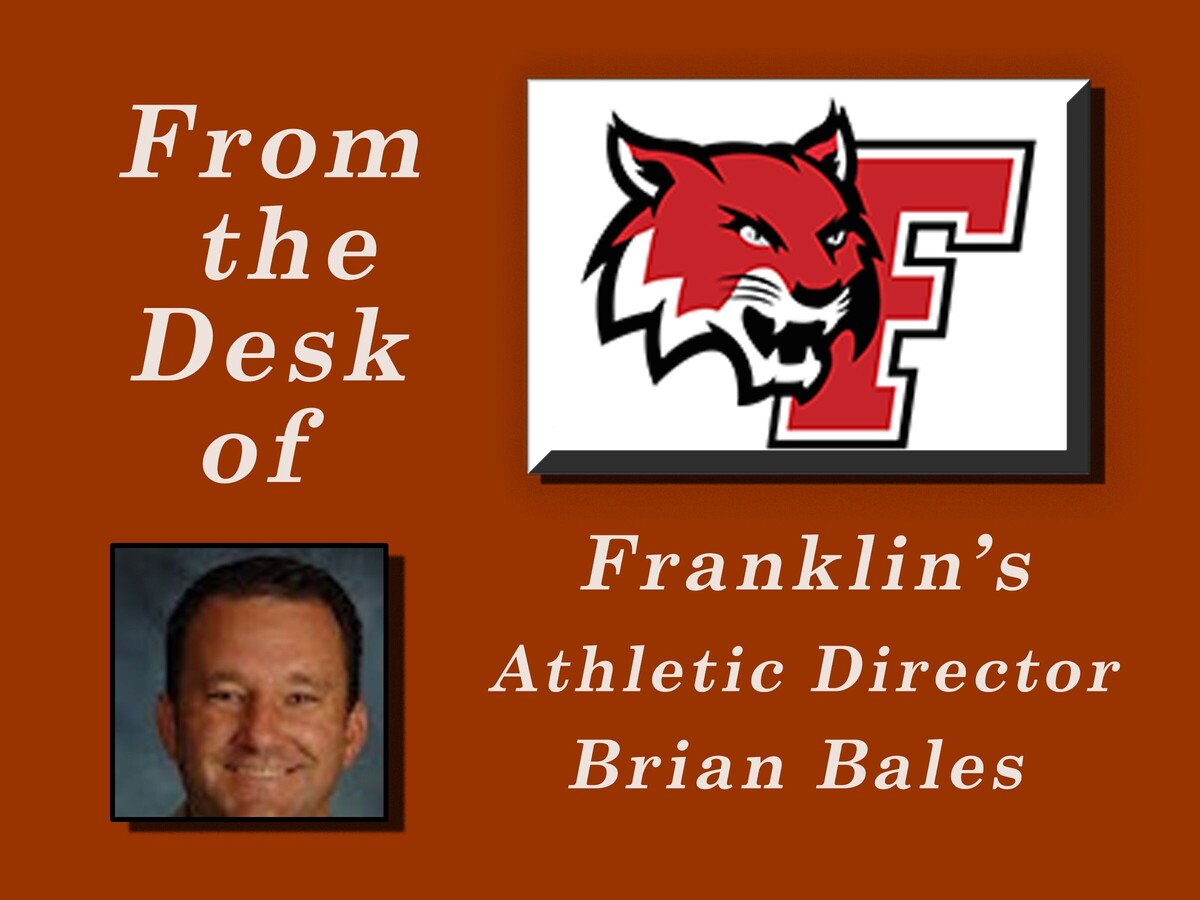 FRANKLIN, OH -- Happy Friday! This update will be sent out every Friday. Please feel free to forward to others that may enjoy reading it or forward emails to me so I can add to the database.
Track
Franklin competed at a highly competitive Miamisburg Invitational last night. Kensie Black placed 2nd in the 2 miles. Liam Acevedo placed 3rd in the 100 and 400 dash. Chris Bond placed 5th in the 2 mile. 
Nearly every runner, thrower, jumper, and relay team came away with a new PR for the meet. We look forward to hosting our own Bartt Owens Invitational tonight and would love for everyone to come watch as we work to bring home another team trophy!
---
Lacrosse
Lacrosse is 4 and 4 on the season and is back in action tonight with a game at Xenia at 6. Next week, the Wildcats play Monday and Tuesday at home against Wyoming and Lima Senior at 6 and then on the road Thursday at Edgewood! 
Good luck to all Spring Sports!
---
E-Sports
This week had a rescheduled Fortnite match with Harrison on Thursday and a bye week for Rocket League. Captain Christian Balhetchet scheduled a scrimmage against Shaker Heights for the team to stay ready for next Wednesday.
On Thursday, we played against William Henry Harrison High School in Fortnite. Unfortunately, they did not have enough players and had to forfeit. The Wildcats still played against the ones who showed up in a scrimmage format and won 5-2 and then 4-3. Owen Hudson Bateson paired with Noah Woo, and Captain David Walton paired with Christian Balhetchet.
The Wildcat eSports season wraps up next week with a Fortnite match against National Trails High School on Monday at 3:00, and a Rocket League match on Wednesday against Milford.
After this, we are headed to Miami University in Oxford, Ohio for the Regional Finals on May 14th.
Know somebody interested in joining FHS eSports? We have an information session coming up on May 11th at 6:30 in the High School Cafeteria.
Interested in watching all of the action? Tune in on Mondays and Wednesdays at 3:30 to watch Live on Twitch, or catch our replays on our YouTube channel!
---
Baseball
The baseball team continues to battle mother nature and themselves as free bases have been the story of the first half of the season. The Cats have two games remaining this week. Today we travel to Mason to play Cincinnati Hills Christian Academy, the defending D3 state Champs, and tomorrow we travel to VA Memorial Stadium in Chillicothe to take on Olentangy Berlin out of Columbus in a PBR high school showcase. 
Cats return home next week against Monroe and Wyoming. 
---
Softball
The girls continue to work hard this season. They had a tough 5-4 loss to Badin on Wednesday but rebounded to beat Ross 8-5 on Thursday. Demi Barnthouse got the win in the circle.

Tori Winstead leads the team offensively this year with a .452 average. We have a DH with Edgewood on Saturday. Game times are 11:00 and 1:00 at Franklin Community Park.
---
Tennis
The tennis team won their first match in 4 years this week against Monroe! Adam Osborn, Zoe Shockley, and Maddox Taulbee all walked away with wins in singles matches. Riane Todd and Caleb Powell lost in a tie breaker and Hayla Gadd and Reily Retherford lost in their third set. 
The cats hosted a very good Carrol team on Wednesday playing hard but coming up short. 
Yesterday, we played Oakwood, and if you know anything about Oakwood and tennis... Well, I'll leave it at that. The cats lost overall, however Adam Osborn played great at first singles. One compliment every coach gives of Adam is his hustle and the fight he has within him. 
Next week, we travel to Brookville and Dixie on Monday and Tuesday, host Stivers for senior night Wednesday, and host a very good Eaton team Friday night. If you get the chance, encourage your players to come watch Wednesday night. We'd really appreciate the support!