Who's Playing Out: Brought To You By Hall Around Town Radio March 9 through the 22th
Image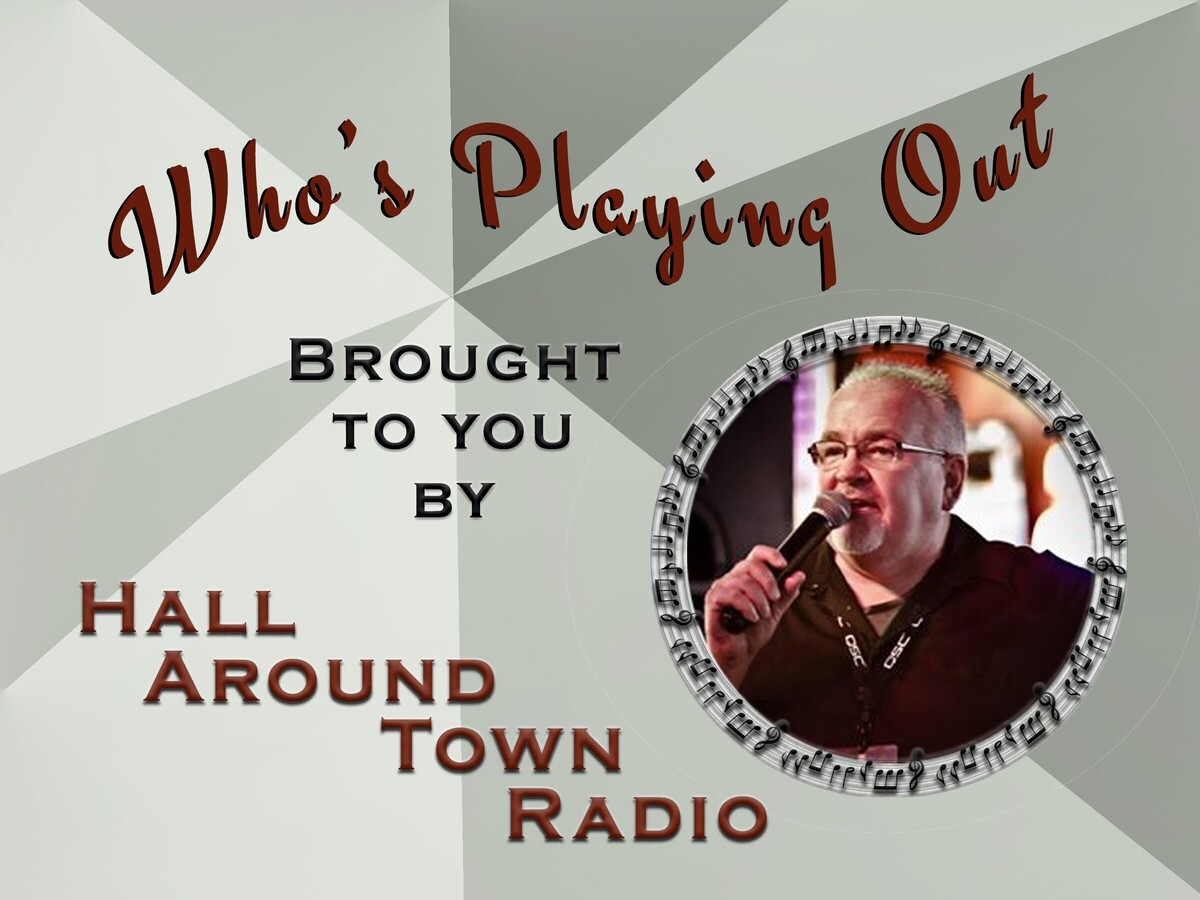 Brought to you by Scott Hall from "Hall Around Town Radio"
A little live music can turn an ordinary day into a memorable experience. The area's top musicians take center stage at some of the tri-states best restaurants and nightspots, bringing live music to our region nearly every night of the week. Make your first stop here weekly to find out "Who's Playing Out" at one of our live local music venues.
Bands and solos brought to you by our friends at Froggy's in Monroe, Ohio and Hall Around Town Radio (follow the on Facebook)
---
Froggy's in Monroe – Sponsor of our Thursday LIVE show on Facebook
Friday at 8pm High Crimes
Saturday at 8pm Jimmy's New Invention
Tuesday 3/14 7pm Frog-ingo, 7:30 Queen of hearts $1700+
Wednesday 3/15 7pm Pokeoke (Karaoke )
St. Patty's weekend: 
Friday 3/17 ( No Cover) 8AM‐ 1p Kegs n Eggs, drink specials. 10a Chris Lucas. 1pm Suspex. 5p Stone Mountain Mafia. 9p After the Party ( ATP)
Saturday 3/18 ‐ 10AM- 1p Hangover Breakfast, Drink specials. 1pm-5p Joe Jordan. 8p-12 ($5 cover) Cassette Junkies.
Tuesday 3/21 7p Frog-ingo 7:30 Queen of Hearts
Wednesday - 7pm Karaoke (Pokeoke) with DJ Songz
---
Mr. Boro's Tavern Springboro 
Thursday – Lucky One Lane 7 to 10 6th Anniversary weekend
Friday – Jay Clark Band 8 to 11pm
Saturday – Spungewurthy 8 to 11pm
Sunday – Last Call 2 to 5pm
Tuesday – "Quiztastic" Q&A Trivia with Scott at 7pm
Wednesday – Queen of Hearts Drawing. 8pm 50K
Tuesday – 3/14 "Quiztastic" Q&A Trivia with Scott at 7pm
Wednesday – 3/15 Queen of Hearts Drawing. 8pm
Thursday~ 3/16 Kevin McCoy Trio,
Friday~ 3/17 St Patty's Day.. no Band
Saturday~ 3/18 Cryin Out Loud 8pm
Sunday~ Shannon Schmidt and Carey Hunley 2 to 5pm
---
The Belle & The Bear (Montgomery)
Thursday "The Award Winning Jam" 7:30ish
Friday – Billy Rock at 8:30 pm
Saturday Mojo Rizin at 8:30pm
Monday 3/13 Game Night - 6pm
Tuesday – 3/14 Second Breakfast 8pm
Wednesday –3/15 Gina and Johnny Band 7:30 pm
Thursday – 3/16 Pre- St. Paddys Day Rock n Roll Jam Bash
Friday – 3/17 St Pattys Day woth Black Bone Cat and Miss Jacque 7pm
Saturday – 3/18 Fast Forward Band 8:30
Monday 3/19 Game Night 7pm
---
Crooked Handle Brewing Co. Springboro
Thursday – Ricky Veeneman 6pm
Friday – Scott Houchens 7 to 9pm
Friday 3/17 St Pattys Party 7pm
---
Crooked Handle Brewing Co. Piqua
Friday 3/17 St Paddys with Drab Irish Band 4 to 6pm
Friday 3/17 – Doug Hart Band 7pm
---
Pohlman Lanes & Scott's Bar & Grill (Hamilton Ohio)
Family Entertainment Complex 954 Pyramid Hill Blvd., Hamilton Ohio
Friday 7pm - Roxcity
Saturday - No Entertainment/ Pitch Tournament Badin High School
Monday - After Hours Band 7pm
Tuesday Karaoke DJ KODIE 7pm
Wednesday 3/15 Standard Country Time Band 1pm
Friday 3/17 St. Patrick's Day festivities starting at noon Billy Rock Band 8pm
Saturday 3/18 Indian Creek Band 7pm
Monday 3/20 After Hours Big Band 7pm
Tuesday 3/21 Karaoke Dj Kodie 7pm
Wednesday 3/22 Standard Country Time Band 1pm
---
Soft Rock Café
Karaoke – Thursday- 7:30 pm - Friday 8:30pm - Saturday - 8:30 pm.
Sorg Opera House
Friday March 10th – Sweet Baby James (James Taylor Tribute) 8pm
Future show tickets available at Cincyticket.com visit SORG page for more info
---
Little River Bar and Grill (Oregonia)
Thursday –– DJ Songz Patioke Party at 7pm Party on the covered enclosed patio
Friday – Brad Hatfield Band at 7pm
Saturday – Kevin Fox at 7pm
Thursday 3/16 Karaoke Party with DJ Songz 7pm
Friday 3/17 Element 3 7pm
Saturday 3/19 Streetwise 7pm
---
The Blue Note Harrison
Friday - Bon Jovi tribute "Jovi" Opening the show it's H & R Rock! 6pm
Saturday it's the return of Hotel California Opening the show its Swan Doors open at 5:30pm and music starts at 6:30pm.
Tuesday 3/14 – The Winery Dogs 6pm
Friday 3/17 St. Pattys Day Badh with Catfish Cooley - Big Murph - Jamie Ray - FJ Outlaw - Rich Regal & Official tour DJ Moneyface Boogie!
Saturday 3/18 its Dv8 and 1330 6pm
Tickets available at Cincyticket.com
---
Hidden Gem Music Club
Thursday – Hearts on Fire Band at 8pm 8pm
Friday – The West Side Players 8pm
Saturday – Spill The Wine at 8pm
Sunday – 11am (early show) Jazz Brunch with the Eddie Brookshire Trio
Tuesday – Open Mic Night 7:30PM
Friday 3/17 - Toronzo Cannon with special guest Noah Wotherspoon 8pm
---
Lori's Roadhouse
Friday – Max Greers at 7pm
Saturday – 4 Low at 7pm
Tuesday – Line Dancing 7pm
Wednesday – Boozy Bingo and Karaoke at 6pm plus Queen of Hearts …Jackpot is over 22k
Friday 3/17 – Maddie & Tae (sold out) with Rachael Holt and Patrick Murphy 7pm
Saturday 3/18 - Seals & Crofts 2 8pm
Tickets at LRHLIVE.com
---
Miami Valley Gaming
Friday – DJ Big Daddy Walker 9pm Center Bar
Saturday – DJ Big Daddy Walker 9pm Center Bar
Friday 3/17 - Trans Am Euro Mutts - Traditional Irish Music 9pm Center Bar
Saturday 3/18 - DJ Big Daddy Walker 9pm Center Bar
---
Rex Patrick and the Country Legends Show in Germantown
Saturday – Terry Lee Ridley - doors open at 5:30 Music 7 to 10
Reserve your table now 513-594-1282
---
The Brick Tap and Tavern
Thursday – Open Mic with Scott Houchens at 8:30pm
Friday – Triple Edge Band 8:30pm
Saturday – The Relic's at 8:30pm
---
Ricks Tavern
Friday – The Gamut at 8pm
Saturday – The Remains at 8pm
Friday 3/17 – St Pattys Day Bash Opens at 6am Music Starts at 10am with 3 Day Rule, Doghouse, Miss Jacque, Naked Karate Girls and Don't Tell Steve
Saturday 3/18 Stagger Lee 8pm
---
Moe Harrigan's Tavern
Friday 3/17 St Patricks Day party with Until Rust Velvet Crush and Party Punch Doors 5:30 am
---
KnottyPine
Pre St Patty's Day Bash Saturday March 11th Set times: Black Bone Cat: ~3:00 - 5:30
Crown Watts: ~6:30 - 8:45 and Naked Karate Girls: ~9:45
---
O'Connors Irish Pub Springfield
Thursday – Karaoke
Friday – Silent DJ with Dj Chill
Saturday – Retrobution
Tuesday – Acoustic with Heath Bowling
Wednesday 3/15 – Karaoke
Thursday 3/16 Karaoke
Friday – Open at 9am for Kegs and Eggs – Bagpipes all day / Music by Preminition at 2pm / The Weekend Effect at 7pm
---
Scotty Long / DJ Songz
Wednesdays - Froggys in Monroe - Poker Karaoke Party 7pm. Each Singer who sings 2 songs will pick 2 cards from the shuffled decks. At 10:30pm we will lay down the 5 cards. Whoever has the highest Holdem Hand will win $25 Froggys Gift Card that can be used the following week.
Thursdays - Little River Oregonia, OH. PatiOKE Party 7pm!
Tuesdays - Trillions in West Chester, OH. Karaoke Party 8pm
---
Bands, Solos, Duos and Events
Jim Jones as Elvis
Friday at Kroger Kyles Station Growler Bar 4:30pm
Sunday at Dee Felice Café Shows at 5:30 and 7:30
Visitor
Thursday at the O'Pub at Miami University
Friday 3/17 St Patricks Day at Trail town Brewery
Saturday March 18th at the Brightside Music and Event Center
Joe Cowels
Friday March 10 The Joe Cowels Band Fairfield Pub 9p-1a
Sat March 11 The Joe Cowels Band Avenue Sports and Spirits 7p-10p
Thursday March 16 Joe Cowels solo the Fairfield Pub 7p-10p
Friday March 17th Joe Cowels solo Streetside Brewery 4p-7p
Kevin Cooper
Thursday 3/9: Dick Stewart from Doghouse filling in for me at the B&B Jam
Friday 3/10 830pm-1230am: The Fun Size (John Michael, Brian Otten, and myself) at Silverton Cafe
Saturday 3/11 7-11pm: Kevin Cooper solo at Corner Pub (Montgomery)
Sunday 3/12 6-10pm: Eyes Up Here at Trillions
Thursday 3/16 730-1130pm: B&B Jam
Friday 3/17 (St Pats Day) 1-5pm: Eyes Up Here debut at Par's Place
Friday 3/17 8pm-12am: The Fun Size at Trillions
Johnny Fink
Tuesday 3/14 Johnny Fink and the Intrusion @the Blue note in Harrison w/ the Winery Dogs
Wednesday 3/15 GIna and Johnny band @Belle and bear with special guests Chris and Byron from Dat Band 7:30 pm
OVERDRIVE
Saturday 3/18 The Brick, Tap and Tavern 8pm-12
BillyRock Band
Friday at the Belle & the Bear 9pm
Friday 3/17 at Pohlman Lanes 8p St. Patty's Day
GAMUT
Friday at Ricks Tavern from 8-12
Saturday at Jim & Jacks from 8-12
Friday 3/17 at Element Eatery 8-11 St Patrick's Extravaganza
Acoustic Blue Band
Friday March 10th - Icehouse, Lawrenceburg, In. 7pm
Saturday March 11th - The Shift, Bright, In. 7pm
Dat Band
Saturday 3/11 @ Carlo&Johnny 8-11
Friday 3/17 Jeff Ruby's Fountain Square 8-Midnight
Marsha Brady
Saturday March 11th - Latitudes - Anderson Ohio - St Patty's Day Party - 9pm - 1am
Saturday March 18th - The Eagles - Celina Ohio - 8pm - 12am - St Patty's Day Party
Michelle Robinson Band
Friday 3/10 Shiners on the Levee 10-1
Saturday 3/11 Big Buls 9-1
Thursday 3/16 duo at Trillions 7-10
Dv8
Friday March 17th The Knotty Pine St Patrick's Day 9 to 12:30 6947 Cheviot Rd Cincinnati Oh 45247
Saturday March 18th The Blue Note 8 to 11:30 9660 Dry Fork Rd Harrison Ohio 45030
Shane Demoss Music
Thursday 3/9 Moe Harrigan's Tavern Kettering, Oh 8-11
Wednesday 3/15 The Red Carpet Tavern Dayton, Oh 7-10
Wednesday 3/22 Oleary's Centerville, Oh 7-10
Until Rust
Saturday 3/11 Opening for The Bronson Arroyo Band at the Pirates Den Cincinnati, Oh 8pm Start
Friday 3/17Moe Harrigan's TavernvKettering, OhvUntil Rust - (12-3)vVelvet Crush (Full Band)vParty Punch
Friday 3/17vDublin PubvDayton, Oh Until Rust - (4:30-7:30) plus White Knuckle Weekend
Ithika 
Saturday 3/11 Carroll HS - St. Pat Fest 9-11pm (No Cover)
Friday 3/17 Troll Pub - St. Patrick's 6-11pm
Mad Hatter
Saturday 3/11 at the Carroll HS St. Patty's Day Festival 6:30-8:30pm In the heated tent Stage.
Friday 3/17 at JD Legends for the St. Patrick's Day Party playing along with: Tori Adams 3:00-4:00pm 7 Day Sober 4:30-5:30pm Love Bomb 6:00-7:00pm Mad Hatter 7:30-8:30pm Rayne Johnson 9:00 and J Frost 5 10:30pm
Steve Kracus of Mad Hatter
Thursday 3/16 The Belle and The Bear for the Shamrock Metal Jam with Aaron Thomas, Rick Kern, Travis Hanna, Dave Wade, Kathy Laverde, Ryan Wingate and Jamie Combs
Billy Brown
Friday March 10 at 7pm - Tin Roof Broadway in Nashville TN
Saturday March 11 at 11pm - Tin Roof Broadway in Nashville TN
Friday March 17 at 5pm - Boonedocks in Union KY
Jay Clark Band
Linus Tate
Friday March 10 Oxford Community Arts Center Oxford, OH 7:30PM
Saturday March 11 Smoke Justis Covington, KY 7:30PM
Alex Poteet
Friday March 17 Olde Schoolhouse Winery Eaton, OH 6:30PM
6 String Hustle
Thurs 3/9 6-10 Liberty Inn Liberty Twnshp, Ohio
Sat 3/11 8-11:30 Ugly Goat Social Club Felicity, Ohio
Wed 3/15 8-11 Olde Village Tavern West Chester, Ohio
Thurs 3/16 8-11 The Lounge Cincinnati, Ohio
Friday 3/17 8-11 Olearys Pub Centerville, Ohio
Saturday 3/18 10:30-2am Shiners Newport, KY
J Frost 5
Friday 3/17 First show in over a year at 10pm JD Legends
LoveBomb with Stranger
Thursday, 3/16 7-11 Dublin Pub, Pre party
Friday 3/17 at JD Legends
Velvet Crush
Friday 3/17 Moe Harrigan's Tavern Kettering ohSt Patrick's day party With Until Rust and Party Punch 12-1130pm
Shawn Bell
Saturday 3-11 8-12 Acoustic Trio Reading FOE Reading Ohio
Saturday 3-18 8-12 Acoustic Trio Little River Bar and Grill Orgonea Ohio
Chad Applegate Solo
Wednesday March 15th (and every Wednsday now) Chiefs Lake in Clarksville OH 7 to 10
Friday March 17th at McCoys Place, Colerain OH 10am to 1pm
Cryin Out LOUD
Friday March 10 at The Barrel from 8:00-12:00
Friday March 17 at Flannigans 2:00-3:45
Saturday March 18 at Mr Boro's 8:00-11:00
White Knuckle Weekend
Friday March 17 at the Dublin Pub 9:00-1:00
Donna Kennedy Band
Saturday March 18 DC Roadhouse 8-12
Joe Lipinski
Saturday jersey joe solo will be at The Blind Lemon from 8:30PM to 1:00AM.
Sunday jersey joe solo at Moeller's Brew Barn in Troy from 3 - 6.
Kevin McCoy Band
Friday March 10 at MadTree Brewing Co. 7-11pm
Thursday March 16 at Mr Boros Tavern 7-10pm
Friday March 17 The Lounge 12pm
Sunday March 19 at Zazou Covington Kevin & Lee Acoustic 2-5pm
Tyler VanB Music with James Zornes
Fri. 3/10 9 to 12 Knollwood tavern
Mike and Tiff (Short of Stable)
Saturday 7-10 Putters Liberty Township
Sunday from 5 to 9 Goodtime Charleis Open Jam
Matthew Allen
Fri Mar 10th, 7-9 pm Fratelli's Restaurant
Sun Mar 12th, 2-5 pm Dalton Union Winery & Brewery
Tue Mar 21st, 8-11 pm O'Conners Irish Pub
Retrobution
Saturday at Oconners Irish Pub from 930-130 - First time on the new stage!
Don't tell Steve
Saturday March 17 at Ricks Tavern St. Patrick's day 9 pm ish
Chris Lee Acoustic
Saturday Mar 11 Lucky Turtle. 8pm-10:30pm
Friday Mar 17 Pensive Distilling. 7:30pm-9:30pm
Saturday Mar 18 Maya Restaurant. 6:30pm-9pm
Sunday 3/19 Caesar Creek Flea Market. 11am-3pm
Spungewurthy
Saturday at Mr Boros 8pm
Friday - St Pats at Troll Pub 5 to 7
Saturday 3/18 Kingspoint Pub 9 to 1
Big Trouble Blues
Saturday at Mansion Hill Tavern in Newport 8 to 12pm
Rock Bottom Band
Saturday at the Ironton Laidback 8pm
Heath Bowling
Thursday 3/9 Legends of Hamilton 7-1030 Hamilton, OH
Friday 3/10Misery & Jens 6-10p Hamilton, OH
Saturday 3/11 Jaynes on Main 730-1030 Miamisburg, OH
Tuesday 3/14 O'Connors Irish Pub 8-11p Springfield, OH
Wednesday 3/15 O'Learys 7-10p Centerville, OH
Thursday 3/16 Liberty Inn 6-10p Liberty Township, OH
Friday 3/17 with Route 88 at Wings noon -230 Vandalia, OH
Friday 3/17 with Route 88 at Union VFW 8-12 Union, OH
Saturday 3/18 with Route 88 at the Hitching Post 7-10p Darrtown, OH
Timeless
Friday at Little Miami Brewing 7:30pm
Steve Feleros Project
Saturday at McCauleys Pub 8pm
If you would like to have your musical act featured on our weekly podcast or in Warren County Post contact us @Hall Around Town Radio on Facebook! For additional Band information follow our daily Facebook "Live at Five" program @Hall Around Town Radio