Who's Playing Out: Brought To You By Hall Around Town Radio April 13th
Image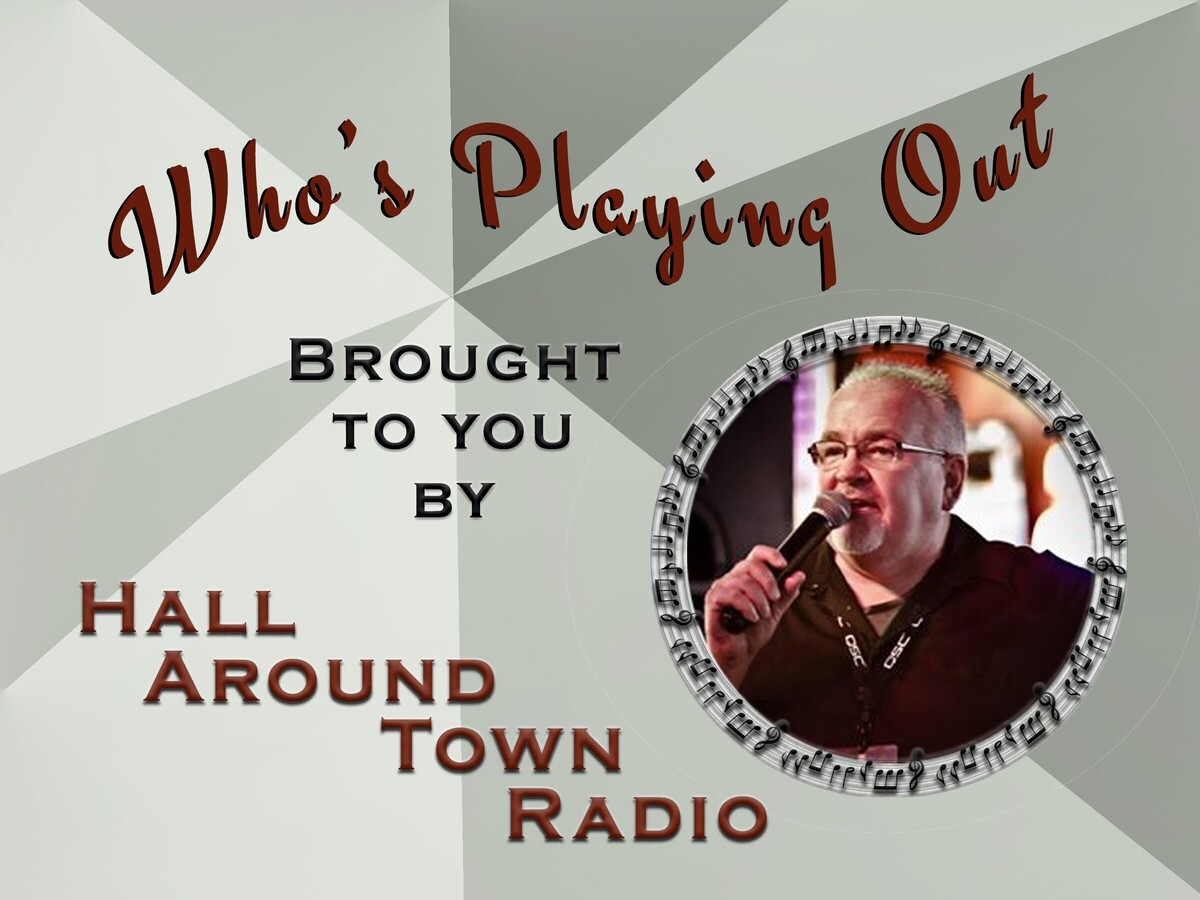 Brought to you by Scott Hall from "Hall Around Town Radio"
A little live music can turn an ordinary day into a memorable experience. The area's top musicians take center stage at some of the tri-states best restaurants and nightspots, bringing live music to our region nearly every night of the week. Make your first stop here weekly to find out "Who's Playing Out" at one of our live local music venues.
Bands and solos brought to you by our friends at Froggy's in Monroe, Ohio and Hall Around Town Radio (follow the on Facebook)
---
Froggy's in Monroe – Sponsor of our Thursday LIVE show on Facebook
Friday at 8pm Chalice
Saturday at 8pm Simple Daze
Tuesday 7pm Frog-bingo, 7:30 Queen of hearts at $2500
Wednesday 7pm Karaoke with a guest DJ
---
Mr. Boro's Tavern Springboro
Thursday – Vinyl Rewind 7 to 10
Friday – Stark Marlin 8 to 11pm
Saturday – Nawty Dawg 8 to 11pm
Sunday – Joe Cowels Band 2 to 5pm and Jimmy Mowrey from 5:30 to 7:30
Tuesday – "Quiztastic" Q&A Trivia with Scott at 7pm
Wednesday – Queen of Hearts Drawing. 8pm 50K. (ONLY 2 Cards Left on the Board)
---
The Belle & The Bear (Montgomery) - Award Winning
Thursday "The Award Winning Jam" 7:30ish
Friday – The Hanky Panks at 8:30 pm
Saturday Doug Hart Band at 8:30pm
Monday - Game Night - 6pm
Wednesday – The Gina and Johnny Band - 7pm
---
Crooked Handle Brewing Co. Springboro
Thursday – Jake Hambone Davis 7 to 9pm
Friday – Scott Houchens 7pm to 10pm
---
Crooked Handle Brewing Co. Piqua
Thursday – Adam Vasquez 6pm
Friday – Doug Hart Band 7pm
Saturday – Six String Hustle 6pm
Pohlman Lanes & Scott's Bar & Grill (Hamilton Ohio)
Family Entertainment Complex 954 Pyramid Hill Blvd., Hamilton Ohio
Friday - The Dunby Four at 7pm
Saturday – Rock Star 7pm
Monday - After Hours Band 7pm
Tuesday Karaoke DJ KODIE 7pm
Wednesday Standard Country Time Band 1pm
---
Soft Rock Café
Karaoke – Thursday- 7:30 pm - Friday 8:30pm - Saturday - 8:30 pm.
---
Sorg Opera House
Future show tickets available at Cincyticket.com visit SORG page for more info
---
Little River Bar and Grill (Oregonia)
Thursday –– DJ Songz Patioke Party at 7pm Party on the covered enclosed patio
Friday – American Rebels at 7pm
Saturday – Brad Hatfield at 7pm
Wednesday – Singer Songwriter Open Mic 6 to 9pm
---
The Blue Note Harrison
Saturday - Motley Crue Tribute "Wreking Crue"! So real you will think Motley Crue is in the house! Opening the show it's Judas Priest tribute "Rapid Fire". Rocking in the pub it's Russell Jinkens XL! Show starts at 7pm.Tickets available at Cincyticket.com
---
O'Connors Irish Pub Springfield
Thursday – Open Jam 7 to 10 in the music venue
Thursday - Karaoke 9pm in the dining room
Friday – Jr and the Crossfire 9pm
Saturday – Party Punch at 9pm
Monday – Trivia with Matt Allen 7pm
Tuesday – Acoustic with Matthew Allen 8pm
Wednesday – Karaoke 10pm
---
Hidden Gem Music Club
Thursday – 7:30pm Stillwater's Listening Room Songwriter Showcase
Friday – Fusion Fridays Dance Party with DJ Danny Diaz at 7pm
Saturday – Midwest Connection Concert at 7pm
Sunday – Dayton Jazz Orchestra with Oakwood High School Jazz Ensemble 6pm
Tuesday – Open Mic Night 7:30PM
---
Lori's Roadhouse
Friday – Alexis Gomez at 5pm
Friday – The Hubie Ashcraft Band at 8pm
Saturday – Craig Morgan at 8pm
Tuesday – Line Dancing Lessons 7pm
Wednesday – Boozy Bingo and Karaoke at 6pm plus Queen of Hearts …
Tickets at LRHLIVE.com
---
Miami Valley Gaming
Friday - The River City Band 9pm Center Bar
Saturday - Buzzbin 9pm Center Bar
---
Milanos (Miami Township)
Wednesday – Shane Demoss 6 to 9pm
---
Rex Patrick and the Country Legends Show in Germantown
Saturday –The Standard Country Time Band –doors open at 5:30 Music 7 to 10
Reserve your table now 513-594-1282
---
Moe Harrigan's Tavern
Thursday – TBA
Friday – Truk at 8pm
---
The Brick Tap and Tavern
Thursday – Open Mic with Scott Houchens at 8:30pm
Friday – Pandora Project at 8:30pm
Saturday – Grocery Store Vodka from 8:30 to midnight
---
Ricks Tavern
Friday – The Whammies at 8pm
Saturday – Lady Joya at 8pm
---
KnottyPine
Friday – 1330 from 9 to 1
Saturday – Miss Jacque from 9 to 1
---
Scotty Long / DJ Songz
Thursdays - Little River Oregonia, OH. PatiOKE Party 7pm!
Tuesday – Boozeday at Trillions in West Chester, OH. Karaoke Party 8pm
---
Scott Hall
Tuesday at Mr Boros Taver for Quiztastic Tuesday Trivia at 7pm
Wednesday – Queen of Hearts at Mr Boros Tavern 8pm
Bands, Solos, Duos and Events
Uncle Rico
Friday at Wings on North Dixie- 9 to 1
Shane Demoss Music
Thursday at Oleary's in Centerville, Oh from 7-10
Until Rust
Saturday at The Barrel - "Barks At The Barrel" Springboro, Oh 3-3:45
Tuesday at the Submarine House Centerville, Oh 7-10
Wednesday at Milano's Miami Twp. , Oh 7-10
Truk
Friday at Moe Harrigan's Tavern from 8-12
Benny Bodine
Saturdayn at The Barrel 2nd Annual Barks at the Barrel 12-6 (set is 4-4:45) Springboro, OH
Tuesday at the Liberty Inn 6-10 West Chester, OH
Wednesday at Milano's. 7-10 Miami Township, OH
Six String Hustle
Thursday from 6-10 at Trillions in West Chester, OH
Friday from 7-10 at Putters Liberty in Liberty Twnshp, OH
Saturday from 6:30-9:30 at Crooked Handle in Piqua, OH
Wednesday from 8-11at Olde Village Tavern in West Chester, OH
Velvet Crush
Saturday at Bleachers sports bar and grill Dayton oh from 8-12
Chad Applegate
Every Wednsday at Chiefs Lake in Clarksville Oh Chad Applegate Solo 7 to 10
Heath Bowling Music
Thursday at Elsa's from 7-10p Springboro, OH
Friday at the Hitching Post 8-12 Darrtown, OH
Saturday at Rip Rap Roadhouse 7-10 Huber Heights, OH
Donna Kennedy Band
Saturday at the Middletown (Little Eagles) 8:30 -12:30
Kevin McCoy Band
Friday from 10:30-1:30 at Shiners in the Levee
Saturday from 9-12mid at Anderson TapHouse
Spungewurthy
Friday at Katz Lounge in Kettering 9pm
Tyler VanB Music
Thursday at The Pub, Beavercreek 630 to 930pm with James Zornes
Friday at Devil Wind Brewing, Xenia 7 to 9pm
Saturdayat - Barks At The Barrel 12-1245pm
Saturday at Bushrod Brewing, Eaton 7 to 10pm with James Zornes
Chris Lee Acoustic
Friday at Pensive Distilling Co Newport KY. 7:30pm-9:30pm
Saturday at The Hangar Bar and Grill West Chester OH. 8pm-Midnight
Sunday - Acoustic Duo w/ Amy McFarland at Hyde Park Kroger's Cincinnati/Hyde Park OH. 4pm-8pm 
Wednesday - Hosting OPEN MIC at the Lucky Turtle Cincinnati/Finneytown OH. 6pm-8pm
The Weekend Effect
Saturday at Froggys Indian Lake 6pm-10pm.
Jay Jesse Johnson
Saturday at Rick's Tavern, Saturday night, 8pm
Ben & Pete
Friday at Lucky Star Brewery 8 to 11 PM
Joe Lipinski
Saturday jersey joe Island Duo will be at Day-Air plaza from 12noon to 1pm for the Dayton Dragons home game. Marie Conti on steel drums, jersey Joe Lipinski on guitar and vocals.
Mike & Tiff w/ Short of Stable
Saturday Barks at the Barrel 3-4:45
Sunday Good Time Charlie's OPEN MIC Back on 5-9
Whiskey Town
Friday at Fairfield Pub 7pm
Saturday at Flintlocks 7pm
GAMUT
Friday at Trillions from 8pm-Midnight
Saturday at the Monkey Bar 7pm-11pm
Joe Cowels
Thursday - The Joe Cowels Band at Mansion Hill Tavern 8pm
Friday - The Joe Cowels solo at Tincap Cidery 7pm
Sunday - The Joe Cowels Band at Mr. Boro's Tavern 2pm to 5pm
Tuesday - The Joe Cowels Band at Turfway Park Casino 7pm
RED HOT RIOT
Saturday at the Silverton Cafe -8:00 PM
Latter
Saturday at The Rivers Edge in Sidney, 9:30pm
Johnny Fink
Saturday - Johnny Fink and the Intrusion at Fretboard brewery 730pm
Wednesday – Johnny and Gina at the Belle and The Bear 7pm
Kevin Cooper
Thursday from 730-1130pm: B&B Jam
Friday from 830pm-1230am: The Hanky Panks at The Belle & The Bear
Saturday from 7-11pm: The Hanky Panks at Pirate's Cove
Sunday from 6-10pm: Eyes Up Here at Trillions
Tuesday from 9-10pm: The Hanky Panks at Turfway Park (following Joe Cowels Band)
Wednesday from 6-9pm: Kevin Cooper solo at Annata Wine Bar (O'Bryonville)
Throw it Down
Sunday at Jim and Jacks playing a benefit for our drummer, who is fighting cancer. 1-4 . We're having raffles, baskets, split the pot, etc. Tesa Marie is opening up with myself accompanying her, then performing with Throw It Down after
Marsha Brady
Thursday - 1st Bike Nite opener, 1st Bike Nite kickoff of the season, Quaker Steak & Lube Colerain Ohio - 5:30pm - 9:30pm
Saturday - the Moose - Beavercreek Ohio- - 7:30pm - 11:30pm
Xero Hour
Saturday headlining at the Foundry in Lakewood OH Saturday night music starts at 730.
Lee Dixon
Thursday - Perry Waldron and Lee Dixon @ The Lounger Anderson tonight 8pm - 11pm
Don't Tell Steve
Saturday at Satch's Bar and Grill. 8-12
Matthew Allen
Friday from 7-9 pm Fratellis Italian Restaurant
Tuesday from 8-11 pm O'Conner's Irish Pub
David Thornton
Thursday at Jayne's On Main 7-10
Friday at The Common Beer Company 7:30-10:30
The Whammies
Friday at Rick's Tavern and Grill in Fairfield from 8-12
Saturday at Turfway Park - Bourbon and Brew in Florence from 9:30-12:30.
Standard Country Time Band
Saturday at Rex Patrick Country Legends 7pm Butch Jones, Corky Jones, Eddie Collett, Andy Pinnick, and Rick Henderson.
Wednesday at Pohlman Lanes 1pm
Rockstar
Saturday at Pohlman Lanes 7 to 11
Misterman and the Mojo Band
Friday at Gano Tavern 7 to 11 on the patio
Cincy Rhythm Kings
Margo & Adam
Friday at Coldstream Country Club 7-10pm
Rock Bottom Band
Saturday at the New Boston Eagles from 8pm-12am
SideShow Band
Saturday at the American Legion #746 on N. Dixie, 8pm. Open to the public.
Second Wind
Saturday at Jim and Jack's 8:00-Midnight
Pauly and Chip (duo)
Tuesday at Mutt's Main Bar in Middletown for their opening Bike Night season form 6-10. Come have a drink and celebrate Tax Day….
Tim Blakeney Acoustic Entertainment
Friday at the Wicked Pickle 6-10
Saturday at the Avenue Sports & Spirits 7-10
Acoustic Jr. and Mike
Wednesday Open Mic at The Dublin Pub in Dayton 6:30
Flatline
Saturday at Big Bulls Roadhouse 9:30pm
Side Piece
Saturday at Good Time Charlies 9pm
Nothing But Treble
Friday at Jaynes on Main 7:30
Thunderstruck
Friday at Little Miami Brewing Event Center 6:30
Ithika
Saturday at Wings in Vandalia 9pm
If you would like to have your musical act featured on our weekly podcast or in Warren County Post contact us @Hall Around Town Radio on Facebook! For additional Band information follow our daily Facebook "Live at Five" program @Hall Around Town Radio