Who's Playing Out: Brought To You By Hall Around Town Radio September 14
Image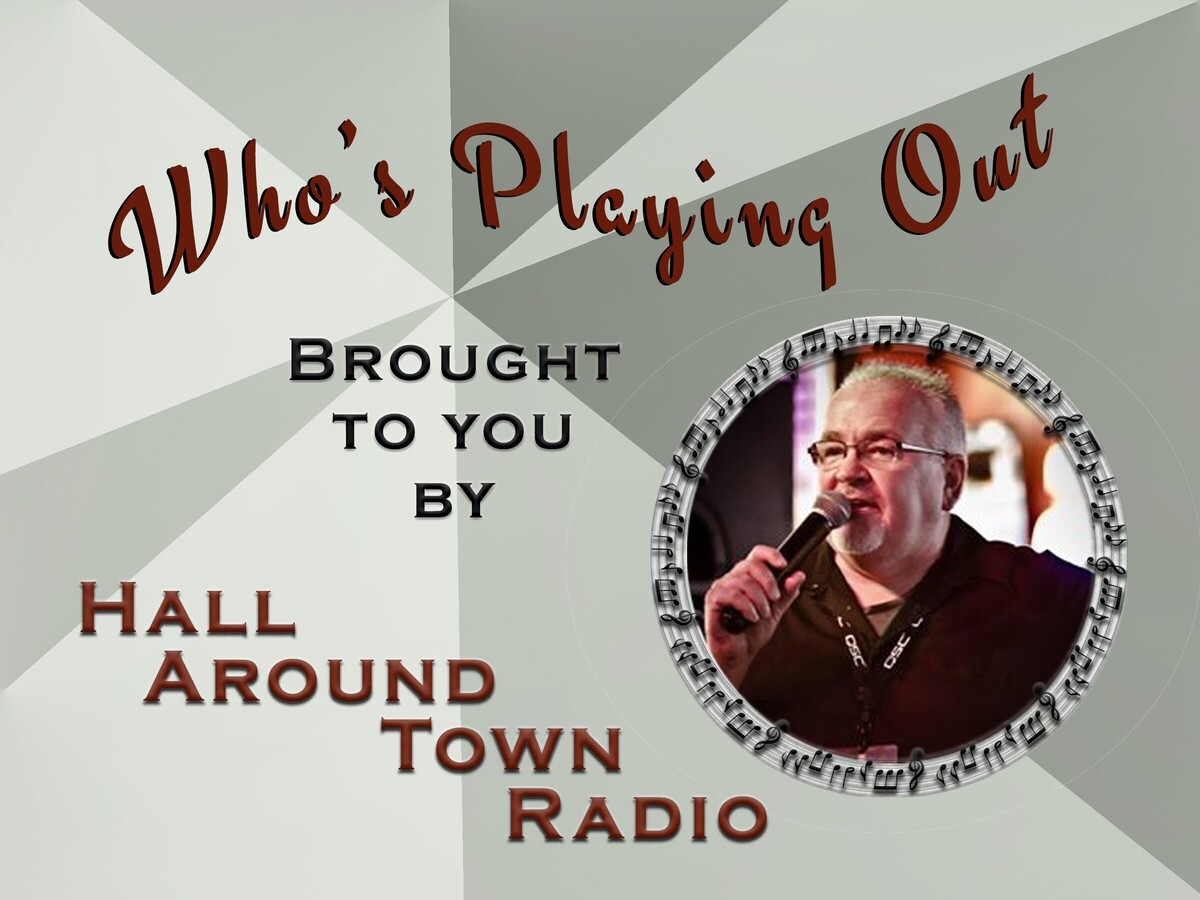 Brought to you by Scott Hall from "Hall Around Town Radio"
A little live music can turn an ordinary day into a memorable experience. The area's top musicians take center stage at some of the tri-states best restaurants and nightspots, bringing live music to our region nearly every night of the week. Make your first stop here weekly to find out "Who's Playing Out" at one of our live local music venues.
Bands and solos brought to you by our friends at Froggy's in Monroe, Ohio and Hall Around Town Radio (follow both on Facebook)
Froggy's in Monroe – Sponsor of our Thursday LIVE show on Facebook
Thursday – TAPS – Tursday Acoustic Patio Sessions – Joe Jordan 6 to 10
Friday at 8pm – Whiskey Town
Saturday at 8pm – Drive
Tuesday 7pm Frog-ingo, 7:30 Queen of Hearts – over $1000
Wednesday – Jeep Night (Collect Frogs) from 6 to 10pm Patio with Jordan Wood
Check out the expanded patio! Live and Follow Froggys on Facebook
---
Heathers "On the Patio"
Thursday – Ashley Martin and Friends at 6:30
Friday – Velvet Crush and Lovebomb at 7pm
Saturday – Ninety Four .04 (debut) at 7pm
Tuesdays – Heathers Bingo 7pm
Wednesdays –Name That Tune Trivia with Scott 7pm - Resrvations Reccomended
---
Mr. Boro's Tavern
Thursday - Football on Surround
Friday – The Hanky Panks 8 to 11pm
Saturday –Bryan Scott Acoustic Trio at 8pm
Sunday NFL Football on Surround "Bengals vs Ravens"
Tuesday – "Quiztastic" Q&A Trivia with Scott at 7pm
Wednesday – Queen of Hearts Drawing. 8pm 41K.
---
The Belle & The Bear (Montgomery) - Award Winning
Thursday "The Award Winning Jam" 7:30ish and the Faded Cow Food Truck
Friday – The Scotty Bratcher Band at 8:30 pm
Saturday - The Kevin McCoy Band at 8:30 pm
Monday - Game Night - 6pm
Tuesday – "Singo" 7 to 9pm
Wednesday –- Gina and Johnny Bandl at 7:30pm
---
Crooked Handle Brewing Co. Springboro
Thursday – Zane Gerlach 6pm
Friday – Brian Jump 6pm
---
Crooked Handle Brewing Piqua
Saturday – The Wright Brothers III Band 6 to 9 pm
---
Soft Rock Café
Karaoke – Thursday- 7:30 pm - Friday 8:30pm - Saturday - 8:30 pm.
---
Hamilton's Urban Backyard
Friday – The Grove Duo at 7pm
Saturday – Terry Metcalf Project 7pm
Tuesday – Turntable Tuesday All Vinyl with host Hollewood
Wednesday – Team Tune Trivia 7pm
---
Pohlman Lanes & Scott's Bar & Grill (Hamilton Ohio)
Family Entertainment Complex 954 Pyramid Hill Blvd., Hamilton Ohio
Friday - Triple Distilled at 7pm
Saturday – Fish Head 7pm
Monday - The After Hours Band at 7pm
Wednesday – The Standard Country Time Band at 1pm
---
O'Connors Irish Pub Springfield
Thursday – Open Jam 7pm
Thursday – Karaokre in the dining room at 9pm
Friday – The Fleez at 9pm
Saturday – Act 3 Band at 9pm
Monday – Trivia with Matt Allen 7pm
Tuesday – Corn Hole Tourney at 7pm and Music by Matt Allen at 8pm
Wednesday – Karaoke at 10pm
---
Sorg Opera House
Future Show Tickets available at Cincyticket.com visit SORG page for more info
---
Little River Bar and Grill (Oregonia)
Thursday –– DJ Songz at 7pm
Friday – Brad Hatfield at 7pm
Saturday – Small Town Southern 7pm
Tuesday – Queen of Hearts Drawing
---
The Blue Note Harrison
Friday - Rock legends April Wine On stage - Opening the show it's Cincinnati's own DV8!
Saturday - Rock N Roll Hall Of Famer Glenn Hughes is coming to the Blue Note to rock the house! Opening the show it's Bad Habit! doors open at 5pm –Show Tickets available at Cincyticket.com
---
Hidden Gem Music Club
Thursday – The Hearts on Fire Band 7pm,
Friday – She's Deadly and Mesopop 8pm
Saturday – The Doug Hart Band with CFG and the Family 7pm
Sunday at 7pm – Dayton Jazz Orchestra
Tueday - Open Mic Night 7:30PM
---
Miami Valley Gaming
Friday - YoLo Band 9pm Center Bar
Saturday – Blue Stone Ivory – 9pm Center Bar
---
Lori's Roadhouse
Thursday –Boozy Bingo 6pm plus Queen of Hearts
Friday – Tyler Farr with openers Grace Tyler anf Blake Tyler at 8pm
Saturday – Chris Lintonl at 8pm
Sunday – Football
Tuesday – Line Dancing Lessons 7pm
Tickets at LRHLIVE.com
---
Milanos (Miami Township)
Wednesday – Benny Bodine at 7pm
---
Rex Patrick and the Country Legends Show in Germantown
Saturday – Thunderbay Band …. doors open at 5:30 Music 7 to 10
Reserve your table now 513-594-1282
---
Moe Harrigan's Tavern
Thursday – Shane Demoss 7:30
Friday – Reyna and Dana 8pm
Saturday – Velver Crush Unplugged 8pm
Wednesday – Nick Mitchell 8pm
---
The Brick Tap and Tavern
Thursday – Scott Houchens 8:30pm
Friday – Tommy Renfro at 8:30pm
Saturday –Donna Kennedy Band from 8:30 to 11:30
Wednesday – Doug Hart Solo 7:30pm
---
Ricks Tavern
Friday – Acoustic Blue from 5 to 7pm and the Turned Up Band at 8pm
Saturday – Soul Quest at 8pm
---
KnottyPine
Thursday – Mitch Grevie at 7pm
Friday – Marsha Brady at 9pm
Saturday – Montage at 9pm
---
Scotty Long / DJ Songz
Thursdays - Little River Oregonia, OH. Party 7pm!
Check out his Facebook pages at Scotty Long or DJ Songz for all shows!
---
Scott Hall
Tuesday at Mr Boros Tavern for Quiztastic Tuesday Trivia
Wednesday – Heathers Name That Tune – Week 21 7pm sharp RESERVATIONS AVAIL
---
Bands, Solos, Duos and Events
Butler Township / Vandalia Butler Chamber present Cruise In with the Belairs Show Band
Friday from 4 to 8pm York /Commons Commerce center
Huge Car Show, Food Trucks, Beer , Street concert, Awards and more
---
Rivers Edge – Hamilton
Saturday – Signs of Life – The American Pink Floyd Free Show at 8pm 116 Dayton St Hamilton Ohio
---
Until Rust
Friday at Rip Rap Roadhouse Dayton, Oh 7-10
Saturday - Private Show
Wednesday at Oleary's Pub & Grub in Centerville, Oh from 7-10
---
Shane deMoss Music
Thursday at Moe Harrigan's Tavern Kettering, Oh 8-11
---
Jay Clark Band
Saturday at the Dublin Pub from 9-12
---
DV8
Thursday at the Delhi Summer Concert Series 7-9:30pm
Friday at the Bluenote Harrison opening the April Wine show Doors open at 6
Sunday - Bengals Pregame at the Tailgate Zone 10am-1pm
---
Velvet Crush
Friday at Heathers cafe Springboro, oh With LOVEBOMB 7-11
Saturday at WRIGHT PAT AIR FORCE BASE - Air Force Marathon 12-330 Fairborn, oh
---
Benny Bodine
Friday at Southern Ohio Brewing from 6-9 Beavercreek, OH
Wednesday at Milano's from 7-10. Miami Township, OH
---
Truk
Friday at The Barrel in Springboro, OH from 8-12
---
Alex Poteet
Friday at Riverside Athletic Club in Hamilton, OH 7PM
---
Linus Tate
Saturday at the Brookville Chicken Festival - Brookville, IN 1PM
Saturday at Satchs Bar and Grill Trenton, OH 8PM
---
Ashley Paige Band - (Ashley Knapp)
Friday from 7-10 at the Tin Cap Brewery Wilmington, Ohio
Saturday from 9-12 at the Broadway Bar & Grill in Blanchester, Ohio
Wednesday from 8-11 at the Olde Village Tavern West Chester, Ohio
---
Grocery Store Vodka
Saturday at The Ole Brick Tavern in Springfield 8:30pm
---
Skip & The Broken Records
Friday at St. Peter's Parish Fall Festival 6:30 to 10:30
---
Standard Country Time Band.
Friday, September 15 - BUTLER CO. BLUEGRASS ASSOCIATION Food at 5:00, Music at 7:00
Saturday, September 16 - Fort Loramie Fall Harvest Festival Music at 1:00
---
Shuffle
Friday at The Bar in Mt Orab 9-1
Saturday at Jimmy B's 9:30-1:30am
---
Visitor
Thursday at the Oxford Pub 9pm
---
Top This Band
Saturday at the Knotty Pine 9pm to 1am
---
H & R Rock
Saturday at the Pirates Den 8:30pm
---
Rockstar
Saturday at Katz Lounge in Kettering 8pm
---
Classic Jam
Saturday at Beerfest the Greene Towne Center from 6 to 9pm.
---
Joe Cowels
Friday - solo the Grub Pub 9pm-1am
Saturday - solo Putters Liberty twp 7pm-10pm
Sunday - special guest appearance at the Phone Booth /Doug Hart jam 3:30pm
Tuesday – Full Band at Turfway Park 7PM-10PM
---
- Vinyl Countdown -
Friday at Oktoberfest Zinzinnati (ZYNZinnati Stage at Festhalle) 8 - 11 PM
---
CFG & the FAMILY
Saturday w/Doug Hart at the Hidden Gem Centerville 7pm-11pm.
---
Lätter
Friday in Delphos Ohio for Canal days! 8pm
Saturday at the Greenville moose 8-12am
---
Marsha Brady
Friday - Knotty Pine - Westside of Cincy - 9pm - 1am
---
Brandy Evans
Saturday - Brandy and The Beard from 8-11pm at Jacki's in Cleves
---
Drive
Saturday at Froggy's in Monroe 8-12
---
Whiskey Town
Friday at Froggy's 8-12, Sat 9/16 at GTO's 8-12
---
Kevin Cooper
Thursday 730-1130pm: Belle & Bear Jam
Friday 8-11pm: The Hanky Panks at Mr. Boro's Tavern
Saturday 8pm-12am: The Hanky Panks at Trillions
Sunday 6-10pm: Eyes Up Here at Trillions
---
Rick Kern
Saturday with The Eagles Project, 5:00 pm - 8:00 pm, Springboro, Ohio, North Park 195 Tamarack Trail Springboro, OH, 45066
---
The Whammies:
Thursday at the Liberty Center Sunmer Concert Series, 6-9pm 7100 Foundry Row, Liberty Township
Saturday at the St. Timothy's Octoberfest, 8-12 10272 US Highway 42, Union, KY
---
BillyRock Band
Friday at 8pm Hooters Newport Landing
Saturday at 9pm the Blind Squirrel
---
Audio Graffiti
Saturday at Oktoberfest Zinzinnati from 8-11
---
Crown Watts
Friday - St Timothy Festival 8:00
Saturday - The Monkey Bar 7:00
---
Heather Lynn Acoustic
Friday at the Voodoo Brewpub in Downtown Cincinnati. 6 to 9 pm
---
Johnny Fink
Wednesday 9/20 the Gina and Johnny full band at the Belle and Bear 730pm
---
The Weekend Effect
Friday at Wings Vandalia 9:30-1:30am -
Saturday at Station One in Springfield 8-12pm
---
Matthew Allen
Thursday from 6:30-9:30pm at Urbana Brewing Co. (Urbana)
Friday from 6-9 pm at White Dog Distilling Co.(Middletown)
Saturday from 12:30-3:30 pm Dragonfly Winery (Urbana)
Mondays O'Conner's Trivia Every Monday from 7-9 pm
Tuesday from 8-11 pm O'Conner's Irish Pub (Springfield)
---
Wesley Green
Friday with the Bourbon Road Band at the Middletown Moose 8-11:30
---
Spungewurthy
Thursday ar Bargos 6pm
Friday at the Phonebooth Lounge 8pm
---
Donna Kennedy Band
Saturday - Brick Tap & Tavern Huber Heights, 8:30 to 12,
---
Ben & Pete
Friday at the Rock The Stigma Event - The Yellow Cab Tavern in Dayton from 6 to 9 PM
---
Kevin McCoy Band
Friday "3rd Friday Lebanon" starts at 6pm in Lebanon, O
Saturday at the Belle & The Bear 8:30ish
---
Joe Lipinski
Friday - jersey joe solo at The Blind Lemon, 8:30PM - 1:00AM.
---
Chris Lee Acoustic
Friday at Brink Brewing Co Cincinnati OH. 7:30pm-10:30pm
Saturday at Streetside Brewery Cincinnati OH. 3pm-6pm
Sunday at Treasure Aisles Flea Market Monroe OH. 11:30am-2:30pm
---
David Thornton
Thursday at Jayne's On Main 7-10
Friday at the Middletown Elks Lodge #257 7-10
Saturday at The Common Beer Company 7:30-10:30
---
Tyler VanB Music with James Zornes
Thursday - The Pub at The Greene 630 to 930
---
Adam & Jalen
Thursday at Pirates Cove Tropical Bar and Grill 6-10pm
Friday at Miamiville Trailyard 7-10pm
---
SideShow band
Thursday at Desperados Bar and Grill bike night, in Huntsville, Ohio. 6pm
If you would like your band or musical act featured on our weekly podcast or shared in the Warren County Post contact us @Hall Around Town Radio on Facebook! For additional Band information follow our daily Facebook "Live at Five" program @Hall Around Town Radio
More News from Lebanon