Who's Playing Out Brought To You By Hall Around Town Radio — August 11, 2022
Image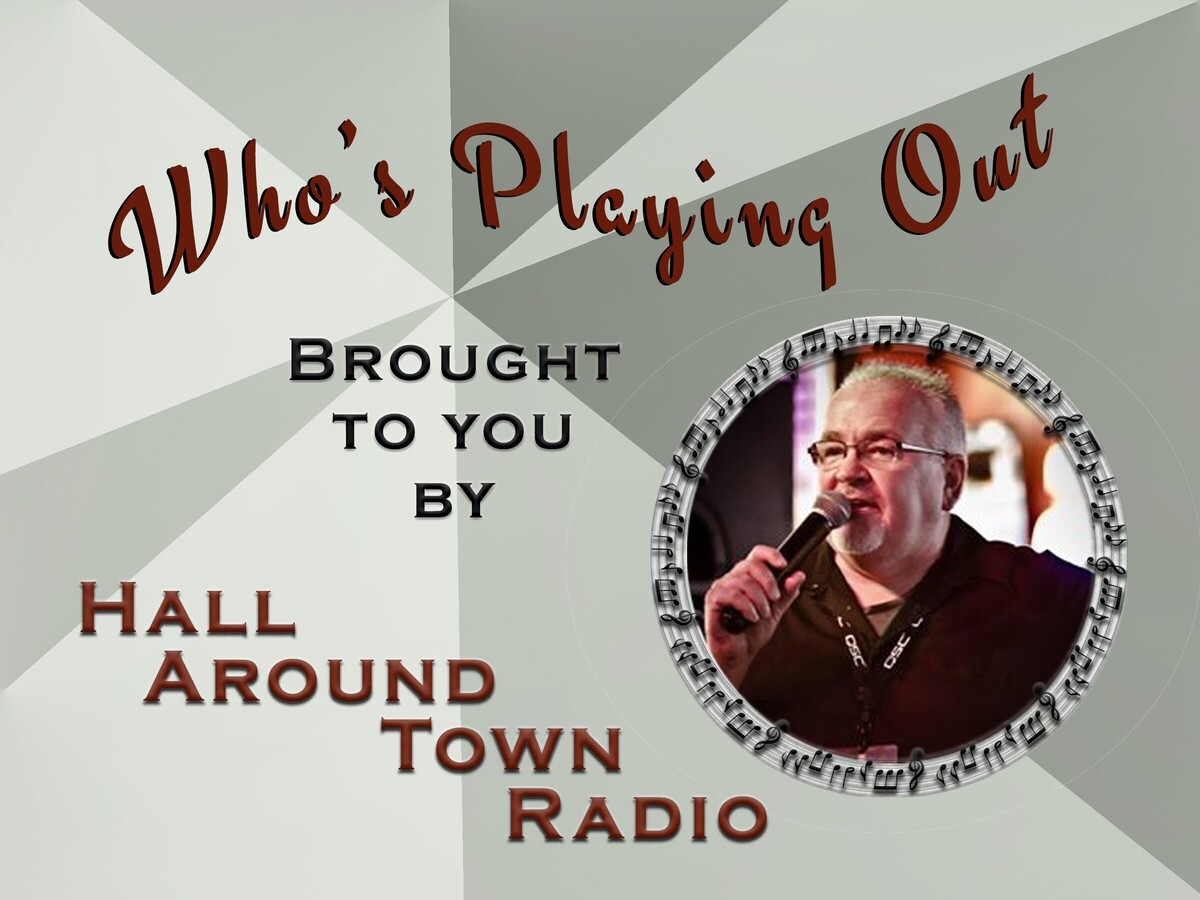 Brought to you by Scott Hall from "Hall Around Town Radio"
A little live music can turn an ordinary day into a memorable experience. The area's top musicians take center stage at some of the tri-states best restaurants and nightspots, bringing live music to our region nearly every night of the week. Make your first stop here weekly to find out "Who's Playing Out" at one of our live local music venues.
Bands and solos brought to you by our friends at Froggy's in Monroe, Ohio and Hall Around Town Radio (follow the on Facebook)
Froggy's in Monroe – Sponsor of our Thursday LIVE show on Facebook
Friday at 9pm – Route 88
Saturday at 9pm- Jet Pack Academy
Tuesday - 6p-9p on the patio with Joe Jordan
Wednesday - 8pm Karaoke with DJ Songz
Online seating reservations / tickets at www.gotofroggys.com
---
Heathers Café
Tuesday – Open Mic Night with Junior 7pm + the Queen of Hearts Drawing at 8
Wednesday – Name That Tune with Scott. 7pm Call for reservations
Thursday – The Wright Brothers III at 6:30pm
Friday – Love Bomb and Stranger 7pm
Saturday – Cryin' Out Loud 7pm
---
Mr. Boro's Tavern Springboro 
Thursday – Jessica Merchant 7 to 10 pm
Friday – The Party Foul Band – 8 to 11pm
Saturday – Honky Tonk Heroes - 8 to 11
Sunday –– Heath Bowling and Benny Bodine - 2 to 5 pm
Tuesday – "Quiztastic" Q&A Trivia with Scott at 7pm
Wednesday – Queen of Hearts Drawing. 8pm over 7K
---
The Belle & The Bear (Montgomery)
Thursday "The Jam" 8ish
Friday The Marty Connor Band at 9pm
Saturday - Brent James and the Vintage Youth at 9 PM
Sunday – Mike Lieser 2pm
Monday Game Night - 6pm
Tuesday – Jamie Combs Acoustic Jam 7pm
---
Crooked Handle Brewing Co.
Thursday – Good Song Guy at 7pm
Friday – Short of Stable Duo at 7pm
---
Sorg Opera House
No Live Music Shows this Weekend Future Show Tickets available at Cincyticket.com
---
Pohlman Lanes & Scott's Bar & Grill (Hamilton Ohio)
Family Entertainment Complex 954 Pyramid Hill Blvd., Hamilton Ohio
Friday at 7pm Two Mississippi
Saturday at 7pm Outta Here
Monday at 7pm After Hours Big Band
Wednesday at 1pm The Standard Country Time Band
---
Lebanon Grand Opry House
Saturday – Stage and Dinner Show featuring Thad Guto, Josh Richardson and Jessie Lyn and the TNT Band Doors open at 6pm for dinner Show - 7pm
Reservations by calling 513-850-1770
---
Little River Bar and Grill (Oregonia)
Thursday –– DJ Songz Patioke Party at 7pm
Friday – Ninety-Four .04 7pm
Saturday – Bourbon Road Band at 7pm
Tuesday – Bike Night with music
---
The Blue Note Harrison
Friday – Creed Fisher with opener the Terry Douglas Band Doors at 6pm
Tickets are available at …. CincyTicket.com
---
Hidden Gem Music Club
Thursday –Tim Gebard & the Hit Men and Seth Canan & The Carriers. Doors 6:30 music at 7:30pm. Friday - Otis Money Band – 8pm
Saturday – Black Water Voodoo 8pm
Sunday – Connor Smith Jazz Trio 7pm
Tuesday – Open Mic Night 7PM
---
Lori's Roadhouse
Thursday – Service Industry Night 9pm
Friday - Clay Walker Tickets at Etix.com 7pm
Saturday: Blake Tyler 6pm
Saturday – Alzheimer's Association Fundraiser
Tuesday – Line Dancing 7pm
---
Miami Valley Gaming
Friday- Lady T of Cinci – 9pm Center Bar
Saturday – The River City Band – 9:00pm Center Bar
---
Rex Patrick and the Country Legends Show in Germantown
Saturday - "The Country Legends Band" starring Duce Collins, Scott Luck, Larry Miller and Doug Baird with special guest Dave Gunter Doors 5:30 Music at 7 Reservations by calling 513- 594-1282
---
Brick Tap Tavern
Thursday – Open Mic Night with Scott Houchens 7:00pm
Saturday – Steve Lewis at 8:30pm
---
Soft Rock Café
Karaoke – Thursday 7pm - Friday 8pm - Saturday 8:30 pm.
---
Scott Hall – Hall Around Town Radio
Saturday – Emcee for the Joy Ride Event at Cross Roads Church in Mason 9 am till noon         JoyRide is a car club exclusively for kids with special needs. Kids. Cars. Smiles. #JoyRideCars
Tuesday Trivia at Mr. Boros Tavern 7pm
Wednesday – "Name That Tune" at Heathers Café on the patio 7pm "Call for Reservations"
Live Monday to Thursday On Hall Around Town Radio
---
Scotty Long / DJ Songz
Thursdays - at Little River Bar and Grill 7pm PatiOKE Party.
Tuesday - The Barrel 7pm Karaoke obSESSION.
Wednesday- Froggys 8pm Karaoke Xperience.
Bands, Solos, Duos and Events
Bacon Fest .... Saturday – 3pm Fraze Pavillion
3:00 PM - Cole Ritter & the Night Owls, 
5:30 PM - Party Punch, 
8:00 PM - Doobie US
---
Nick Mitchell
Thursday at Dublin Pub 7 to 10pm
Friday from 8:00-11:00, Chappys Social House
Saturday at Dublin Pub 6 to 10pm
---
That One Party Band
Thursday from 6-10pm for the Delhi Skirt Game Tailgate Party in Delhi Park (Westside).
Friday from 10pm-2am at Strauss Haus in Covington
---
Cryin' Out LOUD
Saturday at Heathers Springboro from 7-11p
---
Spungewurthy
Saturday at Kingspoint Pub 9 to 1am
---
Joe Lipinski
Sunday - jersey joe duo (with Marie Conti on steel drums) plays a free Island/reggae set for the Dayton Dragons -- in the plaza outside Day-Air Ballpark. Noon to 1pm is the pre-game plaza party.
---
White Knuckle Weekend
Saturday at Beavercreek Moose from 8-12
---
Wesley Green Music
Thursday with 9eight Central: Jungle Jim's Bourbon Bar, 5-9
Friday with Bourbon Road Band, Hamilton Moose
Saturday with Bourbon Road Band - Little River Bar 7-11 Special guest Patrick Witt on bass
---
Metal of Honor (only show of 2022)
Saturday - Wings Vandalia 9-1am
---
Heath Bowling Music
Thursday at Fairfield Pub Fairfield, OH 7-10p
Friday at Heroes Pizza Springboro, OH 7-10p
Saturday at Gano Tavern West Chester, OH 7-11p
Sunday at Mr. Boro's W/ Benny Bodine Springboro, OH 2-5p
Tuesday at MonkeyBar Maineville, OH 6-10p
Wednesday Open Mic(AJ's) Franklin, OH 8-11p
---
Matthew Allen
Friday at Fratelli's Restaurant Springfield 7-9 pm
Sunday at Wing bar in Urbana 1-4 pm
---
Chad Applegate
Thursday - Chad Applegate solo at Little Miami Brewing 7 til 10.
---
Benny Bodine
Friday at Knollwood Tavern Beavercreek, OH 9-12
Saturday at Kro-Bar (Anderson Towne Center) Cincinnati, OH 12-3
Saturday at Miamisburg Eagles 2306 Miamisburg, OH 8-11
Sunday Mr. Boro's Tavern (with Heath Bowling) Springboro, OH 2-5pm
---
LoveBomb with Stranger
Friday, August 12th at Heather's, Springboro 7-11
---
Geoff Edwards
Thursday from 6-10pm Awedaddys Gallatin, TN
---
Route 88
Friday from 9-1am at Froggy's Monroe, OH
Saturday from 9-12pm at Timothy's Double 18 Dayton, OH
---
Until Rust
Friday 8/12 Dublin Pub Dayton, Oh 8-11
Saturday 8/13 Hidden Valley Orchards Lebanon, Oh 6:30-9:30
---
Shane Demoss Music
Tuesday 8/16 Submarine House Centerville, Oh 7-10
Wednesday 8/17 Milano's Miami Township, Oh 7-10
---
Linus Tate
Thursday August 11 Lakengren Summer Concert Series Eaton, OH 7PM
Friday August 12 Third Place Brookville Brookville, IN 7PM
Saturday August 13 Smoke Justis Covington, KY 7PM
---
Velvet Crush Unplugged
Thursday at Bargos tap and grill Centerville, oh 7-10
---
Shawn Bell
Sat August 13 Trillions Sports Bar and Grill West Chester OH Full band 8 -12
---
Blind Faith Duo Acoustic
Friday at Anderson Tap House from 9 -12
---
Six String Hustle
Friday 7-10 Northern Kentucky Saddle Club Melbourne, Kentucky
Saturday 7-11 Skippers River Café New Richmond, Ohio with Greg Goforth on Drums
---
Billy Brown
Friday Aug 12 at 6pm - Lori's Roadhouse in West Chester OH with Clay Walker
Saturday Aug 13 at 9pm - Barrett's Pour House in Alexandria KY
Wednesday Aug 17 at 3pm - Ole Red in Gatlinburg TN
Thursday Aug 18 at 3pm - Ole Res in Gatlinburg TN
---
David Thornton
Friday from 8/12 - Jayne's On Main 7:30-10:30
Saturday from 2 to 4pm - Jayne's On Main one year anniversary party 2:00-4.
Saturday at Common Beer Company in Mason 7:30-10:30
---
Michelle Robinson
Thursday at the Greene Beavercreek 6-9pm
Friday opening for Frank Foster at LaZ Acres 6:00pm
Saturday Big Bulls 9-1
Sunday Sacred Heart Festival 4:30-8:30
---
Jordan Wood
Thursday 8/11 Twenty Mile Tavern - Open Jam 9pm Landen
Friday 8/12 Putters – Maineville 7PM
Saturday 8/13 Kettering VFW - Full Band Family friendly even! 7pm Kettering
Sunday 8/14 Private Event
Monday 8/15 Misery & Jens Open Jam 8pm - ? Hamilton, OH
---
Marsha Brady
Saturday August 13th - Sunshower Country Club - Centerville Indiana - 7pm - 11pm
---
Lee Dixon
Thursday August 11 with Erik Sears at Liberty Inn 6:30-10:30
Friday August 12 Lee Dixon solo Newport Racing and Casino 8:30
Saturday August 13 with Six String Hustle at Skippers
Sunday August 14 Lee solo at the lounge Anderson 6:30
---
Crown Watts w/Dan Hunt on Keys
Saturday at Kreimer's 7:00pm
---
Mark Cooper
Friday at 7:30 solo acoustic Cappy's in Loveland
---
Tori Faith
Friday 8/12 ~ Whiskey Town at Dixie Station ~ 9:30pm-1:30am
---
RED HOT RIOT
Saturday -Miller's in Bellevue- 8:30PM
---
GAMUT
Friday 8/12 Kreimers River Bar 7-11
Saturday 8/13 Pirates Cove 7:30-11:30
---
Sepia Heyday
Saturday at Southgate House for Super Satan Fest II doors at 7 $15 at door
Sunday opening for psycho billy legends The Meteors from across the pond at Thompson House
Tickets are still available $20
---
Kevin Cooper
Thursday 730-1130pm: B&B Jam
Friday 730-1130pm: The Hanky Panks at Pirate's Cove
Saturday 6-9pm: Eyes Up Here at deSha's
Sunday 6-10pm: Eyes Up Here at Trillions
Wednesday 8/17 5-9pm: The Hanky Panks at Kreimer's River Bar (monthly First Responders benefit)
---
Joe Cowels
Saturday August 13th FULL BAND at Foley's 7p-11p with Special guest Kenny Kinderman!
Sunday August 14th Solo at Streetside Brewery 3p-6p
Wednesdy August 17th solo at Kro-bar Beckett Ridge 5p-9p
---
Dv8
Saturday Aug 13th 8 to12 Sacred Heart Festival , 400 Nilles Rd, Fairfield, OH 45014
---
Dat Band
Sunday Great Inland Seafood Festival 3-5:30pm
If you would like to have your musical act featured on our weekly podcast or in Warren County Post the contact us @Hall Around Town Radio on Facebook! For additional Band information follow our daily Facebook "Live at Five" program @Hall Around Town Radio
More News from Springboro